Fashion designers at Vogue.ua have presented their initial ideas for Jamala's Eurovision outfit.
Nine Ukrainian designers have each created their own interpretation of what they believe would best befit the Ukrainian singer for her live performance of 1944 in Stockholm in May. The designers have been guided by Jamala's own wishes for her costume.
Personally, I would prefer to wear trouser to a dress, as I am singer who likes to move about stage. Not exactly dancing, but moving. Trousers are more practical for this performance. I imagine something modern, feminine and cosmopolitan, but nothing tied to a particular culture. I am not against prints or decorations, but I want it to feel relatable to everyone.
The winning design will be determined by other designers at Vogue.ua, and will most likely be used for Jamala's Eurovision performance. Here are the designs submitted:
Bevza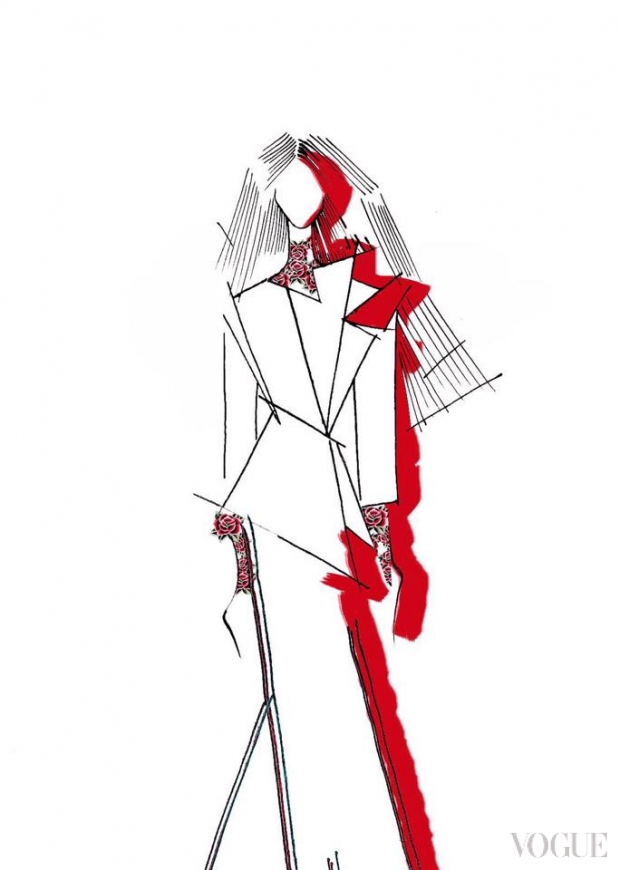 Svetlana Bevza:  I listened to Jamala's song and took into account her recommendation about trousers. This two -piece radiates strength. The tattoos of flowers (developed specifically for Jamala) on the neck and wrists symbolise femininity.
Artemklimchuk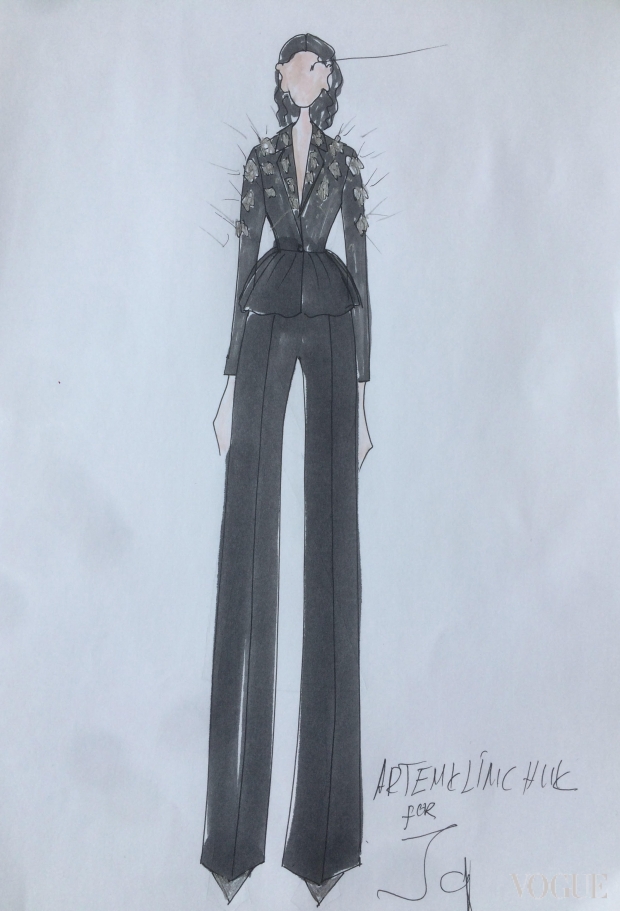 Artem Klimchuk: The suit is made of wool with a silk trim, embroidered with edelweiss flowers. The edelweiss petals are sewn by hand with beads and rhinestones. I believe Edelweiss is a symbol of courage and perseverance. The song is very deep, so it's hard to imagine Jamala in something frivolous. This is a suit for a serious artist and a serious song, my task is to emphasise and accentuate her shape correctly, without distracting from the main thing – the song.
Theo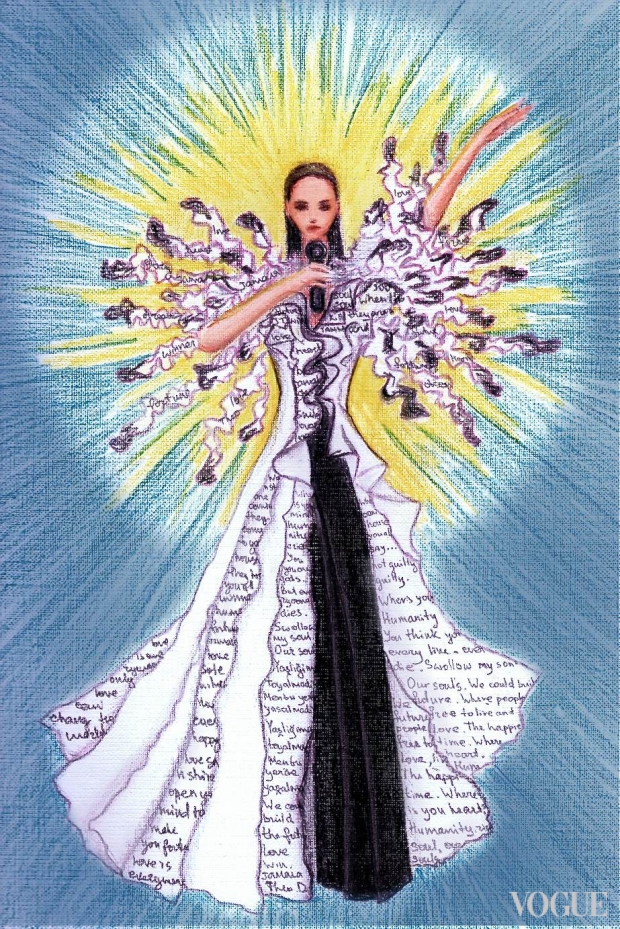 Theo Dean: The inspiration for the creation of this design was the story of Jamala's song "1944". The costume consists of two parts; the first is the dress and corset, with the skirt printed with the lyrics of "1944". The edges of the fabric represent the pages frayed by time. The top is tight on the waist and is made of chiffon ribbons. It is expected that Jamala will use a wind machine during her performance, which will allow the dress to move, creating a feeling of pages turning. The second element of the dress is hakama trousers with pleats, which are also reminiscent of pages of a book. The dress will be made of thick silk, chiffon and viscose. I recommend a high platform heels, to ensure stability but a feminine silhouette.
Dzhus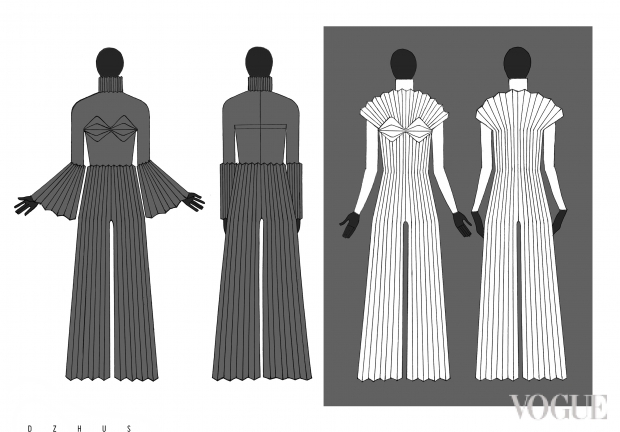 Irina Dzhus: Please do not take the grey and white colours literally – these drawings are intended to only show the cut, shape and silhouette. I always start my designs like this, but the colour can greatly vary. In this case, I will be happy to listen to Jamala's wishes, if she liked the design.
Jean Gritsfeldt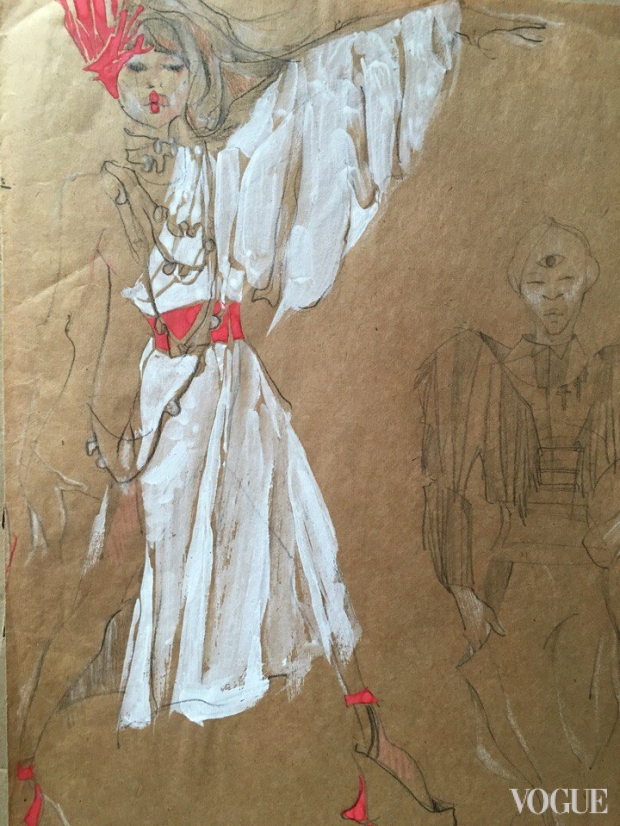 Jean Gritsfeld: I would like to combine the element of trousers with some semi-transparent embroidered fabric typical of the song "1944". I imagine this dress as a kind of transformation, for example, the rising of the sun after a long night, as hope which warms you, and I imagine Jamala as the character in this context.
Frolov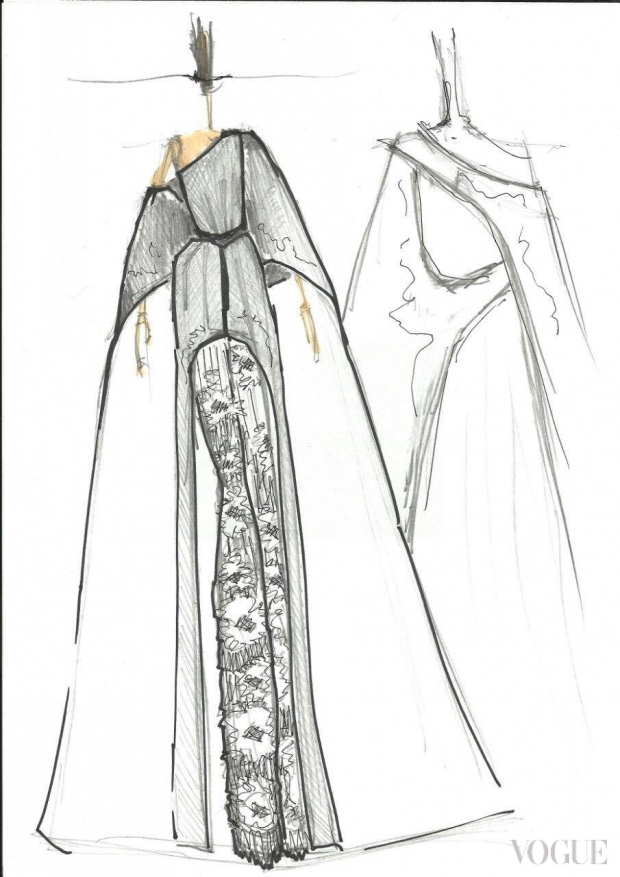 Ivan Frolov: When developing a design for Jamala, I was inspired by the design of the stage at this year's Eurovision Song Contest. This outfit is huge, strong, yet modest. My main focus is the unusual lace trousers, made of my signature material.
Xenia Schneider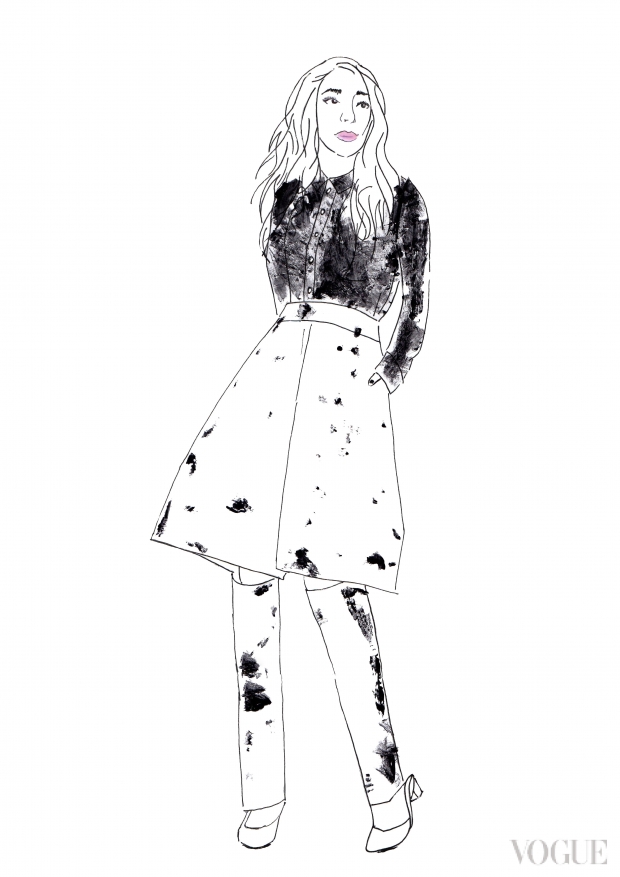 Xenia Schneider: I am very impressed by the style of Jamala, she embodies a new femininity – she always looks charming, without being overtly sexual. For her performance at the Eurovision the main thing for us is to project her character – and if Jamala insists on trousers, I am ready to support this! We have presented Jamala white trousers with a pixel print, combined with a classic shirt.
Marianna Senchina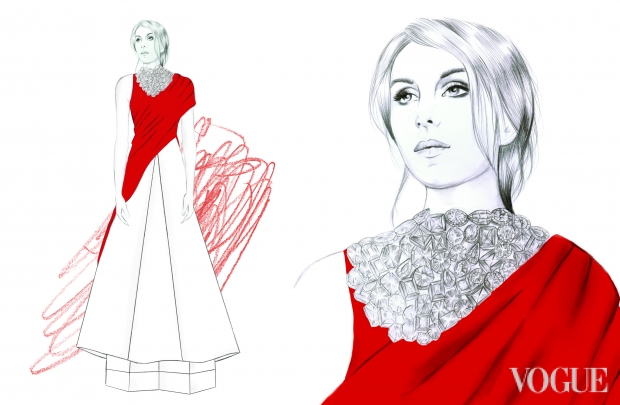 Marianna Senchina: The singer Jamala and her personality in general inspired me to create a red and white design. Within it, I tried to convey all the pain Tatar people; the pain of loss and longing for a home, represented by the red, while the purity and sincerity with which Jamal performs this song is represented by the white.
Yana Chervinska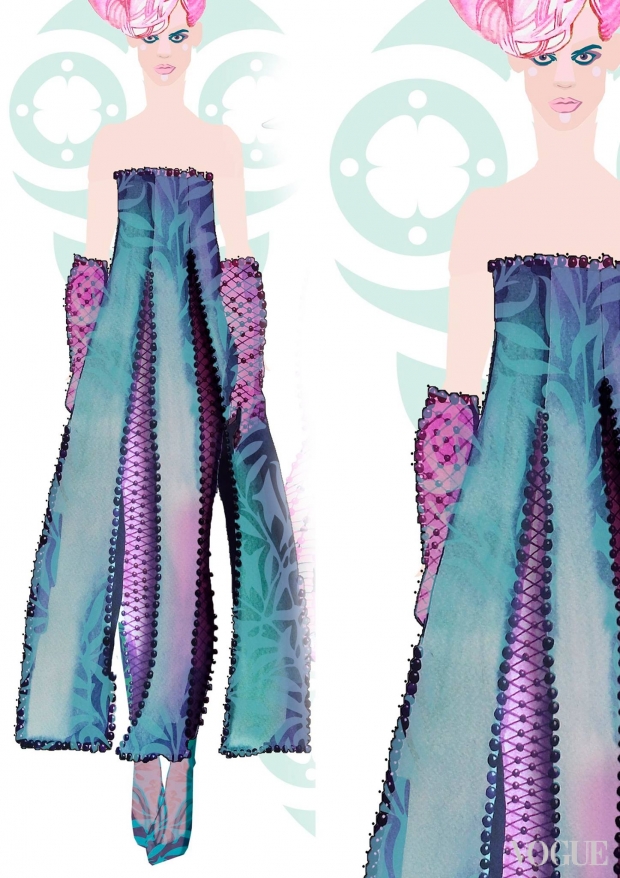 Yana Chervinska: In my opinion, Jamala's outfit should be unusual. The visual component of this competition is very important, as artists in striking costumes often succeed. For the European audience, Jamala should look unusual and unfamiliar, so her image must be truly memorable.
Ukraine will compete in the second half of the second semi-final on Thursday 12 May 2016.
Stay tuned to esctoday.com for the latest news on Ukraine, Jamala and the Eurovision Song Contest!