The 2018 Sanremo Song Festival concluded tonight with its fifth and final soirée. Ermal Meta & Fabrizio Moro have won the iconic Italian Song Contest and will to fly the Italian flag at the 2018 Eurovision Song Contest.
Ermal Meta & Fabrizzio Moro won the 2018 Sanremo Song Festival and will represent Italy at the 2018 Eurovision Song Contest in Lisbon with Non mi avete fatto niente.
https://youtu.be/R0NF8BZlH4I
About tonight's show
The Grand Finale of the 2018 Festival di Sanremo  was be held tonight at the Ariston Theatre in Sanremo and was aired live on Rai Uno and Rai International. The gala was hosted Claudio Baglioni, Pierfrancesco Favino  and Michelle Hunziker.
The Campioni 20 candidates battled for the coveted Sanremo grand prix during tonight's show. After the first round of voting Anna Lisa, Lo Stato Sociale, Ermal Meta & Fabrizio Moro proceeded to the superfinal.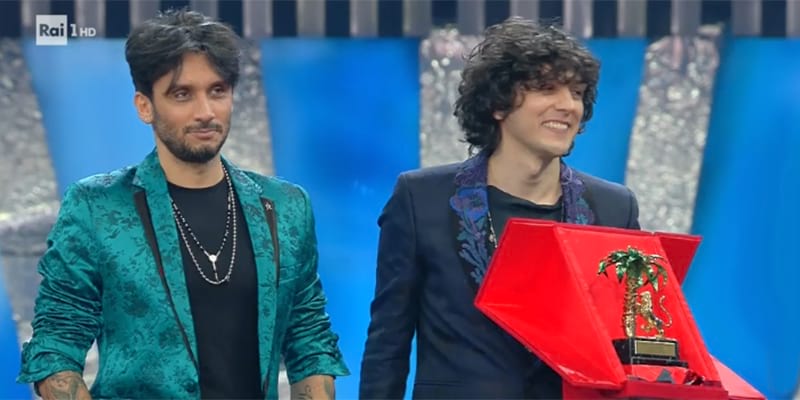 Ermal Meta & Fabrizio Moro were crowned the winners of the 2018 Sanremo Song Festival.
The winner of the 2018 Sanremo Song Festival was determined via a mixed special jury, press jury and public televoting deliberation.
Italy in Eurovision
Italy is one of the founder members of the Eurovision Song Contest having debuted in the very first contest in Lugano back in 1956. The country has won the competition on two ocassion: 1964 (Gigliola Cinquetti) and 1990 (Toto Cotugno).
Italy withdrew from the event in 1997 and was back in the game after a 13 year hiatus. The Italians returned with great honours in 2011 when Raphael Gualazzi came 2nd in Düsseldorf.
In 2017, Francesco Gabbani took Italy by storm and walked away with the Sanremo trophy and flew to Kyiv to represent Italy at Europe's favorite television show.
Despite being the hot favourite to bag the Grand Prix, he achieved an honorable 6th place with his mega hit Occidentali's Karma.