The first semi-final rehearsals have come to an end and we now all have an idea of what is set to be seen on the Eurovision 2017 stage during next week's like shows. Nine more acts took to the stage for the first time today, but how did the press rate what they saw?
With the final countries from semi-final 2 taking to the International Exhibition Centre stage for their very first rehearsals, a total of 35 press representatives have watched each of today's performances and ranked what they have seen.
Basing their ranking purely on the rehearsals they have witnessed today, the 35 press members from numerous media outlets have ranked each of the 9 performances from today by giving 5 points to their first place, 3 points to their second and 1 point to their third.
Day 4 results of the Daily Press Poll 2017
Earlier this evening, ESCToday went live on Facebook in order to present the official results of today's poll and offering further insight into day 4 of rehearsals.
Missed the show? You can catch up below where we also spoke to Israel's 2017 entrant Imri to discuss his participation in this year's competition!
Here are the results from day 4 of the Daily Press Poll 2017: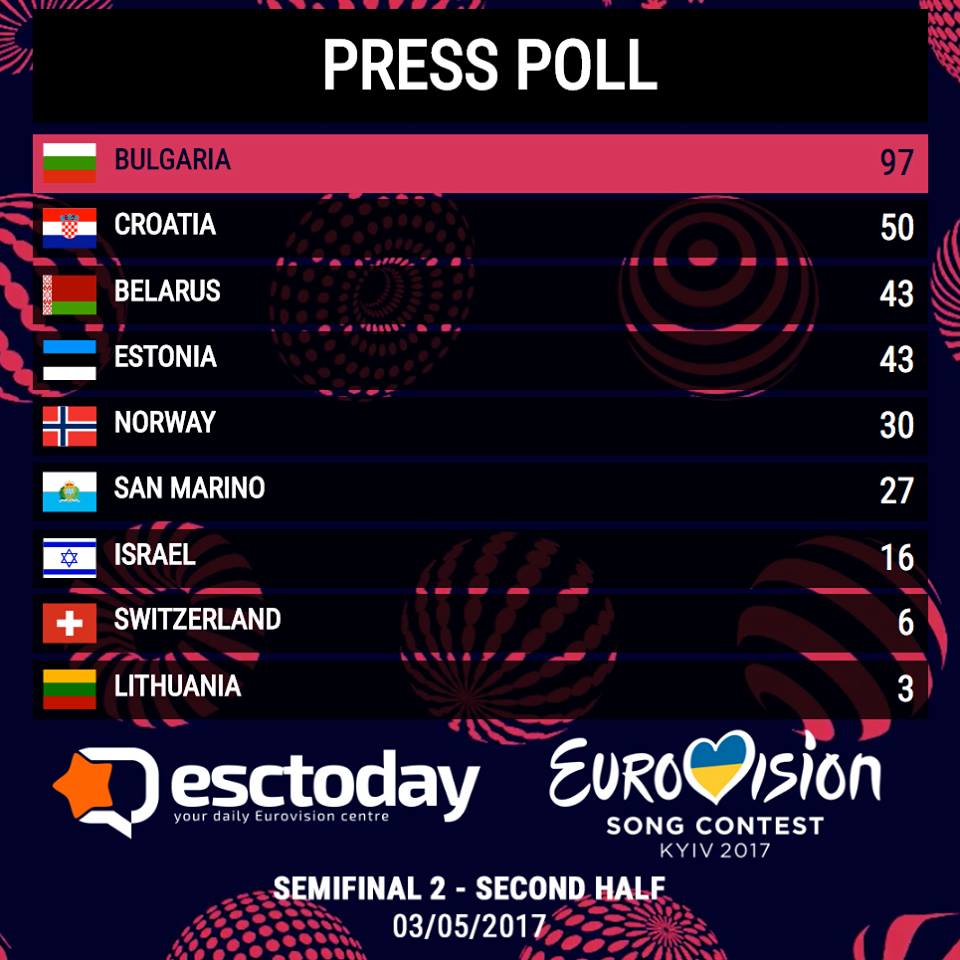 Just missing out on a 3-figure score but still gaining a huge lead in today's poll was Kristian Kostov from Bulgaria, receiving a total of 97 points. A surprise performance of the day from Croatia place the country in second place, whilst the 2 duos ranked in joint third place: Belarus and Estonia.
Catch up on our coverage of today's rehearsals:
Next press poll coming this Friday!
ESCToday's Daily Press Poll 2017 is set to return this Friday for the first rehearsals from the Big 5 nations – France, Germany, Italy, Spain and the United Kingdom – together with the host nation Ukraine. Stay tuned!
ESCToday is growing and always looks for new members to join our team! Feel free to drop us a line if you're interested! Use the
Contact Us page
or send us an email at
[email protected]
!