On to the third day of first rehearsals in the International Exhibition Centre in which a further 9 countries took to the Kyiv stage for the very first time to practise their performances. What were the thoughts from each of the viewing press members?
As with the previous 2 days of ESCToday's Press Poll, another 35 member of the viewing press representatives viewed each of today's 9 rehearsals from the IEC, going on to rank each of the shows from today.
Once again, the 35 representatives ranked each of today's performances based purely on the rehearsals they saw live from the press centre today, giving 5 points to their first place, 3 points to their second and 1 point to their third.
Day 3 Daily Press Poll 2017 results!
ESCToday went live on Facebook earlier this evening in order to present the official votes of day 3 of rehearsals and also provide an insight into each of today's performances.
Catch up on day 3 of our Daily Press Poll here!
Day 3 results of ESCToday's Press Poll was as follows: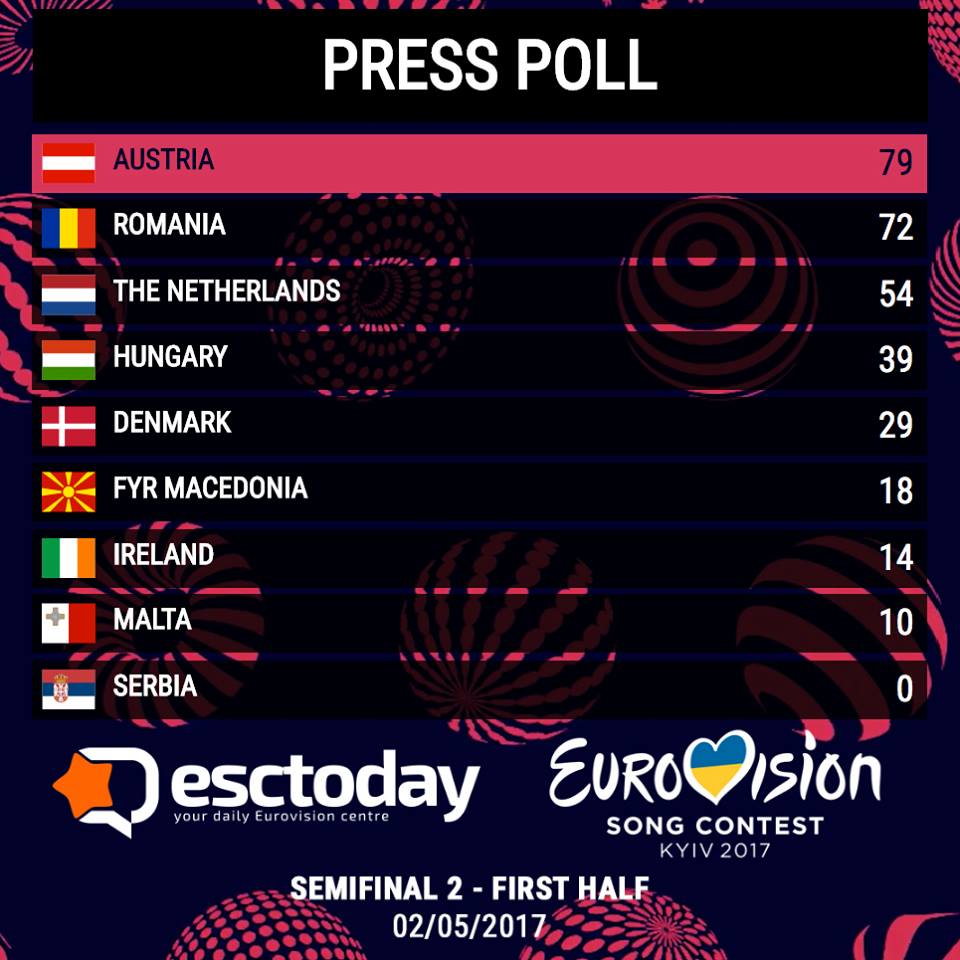 Today's scores showed a much closer result with the points being distributed more evenly, making for an interesting result. Austria received a total of 79 points in today's poll, whilst Romania finished in second with 72, only 7 points difference!
Perhaps surprisingly, Serbia received a total of 0 points in today's poll, potentially based on a number of factors including performing first on the day together and performance changes. However, performances from numerous entrants are expected to see changes for the second rehearsal as more elements are set to be polished and finalised.
If you missed today's events, check out our updates from day 3 of first rehearsals:
Stay tuned for Day 4 of our Daily Press Poll!
Two colourful performances topped the scoreboard today, but which entries will receive the highest amount of points in tomorrow's poll?
Get ready for the final semi-final 2 rehearsals from San Marino, Croatia, Norway, Switzerland, Belarus, Bulgaria, Lithuania, Estonia and Israel, with the entrant of the latter joining us tomorrow in our livestream!
ESCToday is growing and always looks for new members to join our team! Feel free to drop us a line if you're interested! Use the
Contact Us page
or send us an email at
[email protected]
!