Today at 19:00 CET, the official opening ceremony for the Eurovision Song Contest 2016 will take place at Stockholm's city hall. Before this, all the contestants will have a chance to shine and show off their Sunday best on the Red Carpet event for press and fans outside the EuroClub. Join us as we provide a live commentary on the singers, and their fabulous clothes!
Later today the Red Carpet parade and Opening Ceremony will mark the official opening of the Eurovision Song Contest, the week commonly referred to as "Eurovision week" by fans and press alike. After the artists and their accompanying delegations have walked along the 95-metre Red Carpet, posing for photographs and giving interviews along the way, they will be taken to the City Hall for the Opening Ceremony. Here, they will be welcomed by the City of Stockholm, the EBU and SVT.
Once the Opening Ceremony has finished, the artists are invited to a Welcome Party at the EuroClub. Accredited press and fans are also invited to this event. The hostesses for tonight's EuroClub event are Shirley Clamp and Velvet. Both are experienced Melodifestivalen contestants, with Shirley Clamp competing six times as a singer and once as a composer, and Velvet competing three times.
Join us tonight from 19:00 CET for our live commentary!
Follow our live stream from the red carpet below!
Eurovision 2016 Opening Ceremony: Red Carpet LIVE

Geplaatst door Esctoday op zondag 8 mei 2016
The Eurovision 2016 hosts, Petra Mede and Måns Zelmerlöw, take to the red carpet!
Petra and Måns are the first people to appear on the red carpet, alongside Christer Björkman. Måns is wearing a smart grey three-piece suit and looks very relaxed. Petra wears a full-length tan coloured gown, embellished with silver sequins and embroidery. She is channelling a Great Gatsby vibe, and completes her look with a black furry shrug. Her hair is down and her make-up is minimal, yet she still looks incredibly glamorous!
Sweden's Frans is the first 2016 artist to take to the red carpet!

As Sweden is the host nation this year, Frans is the first artist to arrive on the red carpet! He is wearing a grey tweed suit by Swedish designers Winston & Elle, who based in Sundyberg, just north of Stockholm. He wears a plain white shirt underneath, with the top bottom undone. Frans' white trainers keep his outfit looking fresh, modern and young. This look matches the relaxed vibe of his song very well.
Dami Im from Australia is on the carpet!
After a last minute costume change, Dami has opted for simple full-length black strapless gown by influential Australian designer Carla Zampatti. The skirt of the dress is made out of a see-through lace material to give it some sex appeal, and the bow on the bodices mirrors this. She wears gladiator heels and has curled her hair for the event tonight.
Belarus' Ivan is here!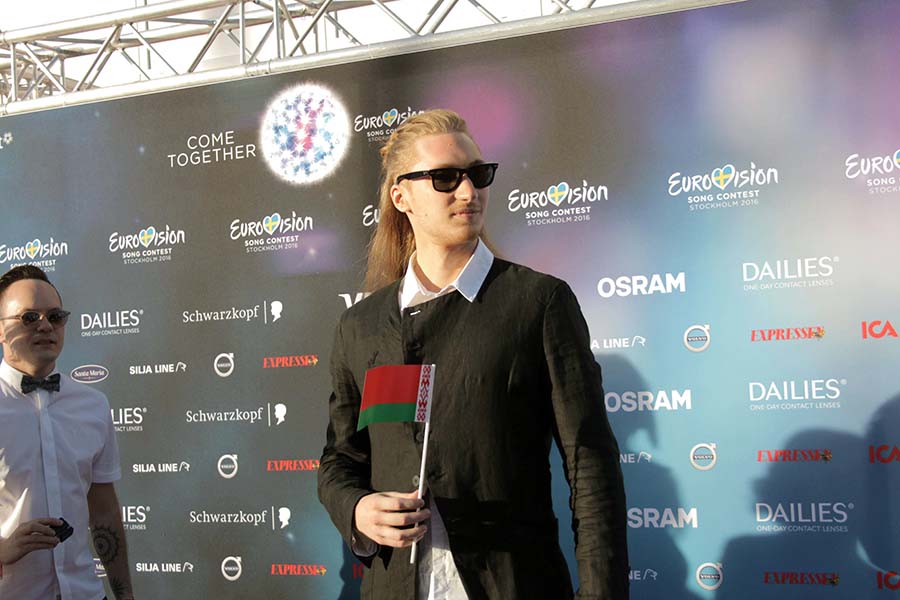 Ivan, this years' Belarusian representative has turned up fully clothed to this event, without a wolf in sight! He wears his long hair up in an on-trend "man bun" and sunglasses. His black suit is loose and not tailored traditionally. However, Ivan himself is not very traditional so this suits him quite nicely!
Jamie-Lee from Germany on the red carpet!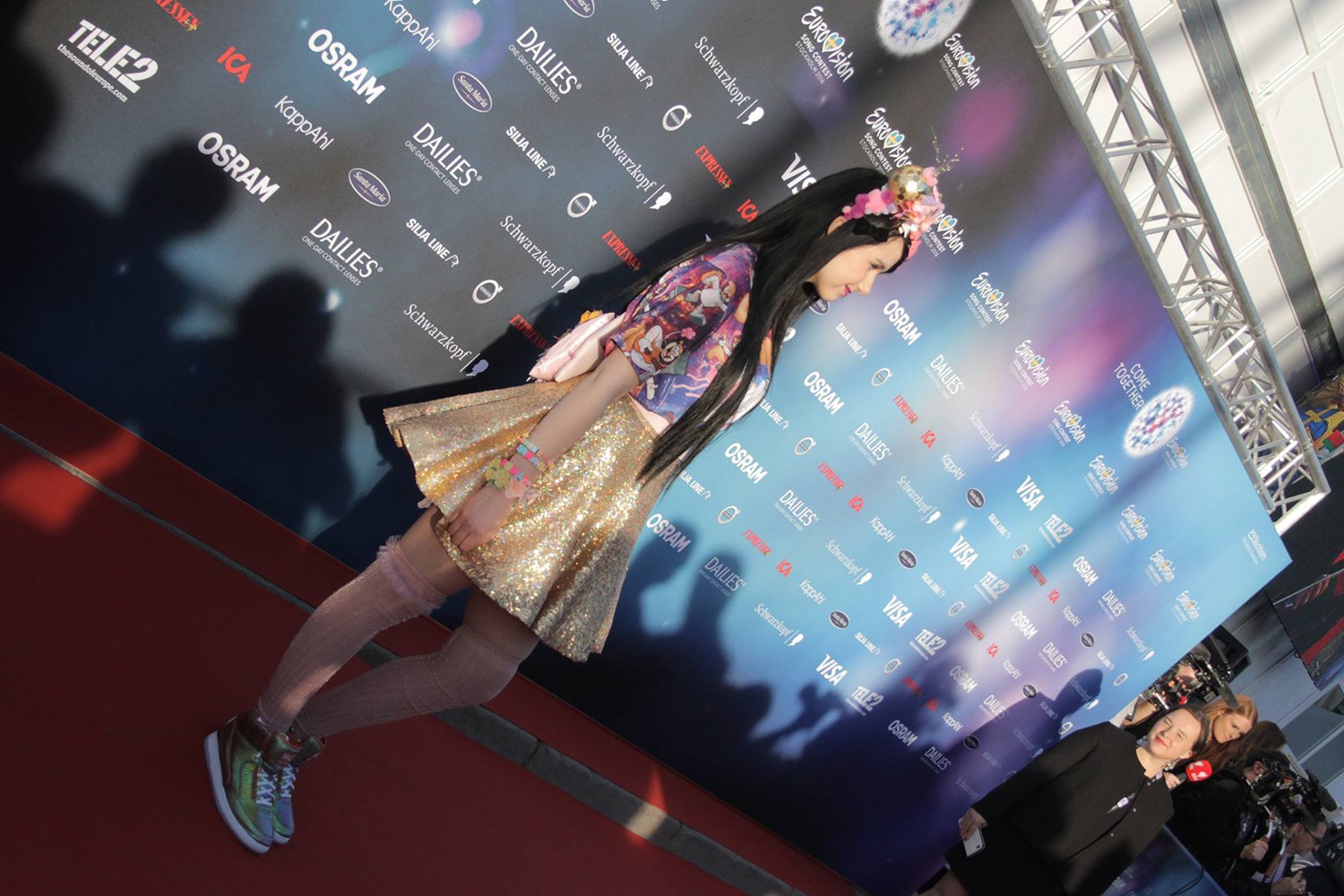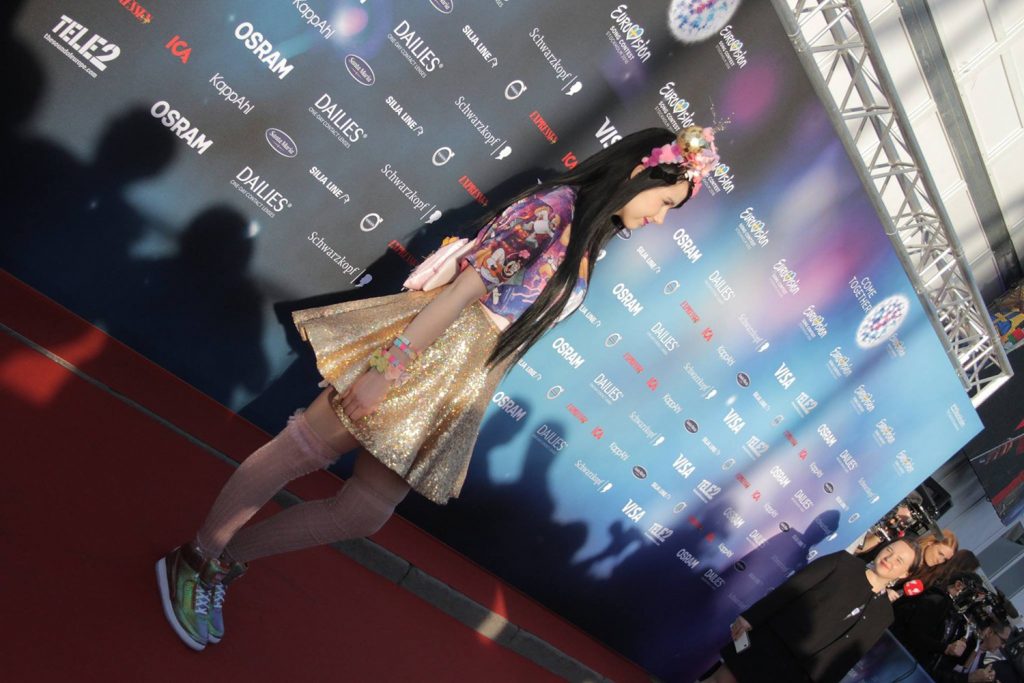 Jamie-Lee Kreiwitz is next up, and she has pulled out all the stops to rock her trademark manga look. Her gold sparkly skater skirt and patterned top are a piece by German designer Kathi Glas. She adds knee-length socks and green hi-tops, which suit the young German singer's flamboyant look. Her hair piece is a work of art in itself, and was designed by FJ Baur.
Good evening to Poland's Michal Szpak!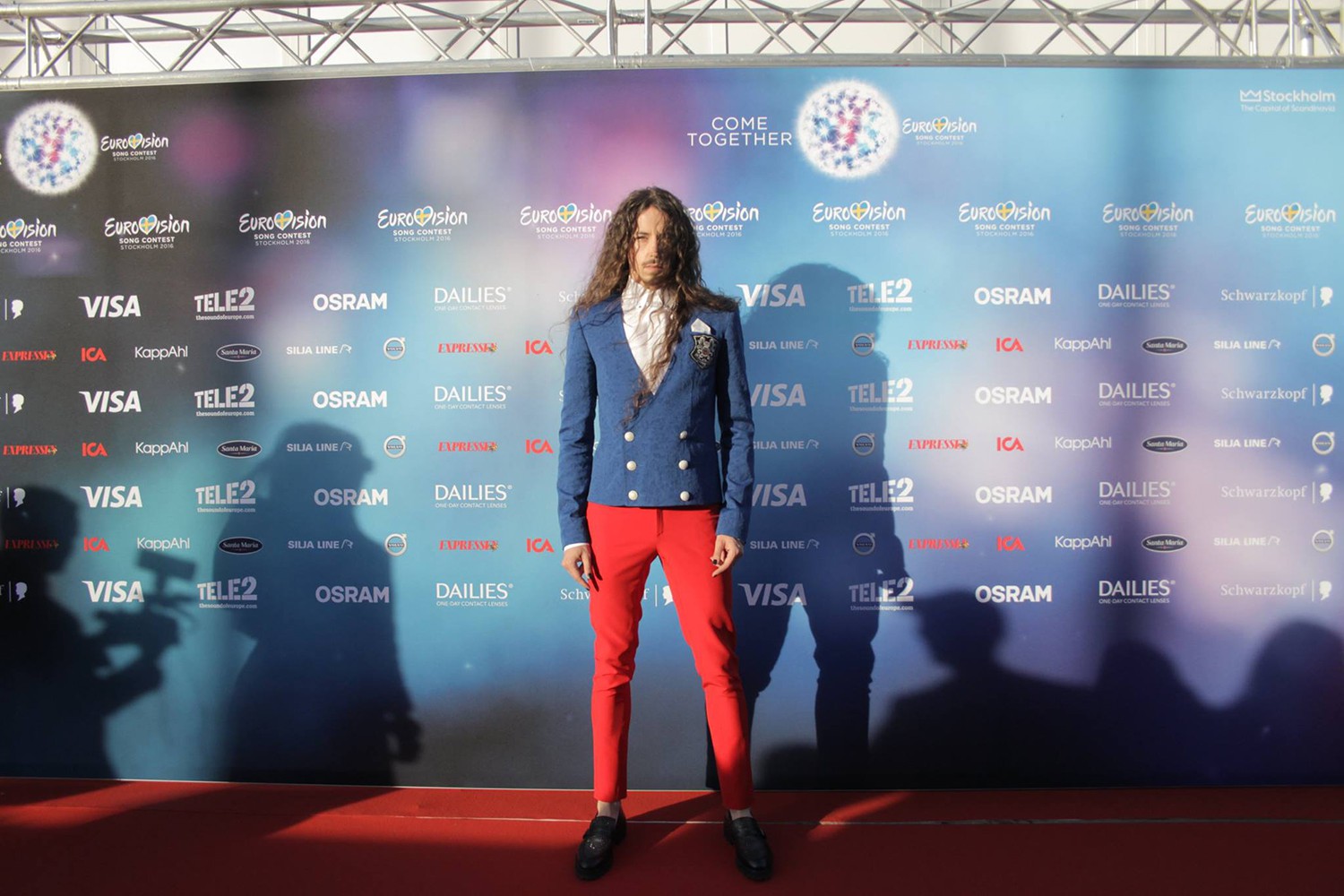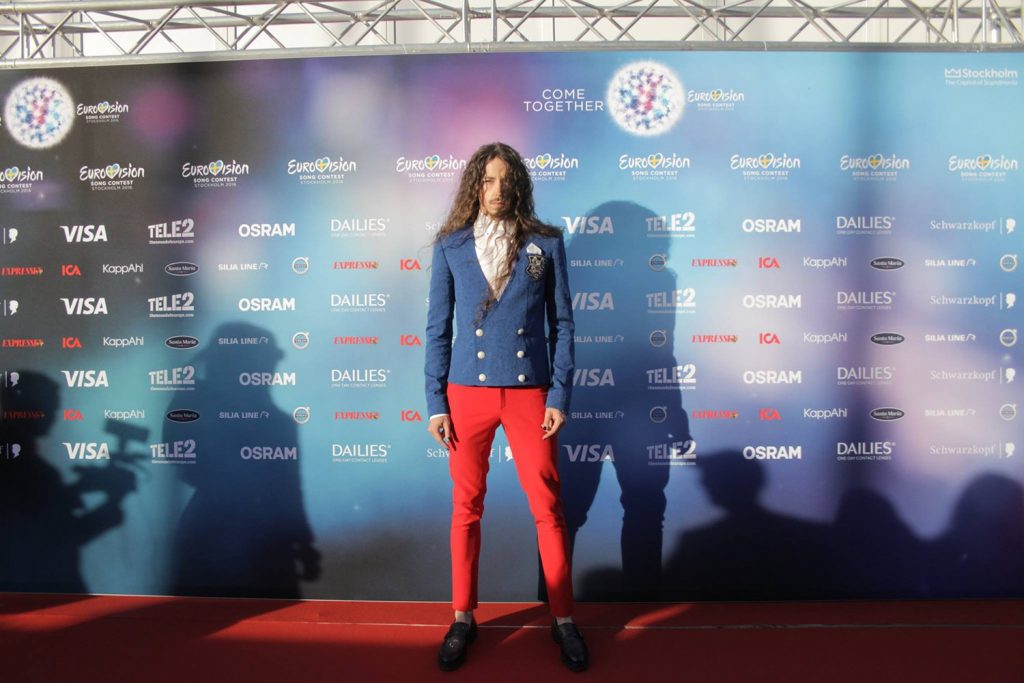 Michał Szpak wears an outfit he has designed himself, with some help from Polish designer Justyna Bulińska. His clothes tonight are the brightest so far! Michal is wearing bright red trousers and a military-esque blue jacket. His white ruffled shirt and flowing locks make him look like an extra from a Les Miserable production! He modernises his look with pointed shoes and no socks, a style used frequently by young male models.
Croatia's Nina Kraljić at the opening ceremony!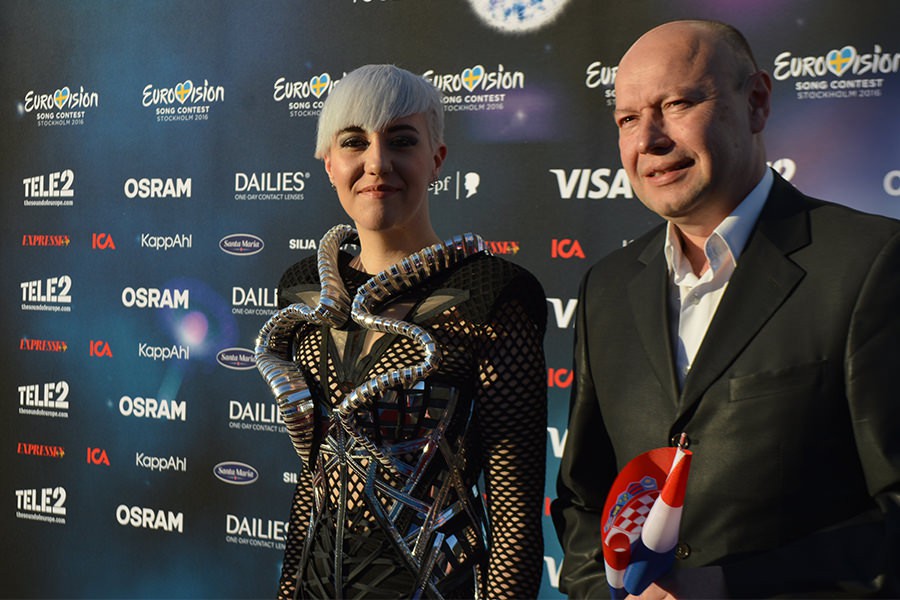 Nina's outfit choices throughout the whole of this Eurovision season have been very unique and dramtic. This dress tonight is no exception, as she wears her favourite Croatian designer Juraj Zigman once again. Zigman has also designed Nina's stage outfit, as he said the song "inspired him". Nina's dress tonight is black with silver embellishment, almost like armour. Two serpent-esque twists twine around Nina's shoulders, and her short hair shows this off very well. The cut of Nina's dress is very similar to that of Margaret Berger's in 2013.
Hello to Belgium's Laura Tesoro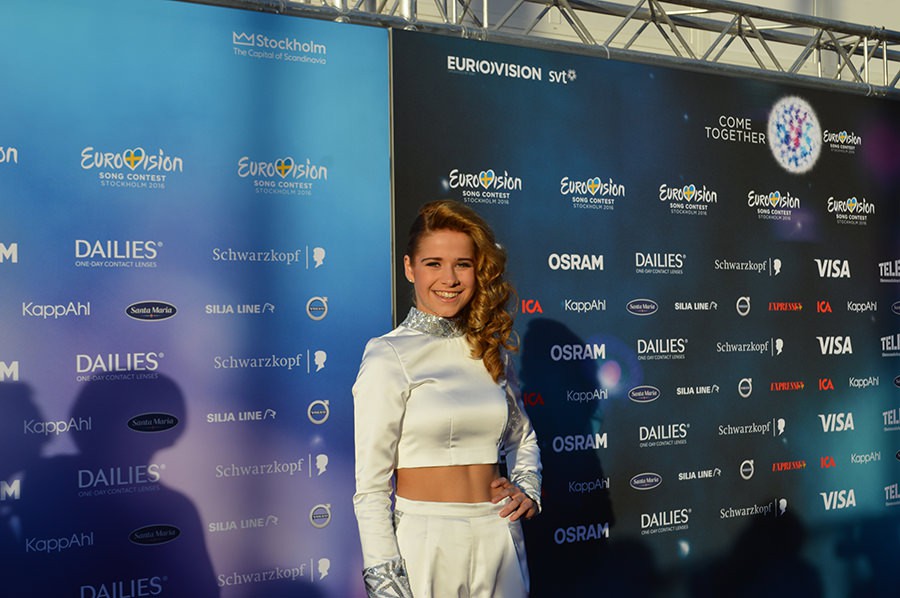 Laura Tesoro has let her curly hair drop down one side of her face, making her look very elegant. She wears a satin two-piece by O'ren, similar to her stage outfit. The outfit shows off her toned midriff without being too raunchy. The silver embellishment and cut of her costume give off the same seventies disco vibe that radiates from her song.
Serhat from San Marino enters the red carpet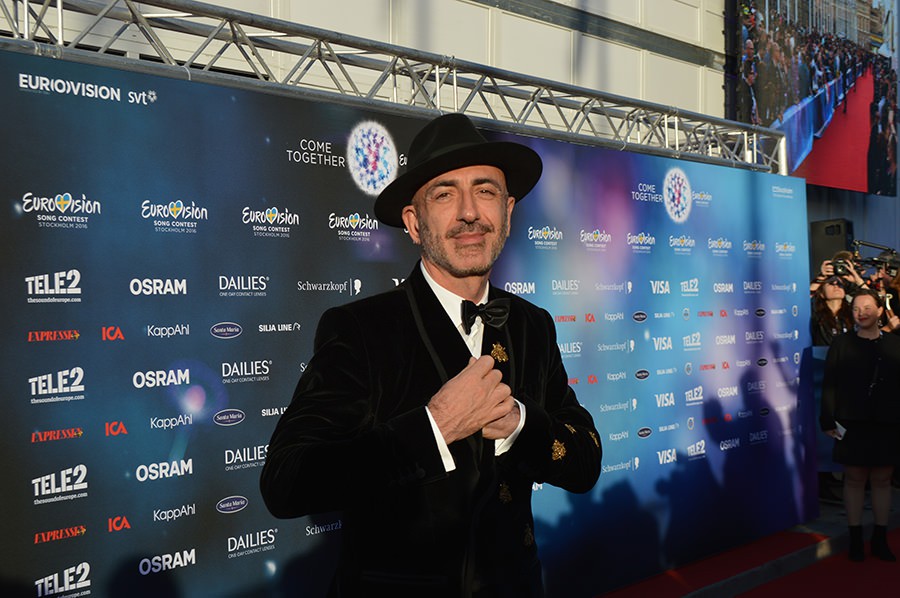 Serhat is looking sharp tonight! He wears a velvet suit by famous Italian designers, Dolce e Gabanna. The suit is embroidered with gold designs, which look like bees, and Serhat wears a smart black bow tie. He finishes his look tonight with his trademark trilby hat.
Appearing on the red carpet next is Italy's Francesca Michielin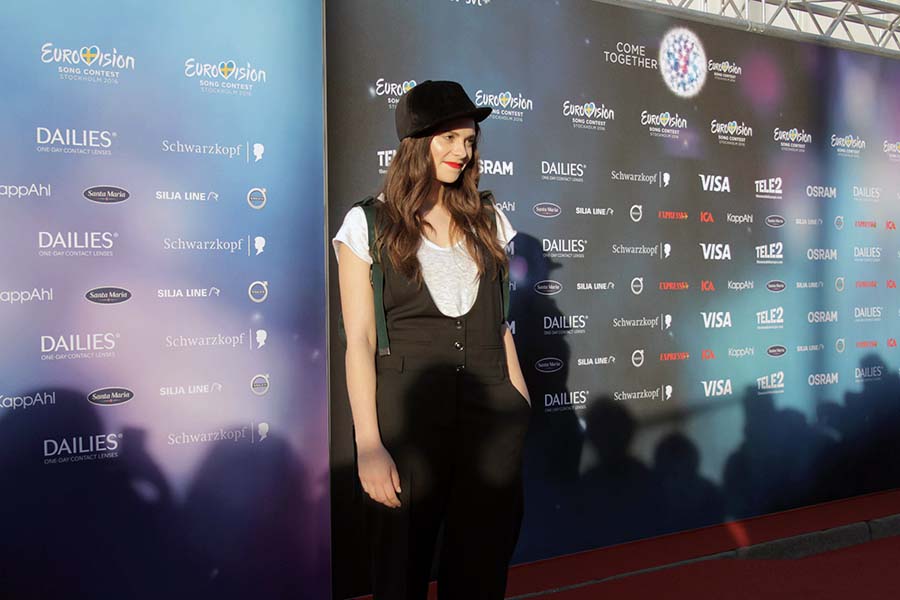 Italy is next on the red carpet, and Francesca is wearing a smart-casual jumpsuit and blouse. She has a bag on her back and is wearing a black hat. So far, Francesca is the most simply dressed of the Eurovision ladies, yet she still oozes elegance.
Danish trio Lighthouse X on the red carpet!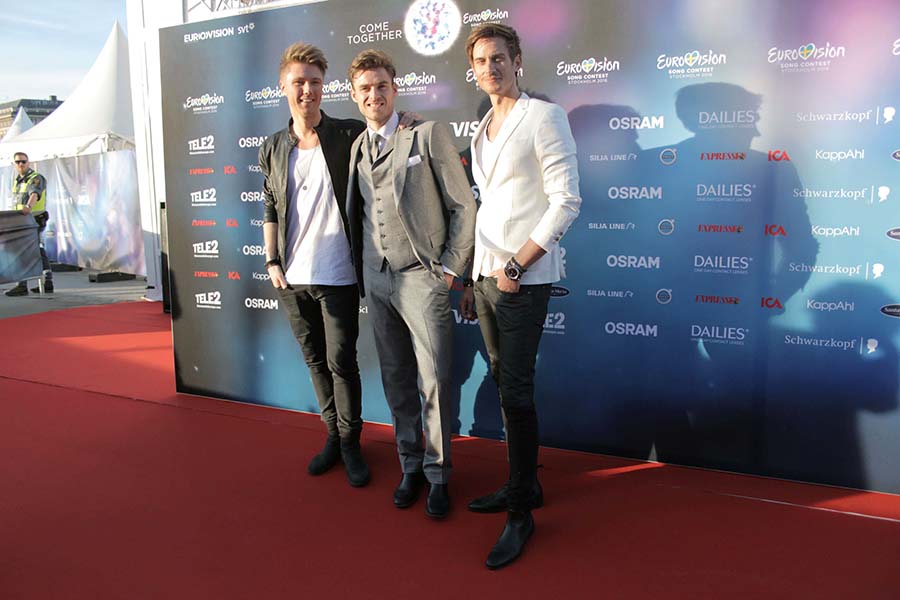 The three boys from Lighthouse X arrive next. Each of the three members are wearing an outfit which reflects their own style. Martin is dressed very similarly to how the band will appear on stage on Thursday, wearing a leather jacket and shoes by Danish brand Ahler. Soren is dressed in a fairly typical outfit for male Eurovision singers; jeans, a white t-shirt and a formal white jacket, with the sleeves rolled up. His outfit consists of famous brands SAND, Armani, Selected Homme, and his watch is by Manniche Timepieces. Johannes is wearing a very traditional grey three piece suit, not dissimilar to Mans' outfit tonight. Although the three do not match tonight, it is great to see them expressing their own style and preferences.
Good evening, Sanja Vučić from Serbia!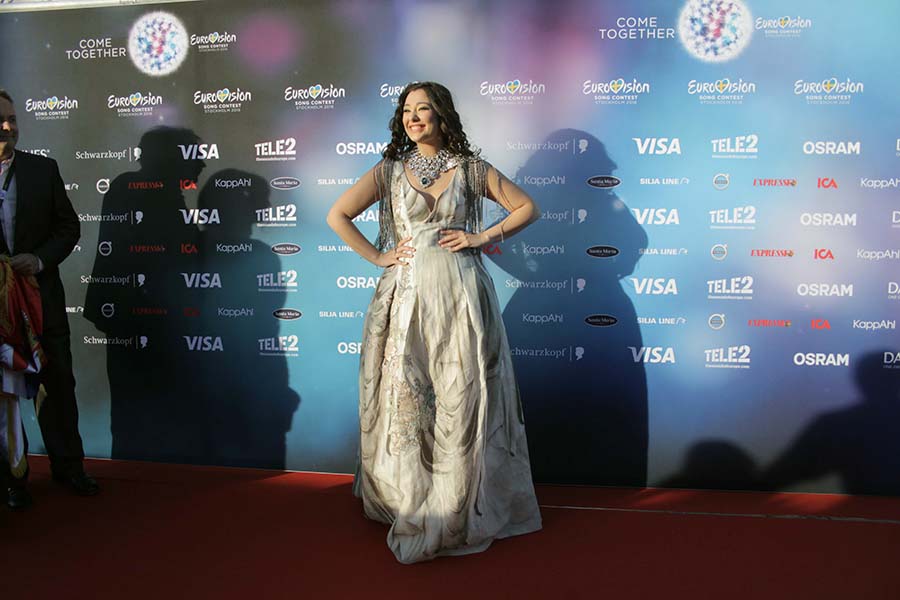 Serbia's Sanja Vucic is wearing a very glamorous full-length gown, and would not look out of place at the Oscars! The dress is cream with a rouched pattern, and is quite low-cut. Sanja makes the most how low-cut her dress is by accessorising with an elaborate jewelled collar necklace. She wears a delicate fringed shawl and her hair loose. Sanja is all smiles for the cameras tonight too!
France's Amir at the opening ceremony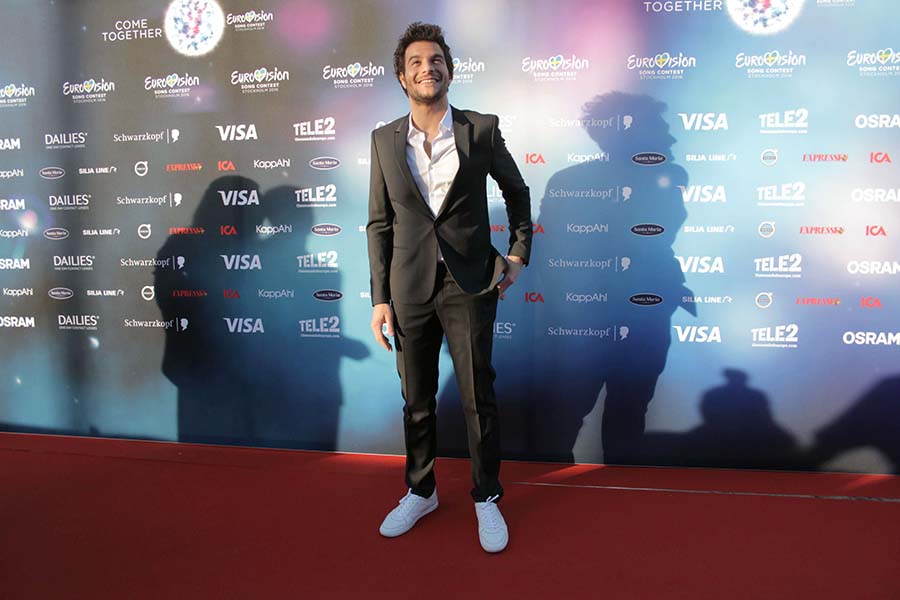 Amir Haddad from France is wearing a suit by the popular brand "the Kooples". His look is very similar to what he has been wearing on stage for his rehearsals, only this time he wears a black single breasted jacket. Amir does not wear a tie, and also wears trainers with his suit, to keep his look young and modern.
Sing it away, Sandhja!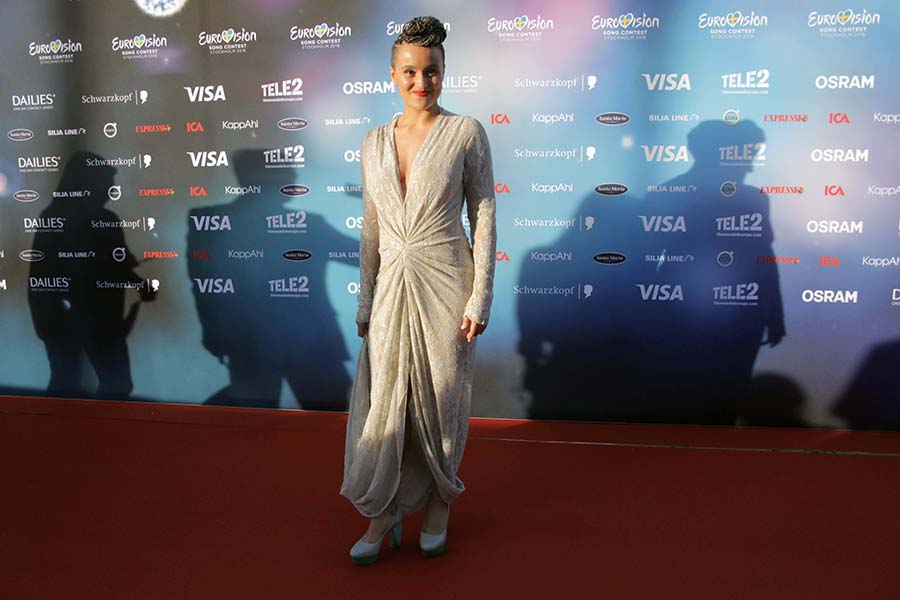 Sandhja, who we are used to seeing looking quite casual, look stunning tonight in a sparkly silver garnment. The gathering suits her frame very well, and the heels add elegance. Sandhja's dress tonight was designed by Finnish designer Katri Niskanen, who won the 2014 Elle style award. Sandhja's hair piece completes her look, and also matches the same 1920's vibe we saw with Petra earlier.
Freddie at the opening ceremony!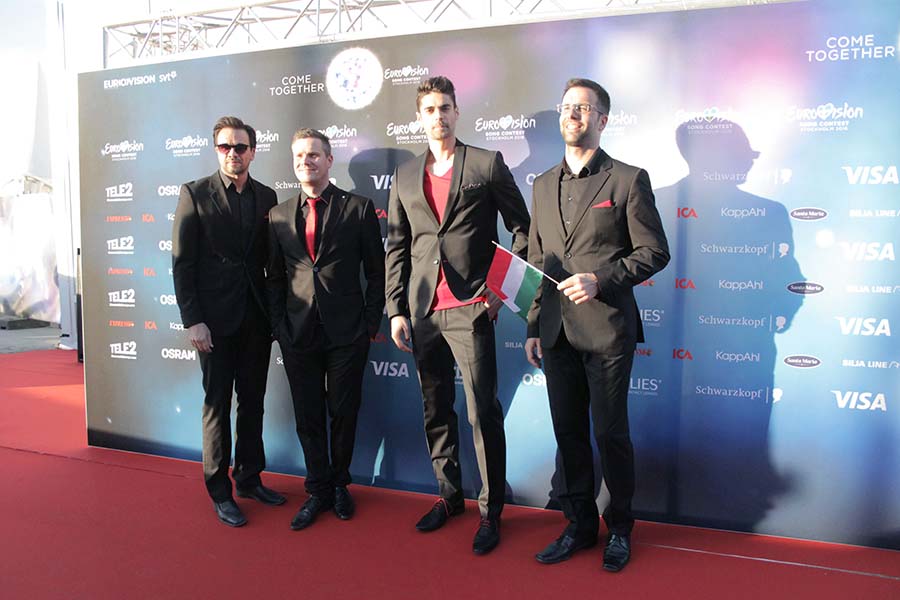 Freddie is all in black, apart from flashes of red from his t-shirt and shoe laces. His outfit was designed by Hungarian designer István Hornyák, who also designed the costumes for Kati Wolf's 2011 performance for Hungary in Dusseldorf. The real talking point of Freddie's get up tonight is the LED badge in the shape of the famous Hungarian parliament buildings in Budapest, also designed by István Hornyák. Freddie's team are also in black and red tonight.
Welcome and congratulations to Malta's Ira Losco!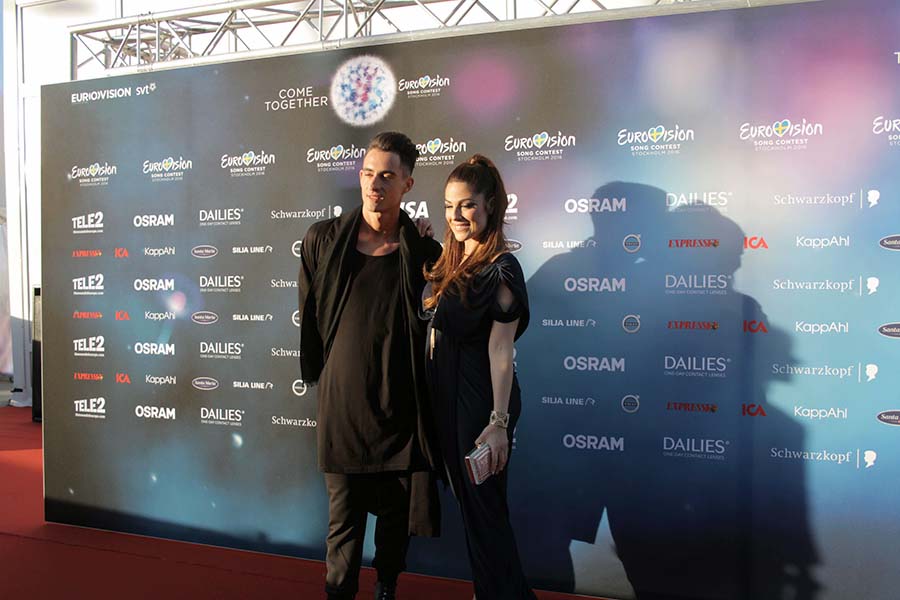 After announcing her pregnancy earlier today, new mum-to-be Ira Losco is definitely emitting that pregnancy glow! She wears a demure number, a navy blue draping toga-like dress accessorised with a long necklace. The dress is gathered at the front, and it shows off Ira's daringly high shoes! Ira's hair is tied up in a half ponytail, and her make up reflects the elegance of her dress.
Current favourite Sergey Lazarev on the red carpet!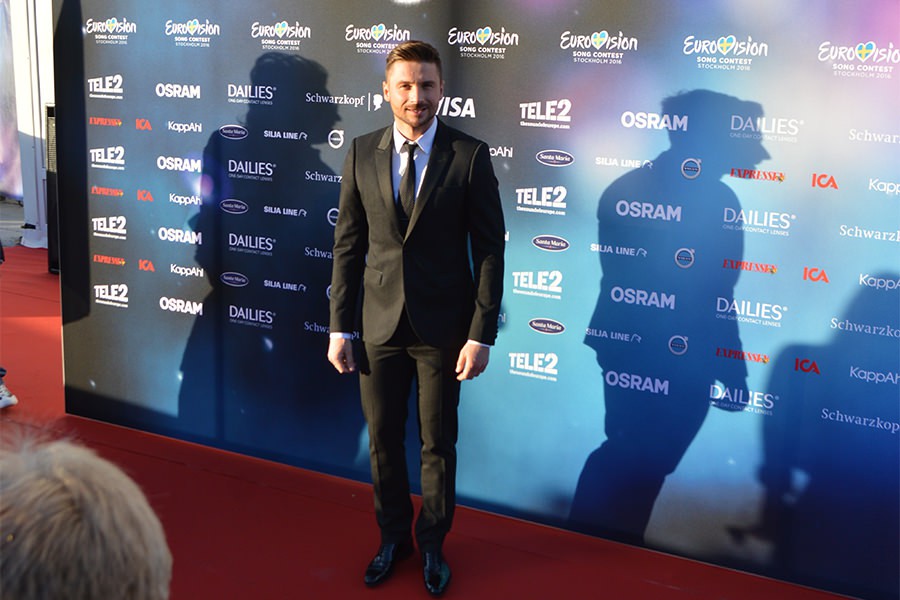 The hot favourite of 2016 has arrived at the red carpet looking like he is auditioning for the role of the next James Bond! Sergey Lazarev looks incredibly dapper in his classic black suit and black tie. While a lot of the male singers attending tonight's event have gone for modern suits and styling, Sergey has gone for a classic look which pulls off very well indeed.
Welcome to Iceland's Greta Salóme!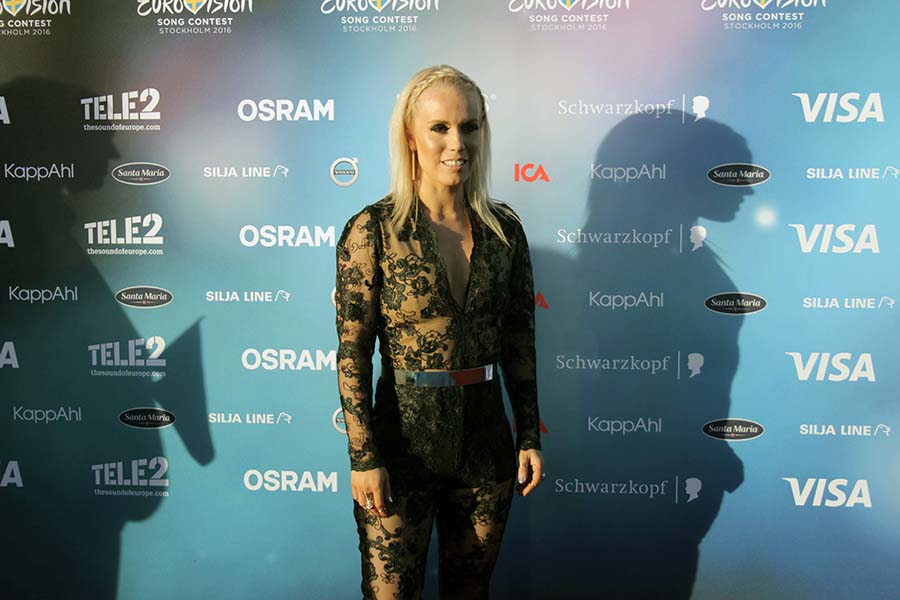 Greta Salome is wearing a jumpsuit she has made herself alongside Icelandic designers and dressmakers Filippía Elísdóttir and Elma Bjarney Guðmundsdóttir. It is flesh coloured, embroidered with black lace to give the impression that the lace is on Greta's skin, and matches her staging concept well. Greta wears a gold belt to show off her waist, and she has gone for a braid across her hairline, which makes her look classically Scandinavian. It is a daring choice to go for a jumpsuit instead of a dress, but Greta looks delightful wearing it.
Douwe Bob from the Netherlands at the opening ceremony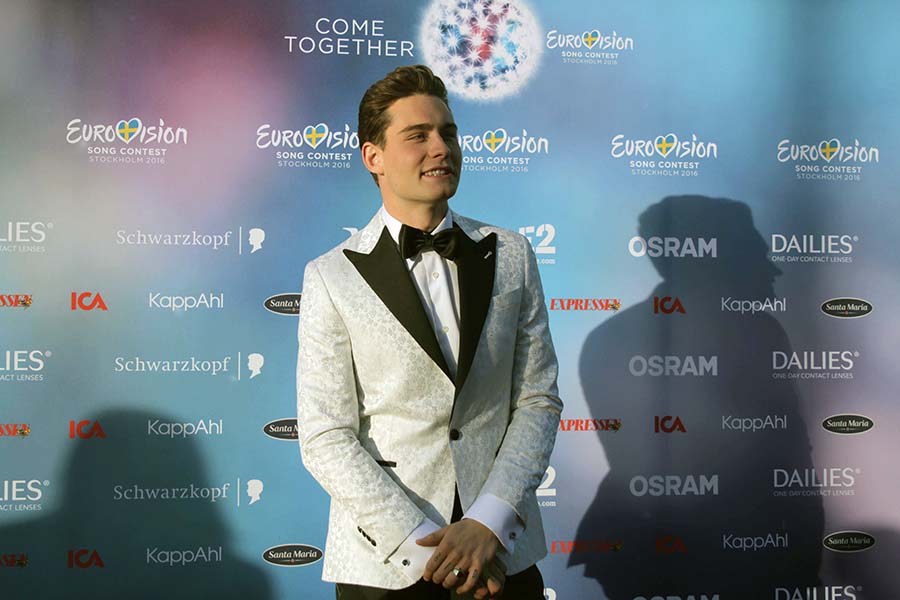 Douwe Bob is looking quite the showman tonight, in his white jacket. He is wearing all black apart from his white and this striking jacket, and is looking fairly happy and at ease.
Welcoming Jamala onto the red carpet!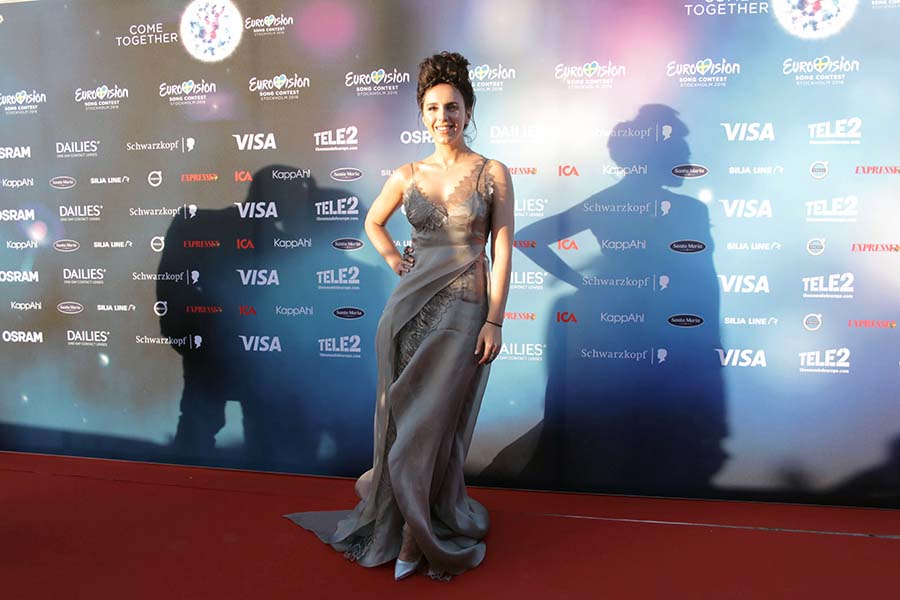 Ukrainian entrant Jamala is wearing a dress designed by Ivan Frolov, the designer who won the chance to design a stage costume for her. Jamala is yet to decide on her stage outfit. She specifically asked for trousers on stage, so it makes a refreshing change to see her wearing a glamorous gown! Jamala's dress is a nude peach colour, and the bodice is reminiscent of vintage lingerie, which is very on trend at the moment. The skirt is very structured, as is typical of Frolov's designs. The split at the front of the dress reveals a lace underskirt, as the designer uses the underwear-as-outerwear trend very nicely. Jamala is wearing her hair up on top of her hair, like a historical goddess.
Argo from Greece at the opening ceremony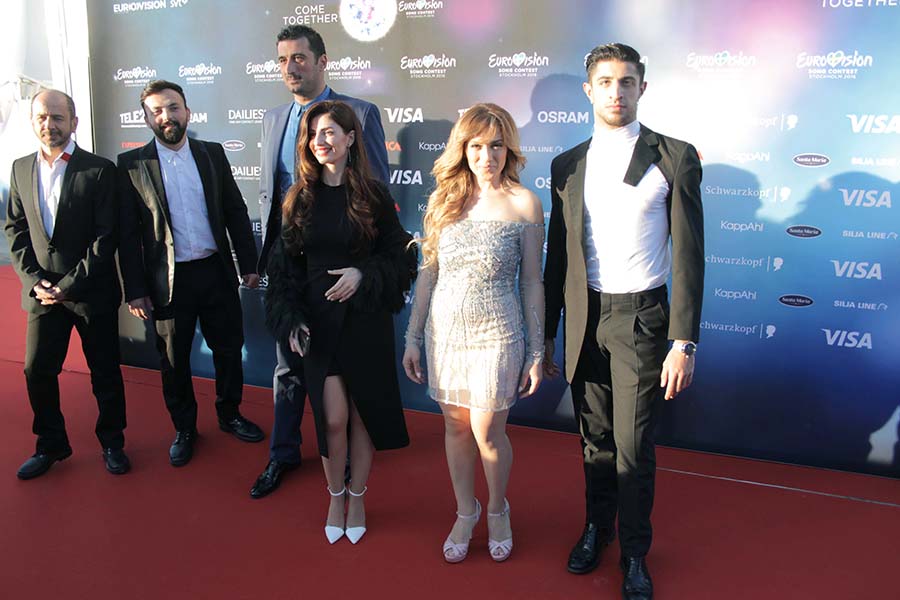 The Greek band Argo have arrived on the red carpet, and each band member wears different designers. Konstantinos Topouzis, Alexandros Papadopoulos and Vassilis Roxenos are wearing made-to-measure suits by the Greek designer Dimitris Petrou. Vladimiros Sofianides is wearing a woollen suit by Hugo Boss. The two ladies have taken very different approaches to their dresses tonight. Christina Lachana is wearing a short flesh-coloured hand embroidered dress by Greek designer Ourania Kay. Maria Elbrous Venetikidou is wearing a simple black dress by Michael Kors.
Kaliopi takes to the red carpet!
The popular Balkan songstress Kaliopi is next on the red carpet. She is wearing a full-length empire cut black gown, with ¾ length lace sleeves. The dress has a very low scoop neck. Kaliopi has her dark hair tied up, and her fringe frames her face well.
Lithuania's Donny Montell at the opening ceremony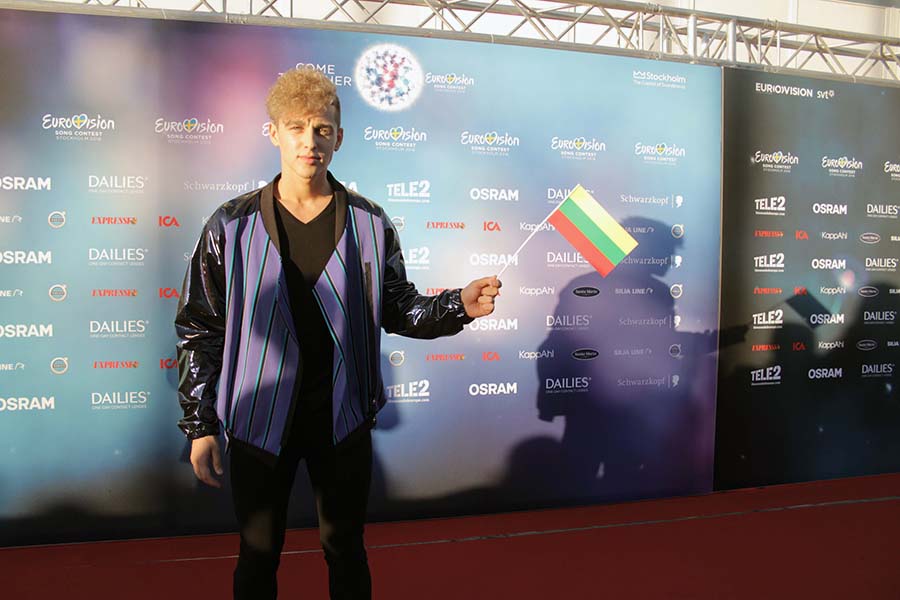 Donny Montell has arrived tonight wearing all black apart from a vivid purple and green vertical striped jacket. The sleeves of the jacket are leather, and the garnment looks very high-fashion. His trousers are eye-wateringly tight, and he stays on trend with bulky boots. Donny's outfit tonight was designed by Lithuania designer Marius Stanevičius.
Welcome to Samra from Azerbaijan!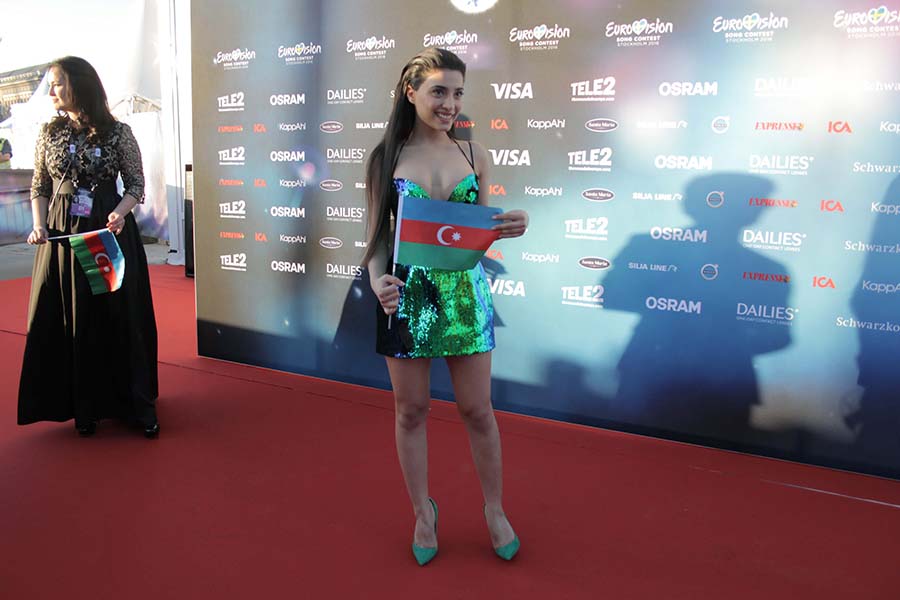 Samra from Azerbaijan is wearing the most revealing of tonight! Her strappy thigh-skimming blue and green number is sequinned all over, and a panel has been put into the dress at the top to prevent any embarrassing wardrobe malfunctions! Samra wears bright green stilletoes and has her hair long hair pulled back off her face in a way so often used by celebrities on the red carpet.
Nicky Byrne at the opening ceremony!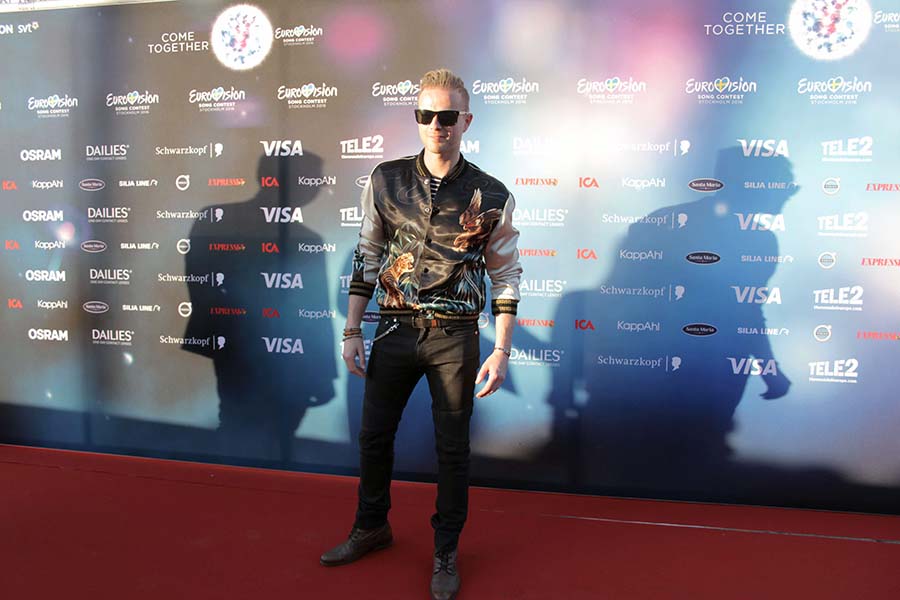 Ireland's Nicky Byrne is looking very cool in his sunglasses and oriental baseball jacket! His look tonight is lightyears away from the white suits of his Westlife days. Nicky's jacket is black with a tiger motif along the bottom. He is also wearing plain black trousers and brown boots.
Latvia's Justs on the red carpet!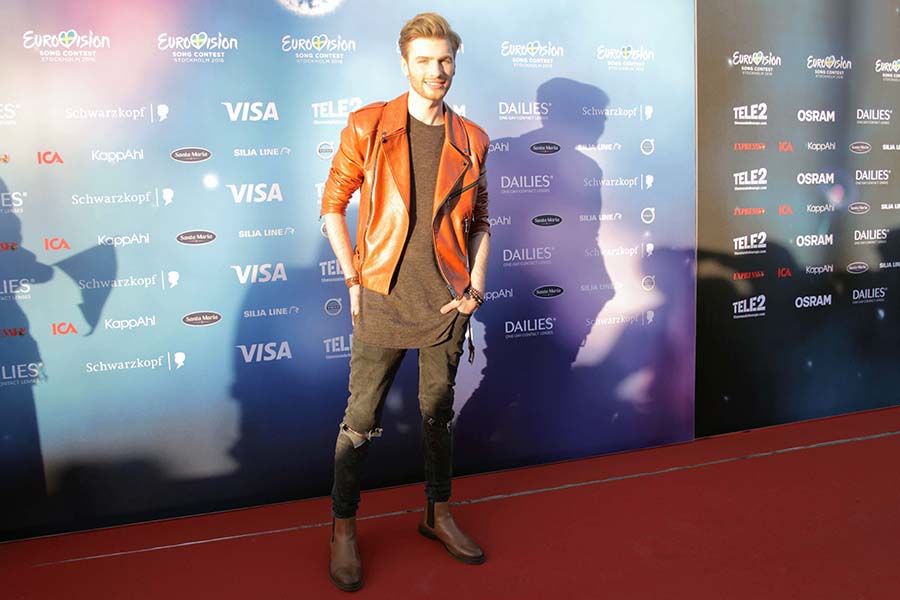 Justs Sirmais from Latvia has clearly been taking fashion tips from Eric Saade, with his burgundy leather jacket! Unlike Eric, Justs is wearing an on-trend oversized skater t-shirt, ripped black jeans and boots which match his jacket. He is looking happy with his relaxed vibe tonight.
Welcoming Armenia's Iveta Mukuchyan!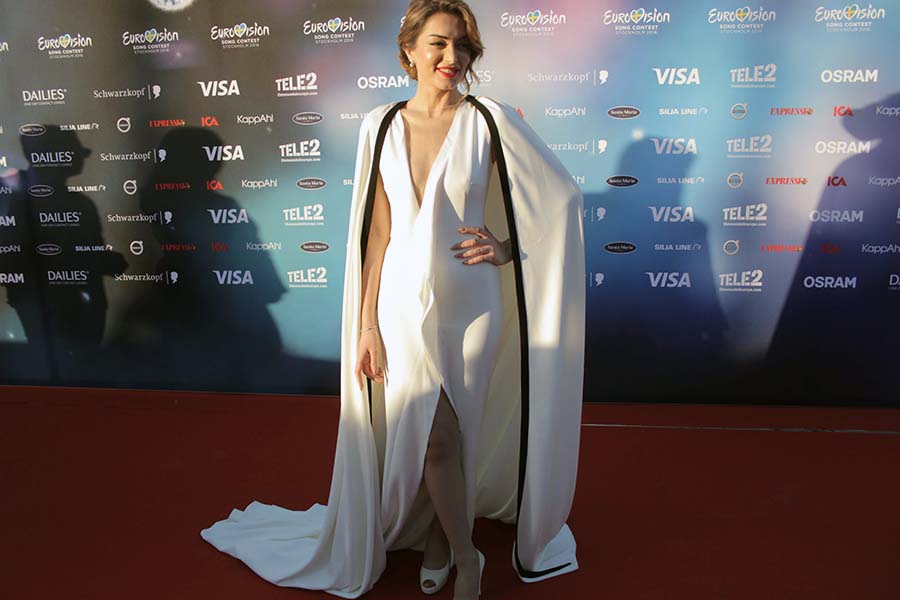 The Armenia delegation have arrived, and Iveta is wearing the most dramatic gown of the night so far! Her white silk gown is both daringly low-cut at the neckline and high-cut on the skirt! She is also wearing a cape in the same colour, with a very long train. This dress look amazing on Iveta's tall frame. It was designed by Armenian designer and boutique owner Kivera Nayomis. Iveta's hair is tied into a low bun, and her make-up is suitably dramatic to match the dress.
British duo Joe & Jake on the red carpet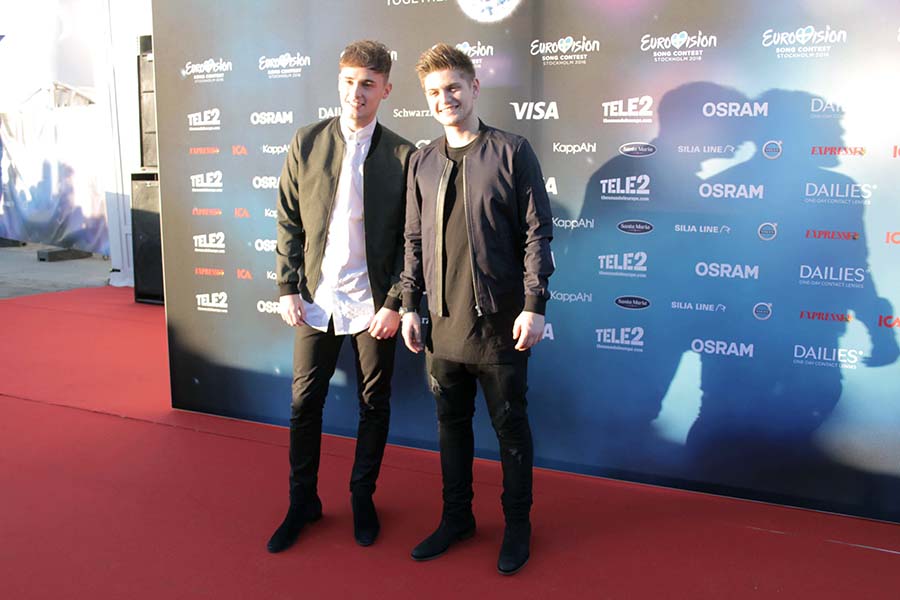 The two cheeky chaps from the UK are up next, and both lads have gone for a relaxed look similar to that seen during their Eurovision promotion. They both wear black jackets and jeans. Joe is wearing a white casual shirt, while Jake wears a plain black t-shirt.
Spain's Barei at the opening ceremony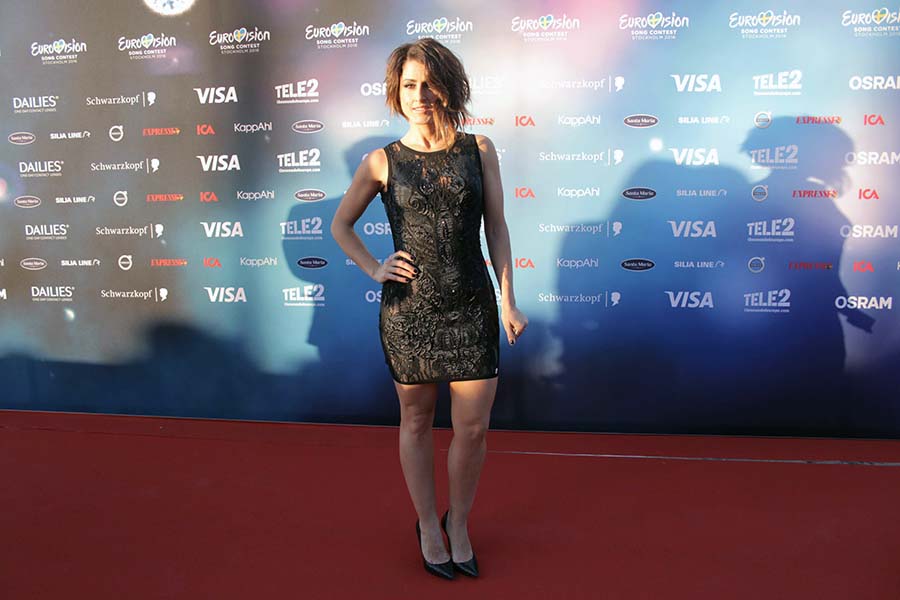 Barei from Spain has opted for a classic "little black dress", and it suits her! She matches her delicately embellished dress with plain black heels, and has undone her hair from her rehearsal earlier. Barei looks classically elegant tonight.
Welcome to Cyprus' Minus One!
Minus One from Cyprus are next, and all the band members are wearing dapper black suits. Francois' suit is by Greek designer Prince Oliver and Kris wears a suit by fellow Cypriot Christo Avraam. Antonis, Constantinos and Charis are all wearing suits of their own. This look is very different from what they usually wear, and looks very nice on them.
Taking to the rep carpet next is Lidia Isac from Moldova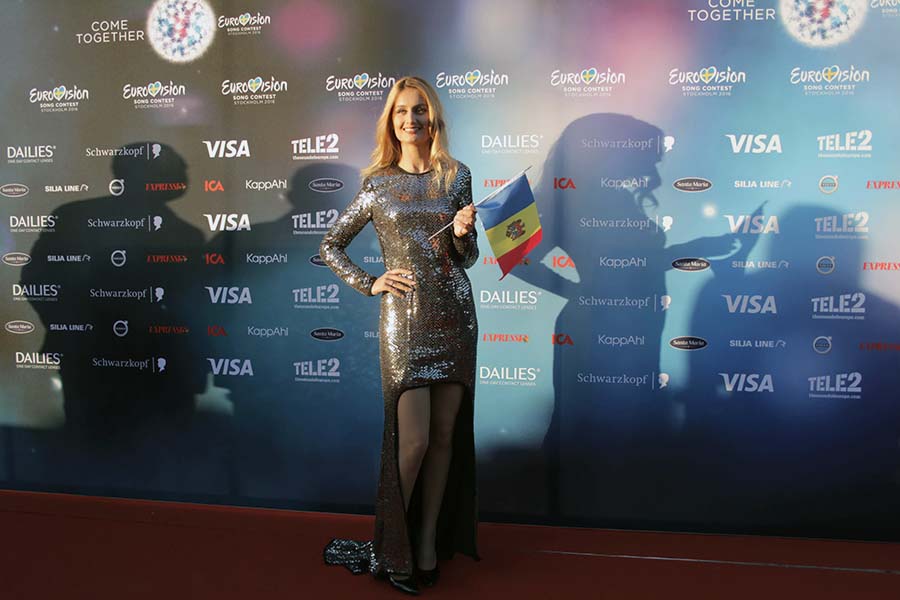 Lidia Isac is next up on the red carpet. She is wearing a dress by Moldova's most successful designer, Eugene Hodorojcov. Lidia has worn Hodorojcov's designs throughout her Eurovision experience to showcase his talents. Tonight, her long-sleeved gown is full length at the back, but the front is open and cut up to her thigh. It is completely covered in gold and silver sequins, making Lidia look very much like a mermaid! Her hair is loose around her face, and she wears simple black heels to contrast with how elaborate the dress is.
Welcoming Hovi Star to the red carpet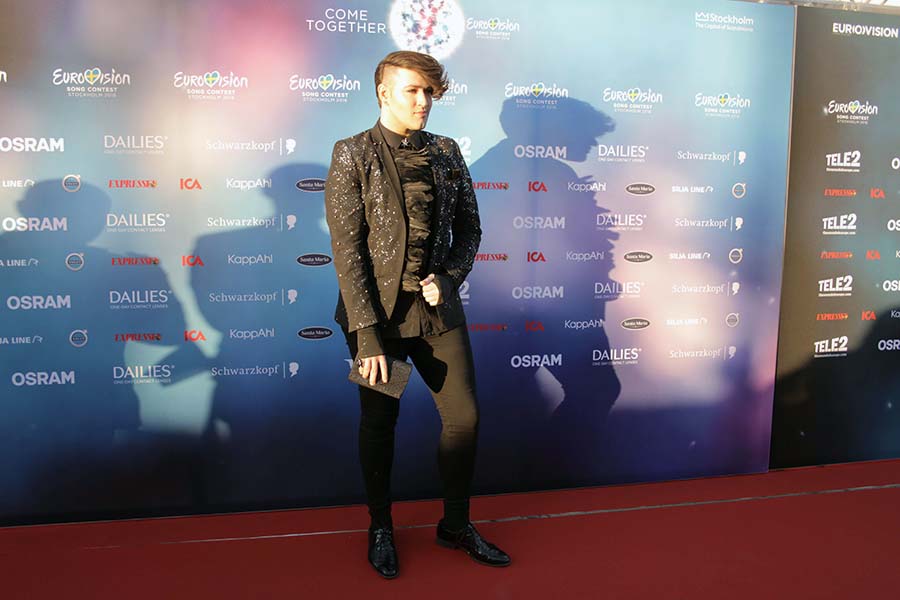 Hovi Star arrives next, and his glamorous looks have caught the eye of many Eurovision fans. He is wearing similar tight trousers to Donny from Lithuania, only Hovi dresses up his outfit with a black feather-effect shirt and black sequinned jacket. He has said his outfit pays homage to last Israeli Eurovision winner, Dana International. It was designed by Itai Bezaleli, who has accompanied Hovi to Stockholm.
Good evening to Gabriela Gunčíková!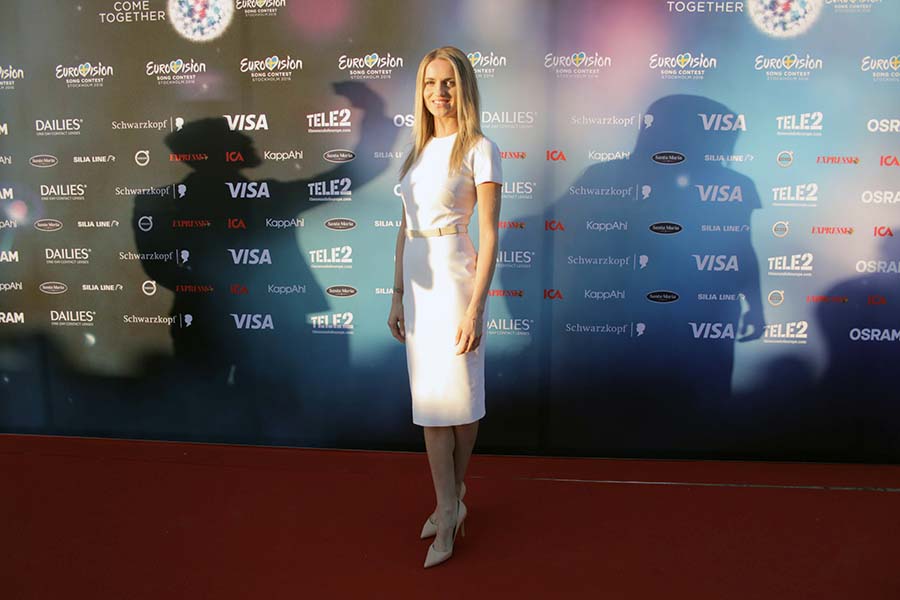 Appropriately enough, the singer of one of the most simple and elegant songs this year is wearing one the simplest and most elegant dresses tonight. Gabriela from the Czech Republic wears a fitted white mid-length dress, and matches her tan belt with her tan high heels. Her hair is straightened, and she looks beautiful.
The Georgians, Nika Kocharov & Young Georgian Lolitaz, take to the red carpet!

The rockers from Georgia have gone for a casual look, wearing mostly clothes from the Spanish chain store ZARA, as well as their own clothes from various Tblisi high-street shops. They are wearing similar outfits to what they have worn throughout their promotion.
Poli Genova arrives at the opening ceremony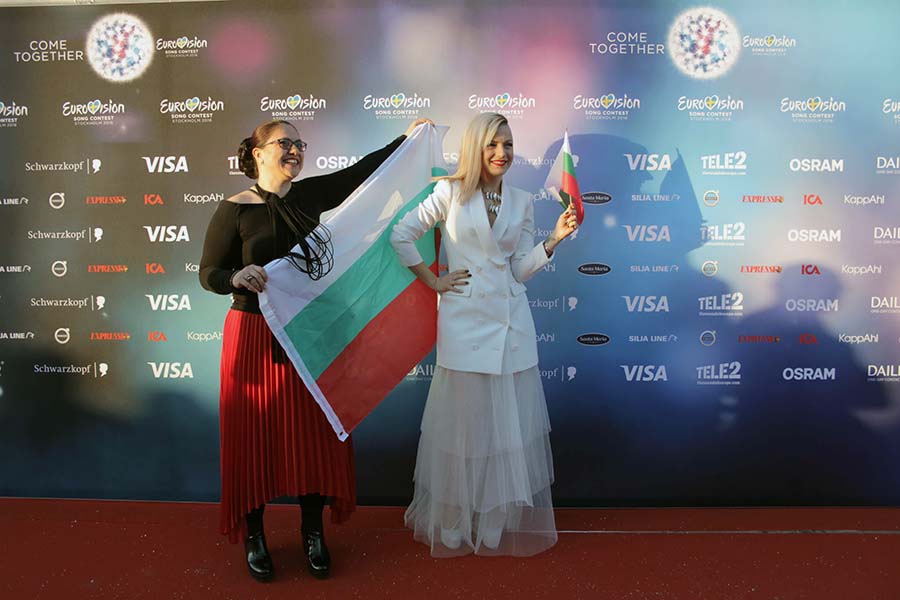 Poli Genova has arrived, and she has clearly taken inspiration from 1988 winner Celine Dion! Poli wears longline fitted white jacket, and long tiered white net skirt. She is wearing her trademark hairstyle and dark lipstick, and whilst she looks very alternative, it is a look the Poli does so well and it really suits her!
Good evening to Jüri Pootsmann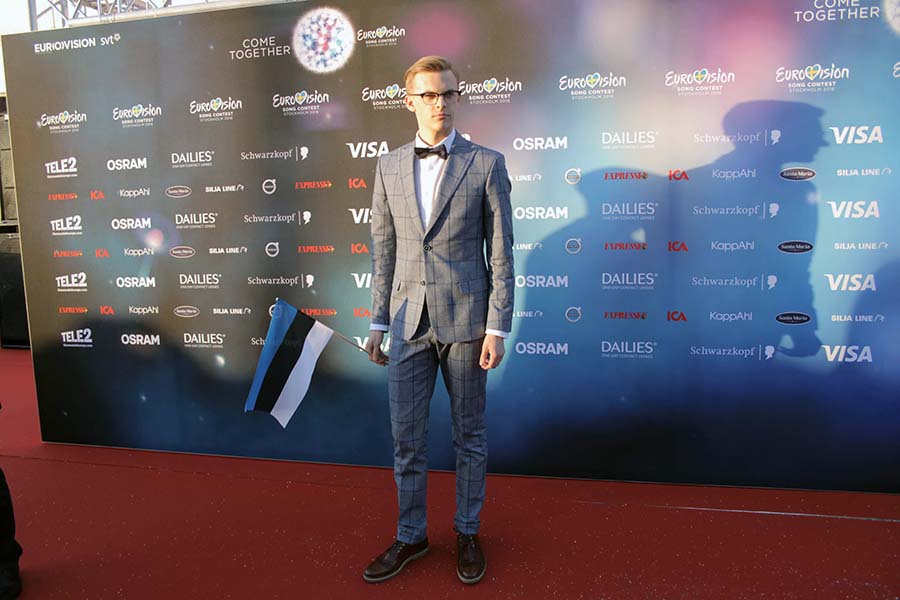 Estonia's Juri Pootsman is wearing a large-checked blue suit, white shirt and black bow-tie. It is probably the most classic look out of the young male singers. He has also gone for homegrown designers; his suit is by Monton and his bowtie and shirt are both by Baltman, all Estonian brands.
The Montenegrin quartet have arrived!

The Montenegrin band Highway are using the same stylist throughout their Eurovision campaign, Vanja Pantin. Tonight Vanja has chosen co-ordinating black outfits for the band members, with touches of leather and mesh to toughen their look. All four men are wearing dark coloured military boots, and it is a look which matches their song.
Good evening to Switzerland's Rykka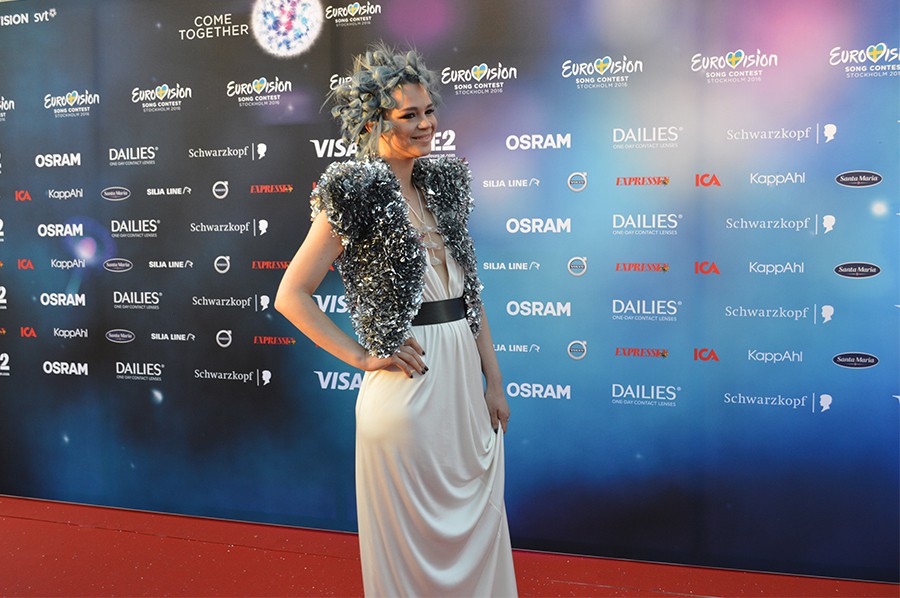 Rykka looks out of this world! She is wearing a full length white gown, with a black belt to cinch in her waist. This dress was designed by Berenik. However, it is her shirt and matching hair (?!) which are the real talking points. Rykka crafted the shirt herself out of an emergency blanket. It is silver, spiky and sparkly, and looks as if it was made from an unearthly material. Rykka's hair and make up was done by 5-time hairdressing world champion Martin Durrenmatt. Her blue hair is tied up in lots of little bunches on top of her head, which finished off her futuristic look.
Bosnia & Herzegovina's quartet take to the red carpet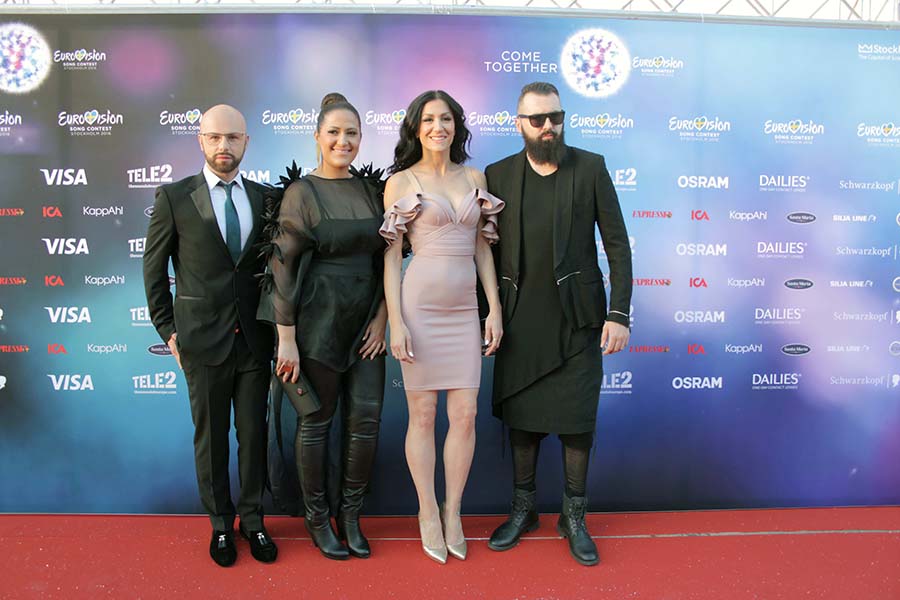 The Bosnian team are demonstrating their individuality with their looks tonight, and we have our first kilt from Jala! Jala's outfit is designed by German stylist Tom Rebl. He wears all black; his kilt, jacket, longline top, leggings and boots. His dark sunglasses finalise his tough look. Deen hasn't gone for an outfit as outrageous as his Eurovision 2004 get up, instead going for a classic suit with a white shirt and teal coloured tie. His outfit was designed by the Bosnian brand Granoff. Dalal is wearing black leather trousers and boots, and a black chiffon top over a vest, all designed by fellow Bosnian Nina Varga. Ana is the brightest, wearing a peach coloured bodycon short dress. The straps look like frills draping down her arms. Ana's dress was designed by the same man who designed Nina Kraljic's dress, Croatian Juraj Zigman.
ManuElla arrives to the opening ceremony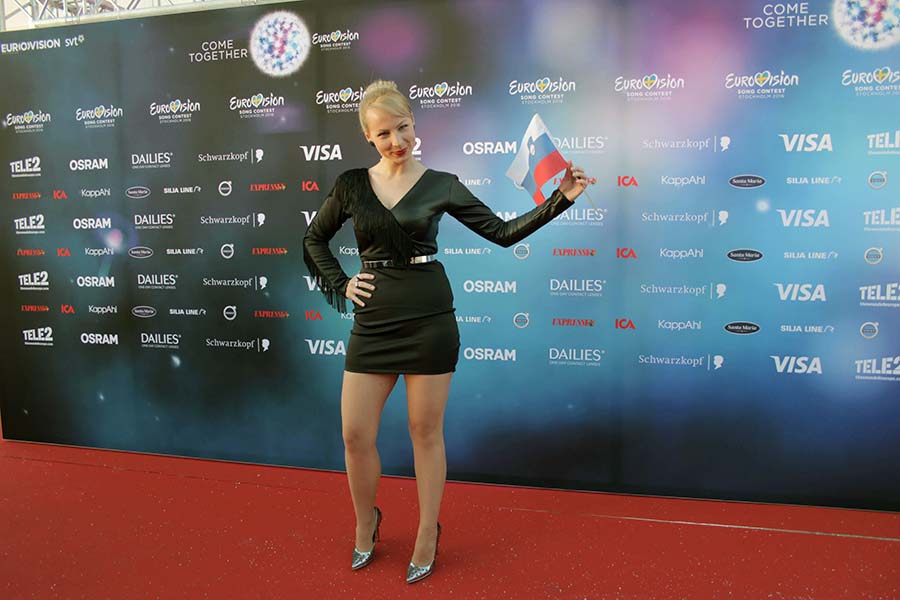 Manuella has chosen a short black dress with long sleeved. The sleeves are made of two different fabrics to give the dress an interesting look. One sleeve has tassles the whole way along, which is similar to the dress which Greta will wear on stage. She wears silver heels to match her silver belt. Her hair is pinned back, and her sweeping fringe gives her an elegant look. Her black earrings add an extra to her outfit tonight. Her outfit tonight was designed by David Hojnik, who also designed her stage dress.
On the red carpet is Albania's Eneda Tarifa!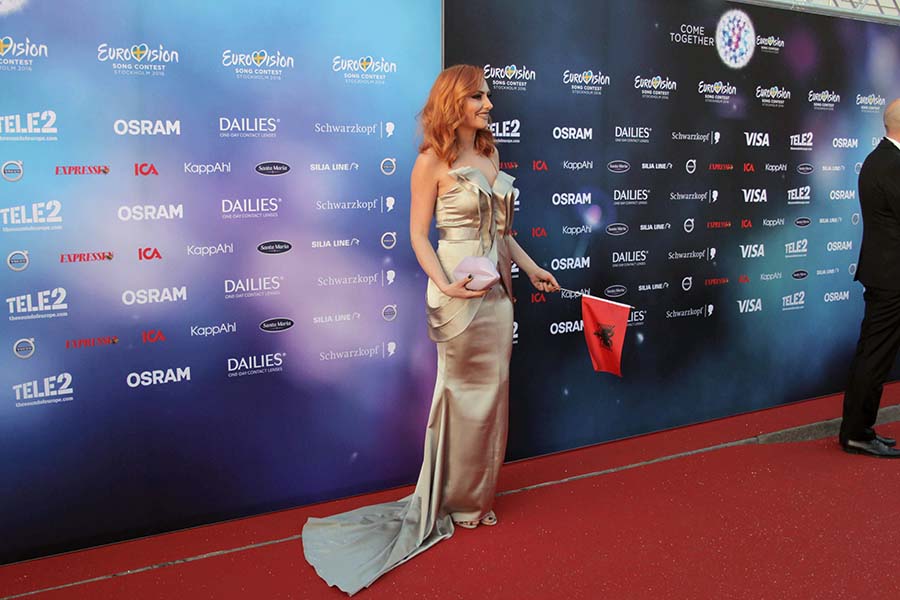 Eneda from Albania has taken inspiration from the Oscars, only not from the actresses, but the Oscar trophy! Her elegant golden gown has a long draping train, and the bodice of her dress is pleated to give a structured modern look. Her bright orange hair is curled into traditional Hollywood waves, and she carries a novelty lip-shaped clutch bag in a pale pink hue. Her dress was designed by Bora Kokedhima/Savage.
Austria's Zoë is last onto the red carpet!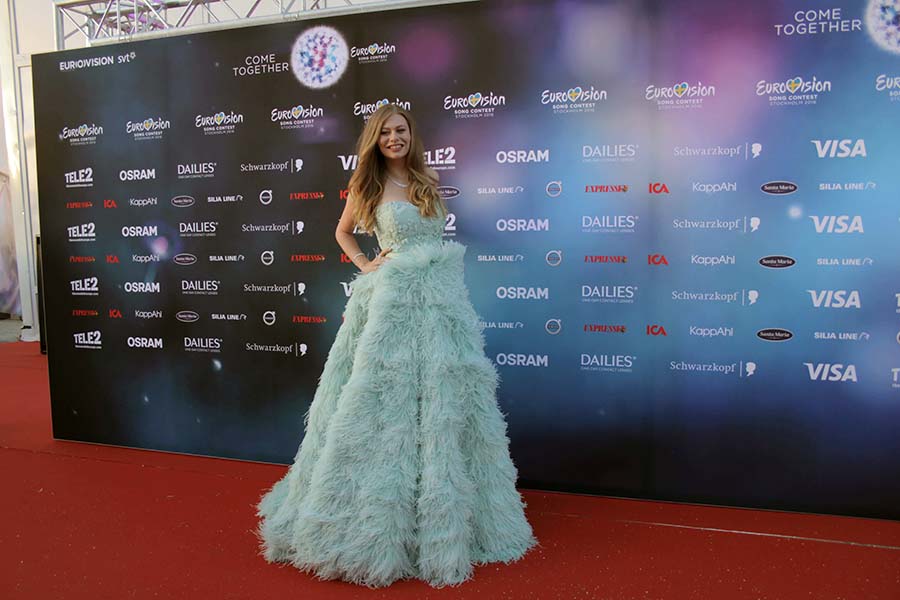 Austria's Zoe finishes the night with a very elaborate gown! Her mint-green prom style dress has full skirt, with a feathery texture covering the whole of the skirt! The bodice is strapless and embellished with flowers in the same colour. She wears a simple necklace, and keeps her hair and make up simple so as not to overload the dress. Zoe has worn pink for most of her Eurovision performances, but this mint green is a colour which really suits her pale complexion. This extravagant gown was designed by Eva Poleschinski.