ESCToday in collaboration with the City of Stockholm will be bringing you a series of articles leading up to the 2016 Eurovision Song Contest in order to showcase and introduce the 2016 Eurovision host city Stockholm to our readers. Today we will have a look at the Red sightseeing bus and boat tours in the Swedish capital.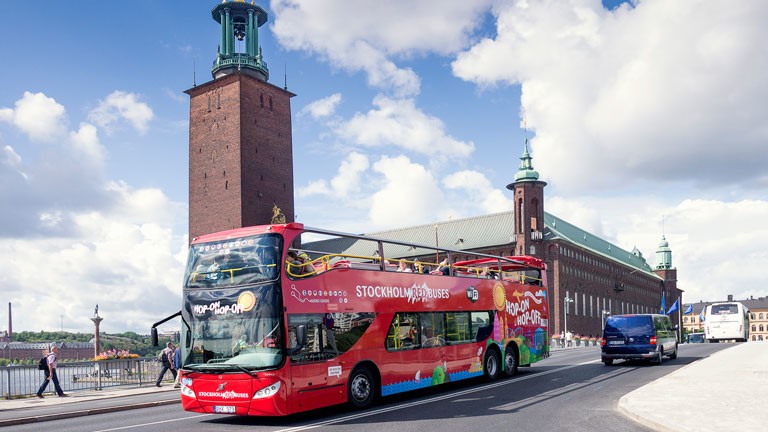 The best way to discover Stockholm is by taking a sightseeing tour on the hop and off bus. The bus tour which lasts around 90-120 minutes gives you a glimpse of the city showcasing the key landmarks and sights of the Swedish capital. The best news is that you can visit lots of sights and attractions when you take the bus tour as you can hop on and hop off the bus at your own leisure.
The buses are equipped with free Wi-Fi and you can have a guided tour in 11 languages and learn more about the city.  You will be able to experience the city's hustle and bustle when you travel by bus in the magnificent Scandinavian capital.
Personally I think a sightseeing bus tour is the best way to get your bearings and know where the main sights and landmarks in town are.
Don't forget to take a boat tour whilst you're in Stockholm during Eurovision. The majestic Swedish capital is surrounded by water wherever you go. You will be able to admire some of the city's best views from a boat.
Red Bus Sightseeing Tour
The Red Hop on Hop Off buses operate throughout the week from Monday- Sunday and stop at 21  tourist hotspots in Stockholm enabling the traveller to visit practically all the popular attractions the city has to offer.
21 Bus stops
1. Central Station
2. Gallerian
3. Gustav Adolfs Torg/The Royal Opera House
4.  Gamla Stan (Old Town)
5. Slussen (The Lock)
6. Fjällgatan
7. Viking Line and Cruise Berth S167
8. Skeppsbron
9. Royal Palace
10. Kungsträdgården
11. Nybroplan/Dramatic Theatre
12. Stryrmansgatan
13. Vasa Museum
14. Gröna Lund, Skansen & ABBA The Museum
15. Nordiska Museum
16. Karlaplan
17. Stureplan
18. Concert hall
19. City Terminal
20. Rådhuset
21. City Hall
 Red Boat Sighteeing Tour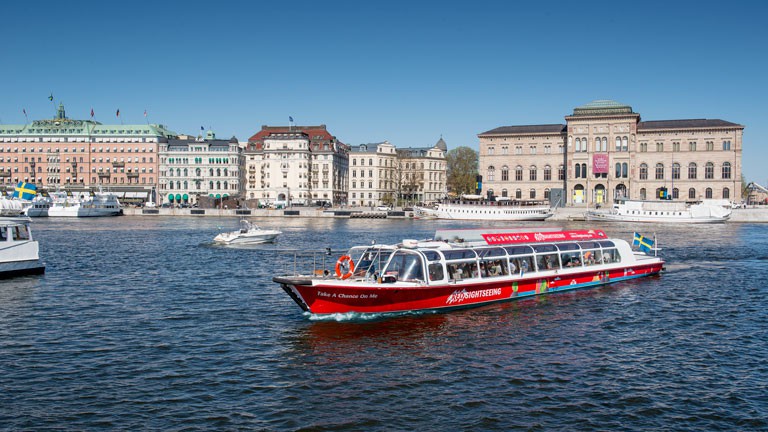 You can even use the Hop on -Hop Off Boat if you buy a combo-ticket. The Boat stops at 8 key tourist hotspots in the city: Royal Palace, Nybroplan, The Vasa Museum, Skeppholmen, Grona Lund Tivoli, Cruise Berth Viking Line & S167, Fotografiska and Slussen.
On the Hop On- Hop Off Boat Tour  you can enjoy a breathtaking panoramic view of Stockholm's skyline, islands, architecture and sights. The audio guide operates in 10 different languages, you just need to wear your earphones and listen to the commentary which will surely enhance your knowledge about Stockholm.
The Bridges and Canals of Stockholm Tour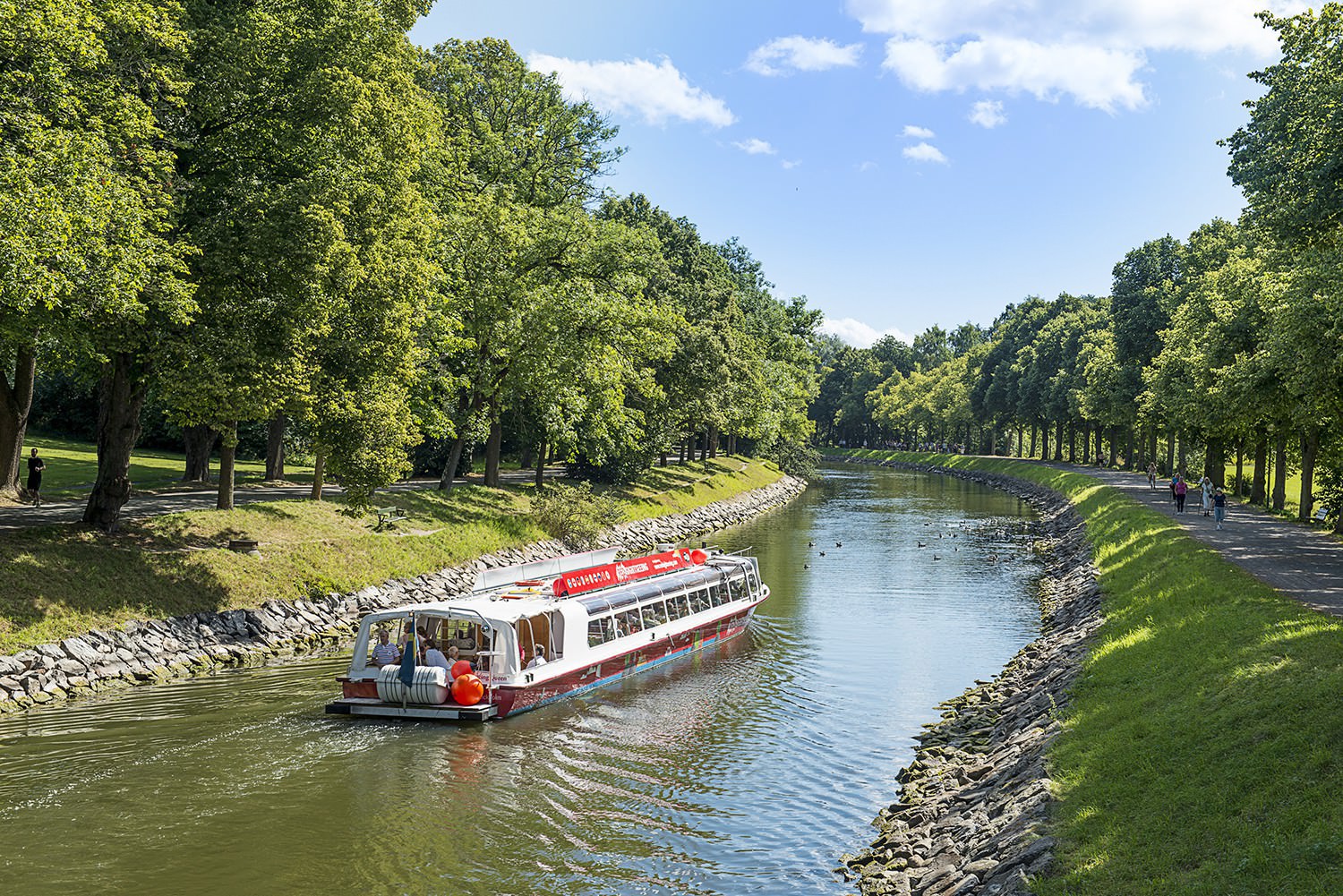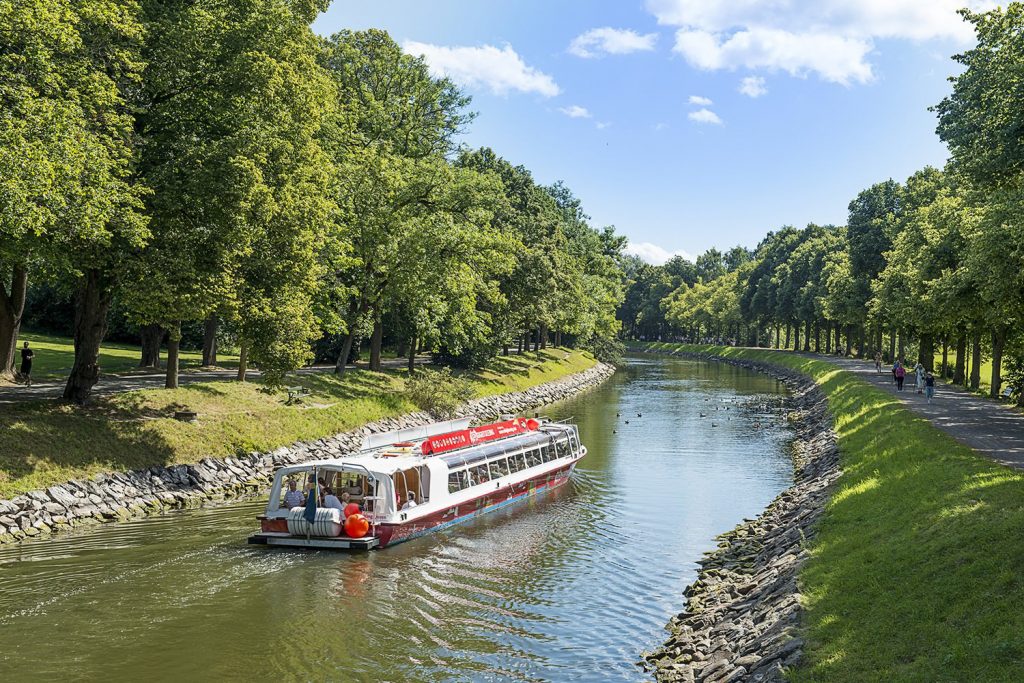 The Canals and Bridges of Stockholm tour 1 hour and 15 minutes long and will take you under a few of Stockholm's 57 bridges and through the hand-built Royal Djurgården Canal, which was constructed in 1832.
During this boat tour you will have get the chance to see different mesmerizing views of the city from the waterside. The tour will take you along the narrow canal as well as the open bays and will provide you panoramic views of Stockholm's skyline. If you want to take photographs, you can capture some of the best shots of the city from the water!
The boat will take you on a ride along the shores of Östermalm, Djurgården, Nacka Strand and Södermalm. You will also pass the Feather Islands. You need not worry about posting your selfies on Instagram and Facebook whilst you're on tour as the boats are enabled with free Wi-Fi!
Tickets and Prices
24 hrs Bus pass – 280 SEK
24 hrs Bus+Boat combo- 380 SEK
24 hrs Boat pass- 160 SEK
24 hrs Bridges and Canals of Stockholm  240 SEK
You can purchase tickets at the Tourist Information Stockholm Info offices, on the bus, online, Pressbyran and 7 Eleven stores.
Don't forget to read our series of Discover Stockholm articles leading up to the forthcoming Eurovision Song Contest including The first impression of Stockhom- the host city!
For more information on Stockholm you can visit visitstockholm.com
You can follow our forthcoming series of Discover Stockholm articles with photographs and videos on ESCToday.com and on our official Esctoday Instagram and ESCToday Facebook pages.
ESCToday is growing and always looks for new members to join our team! Feel free to drop us a line if you're interested! Use the
Contact Us page
or send us an email at
[email protected]
!