ESCToday in collaboration with the City of Stockholm will be bringing you a series of articles leading up to the 2016 Eurovision Song Contest in order to showcase and introduce the 2016 Eurovision host city Stockholm to our readers. Today we will have a look at Stockholm the city!

Many often refer to Stockholm as the Venice of the North due to the fact that the city is built on 14 islands and is surrounded by water. You will be impressed with the amount of bridges that connect the city together.
When I first visited Stockholm back in 2000 I was spellbound with its picturesque landscape and scenic views; forrests, lush green parks, beautiful bridges, magnificent architecture, waterfront promenades and walkways. Even today the city is set to mesmerise  you with its unique beauty and style.
Stockholm a beautiful city-video
When visiting Stockholm you appreciate the clarity in the air, the greenery, the water and the nature which blend in smoothly with its picturesque architecture and landscape.
Aerial view of Stockholm-(photo credit:  courtesy of visitstockholm.com)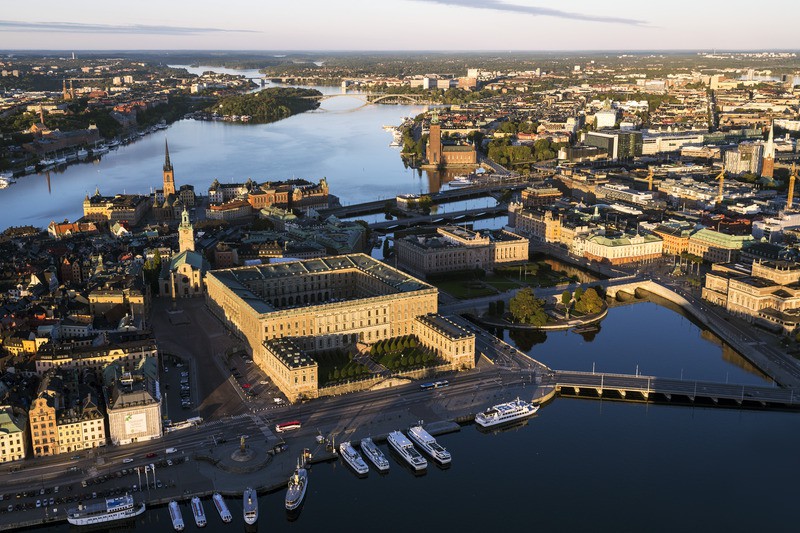 Indeed Stockholm is a walkable city! The best way to explore and discover the real essence of the city is to take a stroll through its many streets, districts and islands. Distances between the main sights, attractions and landmarks are short so don't hesitate to take a walk when you come to Stockholm!
There's always something to do in Stockholm, hence you will never get bored, come autumn, winter, spring or summer. Stockholm has something to offer to quench everyone's thirst and satisfy everyone's taste!
With a population of 900,000 inhabitants the city is sprawling and growing every day! Stockholm has gained the reputation of being one of the world's most beautiful cities. The city has earned name and fame as a trendsetting hub for innovation and creativity!
Be it fashion, music, technology, food, design, film, IT development etc! If you are pursuing to fulfill your dreams and enhance your ideas and creativity then Stockholm is the place!
Stockholm was founded in 1252 by Birger Jal and is more than 760 years old. The city boasts of a rich history and heritage which today is showcased through its art, architecture and culture.
The Swedish capital offers more than 80 museums and attractions including 3 UNESCO World Heritages. The city has become a very popular tourist destination and has earned itself an internationally acclaimed reputation for being a GREEN city.
We can divide Stockholm's city centre into the following main districts: Gamla Stan (Old City), Kungsholmen, Östermalm, Gärdet, Södermalm, Långholmen, Riddarholmen, Norrmalm, Vasastaden, Djurgården and Skeppsholmen.
Map of Stockholm and its main districts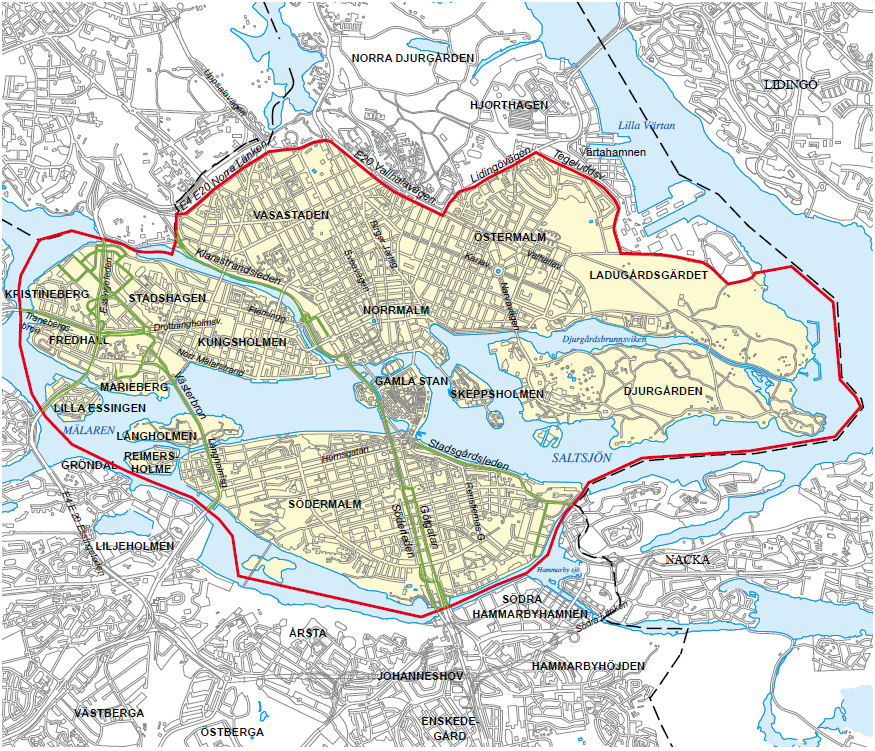 Gamla Stan (The Old City)
Gamla Stan is one of the most beautiful parts of Stockholm, I would say its one of my favorite districts in town.
Gamla Stan is strategically located on the gateway between the Baltic Sea and Lake Mälaren. Some of Stockholm's main attractions such as:  The Royal Palace, The Nobel Museum, The Royal Armoury, Stortoget are all located here. You can find many nice bars, restaurants, souvenir and antique shops here. Its unique medieval architecture and quirky narrow lanes and streets will surely captivate you and take you back in time!
Gamla Stan has become very popular among both locals and tourists who frequent its quaint and cosy cafes and restaurants. Shopping can be a lot of fun here. Don't worry if you get lost as Gamla Stan is a small island, no matter wherever you go you will end up near the water!
Gamla Stan and its magnificent architecture (Photo Credit: Sanjay Jiandani)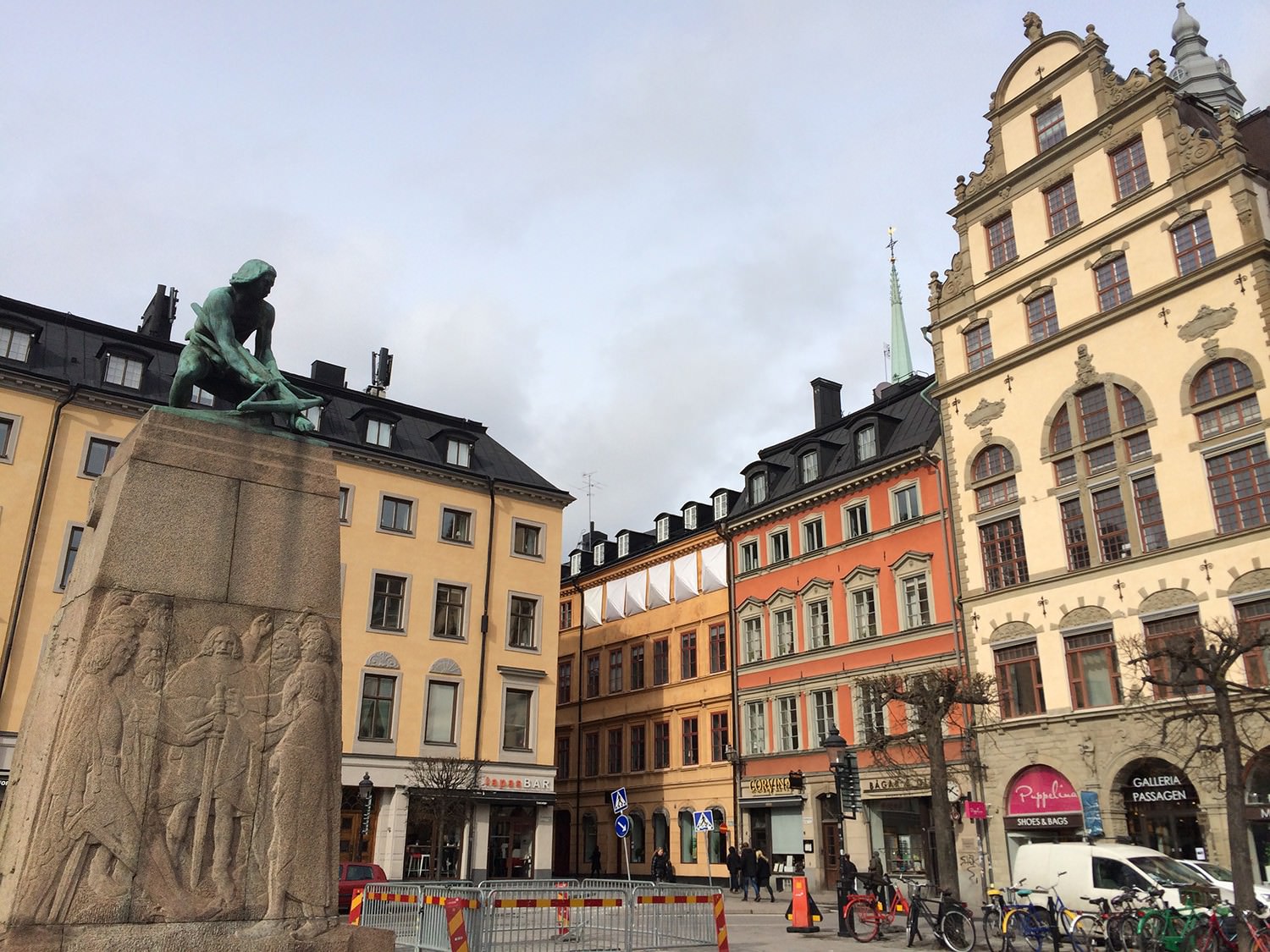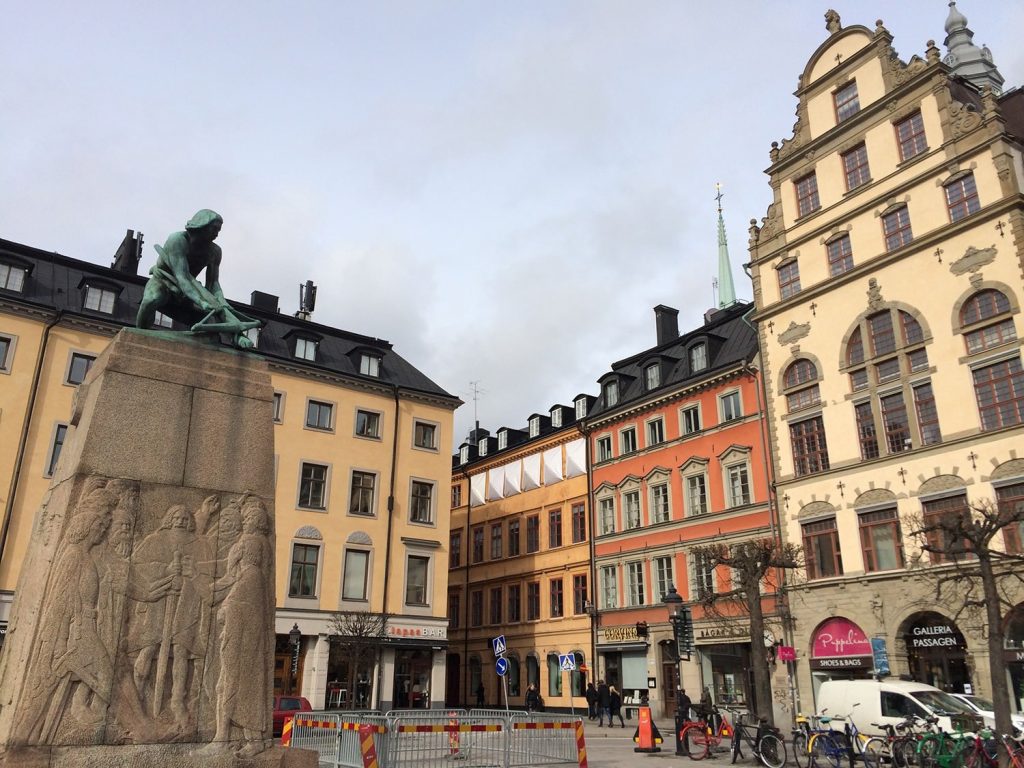 Djurgården
Djurgården is an island which is just a short walk from downtown Stockholm. This unique island houses some of  Stockholm's and Sweden's best museums and attractions. The ABBA Museum, Nordiska Museum, Skansen Open Museum and Park,  Skansen Zoo, Tyrol (Mamma Mia the Party), Junibacken Amusement Park, Tivoli Gröna Lund Amusement Park, Prince Eugen's Waldemarsudde and The Vasa Museum are all located here.
The island is part of the Royal National City Park, a popular recreational area where you can jog, walk, paddle and cycle whilst you enjoy the fresh air and nature.
If you are visiting Stockholm with children then a visit to Djurgården is a must, as you will find the main children's attractions in the city here. The best thing is that they are all within walking distance of each another.
The island also boasts of beautiful waterfront cafes, al fresco restaurants, picnic spots, tranquil cycling and walking paths, along with  some of the best views of the city.
The Abba Museum has become one of the hottest attractions in Stockholm and is aptly located on Djurgården island. (Photo credit: Sanjay Jiandani)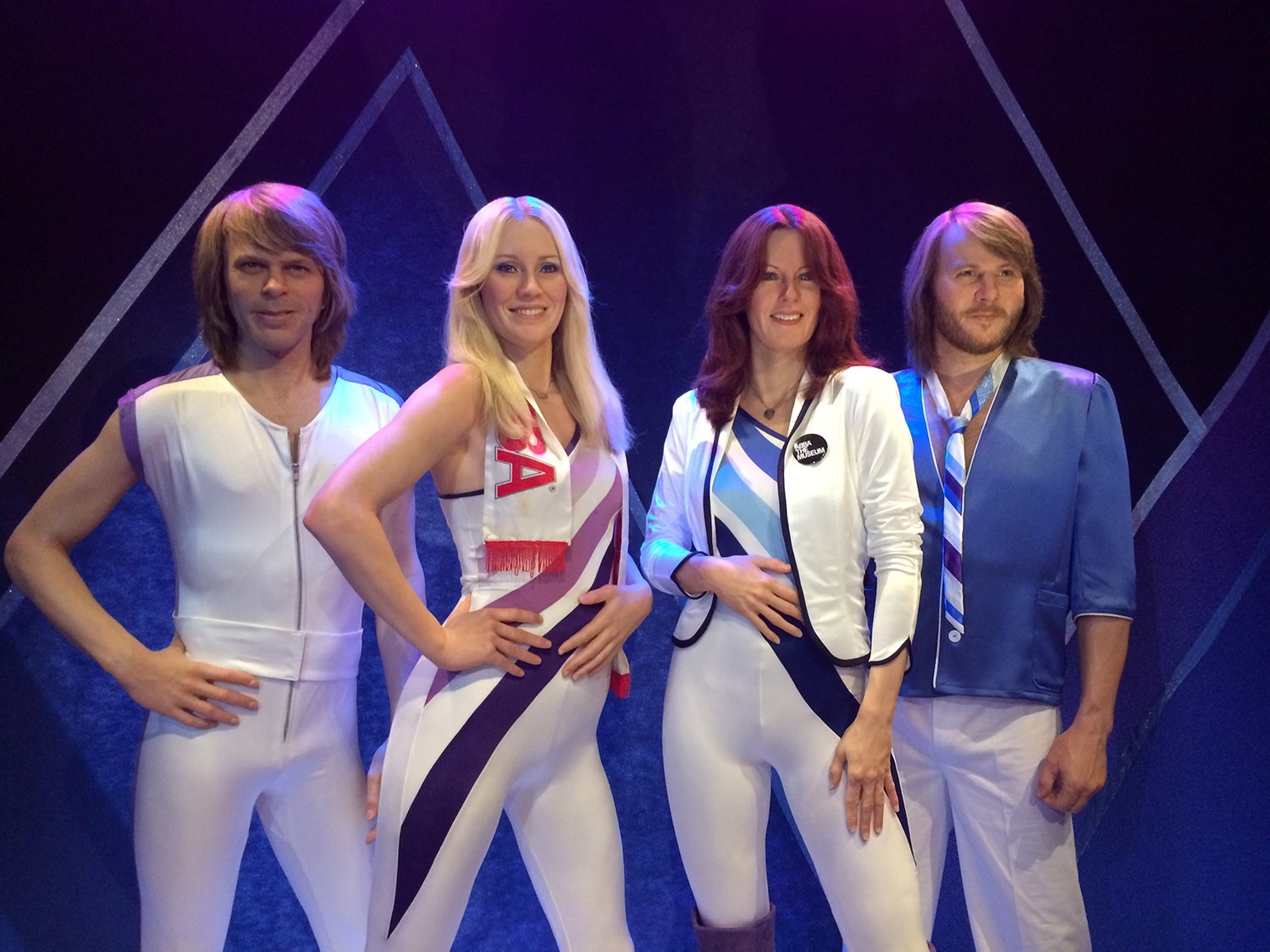 Östermalm
Östermalm is considered as the glitzy and glamorous part of the city, often referred to as the upmarket hub of Stockholm. Many people have tagged it as a shopper's paradise by day and clubber's paradise by night. This exclusive neighbourhood entices both fashion and design lovers.
Mind you if you are in for fancy, swanky and chic then you have come to the right place! Stureplan, one of the city's main entertainment hubs is located here. Stureplan has become a symbol of luxury and indulgence, a place where the young, rich and beautiful mix, mingle and hang out. Some of the most popular clubs in Stockholm can be found here.
You can find the leading Swedish fashion brands in Bibliotekstan whilst international fashion brands are found on Birger Jarslgatan and Stureplan. Some of the city's best designer shops are located in Östermalm.
View of Strandvägen in Östermalm (Photo credit: Sanjay Jiandani)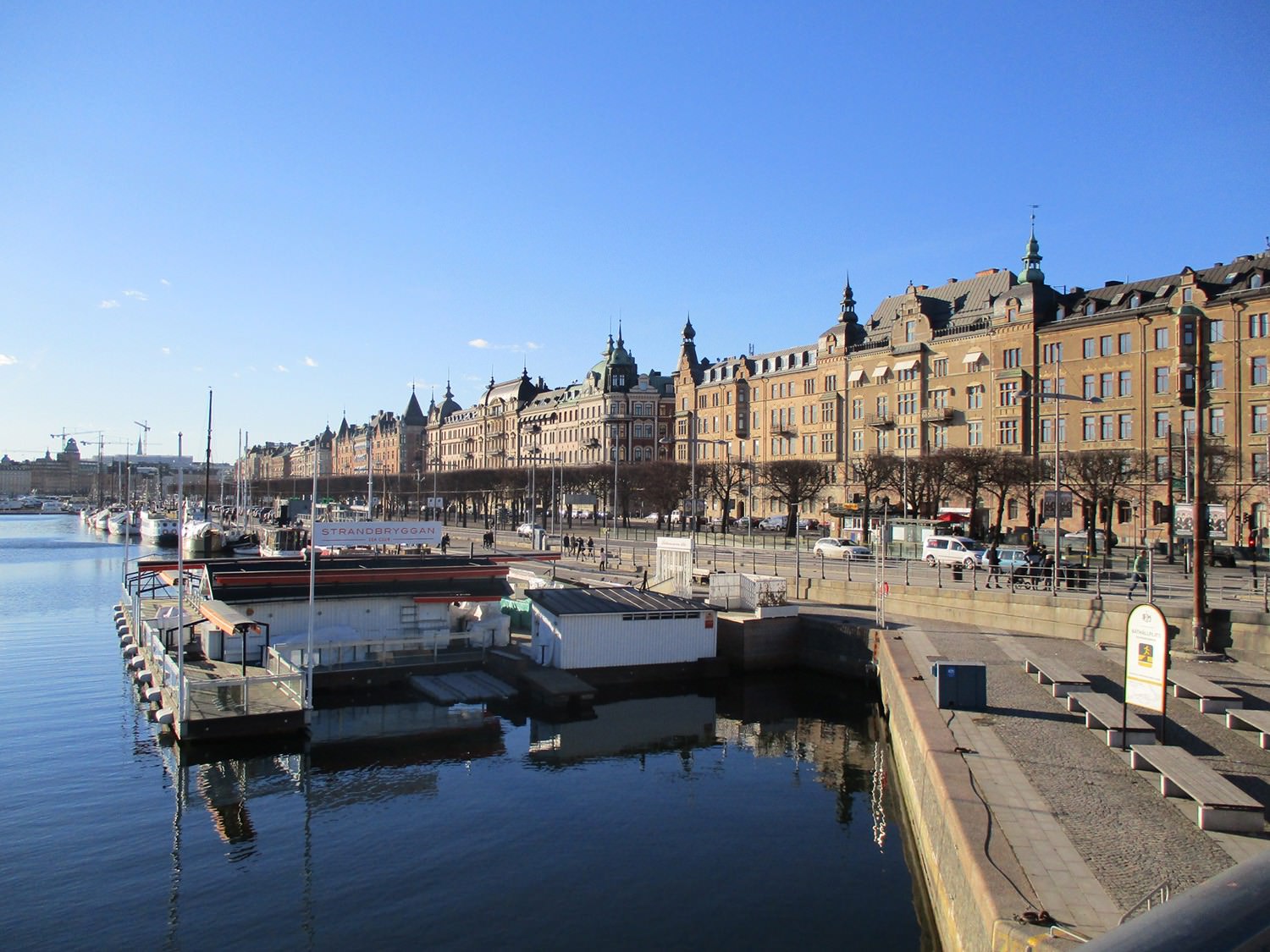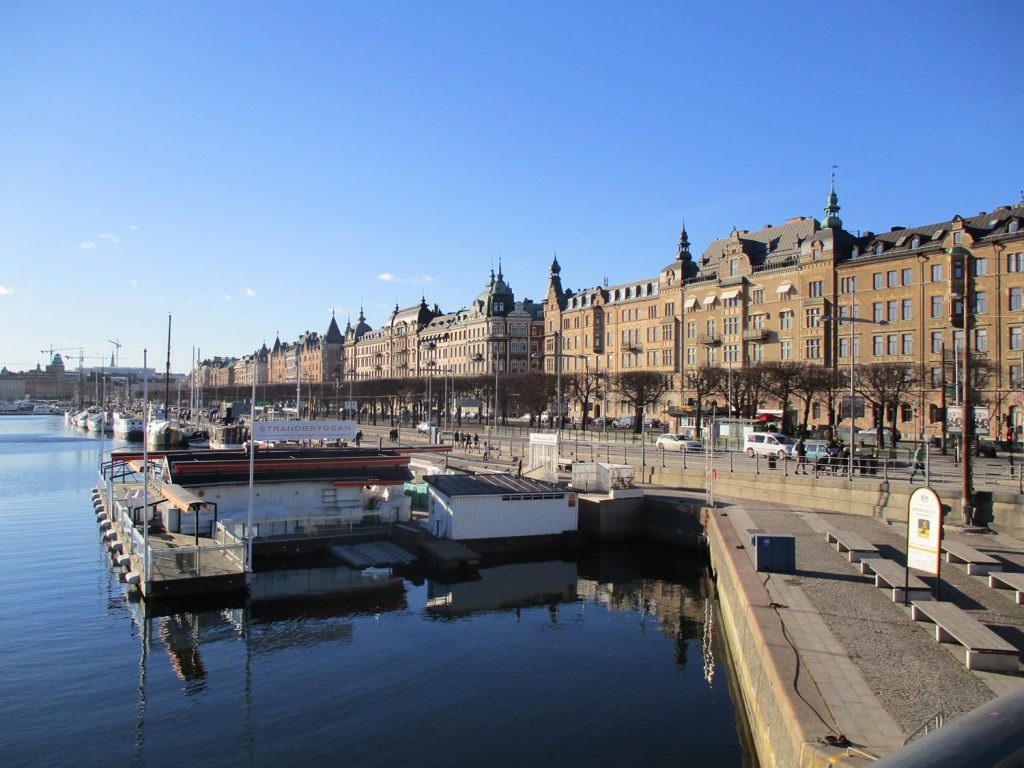 Långholmen
Långholmen is a small green island located on the north west of  Södermalm with some of the city's most beautiful sandy beaches. If you're coming to Stockholm in the summer don't forget to bring your swimming costume!
The island is also famed for its picnic spots, garden and recreation areas. One of Stockholm's oldest shipyards The Mälarvarvet (The Mälaren Yard) is also located on this island and is quite a popular attraction! You can enjoy amazing views of Gamla Stan and Riddarfjärden fromt the east of the island.
The Mälarvarvet shipyard  on Långholmen Island(Photo credit: Ola Ericsson- stockholmsfoto.se)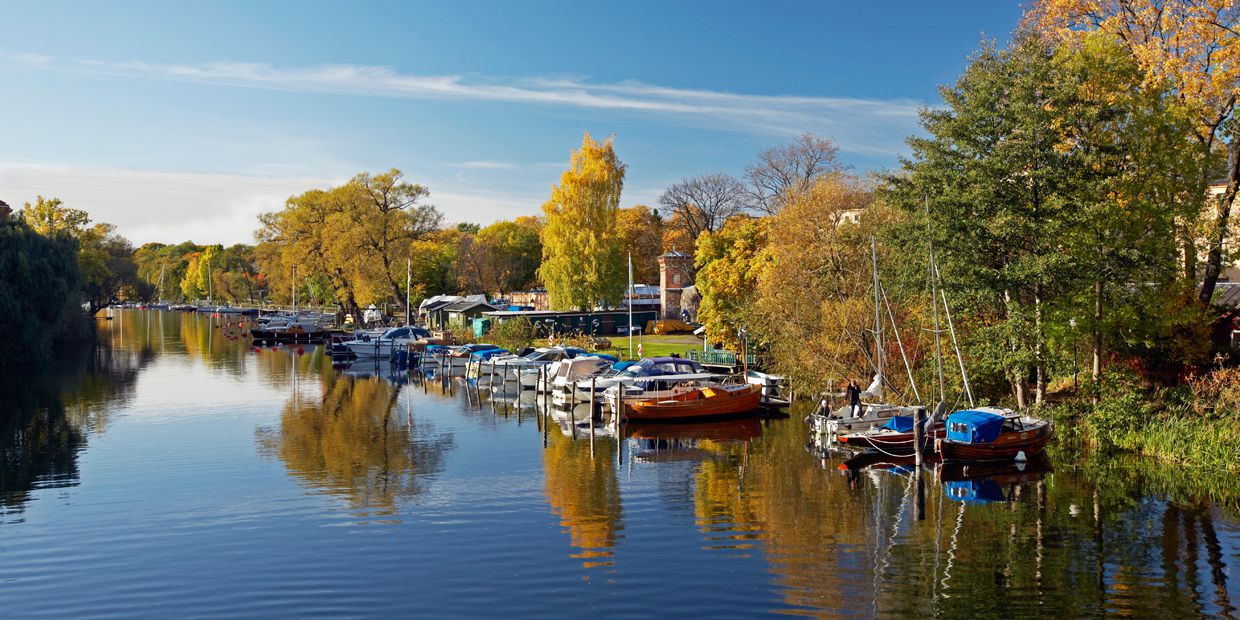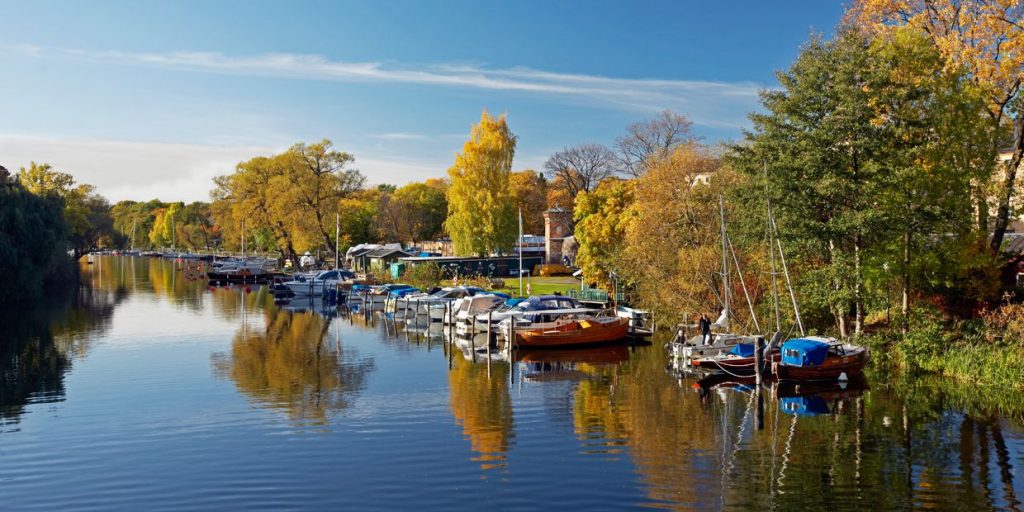 Skeppsholmen
Skeppsholmen is a tiny island which is just a short hop from the city centre, you can access it by foot via the iconic Skeppsholmsbron bridge. You have a breathtaking view of Gamla Stan and the Royal Palace from the bridge, ideal for taking photographs. The bridge is one of the city's famous landmarks along with its gilded Crowns on each side of the bridge. The Modern Art Museum and the Swedish Centre for Architecture and Design are located here.
View of Gamla Stan from Skeppsholmsbron and the gilded Crown! (Photo Credit: Sanjay Jiandani)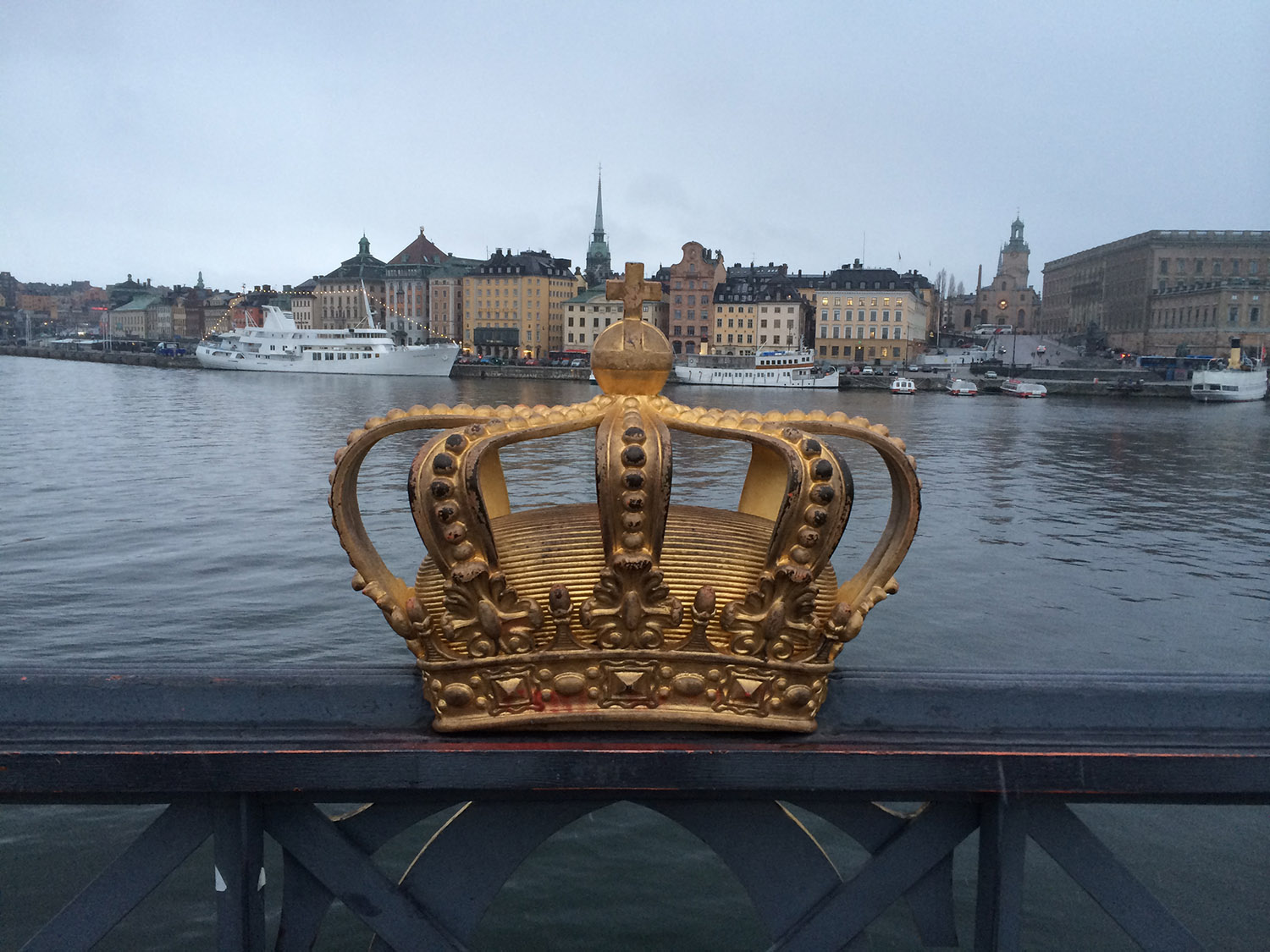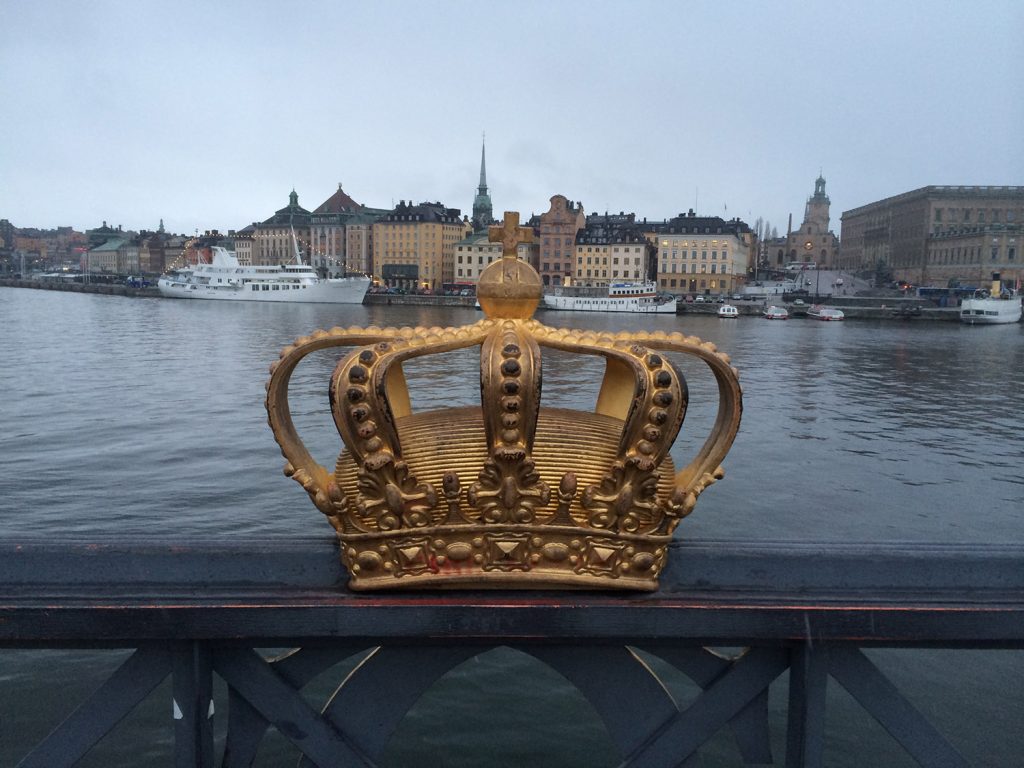 Kungsholmen
Kungsholmen seems to be one of the most stunning islands in Stockholm, house to one of the city's iconic landmarks. Yes we are talking about the City Hall, where the Nobel Prize banquets are held. A truly majestic piece of architecture, that dominates the skyline of the city. The City Hall is both exquisite from inside and outside, a feast for your eyes if you appreciate architecture and art.
The island has some nice tranquil parks, restaurants and is very popular among joggers, who can enjoy the scenic beauty of the city whilst running.
Stockholm's City Hall and Kungsholmen Island
(Photo Credit: Henrik Trygg- courtesy of visitstockholm.se)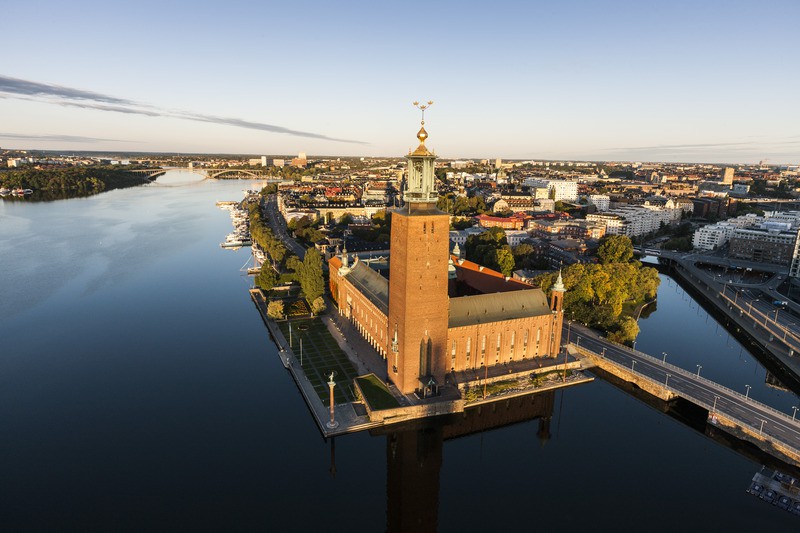 Södermalm
Södermalm is just a hop away from Gamla Stan and a stone throw's away from the 2016 Eurovision venue the Globen Arena. I stayed in Gamla Stan back in 2000 when the Eurovision was held in Stockholm. It is a very convenient location to stay during Eurovision as its between the Globe Arena and the city centre and not very far from Gamla Stan.
The island also known as the Southern Island, has become very popular among young people thanks to its many pubs, bars, cafes,restaurants and nightclubs.
There are many nice hotels in Södermalm. Dining and partying here is not as expensive as in the other centrical districts of the city.
The island has earned itself a Bohemian vibe, a city within a city, boasting of many parks and some of the best panoramic views of Stockholm. The Fotografiska Museum with its breathtaking views and elegant restaurant can be found here too.
You can indulge in shopping in Södermalm as there are many trendy shops and boutiques located here. Södermalm's key areas consist of  Slussen and Medborgarplatsen, connected by Götgatan, a pedestrian shopping street that runs right through the middle of the island. Skånegatan, Mariatorget and SoFo are also among the most popular upcoming neighbourhoods on the island.
Locals enjoying lunch at Fåfängan (Södermalm) with the backdrop of a stunning view of the city (photo credit: Jeppe Wikström- courtesy of visitstockholm.com)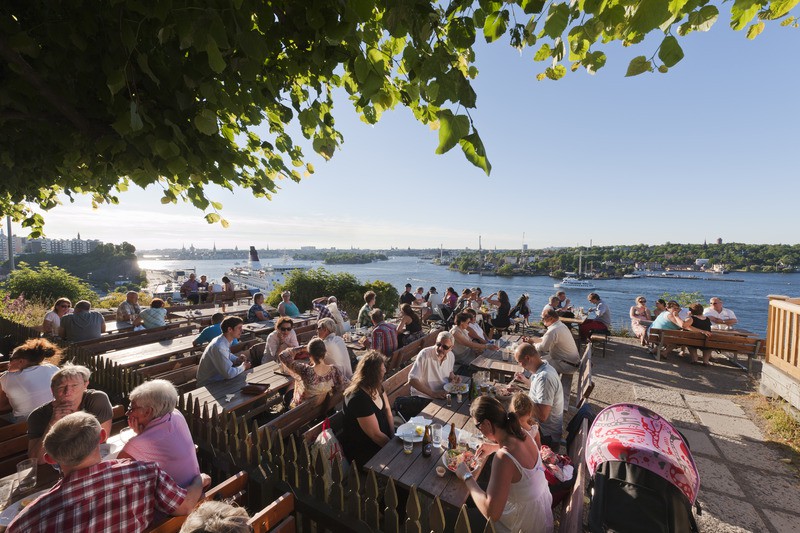 Norrmalm/ City
Norrmalm is the nucleus of the city, in another words very much Stockholm's city centre, where we can find the main shopping malls and department stores, hotels, restaurants and nightclubs. The main public transport hubs are located here too; Central Train station, T Centralen (main Metro station) and the water public transportation terminals.
Some of the city's key hotspots are located here: Sergel's Torg, Kungsgatan, Drottninggatan, (pedestrian street with lots of shops, cafes and restaurants), Kungsträdgården (location of the Eurovision Village) and Norrmalmstorg (location of the Eurovision Magical Flower Countdown Timer).
Stockholm's famous Sergel's Torg in Norrmalm (Photo credit: Sanjay Jiandani)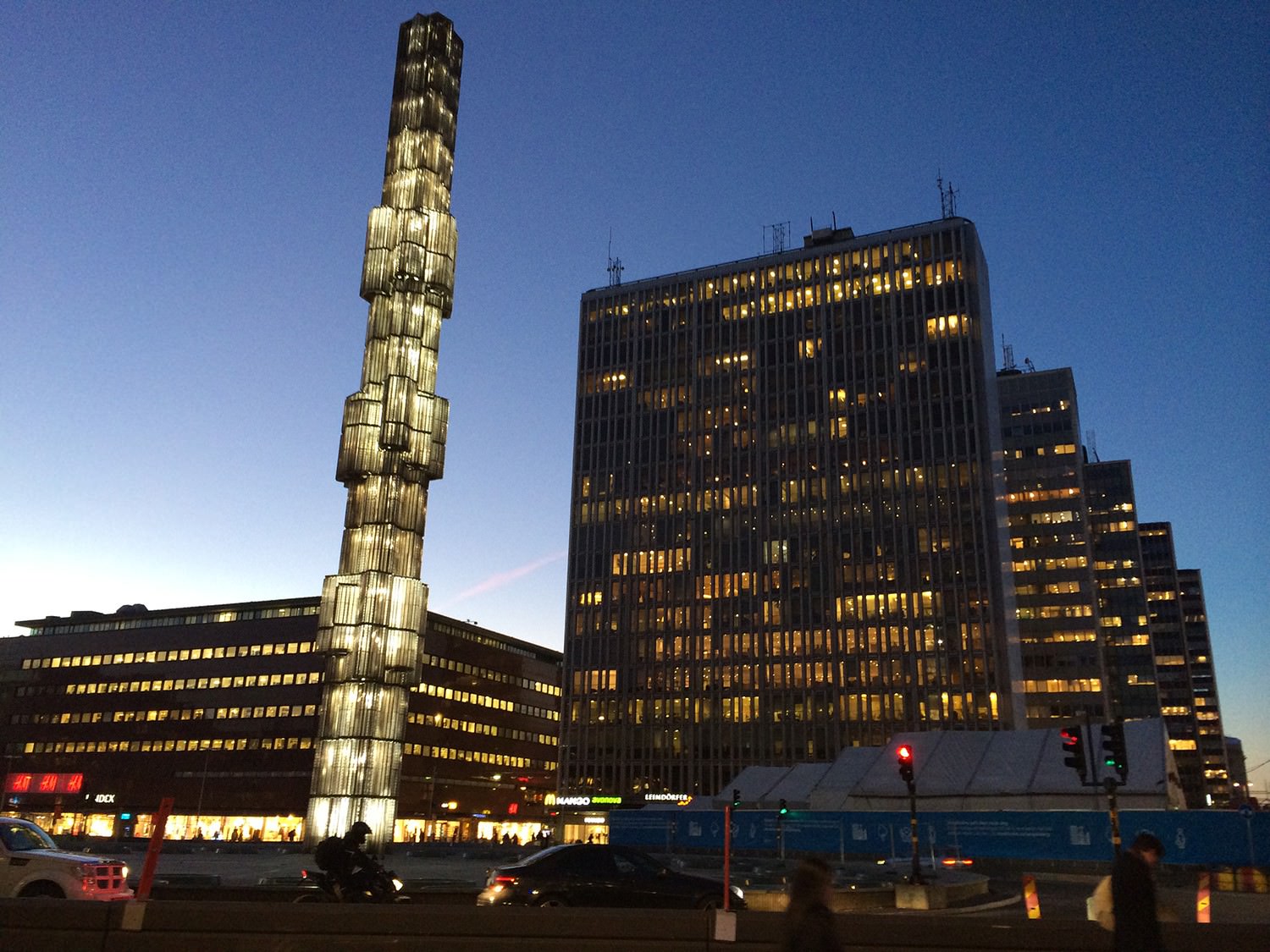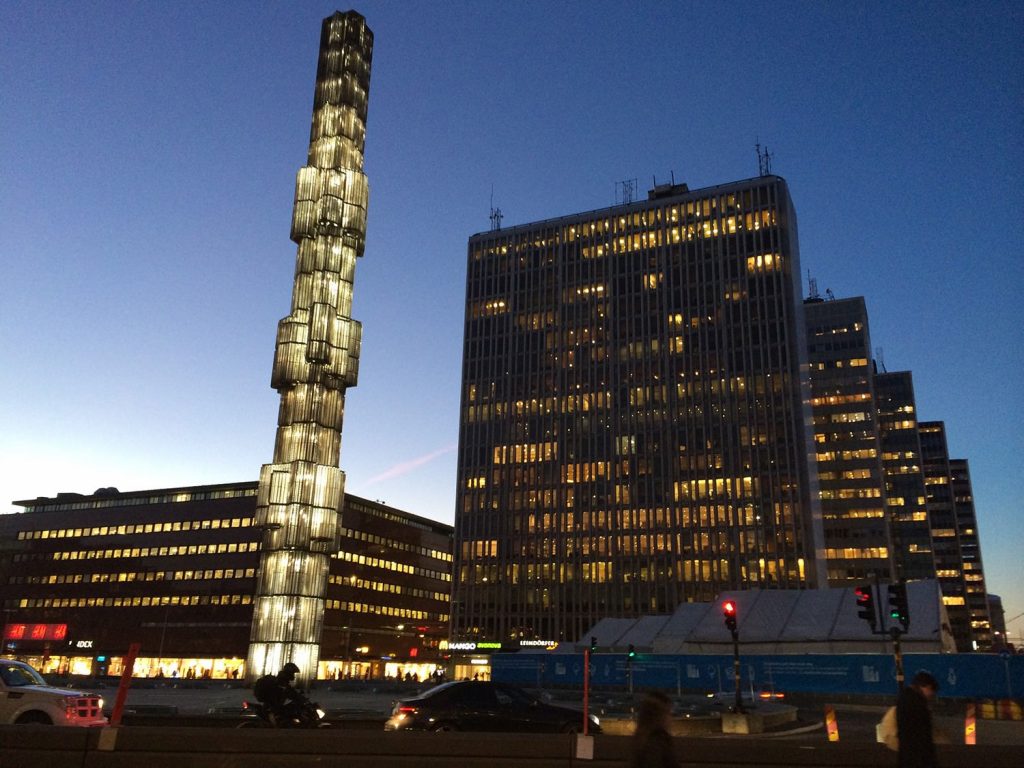 Vasastaden
Vasastaden is known to be a residential area, but has some nice pubs, restaurants and antique stores.
All in all, each and every district of Stockholm has its own beauty and charm. Remember that the best way to discover and explore the city is by foot!
Don't forget to read our series of Discover Stockholm articles leading up to the forthcoming Eurovision Song Contest including The first impression of Stockhom- the host city!
Cover photo credit: Jeppe Wikström ( visitstockholm.com)
For more information on Stockholm you can visit visitstockholm.com
You can follow our forthcoming series of Discover Stockholm articles with photographs and videos on ESCToday.com and on our official Esctoday Instagram and ESCToday Facebook pages.