SVT, the Swedish national broadcaster, has unveiled the magnificent Melodifestivalen 2023 stage.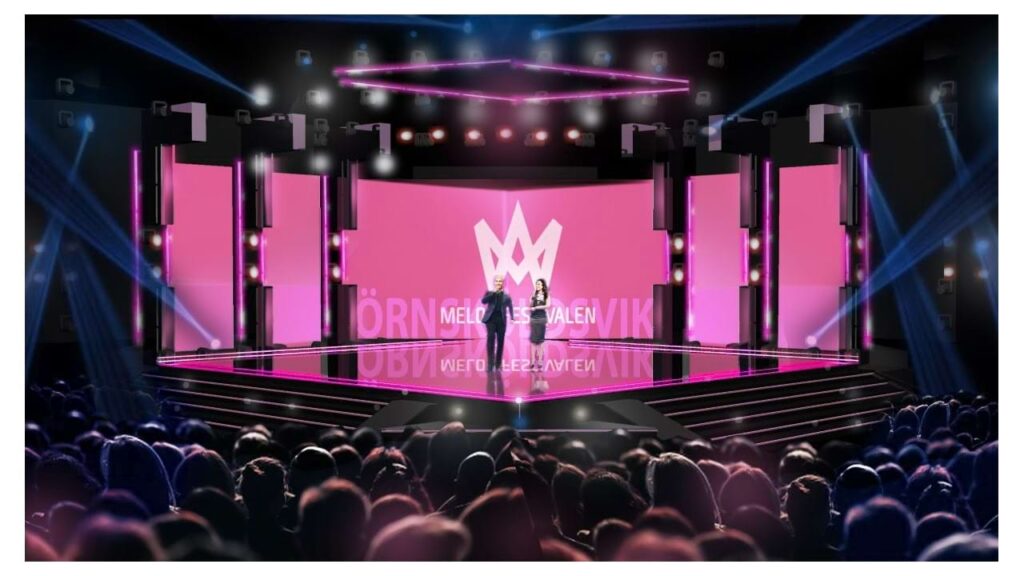 The Melodifestivalen stage has been revealed and it has been designed by Viktor Brattström. The Swedish musicfest is scheduled to kick off next week in Gothenburg. Last year's stage design has been revamped and tweaked for 2023.
The SVT Press release reads:
This year's stage is a smart variation of last year's spectacular stage. It should feel like new, and at the same time be concentrated and efficient.

– We want to keep the live feeling and everything else that was good about the stage in 2022. The audience and the artists should get close to each other, because it creates a wonderful energy that the TV viewers can also feel. In addition, we want to reuse as much as possible, says Viktor Brattström, the stage desginer.

Instead of two stages like last year, there will instead be one well-sized stage.

The record-breaking staircase to the front of the stage is recognisable, but is split in two and offers a pointed stage where the performers can be close to the audience. Other stage parts are also used in slightly new ways. The giant LED screen, the LED wall at the back, can now be opened and some smaller LED screens have been added. The stage has integrated lighting and together with LED and other scenography it becomes a cohesive unit.

– Because we tried to create something that is both extensive and compact, everything will be experienced intensely and strongly when we want it to be. If we use everything as planned, the stage offers more than 30 unique numbers, says Viktor Brattström.

Greenroom

We recognize this year's Greenroom as the big party place on the parquet in the middle of the audience. It will be similar in appearance and location, and almost as generously scaled during the tour as well as in the final.
About Melodifestivalen 2023
Farah Abadi and Jesper Rönndahl will have the grand honour of hosting the forthcoming edition of Melodifestivalen. Melodifestivalen 2023 will kick off in Gothenburg on Saturday 4th February and will be travelling to Linköping, Lidköping, Malmö, Örnsköldsvik and Stockholm. The Grand Final of Melodifestivalen 2023 has been to set to be held on Saturday 11 March in the majestic Swedish capital.
A total of 28 acts will compete at Melodifestivalen 2023. 14 acts have been selected via the public submission window, whilst the remaining 14 acts have been selected via an invitation extended by SVT.
04/02/2023- Semi-Final #1- Gothenburg
11/02/2023-Semi-Final #2- Linköping
18/02/2023-Semi-Final #3 – Lidköping
25/02/2023-Semi-Final #4- Malmö
04/03/2023- Andra Chansen- Örnsköldsvik
11/03/2023- Grand Final- Stockholm
Source: SVT
Photo credit: SVT