The Aussies are gearing up for their very first Eurovision national selection in their quest to search for the 2019 Australian Eurovision hopeful and song. The Gold Coast and Queensland are thrilled to welcome the Eurovision bandwagon next February along with its glitz, glam and glitter.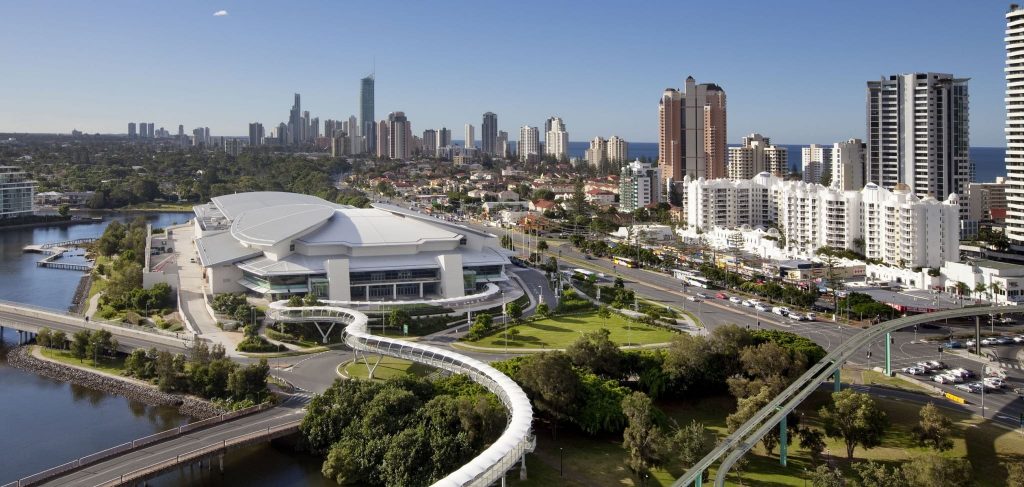 The 2019 Australian national final is set to be held on 9 February at the Gold Coast Convention and Exhibition Centre on the Gold Coast, Queensland, Australia. The Aussie national selection will consist of three live performance shows:
08/02/2019- Jury Show
09/02/2019- Matinee Show
09/02/2019-Live Show (broadcast on SBS One with public voting)
A special event was held on the Gold Coast yesterday to officially launch the 2019 Australian national selection- Eurovision: Australia Decides. Mr. Paul Clarke ( Head of Australian Delegation at ESC/Blink TV Director), Myf Warhurst ( SBS host/ Eurovision commentator), Joel Creasey ( SBS host/ Eurovision commentator), Dami Im (Australia 2016), Mr. Tom Tate (Mayor of Gold Coast), Mr. James Taylor (SBS Acting Managing Director) all attended the event.
Dami Im was honoured to attend the event and performed her 2016 Eurovision entry Sound of Silence during the launch.
Ms. Annastacia Palaszczuk (Queensland Premier)  says:
Queensland and the Gold Coast continue to build on its reputation as a powerhouse of Australia's film and television industry. Following the successful shift of the TV WEEK Logies to the Gold Coast this year, securing Eurovision – Australia Decides for the Gold Coast is further demonstration of the respect for this region as an international television and event host.
Mr. Tom Tate (Mayor of Gold Coast) says:
I've always said that we are a city that dares to dream. We dream big and we reap the rewards for that. Hosting this Eurovision event is right up there with the best. Our city's exposure to this global audience is priceless. Lights. Camera. Action. Bring it on!
Ms. Kate Jones (Queensland Tourism Development Minister) says:
During the Commonwealth Games we showed the world that the Gold Coast was an unbeatable event destination. Events like these give us the opportunity to profile the Gold Coast and everything that makes it great to a national and international audience – and that's terrific news for our tourism industry.
Australia in Eurovision
Australia debuted at the Eurovision Song Contest in 2015 and has partaken in the competition 4 times. 2019 will see the country's fifth Eurovision participation.
The Aussie nation was invited to compete at the 2015 Eurovision Song Contest in Vienna, as a one off participation but the country embraced the competition with such enthusiasm that they have been invited to retun every year since.
Australia achieved its best result in the contest in 2016 when Dami Im nearly walked away with the coveted Eurovision trophy with her entry Sound of silence, placing 2nd in Stockholm.
The Aussies have enjoyed much succcess in the contest having achieved three top 10 placings in their four year Eurovision history.