Mission accomplished! The 58th Melodifestivalen has just thrown its curtains and after a long trip around Sweden that kept us company for over a month, we finally know that Benjamin Ingrosso will proudly be flying the nation's flag in Lisbon, with the song Dance you off!
Grattis Benjamin!
Live from Stockholm's Friends Arena, we had the opportunity to watch a spectacular show, hosted by David Lindgren and Fredrik Svensson. A total of 12 contenders performed on the show's stage, in the hope of being the next entrants for the Scandinavian country. These acts were (in running order):
Mendez – Everyday
Renaida – All the feels
Martin Almgren – A bitter lullaby
John Lundvik – My turn

Jessica Andersson – Party voice
LIAMOO – Last breath
Samir & Viktor – Shuffla
Mariette – For you
Felix Sandman – Every single day
Margaret – In my cabana
Benjamin Ingrosso – Dance you off

Rolandz – Fuldans
However, the 11 international juries and the public's joint decision was that Benjamin will get the golden Eurovision ticket to Lisbon's Altice Arena, with a total of 181 points!
You can now enjoy the performance of the Swedish entry for the Eurovision Song Contest 2018 right here:
Right after the performances, the 11 spokespersons announced the points of each international jury separately. The spokespersons were (in countries' alphabetical order): Kleart Duraj (Albania), Anush Ter-Ghukasyan (Armenia), Stephanie Werrett (Australia), Klitos Klitou (Cyprus), Bruno Berberes (France), Nodiko Tatishvili (Georgia), Felix Bergsson (Iceland), Nicola Caligiore (Italy), Mateusz Grzesinski (Poland), Goncalo Madail (Portugal) and Simon Proctor (United Kingdom).
The results from the international juries are as follows: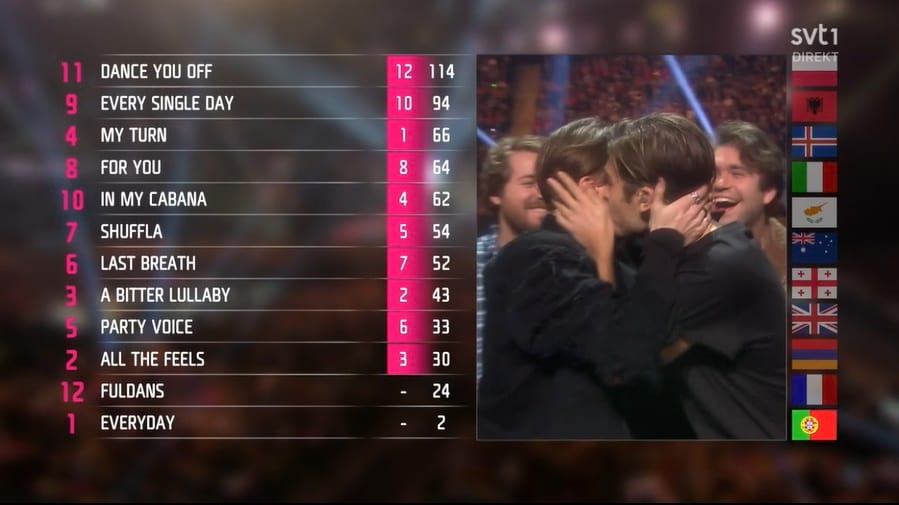 Whilst the final outcome of the competition is listed below: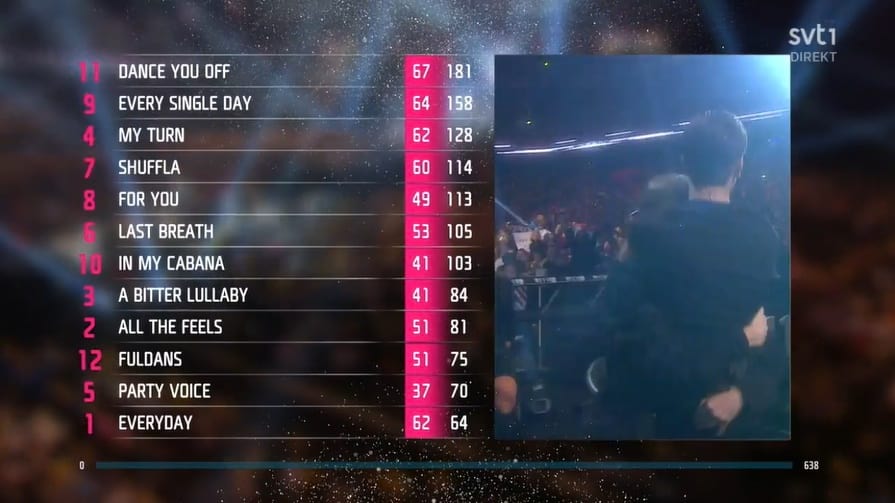 Sweden at Eurovision
The Scandinavian nation joined the Eurovision house in 1958, and has appeared 57 times in the contest since. The Swedes can look back at 6 victories, the second highest number for a Eurovision country, to Ireland's 7 (1974, 1984, 1991, 1999, 2012, 2015).
During the current decade, Sweden has been entering the Top 5 every year, with the exceptions of 2010 and 2013. Let's see whether this long series of successful results will continue or not in Lisbon!
Last year, Robin Bengtsson and his dancers won the trophy of Melodifestivalen 2017 and went on his way to Kyiv. He made an extraordinary performance of his entry I can't go on and managed to achieve an overall 5th place in the final with 344 points.
Recall his performance at Kyiv's International Exhibition Center below:
In 2018, Sweden will be competing in the 2nd half of the second semi-final on 10 May. The 63rd Eurovision Song Contest will be held on 8, 10 and 12 May at the Altice Arena in Lisbon, Portugal.
Do you like the Swedish entry? Which are your predictions for May?