On Tuesday September 19 2017, a special charity concert for the victims of hurricane Irma was held in France. Many French artists joined forces to collect funds for the relief of the devastated area, including former Eurovision participants Amir Haddad and Patrick Fiori.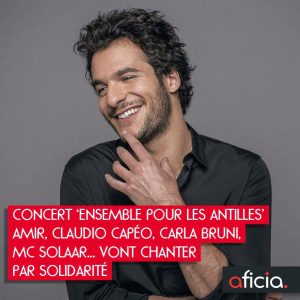 The charity concert Ensemble pour les Antilles ("Together for the Antilles") was broadcast on channel France 2, held at the Casino de Paris, and was orchestrated by the Fondation de France. Hosted by Stéphane Bern (who is also the official Eurovision commentator for France 2) and Marie-Sophie Lacarrau, the concert saw a line-up of French artists and celebrities performing to raise funds for the islands Saint-Martin and Saint-Barthélémy in the French Antilles (West Indies).

Among the participating artists were Amir (Eurovision 2016) and Patrick Fiori (Eurovision 1993), as well as MC Solaar, Shy'm, Slimane, Carla Bruni, Laurent Voulzy, Patrick Bruel, Thierry Cham, Alain Souchon, Claudio Capéo, Imany and Julie Zenatti, among others.
In conclusion of the concert, a sum of 2,2 million Euro's was already collected in aid of the afflicted islands. Donations are still welcome and possible, please visit the official website of the Fondation de France:
For video's of the performances, please visit the following link.
Amir Haddad (born Laurent Amir Khlifa Khedider Haddad to Sephardic Jewish parents from Tunisia and Morocco, Paris, 1984) is a French-Israeli singer-songwriter. He represented France at the 2016 Eurovision Song Contest in Stockholm, Sweden. With his entry J'ai cherché, he reached a respectable 6th place in the Grand Final, earning 257 points. The song became a huge hit in France and abroad.
Patrick Fiori (born Patrick Jean-François Chouchayan to a French-Armenian father and a Corsican mother, Marseille, 1969) represented France at the 1993 Eurovision Song Contest in Millstreet, Ireland. With his entry Mama Corsica he reached an honourable 4th place, earning 121 points. Mama Corsica, performed in French and Corsican, became a international hit and Eurovision evergreen.
Enjoy Amir performing J'ai cherché at Eurovision 2016, and Patrick Fiori performing Mama Corsica during Eurovision 1993:
ESCToday is growing and always looks for new members to join our team! Feel free to drop us a line if you're interested! Use the
Contact Us page
or send us an email at
[email protected]
!