Today at 19:00 CEST, the official opening ceremony of the Eurovision Song Contest 2017 will take place at Parkovy Exhibition and Congress Centre. Before this, starting at 16:00 CEST, all the contestants will have the chance to shine and exhibit the very best designers from their country have to offer on the Red Carpet event. The Red Carpet event will be held at Mariyinsky Palace, and this year it is a record-breaking 265 metres long!
How to watch
Today's Red Carpet event will kick off from 16:00 CEST and will be available to watch via the official Eurovision YouTube channel.
The broadcast will also be available to watch via UA:PBC's official YouTube channel.
About today's events
Later today the Red Carpet parade and Opening Ceremony will mark the official opening of the Eurovision Song Contest, the week commonly referred to as "Eurovision week" by fans and press alike.
The artists from each country will take to the carpet in the following order:
Albania (Lindita)
Armenia (Artsvik)
Australia (Isaiah)
Austria (Nathan Trent)
Azerbaijan (Dihaj)
Belarus (NAVIBAND)
Belgium (Blanche)
Bulgaria (Kristian Kostov)
Croatia (Jacques Houdek)
Cyprus (Hovig)
Czech Republic (Martina Barta)
Denmark (Anja Nissen)
Estonia (Koit Toome & Laura)
FYR Macedonia (Jana Burceska)
Finland (Norma John)
France (Alma)
Georgia (Tamara Gachechiladze)
Germany (Levina)
Greece (Demy)
Hungary (Joci Papai)
Iceland (Svala)
Ireland (Brendan Murray)
Israel (IMRI)
Italy (Francesco Gabbani)
Latvia (Triana Park)
Lithuania (Fusedmarc)
Malta (Claudia Faniello)
Moldova (Sunstroke Project)
Montenegro (Slavko Kalezic)
Norway (JOWST)
Poland (Kasia Mos)
Romania (Ilinca & Alex Florea)
San Marino (Valentina Monetta & Jimmie Wilson)
Serbia (Tijana Bogicevic)
Slovenia (Omar Naber)
Spain (Manel Navarro)
Sweden (Robin Bengtsson)
Switzerland (Timebelle)
Netherlands (OG3NE)
United Kingdom (Lucie Jones)
Portugal (Salvador Sobral)
Ukraine (O.Torvald)
After the artists and their accompanying delegations have walked along the 265-metre Red Carpet along Mariyinsky Palace, posing for photographs and giving interviews along the way, they will be taken to the Parkovy Exhibition and Congress Centre for the Opening Ceremony. Once they arrive, they will be taken to the roof of the centre and each delegation will raise their flag, before the ceremony finally begins.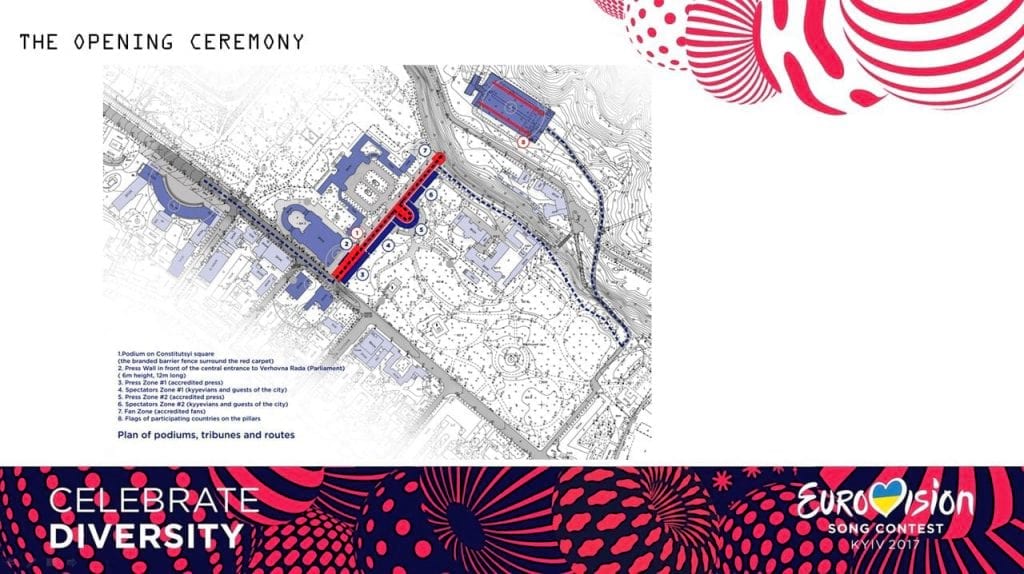 The participants will be welcomed by the sounds of the National Academic Orchestra of Folk Instruments, who will perform a medley of previous Eurovision hits.
As always, the Red Carpet and Opening Ceremony events will air live via the official Eurovision website, with numerous screens appearing across the host city, including the Eurovision Village.