With just over a month to go until the Eurovision Song Contest 2017 is set to take place, the host broadcaster of this year's competition, UA:PBC, has unveiled further details regarding the forthcoming Red Carpet and Opening Ceremony.
As was confirmed earlier this month, UA:PBC revealed that this year's Red Carpet event will take place at Mariyinsky Palace in Kyiv, with the Opening Ceremony set to be held at the Parkovy Exhibition and Congress Centre.
With participants, delegations, fans and press all set to take to the event on the 7 May, 6 days before the Eurovision 2017 final, what is set to happen at this year's ceremony before the final week of Eurovision begins?
We begin with the Red Carpet event
As is tradition every year at Eurovision, this year's participating acts and each country delegation are set to take to the carpet on the walk down to the Opening Ceremony. The 2017 Red Carpet will be a record-breaking 265 metres in length.
Red Carpet director, Serhiy Proskurnya, believes the location of the event is ideal for the event, set in the centre of Kyiv with stunning architecture on show. Speaking of the set location, Proskurnya revealed:
This location will include a special area for the press of each participating country and accredited fans of Eurovision 2017. Each delegation will move along the red carpet for about forty minutes and will last for two and a half hours. Simultaneously on the red carpet, a total of 12 delegations of each country will feature. They will stop for photo shoots, will give interviews and autographs for fans.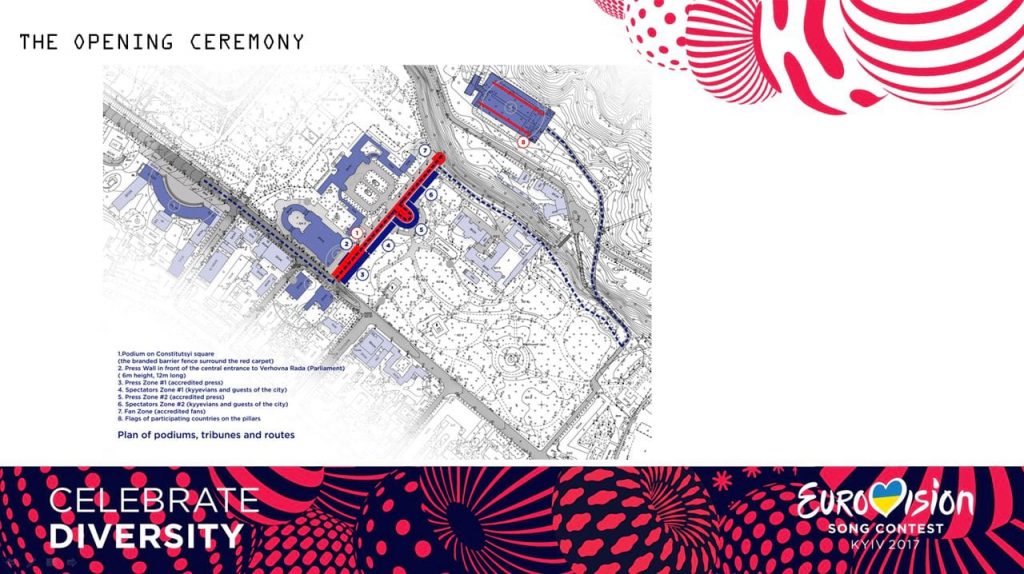 Continuing to the Opening Ceremony
Following the Red Carpet event, the delegations will move on to the Parkovy Exhibition and Congress Centre for the Opening Ceremony.
Their arrival will take them to the roof of the centre in which each delegation will raise the flag of the participating country, before the start of the ceremony finally begins!
Delegations of each participating country will be welcomed by the sounds of the National Academic Orchestra of Folk Instruments who will perform a medley of a number of previous Eurovision hits, also accompanying a number of guests throughout the evening.
As always, the Red Carpet and Opening Ceremony events will air live via the official Eurovision website, with numerous screens appearing across the host city including the Eurovision Village.
The 2017 Eurovision Song Contest will run the following week on the 9, 11 and 13 May and will take place at the International Exhibition Centre in Kyiv.