The second rehearsals give us new information regarding two aspects: it is a first glimpse of a more flowing running order while countries have the ability to show some improvement from the first rehearsals that were held earlier this week. What does it mean? Let's take a look!
The following graph shows the press poll results as a function of the running order. The colours for each country represent the categories introduced at the Press Poll summary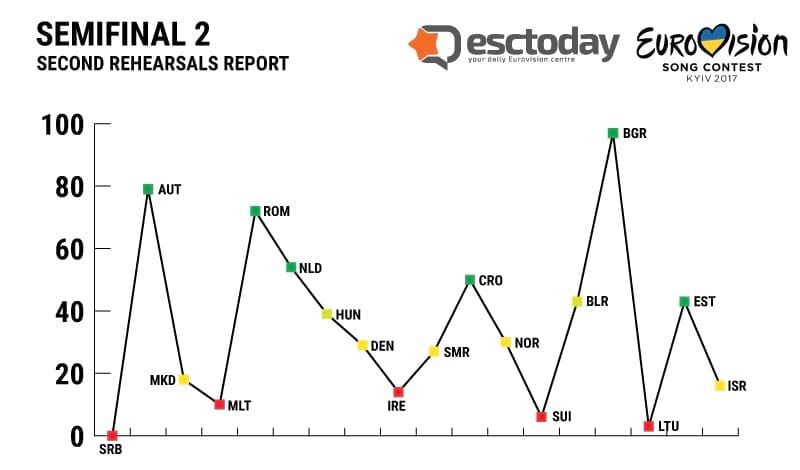 The only differences spotted are that Hungary and Belarus might be a bit weaker than their fellow Direct Qualifiers (coloured in green) and so are introduced into the new category Highly likely qualifiers (H) as the Swinging qualifiers (in yellow) might overtake them during the upcoming rehearsals and the live show.
Notice that in a range of eight songs (7-Hungary to 14-Belarus) the highest peak belongs to Croatia and that's why it should qualify to the final without problems.
Current prediction after the second semifinal changes slightly, as we have less direct qualifiers now:
| | |
| --- | --- |
| D | Austria, Bulgaria, Croatia, Estonia, The Netherlands, Romania |
| H | Belarus, Hungary |
| S | Denmark, FYR Macedonia, Israel, Norway, San Marino |
| N | Ireland, Lithuania, Malta, Serbia, Switzerland |
It means we have seven countries fighting for three more qualifying spots, compared to the first semifinal where seven countries will try it out for four spots.
The big five are set to have their second run of rehearsals tomorrow and from Sunday on it is all about full dress rehearsals and live shows.
Stay tuned to ESCToday for more news regarding the Eurovision Song Contest 2017
ESCToday is growing and always looks for new members to join our team! Feel free to drop us a line if you're interested! Use the
Contact Us page
or send us an email at
[email protected]
!