The second rehearsals give us new information regarding two aspects: it is a first glimpse of a more flowing running order while countries have the ability to show some improvement from the first rehearsals that were held earlier this week. What does it mean? Let's take a look!
The following graph shows the press poll results as a function of the running order. The colours for each country represent the categories introduced at the Press Poll summary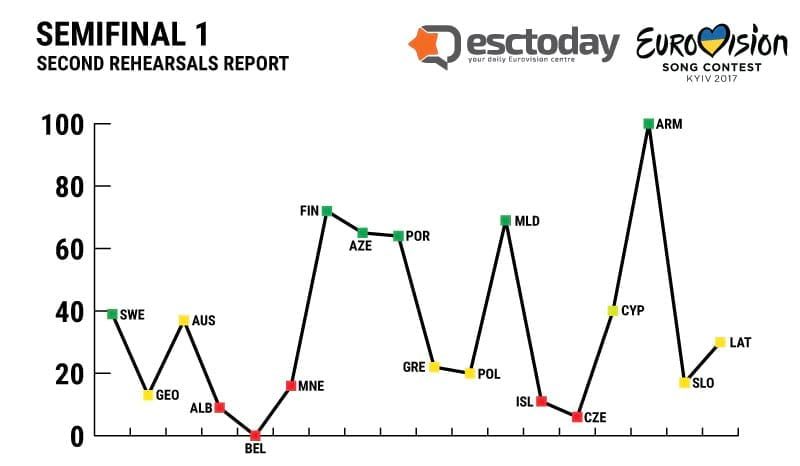 Sweden has fixed the minor problems they had opens the semifinal with a strong and stable performance.
Georgia has managed to improve drastically showing a flowing rehearsal featuring improvements in terms of backdrop, clothing, and effects (bring on the wind machine!) in a way that they might overtake Australia on the way to Saturday's final. Therefore, both countries are swinging qualifiers right now.
The run of Albania, Belgium and Montenegro did not show any significant improvements and are still unlikely to qualify.
On the other hand, Finland, Azerbaijan and Portugal continue to be a strong sequence of entries and all three are set to qualify.
The peak is followed by Greece and Poland whose entries have a strong identity but can't stand to the strength of the previous three. Qualification is possible.
This break is interfered with the party of Moldova that brings us back to the qualification level
The low following is deeper than the previous one having Iceland and Czech Republic.
Cyprus who gained a decent amount of interest during the first rehearsal manages to improve even more but still not in a way that ensures a qualification. Therefore it gets a light green colour and a category of itself as Hovig is highly likely (H) to go to Saturday's final
That was a warmup to Armenia which are likely to win the first semifinal.
Going back down to the ballad of Slovenia and the electronic tunes of Latvia who will have to stand out significantly after Artsvik in order to get a place in the final.
Current prediction after the second semifinal changes slightly, as we have more potential qualifiers now:
| | |
| --- | --- |
| D | Armenia, Azerbaijan, Finland, Moldova, Portugal, Sweden |
| H | Cyprus |
| S | Australia, Georgia, Greece, Latvia, Poland, Slovenia |
| N | Albania, Belgium, Czech Republic, Iceland, Montenegro |
Stay tuned to ESCToday for more news regarding the Eurovision Song Contest 2017
ESCToday is growing and always looks for new members to join our team! Feel free to drop us a line if you're interested! Use the
Contact Us page
or send us an email at
[email protected]
!