Exciting news coming from France today as the final of the 2017 Eurovision Song Contest is set to air live on cinemas screens across the nation!
With speculation rising following an ominous announcement from the French national broadcaster earlier today, it has since been confirmed that the Eurovision 2017 final will air in cinemas across France live on the 13 May.
Fans from and based in France will be able to view the final of the 2017 Eurovision Song Contest at CGR cinemas across the country. Tickets will cost €8 to view the event on the big screen with each ticket holder receiving a special collector's postcard dedicated to this year's representative, Alma.
A Eurovision first in France!
In collaboration with Warner and CGR Cinémas exclusively, France Télévisions is set to broadcast the grand final of Eurovision 2017 on the big screen across the nation for the very first time, making it the very first live airing of its kind in France for the competition!
Live cinema viewings of numerous grand events and exclusive television premieres have been growing in popularity around the world in recent years, however this will be the first time that a live Eurovision Song Contest show is set to air on any form of big screen in the nation.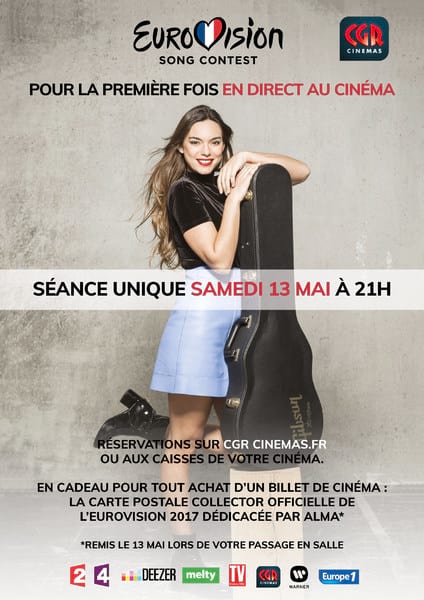 Recent years have seen a rise in the popularity of the Eurovision Song Contest, with more and more viewers tuning into the competition from around Europe and, more recently, across the globe, airing in nations including China, the United States and Australia, the latter of which now a competing nation in the event.
Although no plans have been revealed from other European nations regarding the potential screening of the Eurovision 2017 competition, successful cinema viewings from across France could see events of this kind becoming more prominent on the big screen in other nations in the years to come.
As a member of the 'Big 5' nations, France will automatically compete in the grand final of the 2017 Eurovision Song Contest on the 13 May at the International Exhibition Centre in the host city of Kyiv.