ESCToday in collaboration with the City of Stockholm will be bringing you a series of articles leading up to the 2016 Eurovision Song Contest in order to showcase and introduce the 2016 Eurovision host city Stockholm to our readers. Today we will have a look at the extraordinary living art gallery at Stockholm's subway system.

If you are a lover of art, paintings and sculptures then you must pay a visit to Stockholm's subway stations, which have become one of the city's hottest attractions with a myriad of artistic exhibitions showcasing paintings, sculptures, mosaics, engravings, installations and reliefs.
The work of more than 150 artists is displayed at Stockholm's subway system, which has been baptized as the world's longest art exhibition- extending over 110km.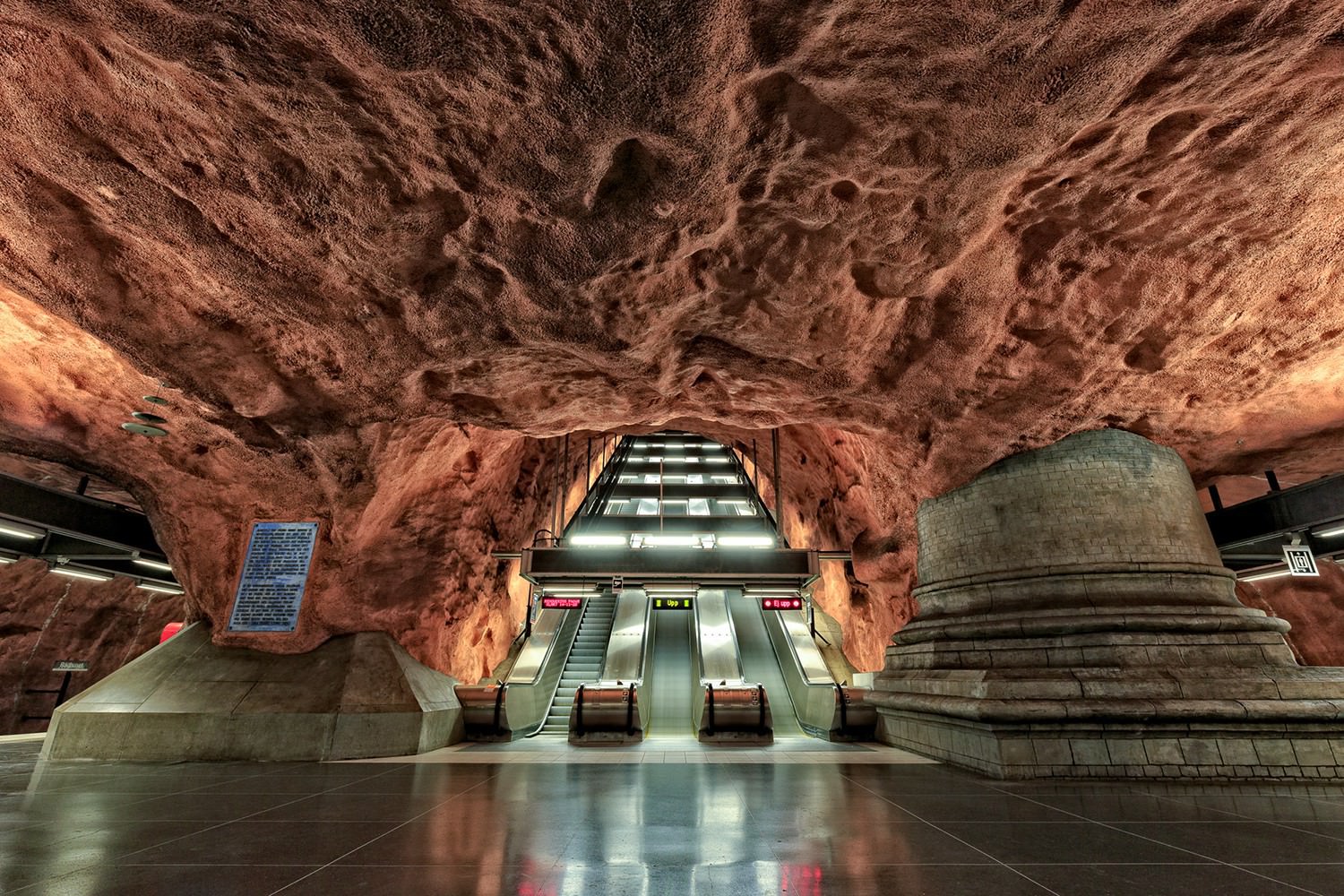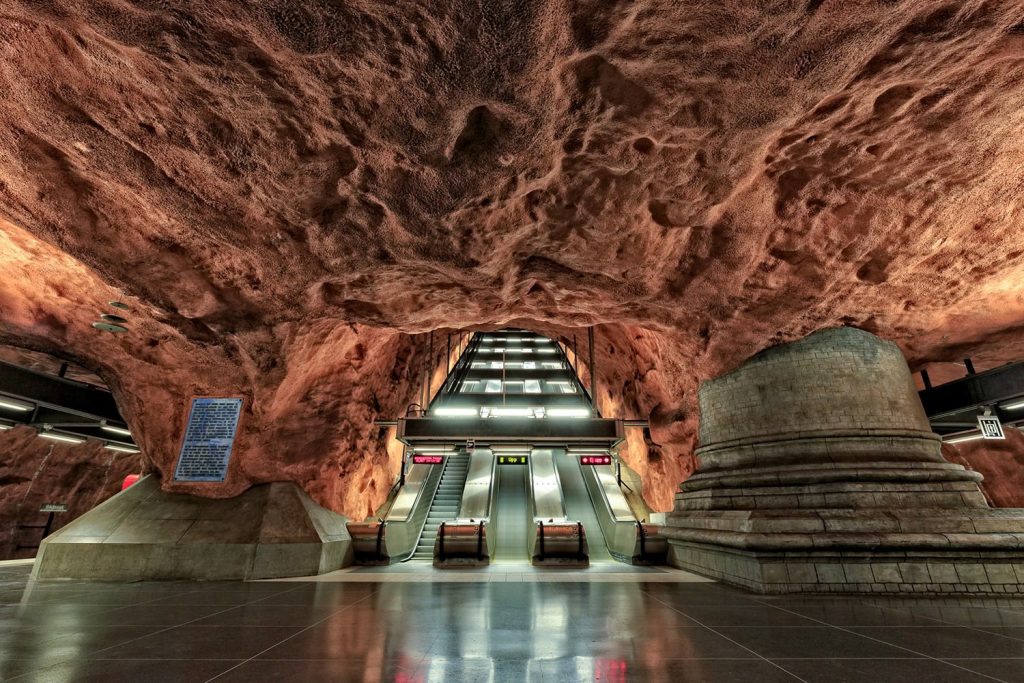 You will be able to admire the beauty of art in 90 out of the 100 subway stations in Stockholm. The Kungsträdgården subway station looks like an archaeological excavation, with the remains of the old Stockholm Makalös palace. At Östermalmstorg  you can admire Siri Derkert's work which portrays women's rights,  peace and environmental issues.
You should not miss the 1950's tiling and reliefs on the walls at T-Centralen.
Those of you who have come to Stockholm for the Melodifestivalen final in the recent years, will be familiar with Solna Station as the Friends Arena is located in Solna.
Solna Centrum Station is famed for its cavernous, bright red ceiling that seems to weigh down on the platform, whilst  the walls of the station showcase a spruce forest that is one kilometre long.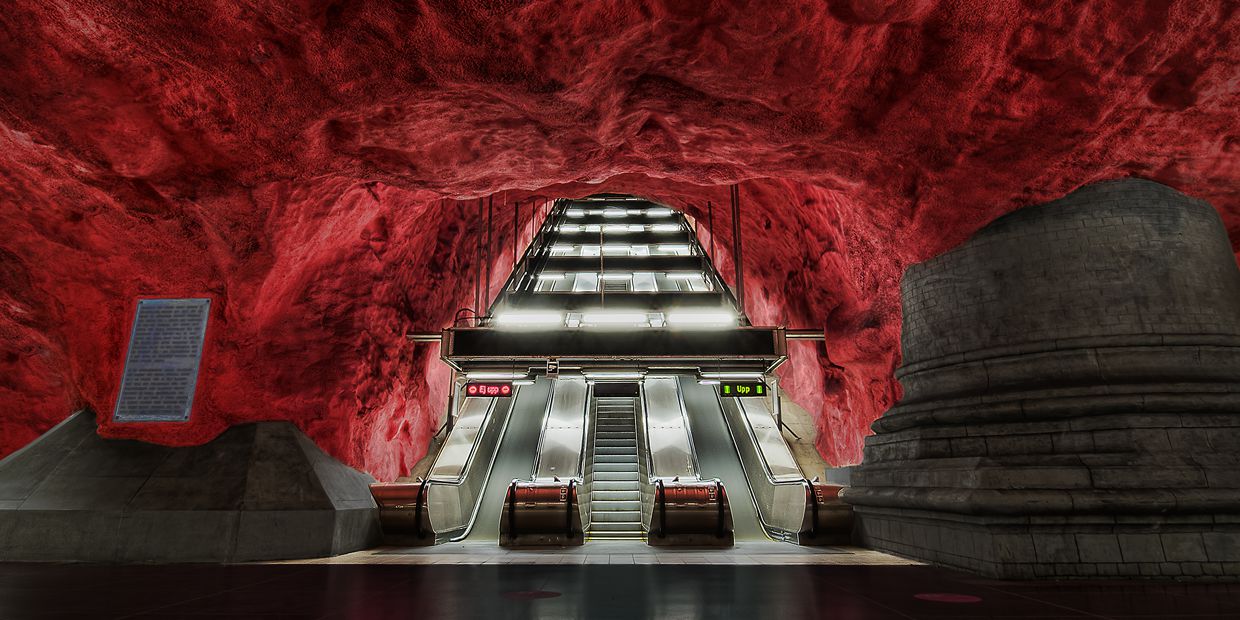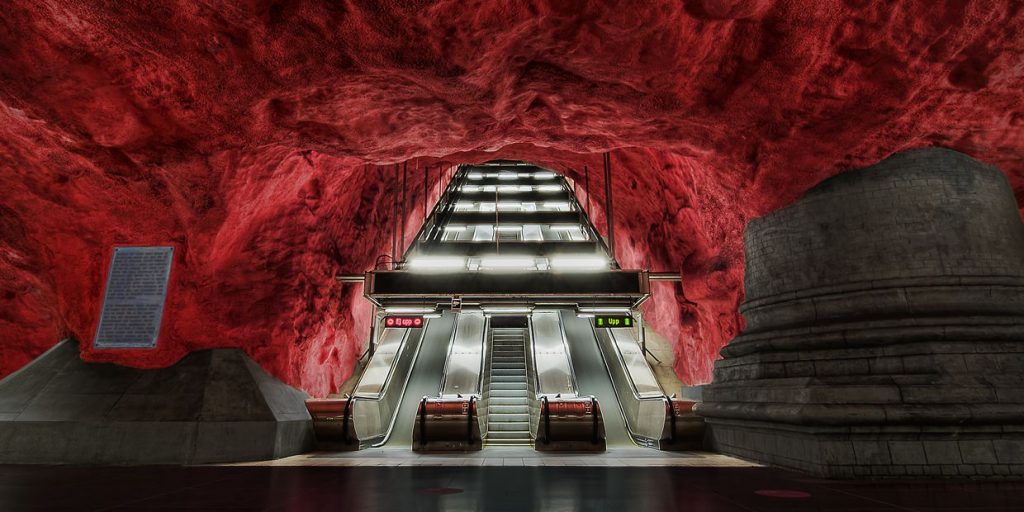 Free guided art walks of the stations are available for the public. You can join one of the walks with your ticket/paintings/exhibits. Pay attention that the tours in English only operate during the summer, but you can feel free to admire the artistic works at your leisure.
You will be fascinated with the rich display of colours which beautify Stockholm's metro stations.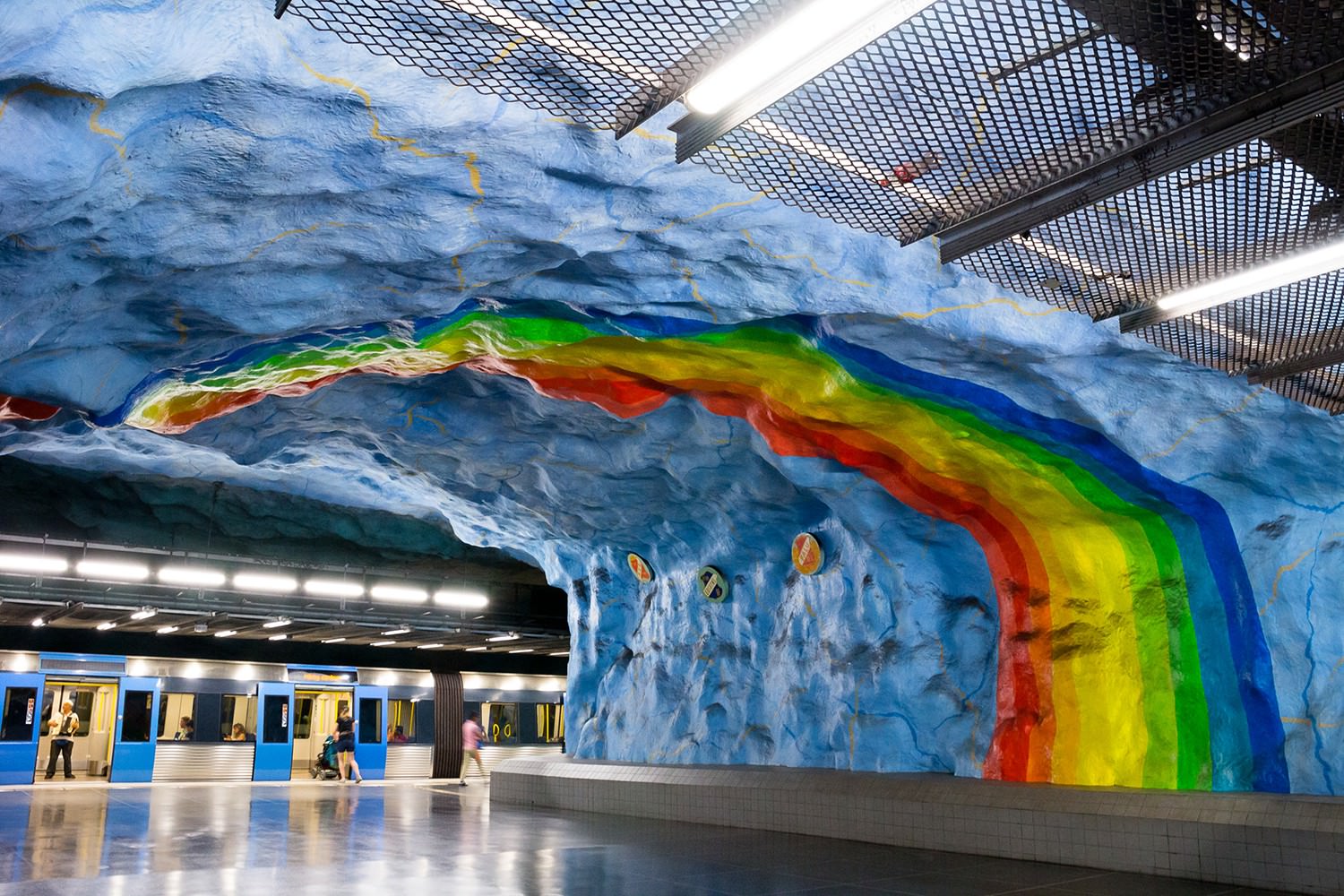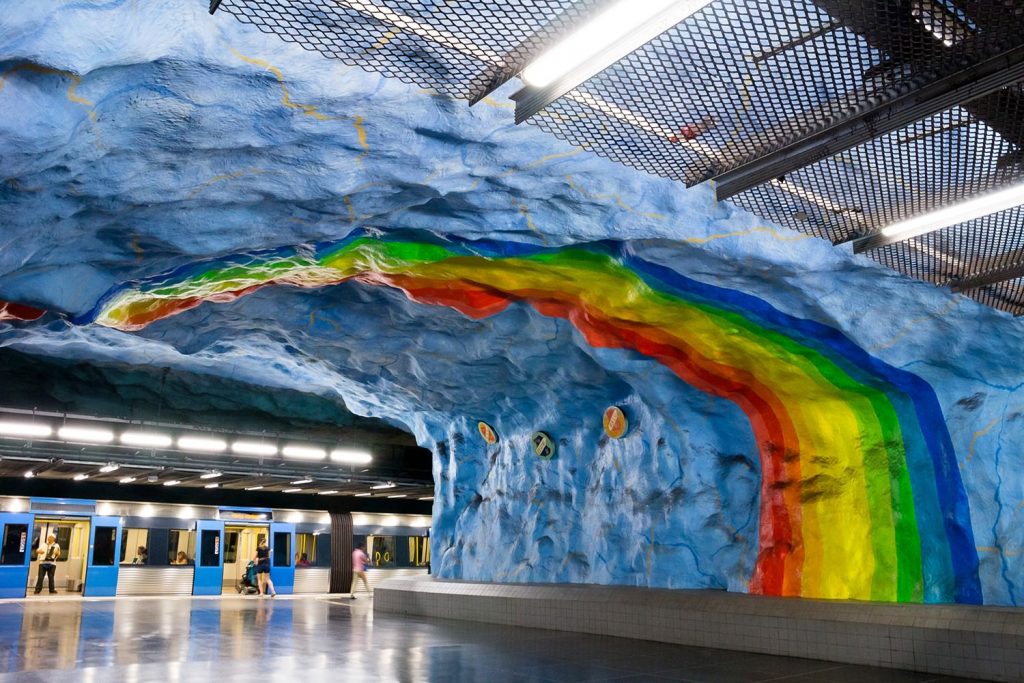 The artistic display of exhibits, sculptures, painting at Stockholm's metro system is truly a sight for sore eyes! You should miss visiting the following T-Bana subway stations when you come to town:
Blue line:
Kungsträdgården
T-centralen
Rådhuset
Solna Centrum
Tensta
Green line:
Hötorget
Thorildsplan
Bagarmossen
Red line:
Tekniska Högskolan
Stadion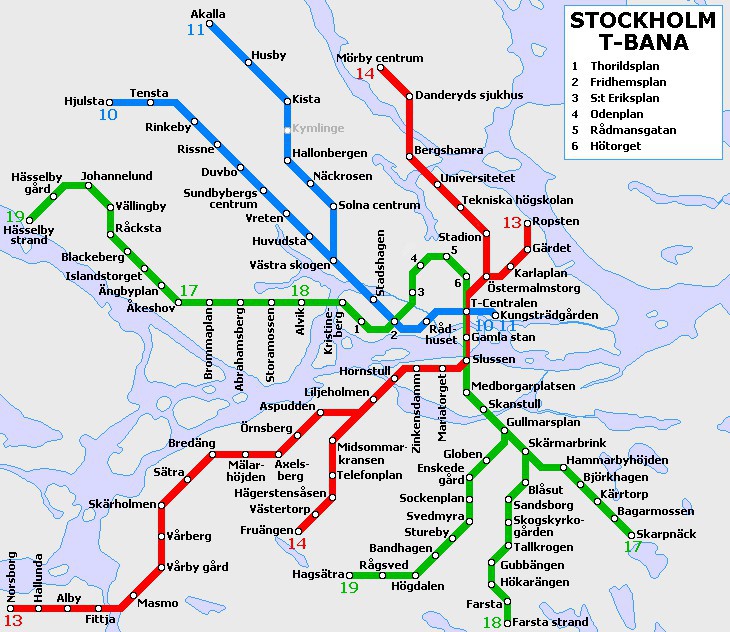 The art displayed in Stockholm's subway offer a great photographic opportunity for photographers. Don't forget to take lots of photographs and share them on your Facebook and Instagram pages!
Stockholm's metro system seen by a photographer (BBC video)
Don't forget to read our series of Discover Stockholm articles leading up to the forthcoming Eurovision Song Contest including The first impression of Stockhom- the host city!
For more information on Stockholm you can visit visitstockholm.com
You can follow our forthcoming series of Discover Stockholm articles with photographs and videos on ESCToday.com and on our official Esctoday Instagram and ESCToday Facebook pages.
ESCToday is growing and always looks for new members to join our team! Feel free to drop us a line if you're interested! Use the
Contact Us page
or send us an email at
[email protected]
!