SBS, the Australian national broadcaster, is in full steam preparing for Australia's fifth Eurovision participation in Tel Aviv. Both the Aussie broadcaster and Australian representative Kate Miller-Heidke are gearing up to hit the Eurovision stage in Israel with an extensive ESC coverage scheduled for the Australian audience.
The 64th Eurovision Song Contest will be broadcast live and in primetime exclusive to SBS and SBS On Demand from 16- 19 May. With the Federal Election on 18 May, Australians will be able to watch twice the amount of drama unfold in what is shaping up to be the double bill of the century.
Kate Miller- Heidke is all set for Tel Aviv
Award-winning singer-songwriter Kate Miller-Heidke will take to the stage in Semi Final 1 with her operatic pop song Zero Gravity. She was selected by the Australian public and jury of industry experts at the first national selection show Eurovision – Australia Decides in February.
Kate Miller-Heidke says:
To be voted by the Australian public to represent the country at Eurovision is such an honour. It's not a responsibility I take lightly.

People have put their trust in me and I can't wait to give it my all. I've always loved the more out-of-the-box performances and Zero Gravity will be just that.

It's a rousing, uplifting song about emerging from depression. For me, it was a feeling of absolute elation and the song ends in a really empowering place. It was written to be performed live and the staging is like nothing I've ever attempted.
Kate is set to compete against 16 counties in Semi Final 1 including Sandstorm star Darude, Polish traditional folk group Tulia, Icelandic bondage-synth-punk trio Hatari and bookies favourite Greek-Canadian singer Katerine Duska.
Myf & Joel are back in the game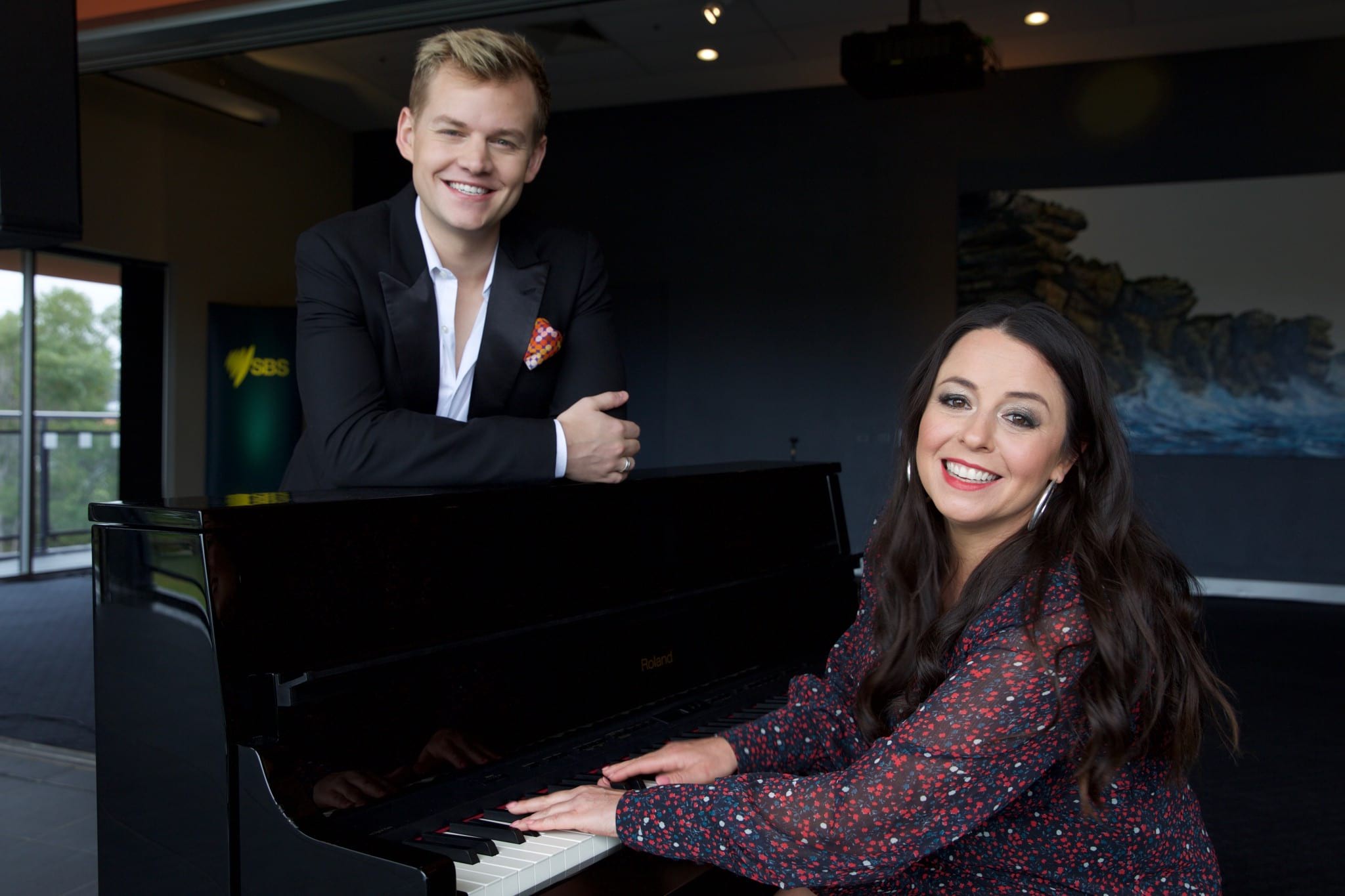 Music buff Myf Warhurst and comedian Joel Creasey will be at the helm of SBS's Eurovision coverage, on the ground from Expo Tel Aviv in Israel, to bring Australians every angle of the contest as they explore the razzmatazz, kitsch, political voting, showbiz, cultural displays and heart of Eurovision – the artists and songs.
 Myf Warhurst says:
Kate is a truly unique singer-songwriter and her performance of Zero Gravity at Eurovision – Australia Decides was out-of-the-box brilliant. She perfectly encapsulates Eurovision and I know fans worldwide will adore her as much as we do. While the competition is fierce, there's nothing holding her down.
Joel Creasey says:
We put the power in the hands of the Australian people this year and, thankfully, they didn't stuff it up. Well done, you guys. Kate's powerhouse vocals and spectacular staging are going to be incredible! I can't wait to see Europe embrace our Kate… and I can't wait to hold Madonna in a sweet embrace. Zero Gravity for the win.
With early morning LIVE broadcasts of Semi Final 1, Semi Final 2 and the Grand Final for immediate results and voting along with Europe, and primetime broadcasts for fabulous Euro-themed parties around the country, there are plenty of opportunities to get behind Kate and join in the fun of picking favourites from the 41 competing nations, each bringing a taste of their own musical culture to the contest.
Extensive Coverage for Aussies
Primetime evening broadcasts
Semi Final 1 – Thursday 16 May, 8.30pm, SBS               **FEATURING KATE MILLER-HEIDKE
Semi Final 2 – Friday 17 May, 8.30pm, SBS
Grand Final – Sunday 19 May, 8.30pm, SBS
 LIVE early morning broadcasts
Semi Final 1 – Wednesday 15 May, 5am (AEST) SBS      **FEATURING KATE MILLER-HEIDKE
Semi Final 2 – Friday 17 May, 5am (AEST) SBS
Grand Final – Sunday 19 May, 5am (AEST) SBS
SBS and Blink TV in full steam for Tel Aviv
Josh Martin (SBS Commissioning Editor)says:
For Aussie election tragics, this is the biggest weekend of the decade. People can follow up their democracy sausages with a smorgasbord of Euro-themed catering whilst watching the largest music show on Earth.

No matter who you're voting for next month, all Australians can unite behind our very own Kate Miller-Heidke, which is ultimately what Eurovision is about: bringing people together.
 Paul Clarke (Director of Blink TV and Australian Head of Delegation) says:
Eurovision 2019 is shaping up to be one of the great ones. We met with producers in Tel Aviv recently, and their ideas for the event will truly make it a global sensation.

I can't wait for fans to see the plans we saw come to fruition. We got the tick of approval for our staging concept with Kate Miller-Heidke and there are a couple of big surprises in store.

It will be very different from the staging at Eurovision – Australia Decides. On the Expo Tel Aviv stage, Kate's performance will be a truly epic evanescent enchantment. There are a lot of great artists and songs in Semi Final 1, but we totally intend to stand out.
The Eurovision Song Contest is the world's live music event and in 2018, it attracted 186 million viewers worldwide and reached more than 2.9 million Australians*.
As per the official Eurovision rules, viewers can vote in the Semi Final in which their country is participating, as well as the Grand Final. The viewers' votes make up 50% of the final result. The other 50% of the vote is decided by a National Jury in each participating country. Australia's jury will be announced soon. The jury and Australian public can vote for any country except Australia.
For Australian viewers, this means they will need to tune into the LIVE broadcast of Semi Final 1 on Wednesday May 15 at 5am (AEST) and the Grand Final on Sunday 19 May at 5am (AEST) by texting the numbers that appear on screen during the live broadcasts.
Australia in Eurovision
Australia debuted at the Eurovision Song Contest in 2015 and has competed in our beloved competition four times.
The Aussies invited to compete at the 2015 Eurovision Song Contest in Vienna, as a one off participation but the country embraced the competition with such enthusiasm that they have been invited to retun every year since.
Australia achieved its best result in the contest in 2016 when Dami Im nearly walked away with the coveted Eurovision trophy with her entry Sound of silence, placing 2nd in Stockholm.
Our neighbours down under have enjoyed much succcess in the contest having achieved three top 10 placings in their four year Eurovision history.
Australia has got the GREEN LIGHT from  to compete at the Eurovision Song Contest for the the next five years.
ESCToday is growing and always looks for new members to join our team! Feel free to drop us a line if you're interested! Use the
Contact Us page
or send us an email at
[email protected]
!