The Blue Carpet event is here in Lisbon! The 43 participating delegations have taken to the Blue Carpet at the MAAT in Lisbon, being introduced to the host city officially ahead of next week's live Eurovision Song Contest 2018 shows.
We're at the Blue Carpet event in Lisbon today to meet the 43 participants at the 2018 Eurovision Song Contest. All of the delegations are ready to take to the carpet to introduce themselves to the host city of Lisbon.
Artists walk down the carpet with a message for Lisbon in a glass jar, which is placed within the centre piece on the carpet.
The hosts of Eurovision 2018 took to the carpet first, showing off their elegant gowns at the welcoming event.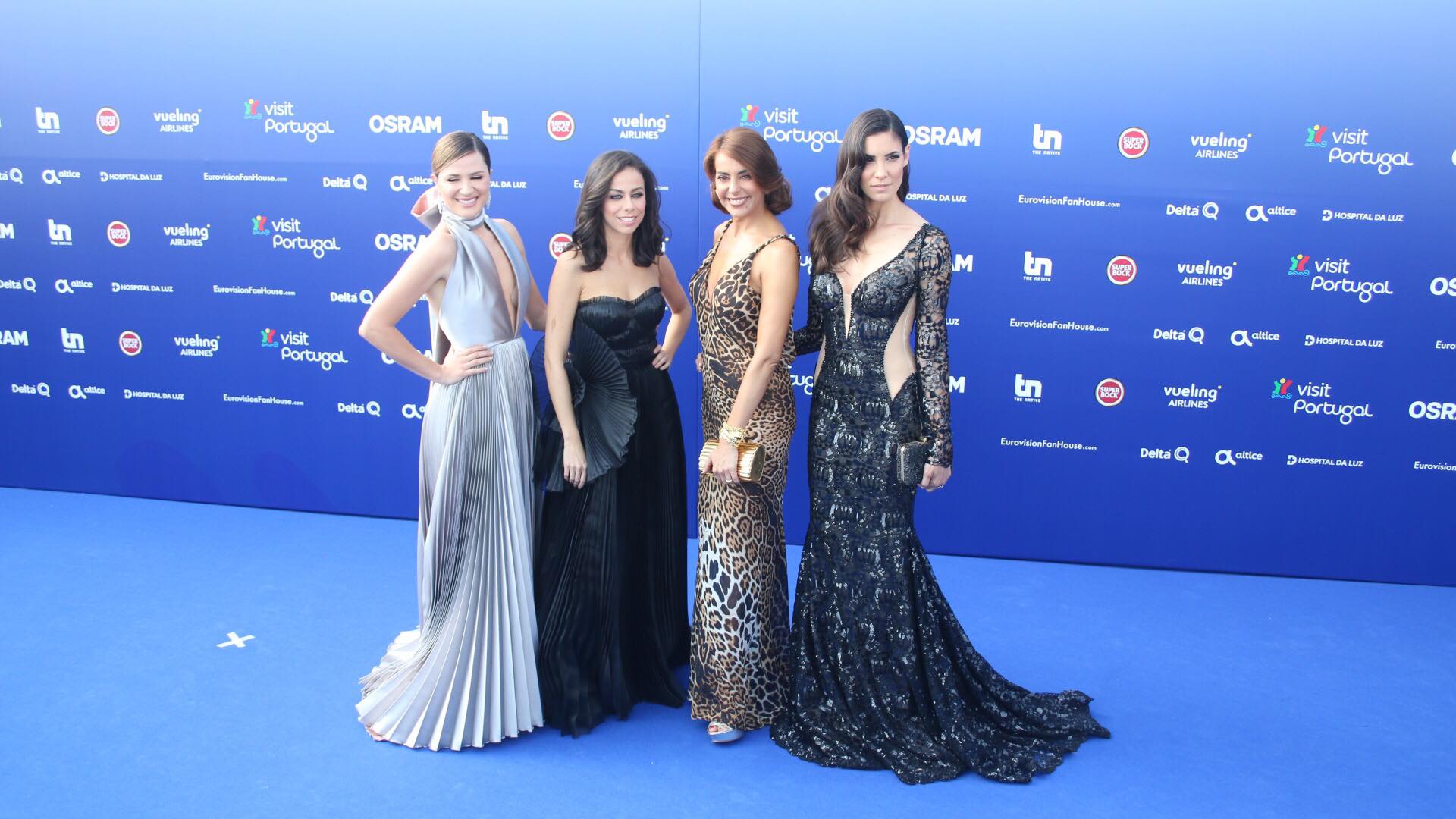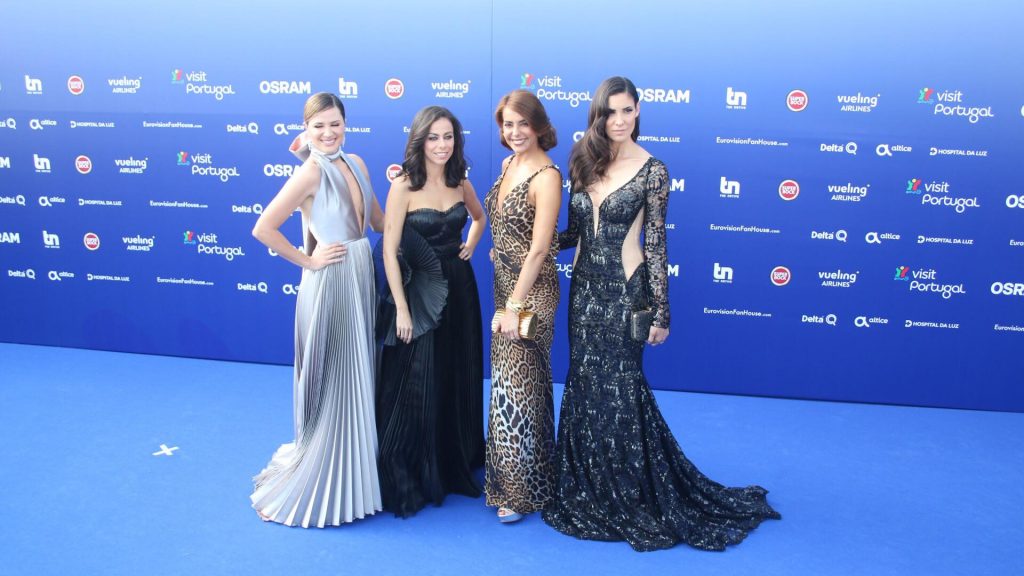 ---
Albania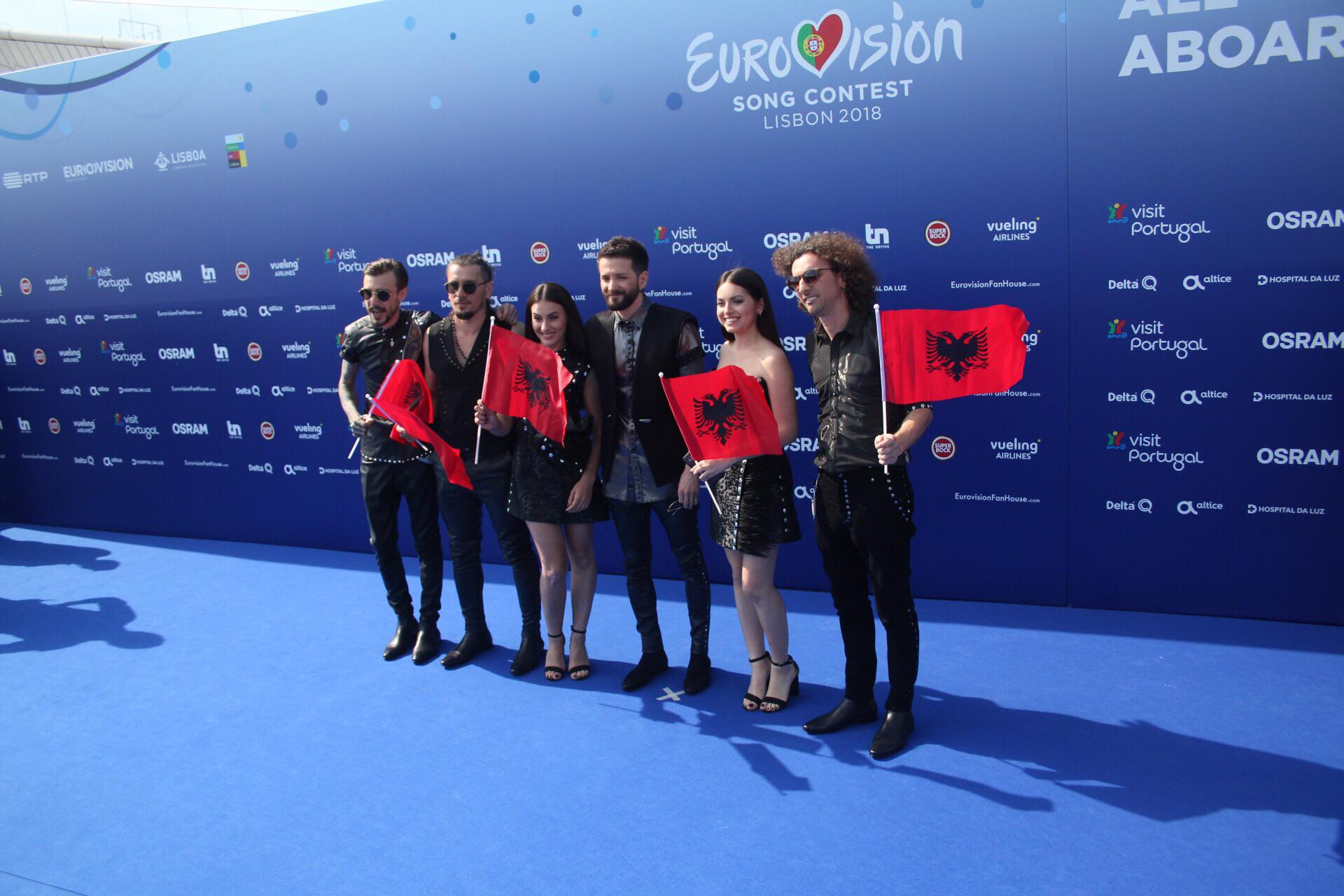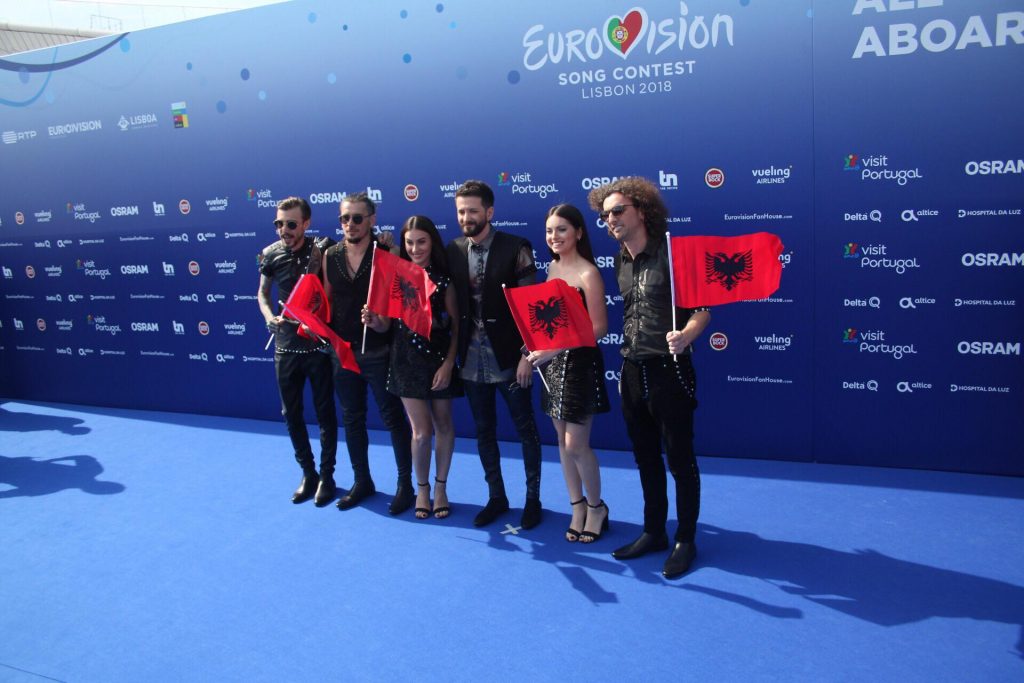 Eugent is wearing a short sleeved silky silver shirt, black waistcoat and spray-on skinny trousers. His outfit today, along with his stage outfit were designed by one of the most well known Albanian stylists and fashion designers in the country, Enada At'Nikolla.
---
Armenia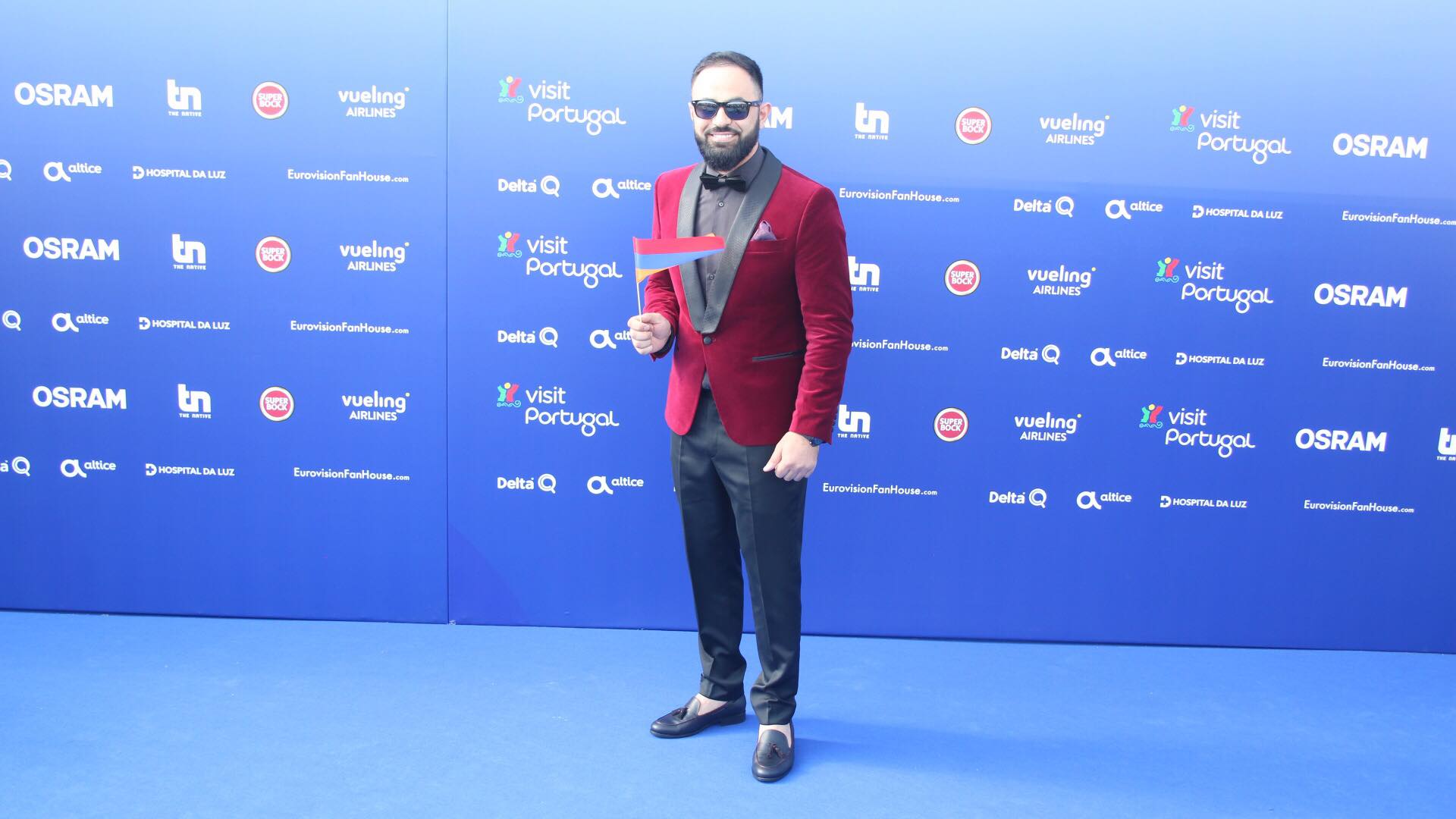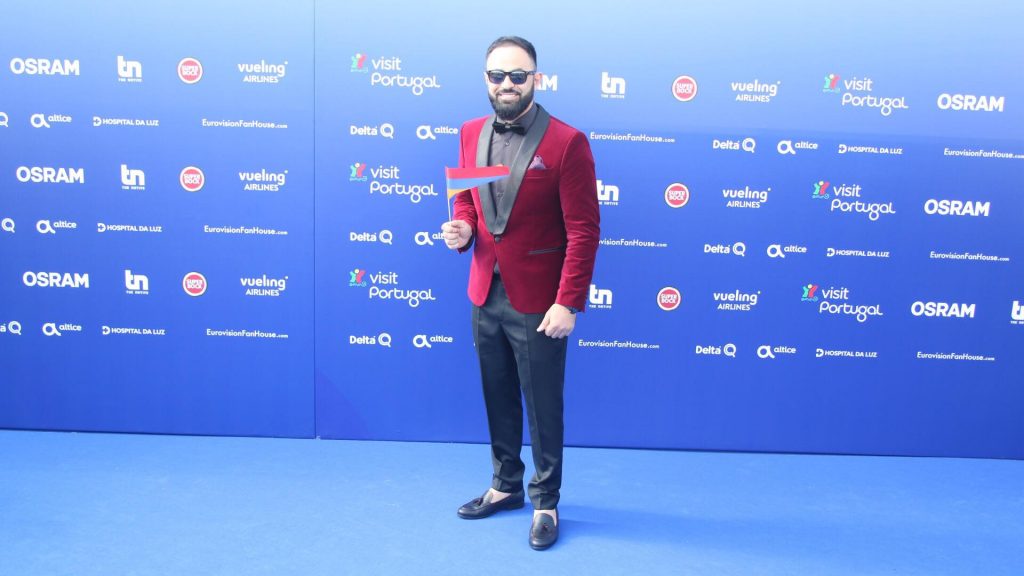 The Armenian participant, Sevak, is wearing a black shirt and trousers with a deep red velvet smoking jacket. The jacket is modernised with a snakeskin lapel, and a purple pocket square. Sevak also adapts for the hot weather by wearing sunglasses.
---
Australia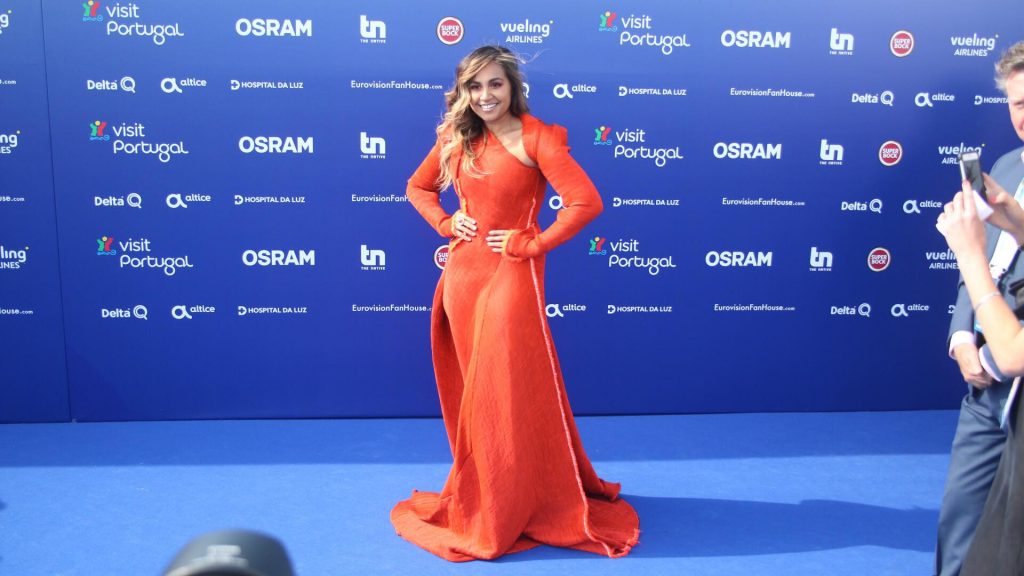 Jessica Mauboy is wearing a Toni Maticevski gown. It's a pale red, which compliments Jessica's skintone and make-up beautifully. The neckline is cut at an asymmetric modern angle, and zip detail on the hem of the sleeves makes it on-trend.
---
Austria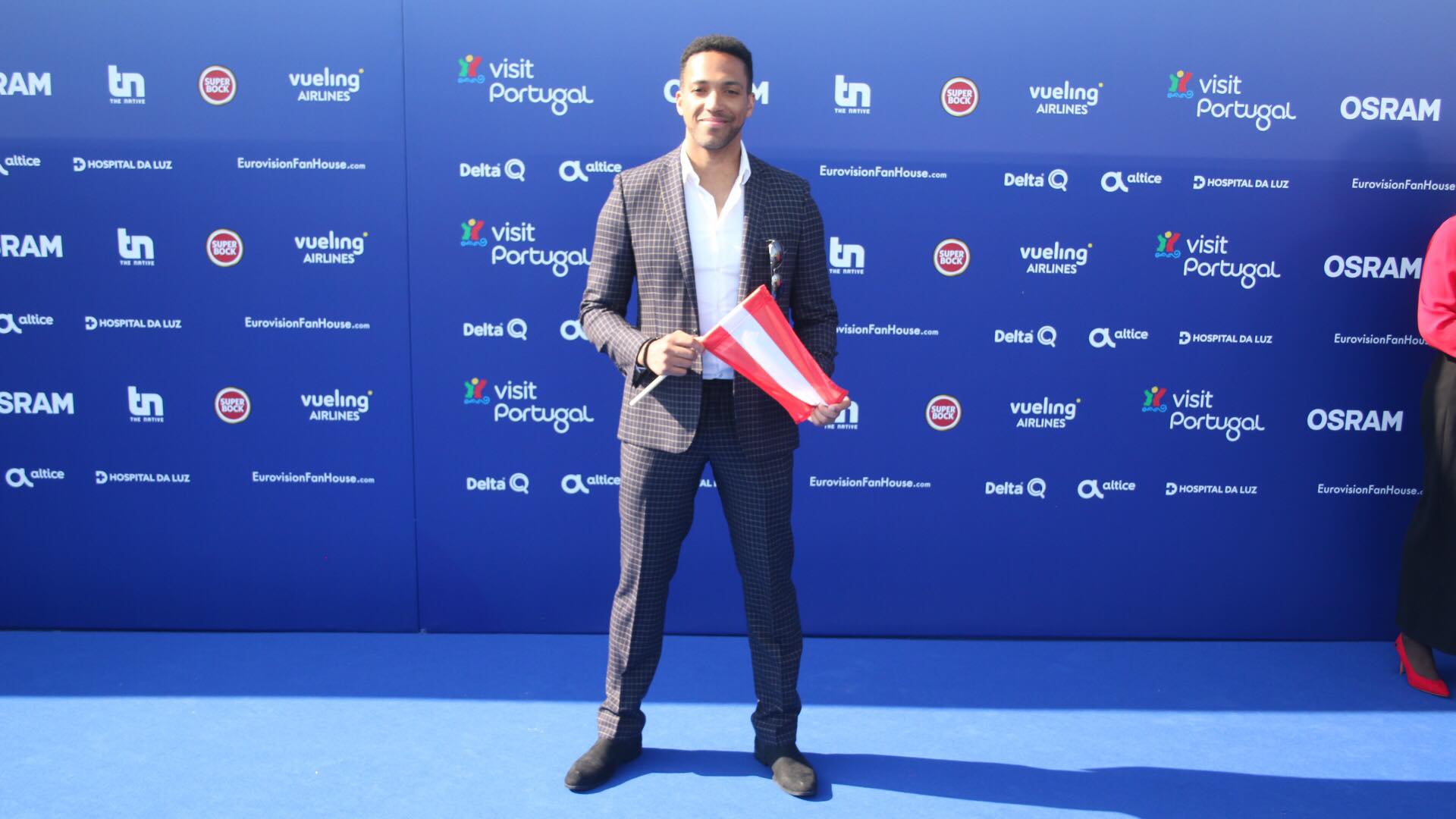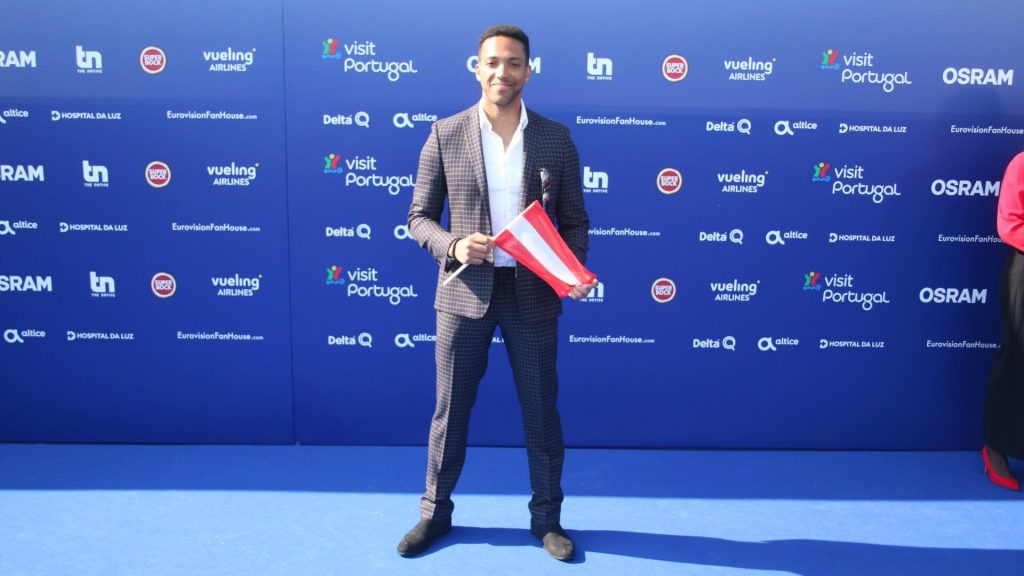 Cesar channels his inner businessman with a black checked suit. His open neck shirt suits his relaxed personality and he seems very chilled and comfortable, perhaps boding well for his performance on Tuesday?
---
Azerbaijan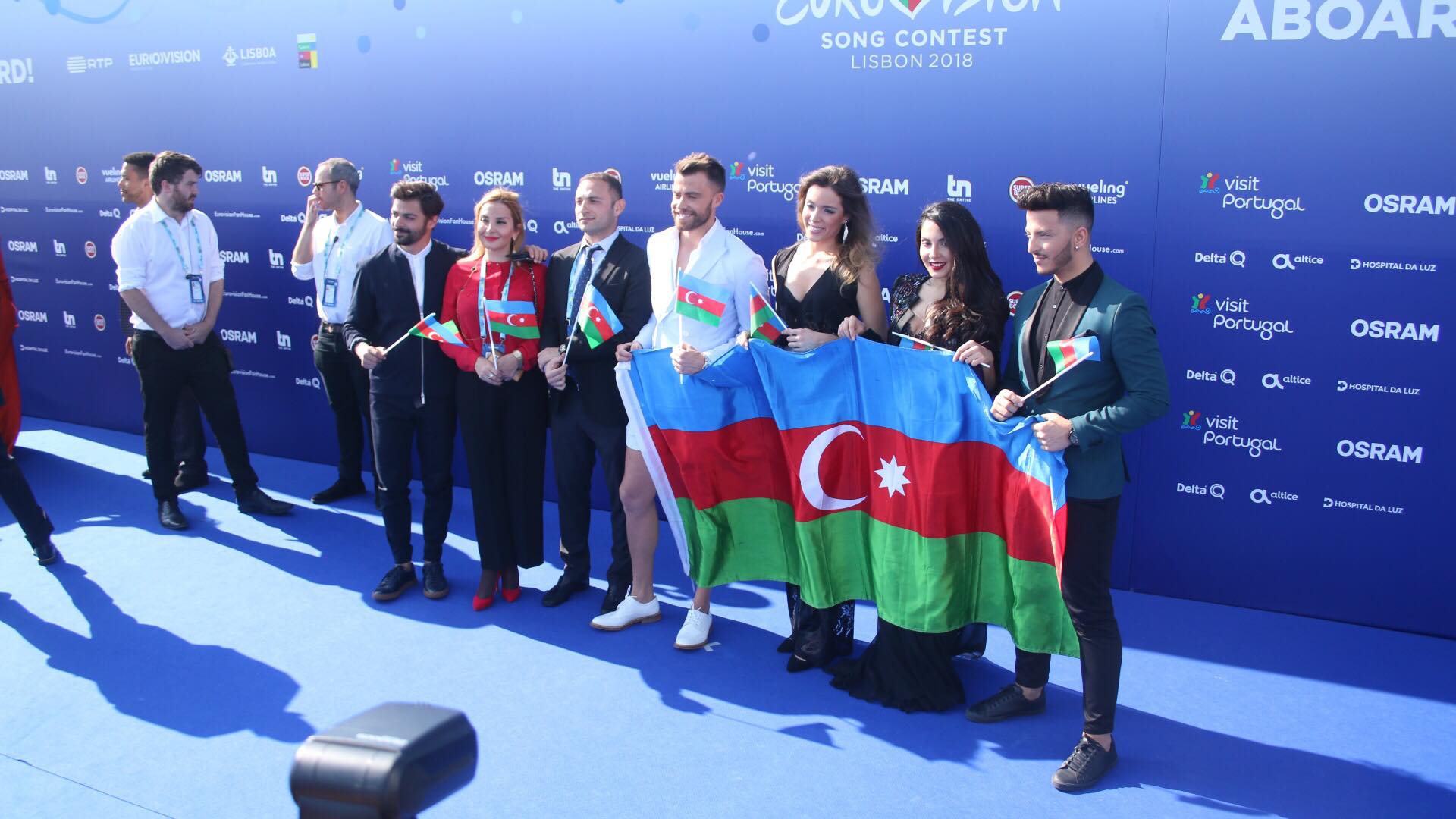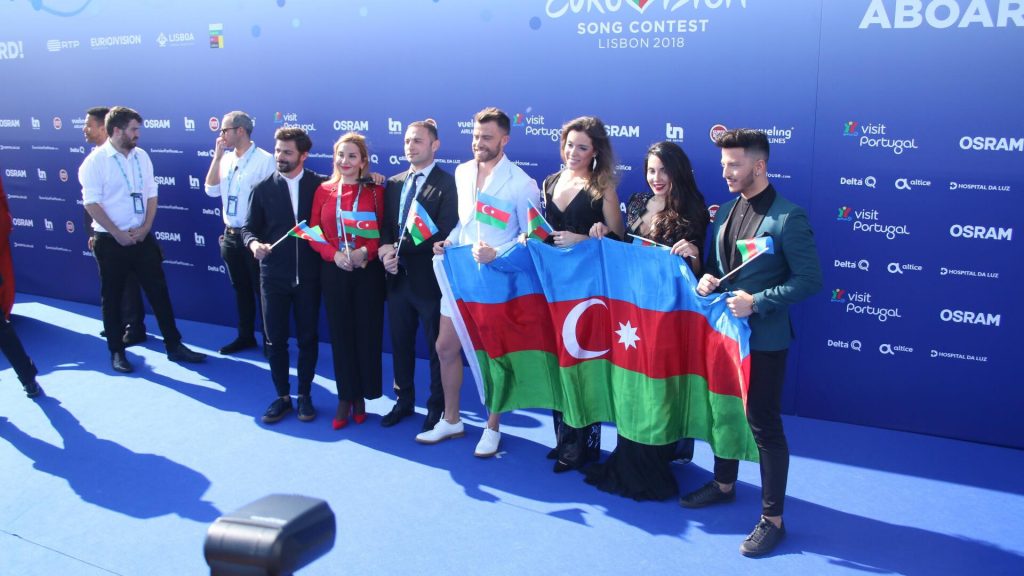 Aisel is wearing an ethnic-inspired number designed by Sabine Huseyn. She's in black, which is classically elegant but perhaps blends in too much with her raven hair. There is beautiful jewelled detail across her shoulders, in subtle classical gem colours.
---
Belarus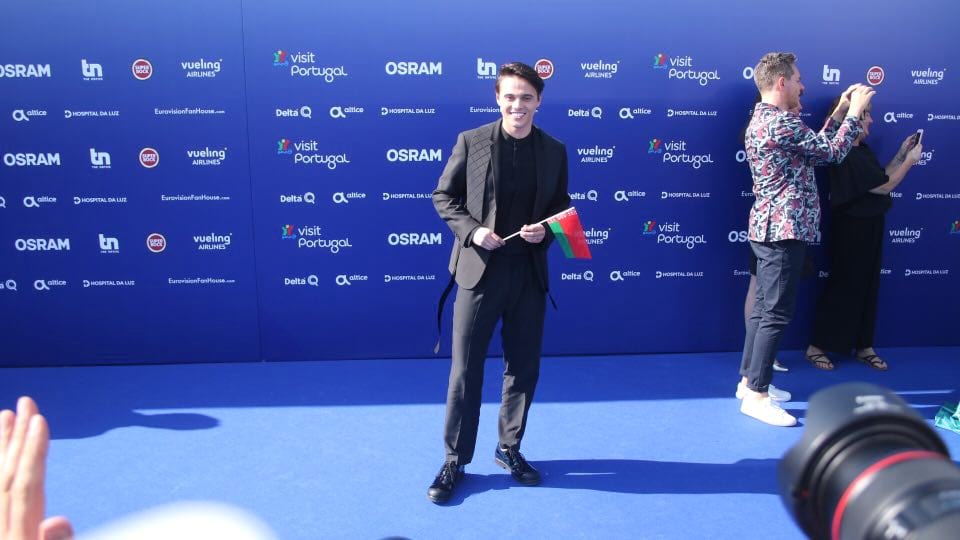 Alekseev from Belarus is dressed similarly to Sevak from Armenia, again in classic black trousers and black shirt. His jacket, however, is black, making everything look quite serious! A collarless shirt is a concession made for Alekseev's youth, but he could easily have pulled off something more daring.
---
Belgium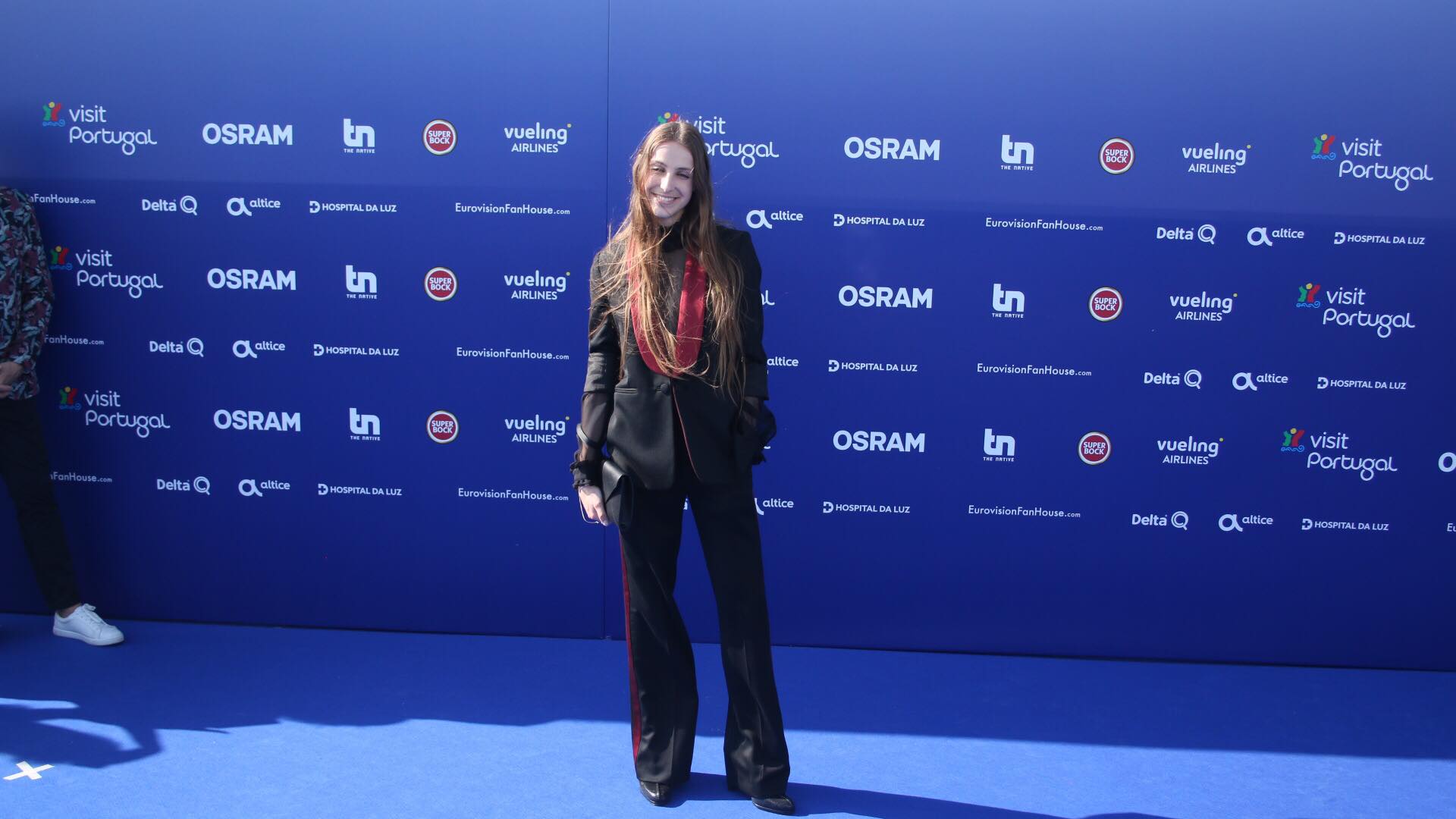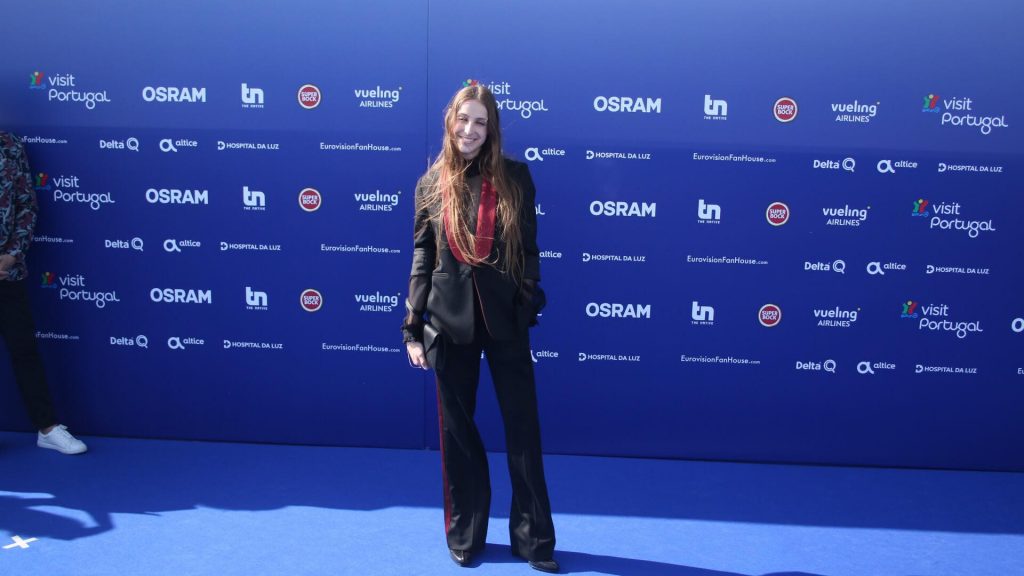 Sennek is daring to be different by wearing a tuxedo to the red carpet. Its's all black with Bordeaux details with a sheer blouse underneath. Her outfit is by Veronique Branquinho, who also designed her stage outfit. The designer chose "a male silhouette combined with a very feminine transparent silk voile blouse with a high ruffled collar.
With this outfit, we extend the style of a masculine and feminine silhouette, the fragile combined with the tough, that reflects Sennek's style so well". Sennek said of her own style that she would like to be James Bond and not the Bond girl, but perhaps the suit could have fitted and flattered her graceful figure a bit more, as she looks a bit swamped in the jacket.
---
Bulgaria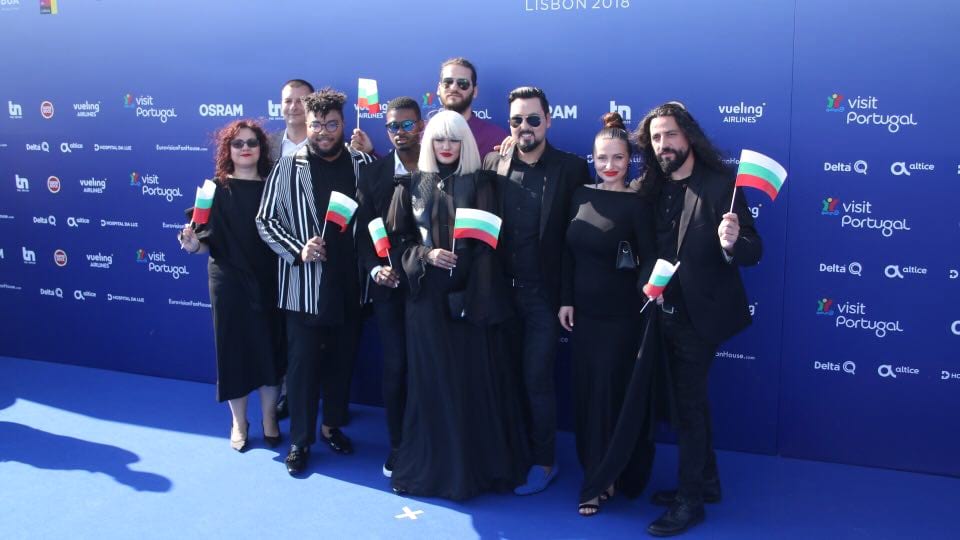 Equinox are keeping up their stage image fantastically, as each band member wears black and is coordinated, but they ensure that everything they wear reflects their own individual styles.
The men are all wearing black suits with various white details, reflecting their personalities and continuing their theme of "light and dark" which features in their performance. Zhana is wearing her trademark blonde Sia-esque wig, and a black dress with daring sheer panels. The lace of her dress is blowing in the wind, and she looks more elegant than her tougher stage outfit.
---
Croatia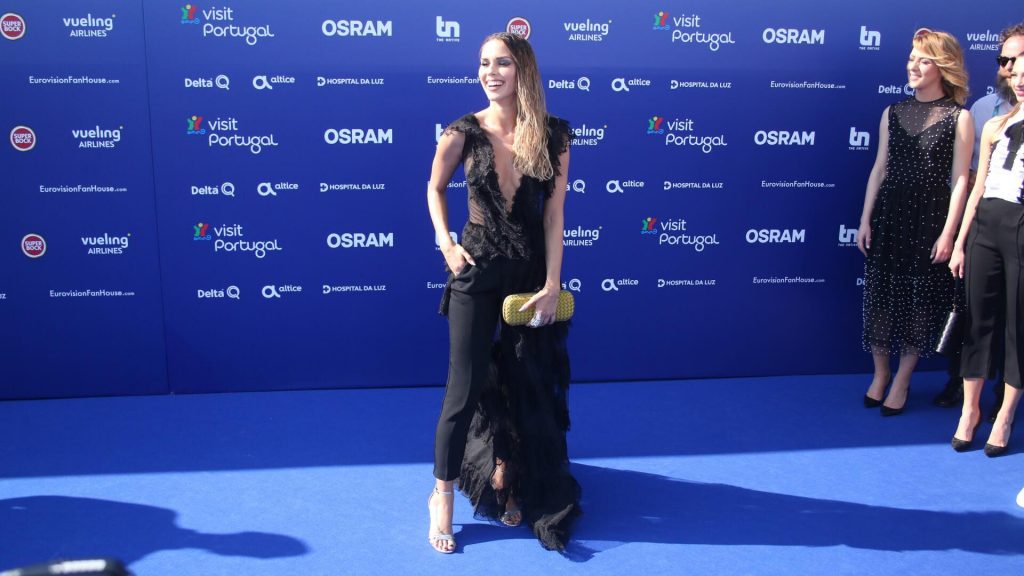 Franka compromises on tough and girly by wearing a black jumpsuit with a skirt. The bodice is daringly lowcut with lace frills on the shoulders. The skirt is full-length tiered lace, but she wears high-waisted tight-fitting trousers. This is similar to Sennek's look, but perhaps more flattering and elegant.
Her outfit tonight was designed by eNVy room. eNVy room designers decide to mix romantic and powerful, and their result is Franka's outfit tonight. Jasenka Tudor Bevanda is Franka's stylist this year, and she has done a great job tonight.
---
Cyprus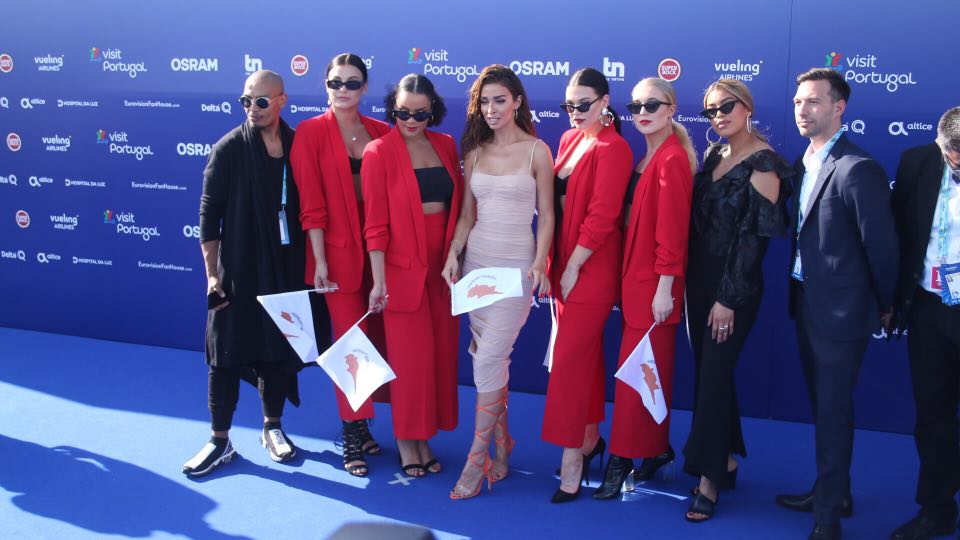 Eleni from Cyprus is wearing a simple but very elegant spaghetti-strapped nude coloured rouched midi dress. She adds some of her Fuego to her classic outfit with orange strappy stilletos which wind around her legs. She is flanked by her backing dancers, all dressed in matching red trouser suits and black bralets.
---
Czech Republic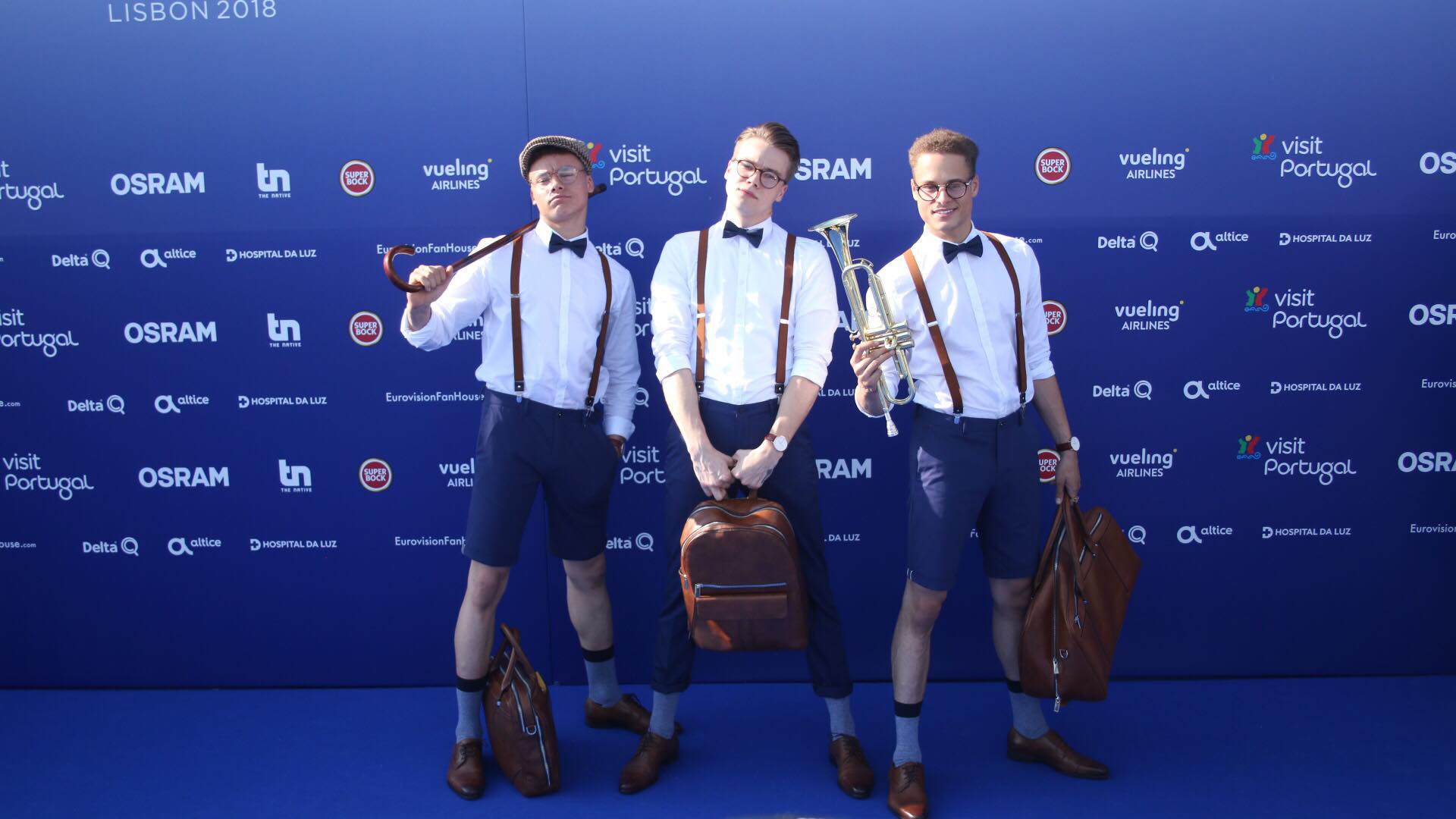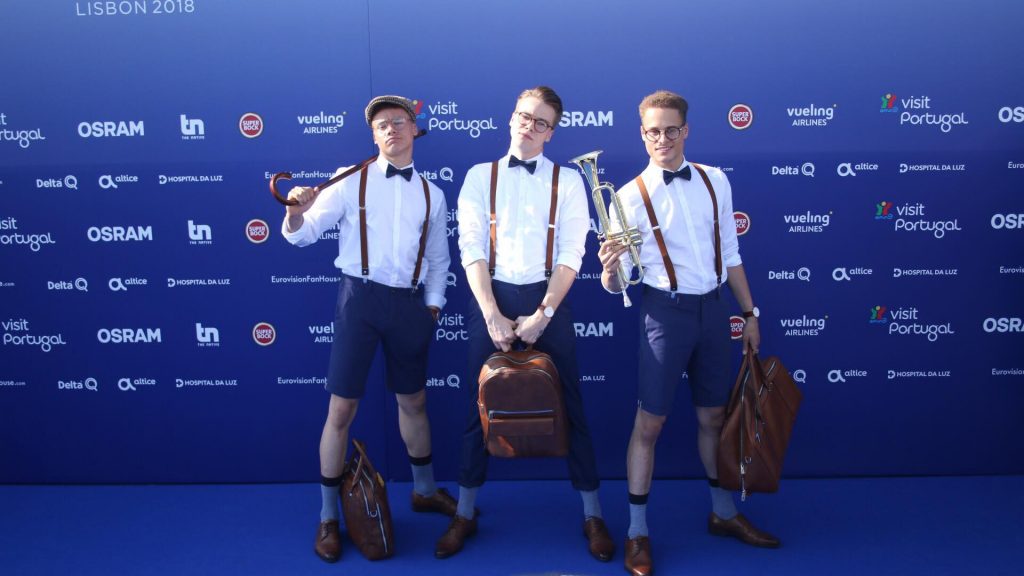 Mikolas is wearing his dapper stage outfit, complete with braces, bowtie and – of course – the backpack! His backing performers accompany him, all dressed in the same twenties, Gatsby-inspired ensemble. It's nice to see Mikolas in such good spirits after his accident earlier this week, and he has told us he will reveal a secret at the end of the Blue Carpet – what's in the backpack?!
---
Denmark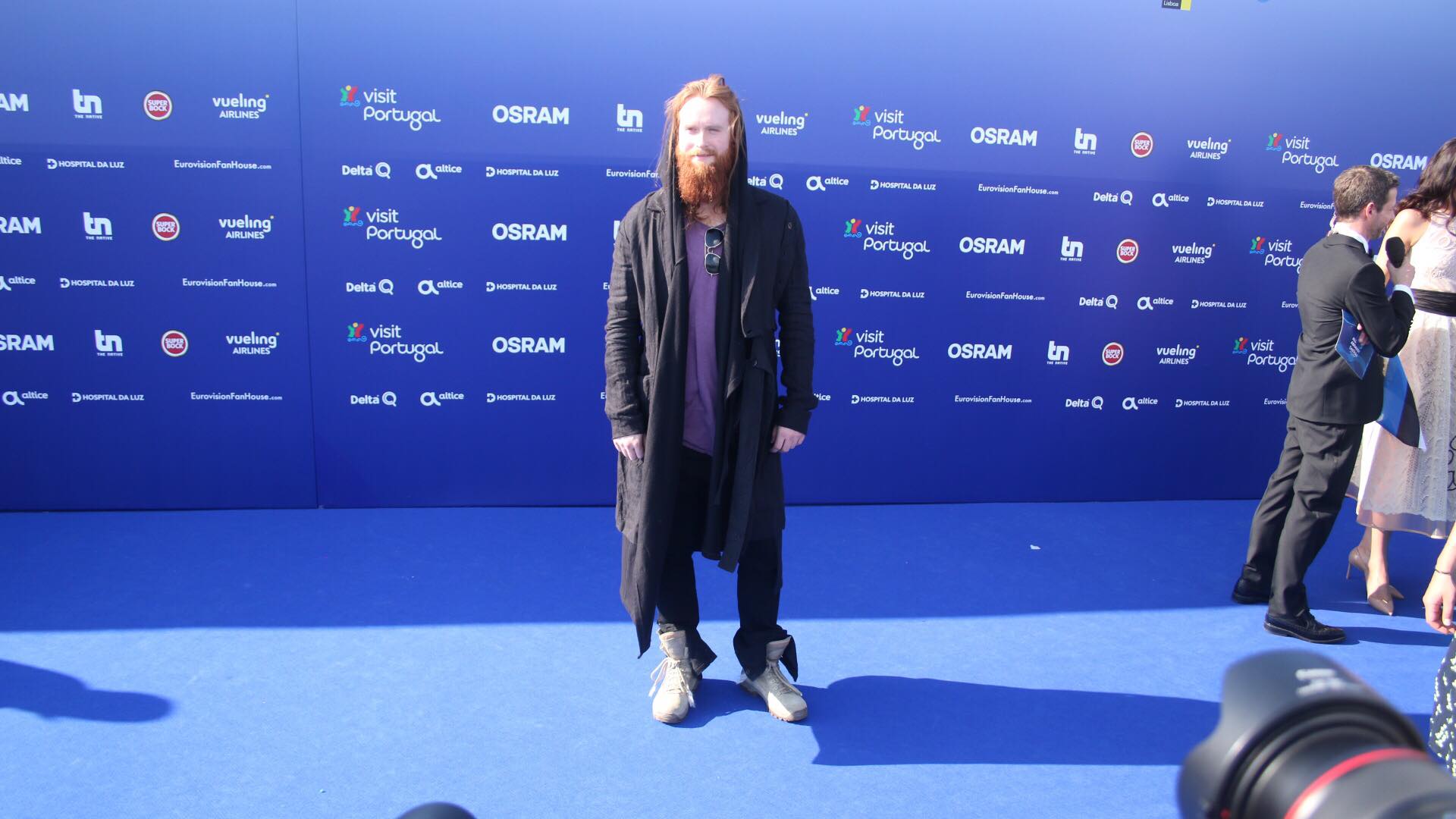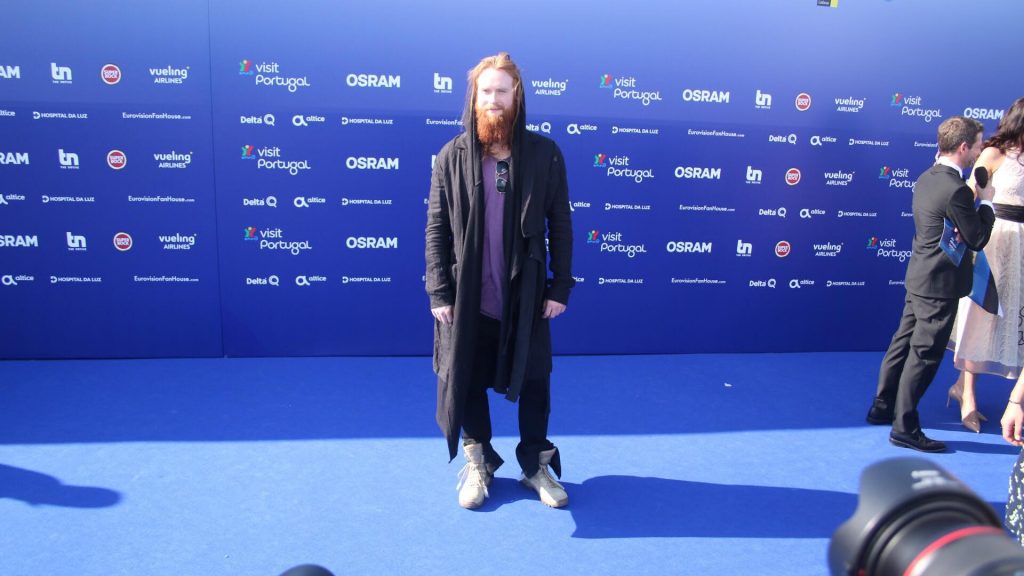 The Vikings have arrived on the Blue Carpet, as Rasmussen enters with his team. He wears loose-fitting clothes, similar to his stage outfit. His black hood maintains the Viking image, but looks more relaxed with a pop of purple on his t-shirt and light coloured hi-top Dr Marten boots. His outfit is designed by Barbara I Gongini.
---
Estonia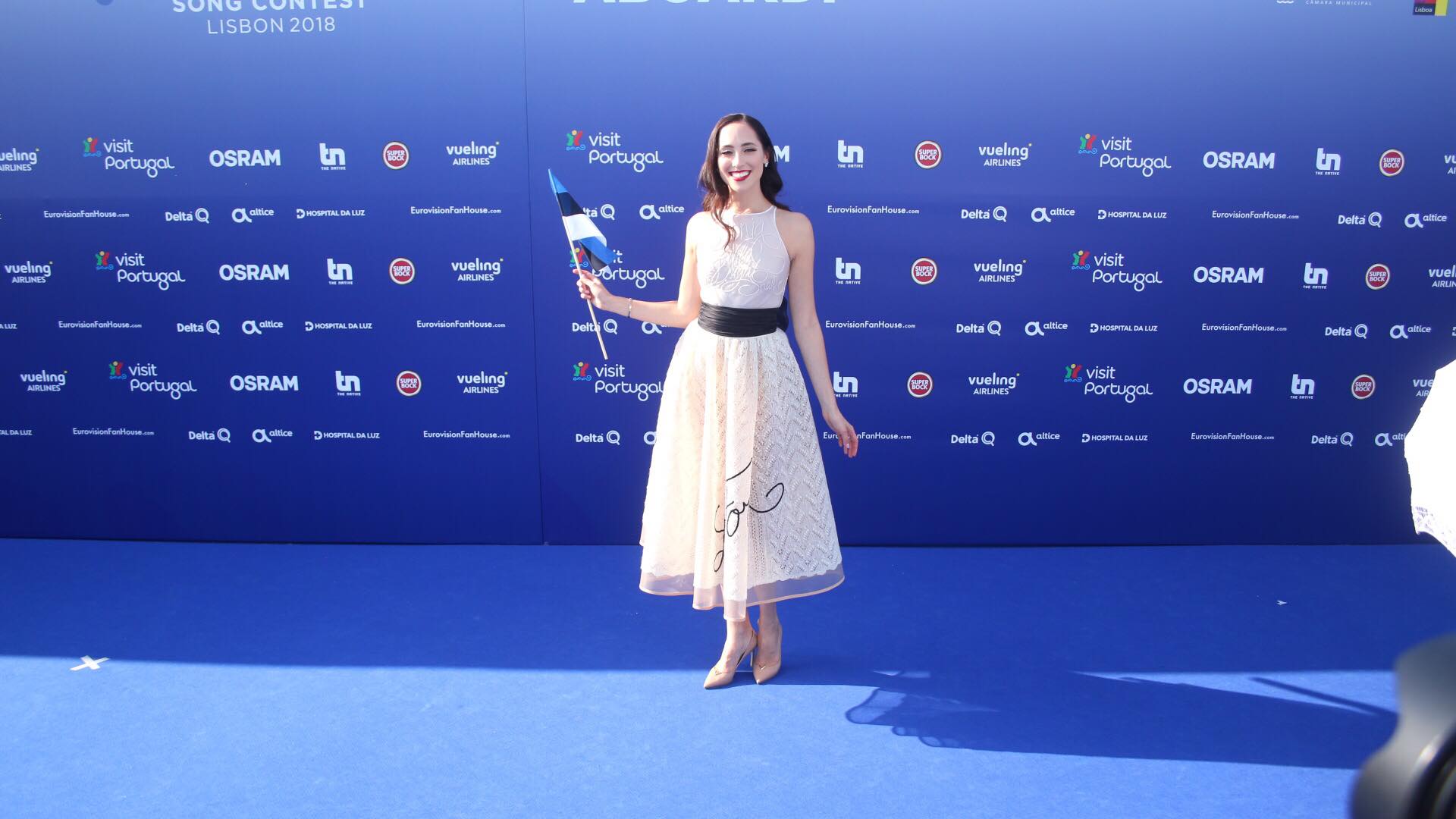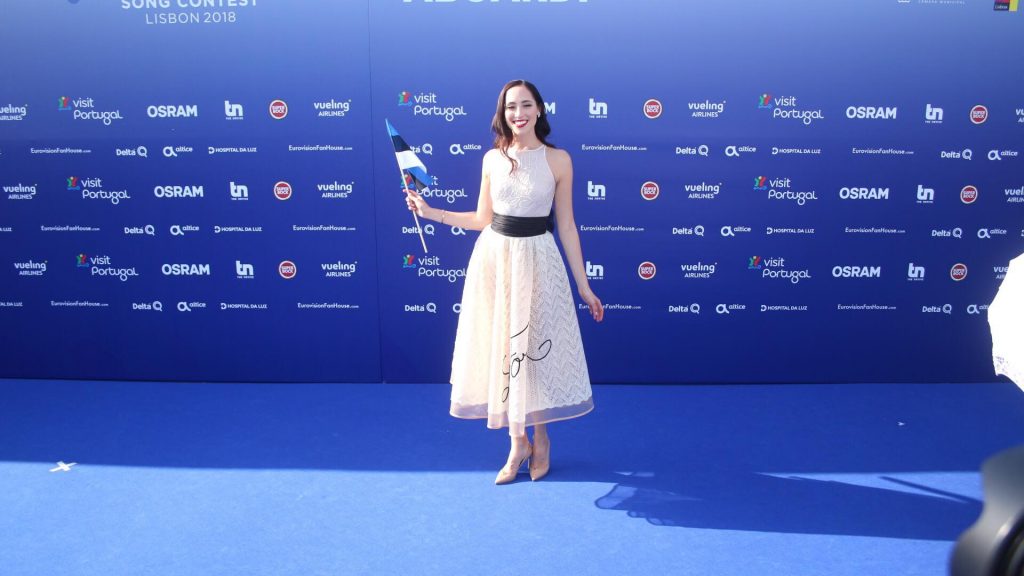 It was always going to be hard for Elina to top her breath taking stage dress, but she wears the most intricately beautiful dress we have seen so far.
The dress is an ivory classic A-line cut, but the dark sash across the middle prevents it from looking bridal. The skirt is handmade, using an Estonian lace knitting technique, and has the name of her song embroidered on it. The bodice has subtle embroidery of words which describe Estonia, such as "wild", "free" and "Nordic". Elina looks gorgeously elegant in this show-stopping number.
---
FYR Macedonia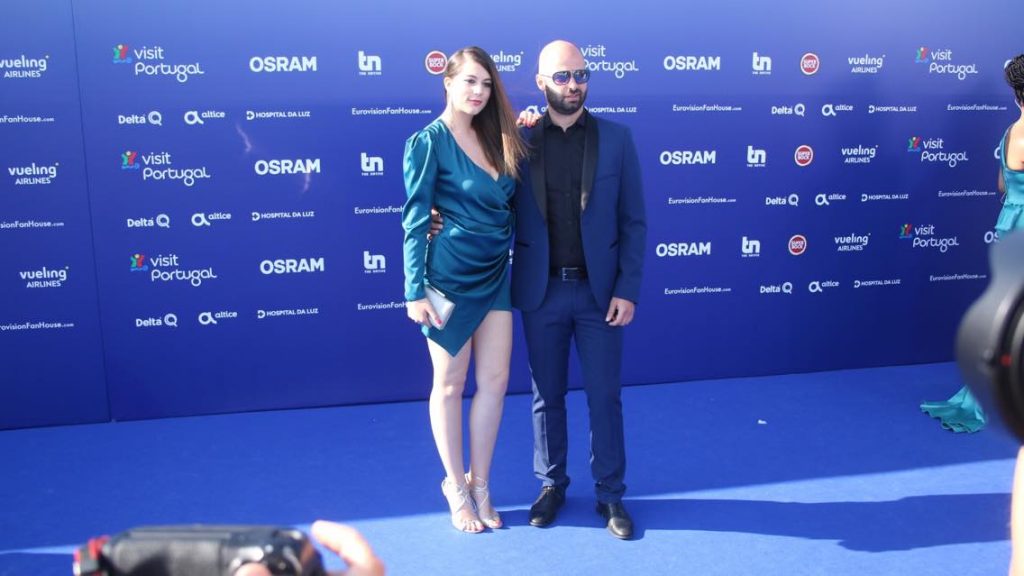 EyeCue are here next. Bojan is wearing a cobalt blue suit, which makes a pleasant change from all the black we have seen this evening. Marija is oozing sex appeal is short low-cut dress with a short asymmetric hem. The dark teal colour she wears always looks nice at such events, and she wears her hair swept away to one side, as many of tonight's female contestants have done.
---
Finland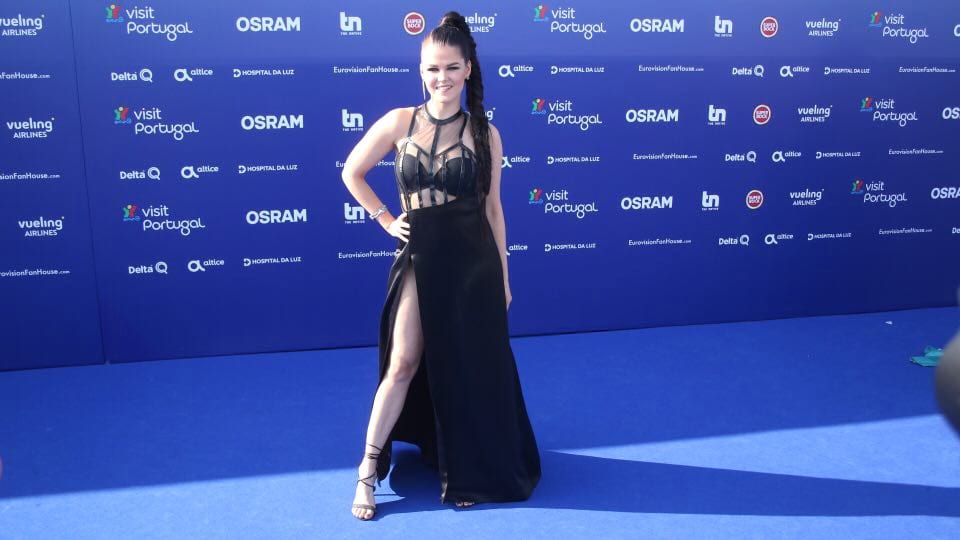 Saara Aalto is wearing an all-black dress designed by a stylist Vesa Silver together with YLE's Elina Lario. The dress has been manufactured in YLE. The designers say outfit reflects the mysterious and sexy Monsters-theme, with a cage-like bodice and extremely high leg slit.
This is fairly toned down compared to some of Saara's historic fashion choices, but she looks very nice tonight. The jewellery Saara is wearing is Lapponia's new The Kuu (the moon) designed by Swedish Martin Bergström. Her earrings are asymmetric, and gives her look a subtle edgy look.
---
France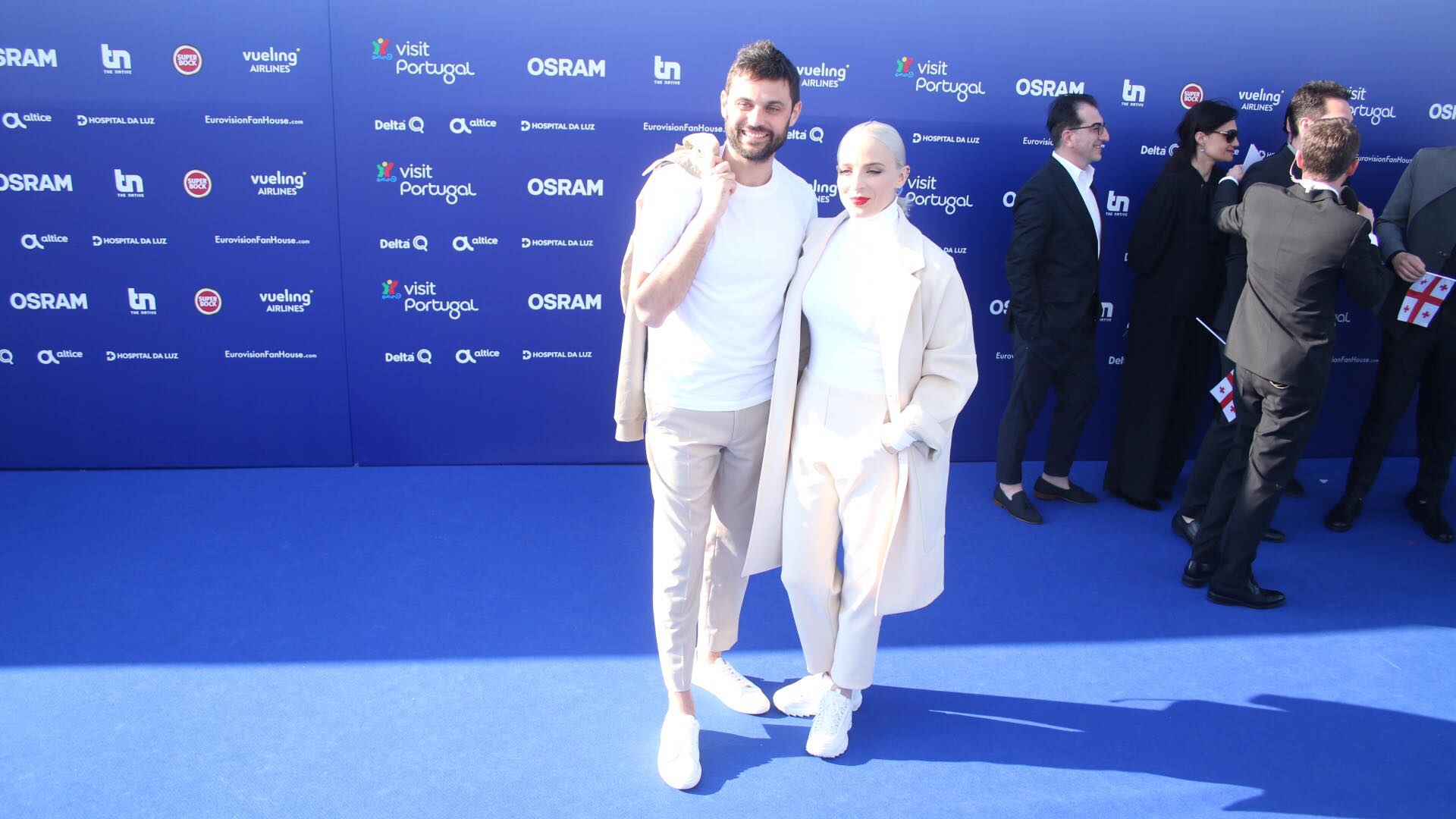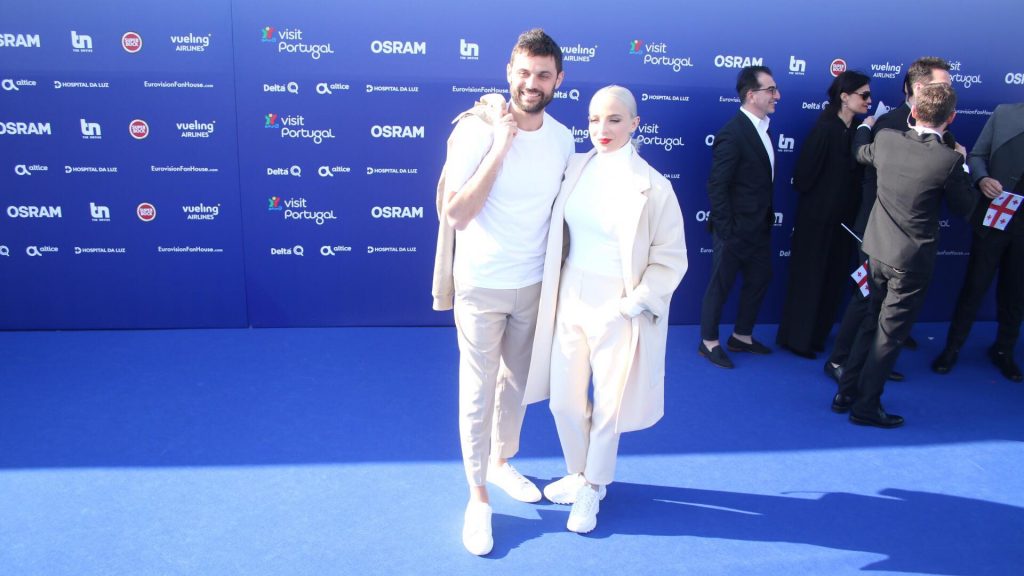 Madame Monsieur are another act keeping up their stage image. The couple wear matching trousersuits in a pale camel colour, but with white tops underneath. They look the most coordinated out of tonight's groups, and they say their outfits tonight are more summery, and they usually like to dress similarly when they are together!
---
Georgia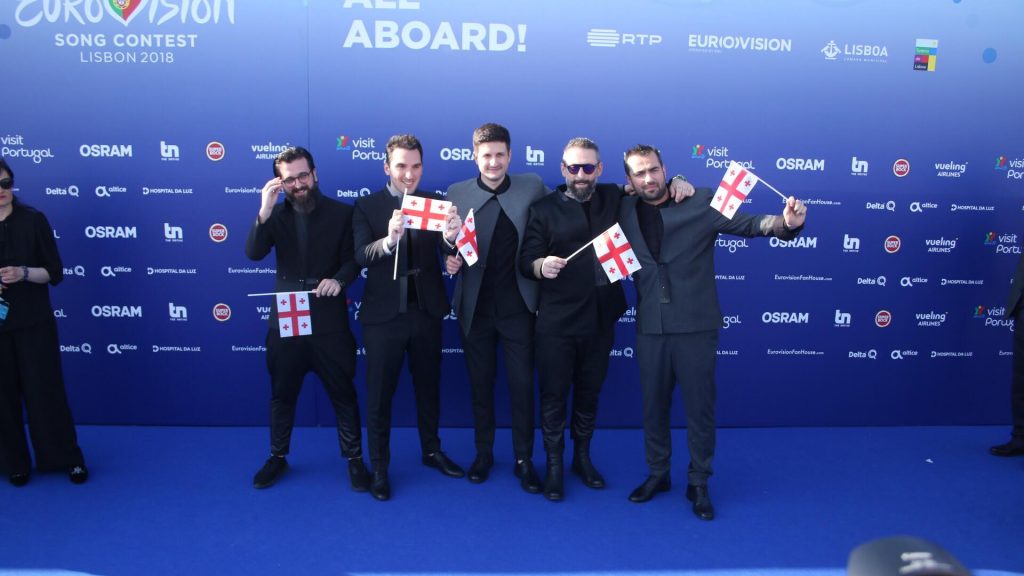 Iriao from Georgia are all wearing black suits, with dark grey details. Each member wears a slightly different jacket, each one looking either classic with a traditional cut and lapels, or slightly more daring with a slash cut and interesting angles. It's interesting to see that many acts this year are wearing clothes so similar to their stage outfits.
---
Germany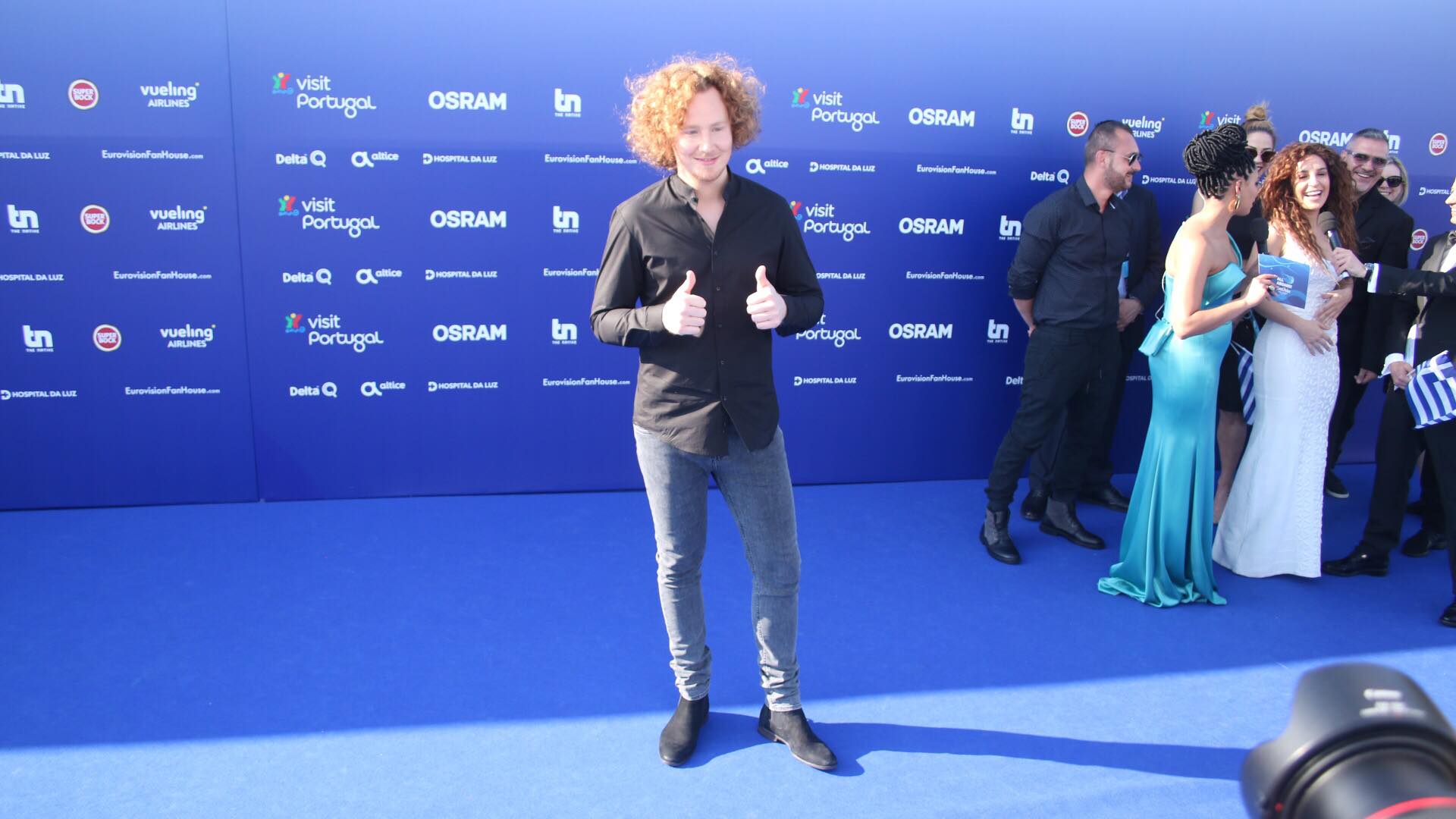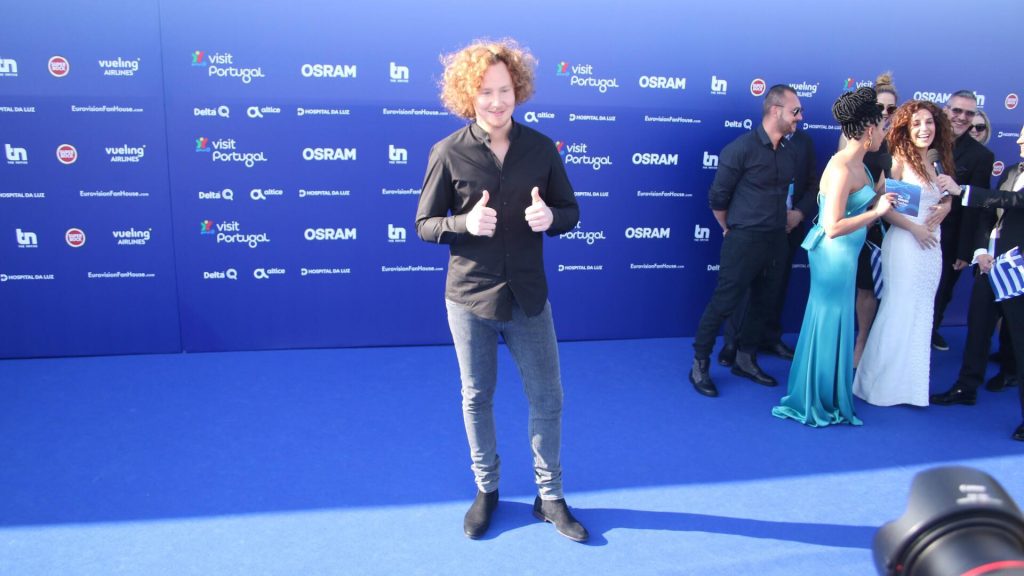 Michael is one of the few acts this year to arrive alone to the Blue Carpet, as most acts have arrived with much of their delegation. Michael looks relaxed, but is again wearing black. He wears a loose black shirt and grey skinny jeans. He always looks very casual on stage, so it would have been nice to see how he scrubs up in a suit tonight!
---
Greece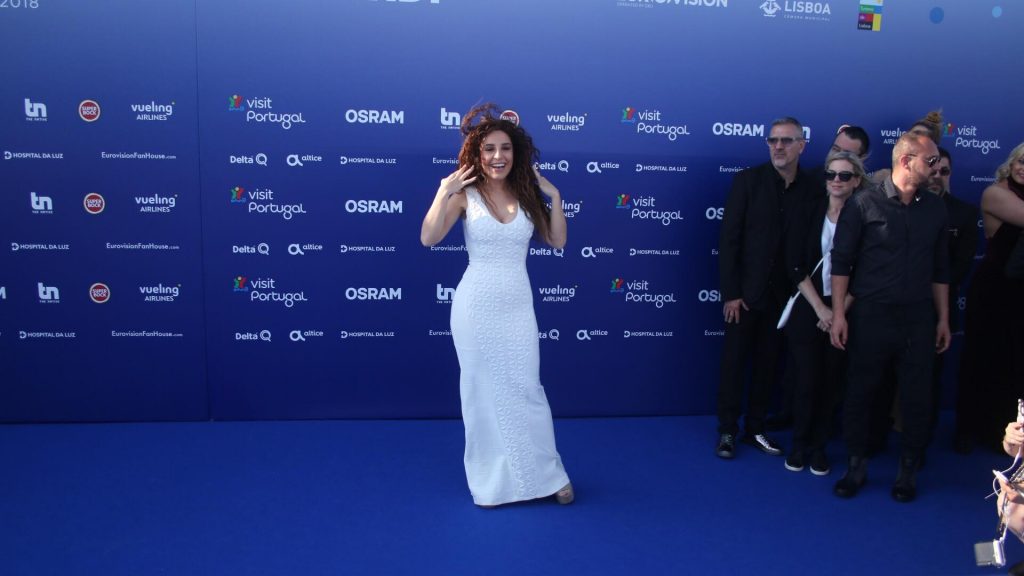 Yianna from Greece is wearing a dress designed by SERENDIPITY and Denis Kolpodinos is the stylist. Her white dress looks more bridal than Elina's, but her curly hair relaxes the look. The patterned panel on the front of the dress flatter Yianna's curves really nicely, and she looks very classically elegant tonight.
---
Hungary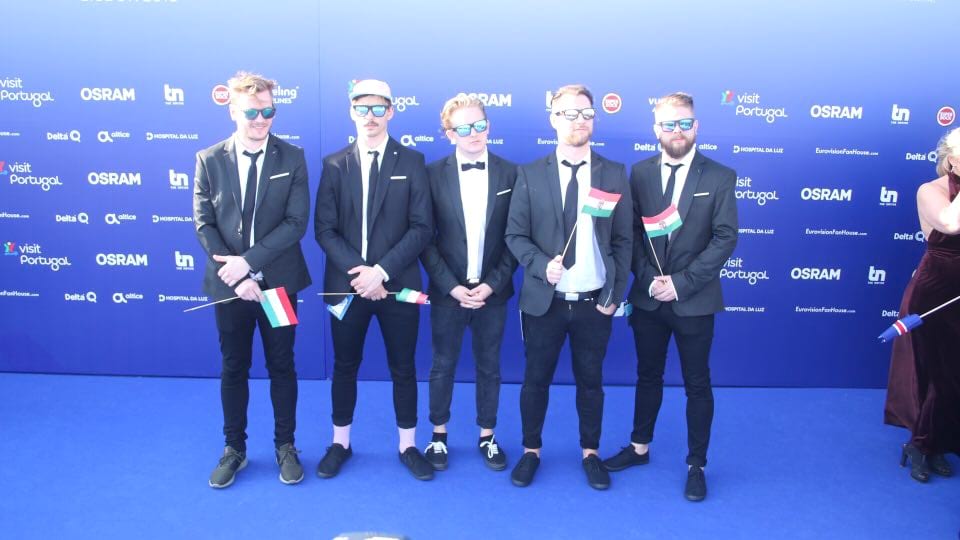 Adam Kisprumik is the stylist for AWS. The boys are wearing a combination of various branded smart/casual wear. Whilst Michael from Germany decided to keep his casual stage look, the AWS boys took the chance to dress up smartly, and it's great to see them in formal wear. Each member seems to have chosen their own suit, adding personal touches to reflect their personalities.
---
Iceland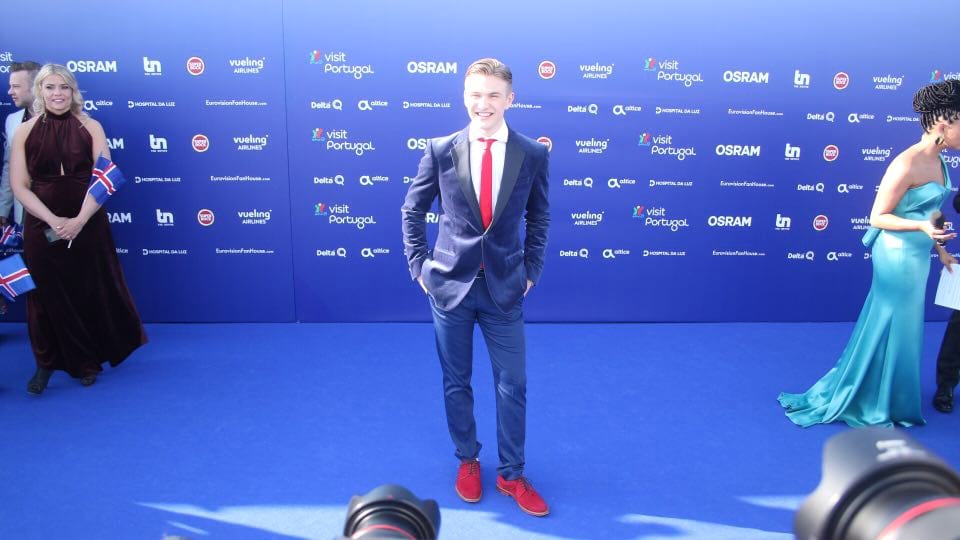 Ari from Iceland is wearing a suit by Ýr Thrastardottir, the brand Another creation. He is wearing a navy suit, white shirt and red tie – so he is the first act this evening to wear his nation's flag on the blue carpet! It's quite a mature look for such a young man, but he looks dapper and very smart tonight, and it's actually an improvement on his modern stage outfit!
---
Ireland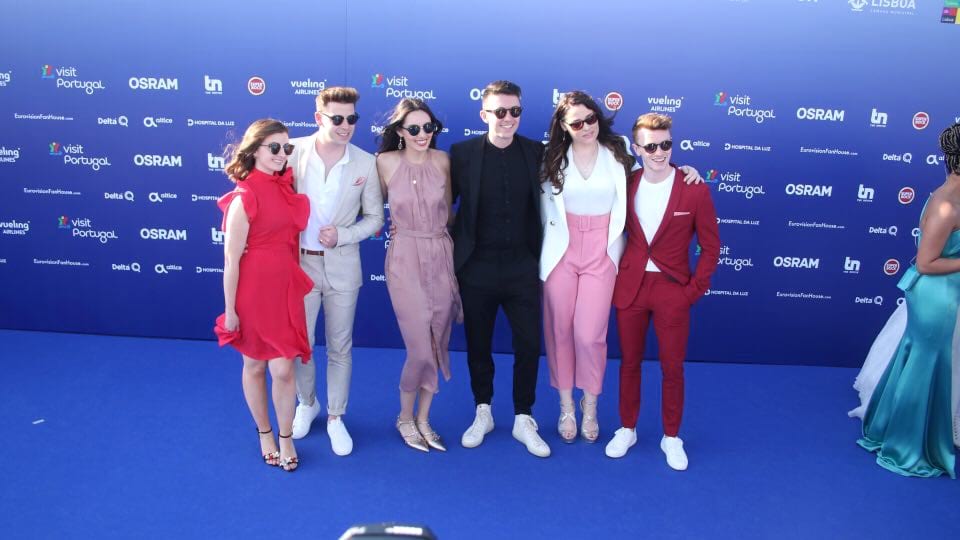 Ryan from Ireland is wearing the same as many male artists – all black shirt, jacket and trousers. Instead of making his suit look modern, his white trainers actually make him look slightly scruffy. It would be nice to see the male acts wear something other than all black tonight!
---
Israel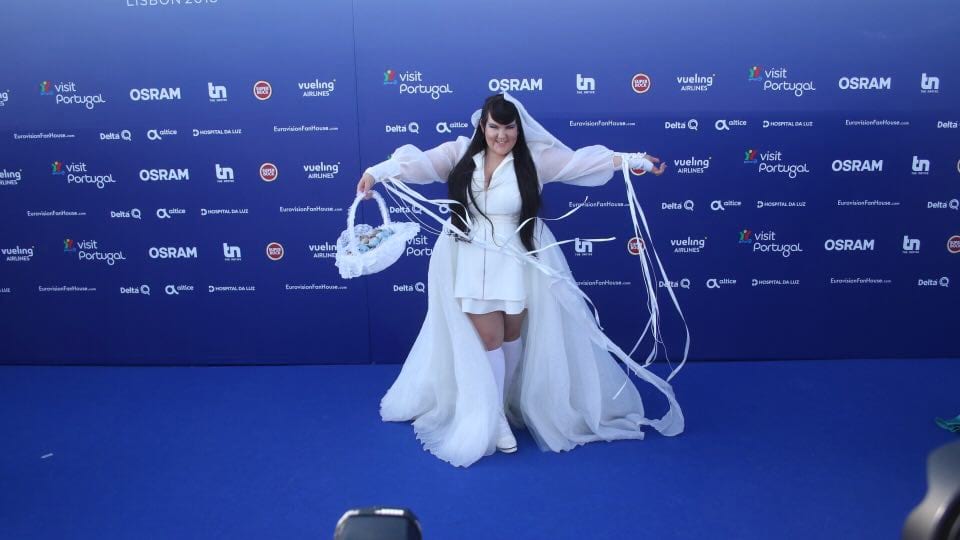 Netta from Israel is known for her larger-than-life looks, and today she seems to channel a bridal Easter bunny! Instead of eggs, her basket contains teddy bear key chains, reflecting her song title. She wears a short white hooded gown with long white socks, like a Japanese schoolgirl. It's an unusual look for the Blue Carpet, but Netta's style choices are always unconventional.
---
Italy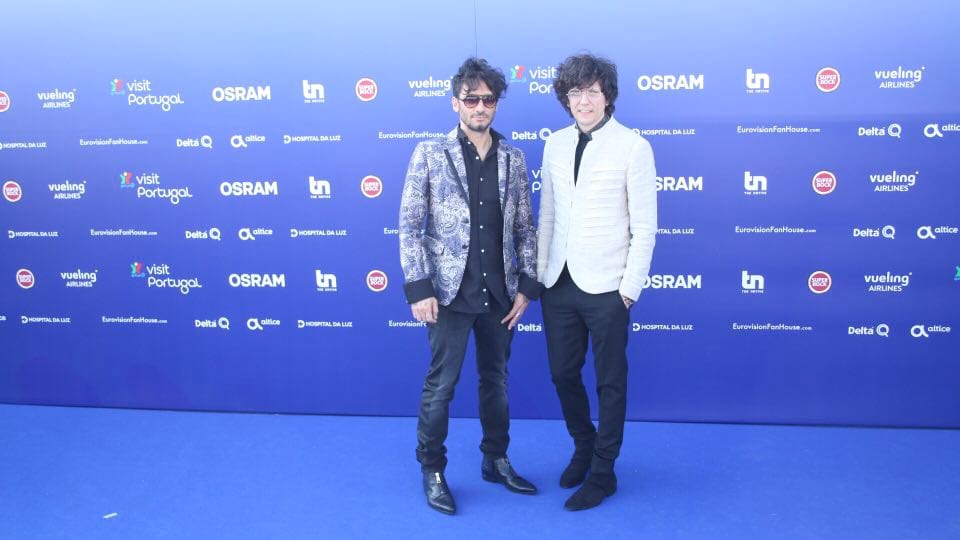 The Italian duo channel all the stereotypes by looking very slick and stylish. Ermal wears a pale cream jacket, with futuristic horizontal slits. The jacket is fastened over a black shirt and trousers, and Ermal completes his look with John Lennon glasses. Fabrizio is wearing jeans, boots and black shirt with a shiny blue jacket with a feather pattern. This a great example of how to wear smart casual.
---
Latvia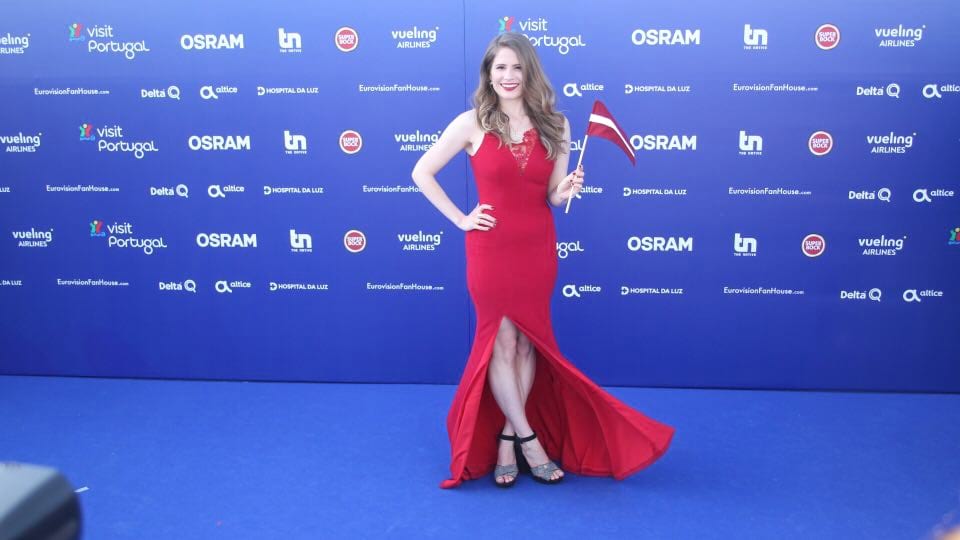 Laura from Latvia is in red once again, with a tight-fitting elegant red dress and a high cut leg slit. There is a modesty lace panel on Laura's chest, which adds to her sultry Jessica Rabbit inspired look. Laura has consistently maintained this sensual red image, and it suits her.
---
Lithuania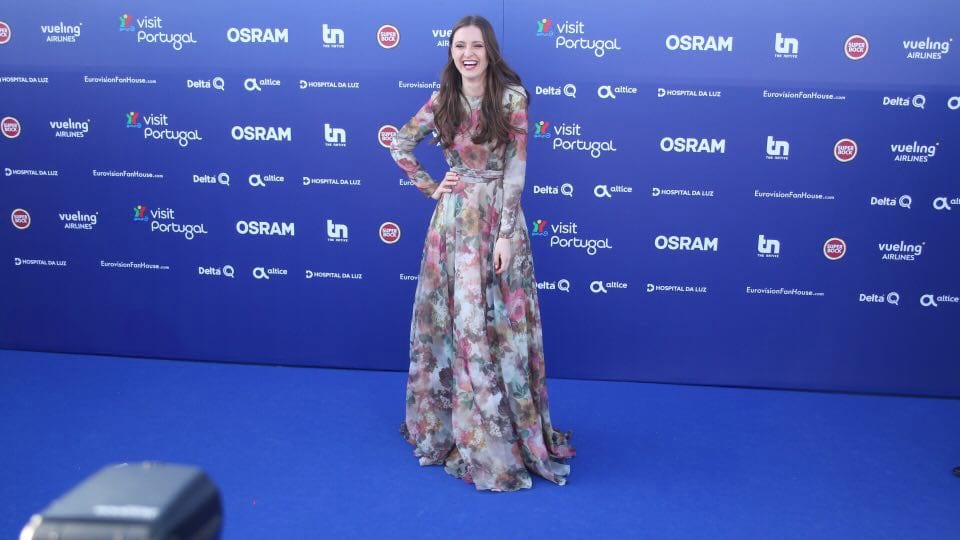 Ieva is wearing a full-length long-sleeved floral gown in shades of peach and pink, designed by Agnė Biskytė. Her song title is reflected in her outfit, as this seems to be too old for the young singer. The dress could be seen as vintage, as it seems slightly seventies-inspired, but it still would have been nice to see her in something less swamping and more age-appropriate.
---
Malta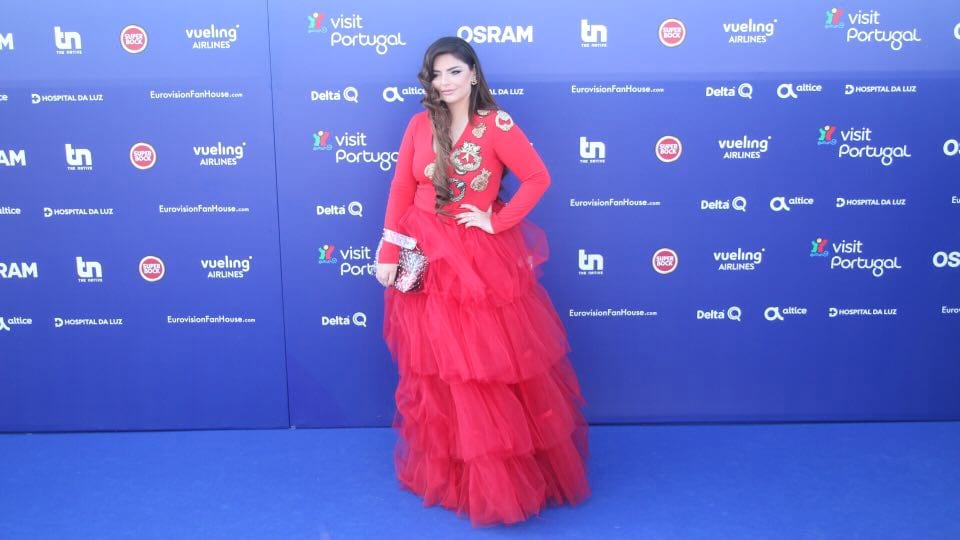 Christabelle wears a red gown tonight, designed by Charles & Ron, as part of their Winter 18/19 Palazzo collection. The appliqué the top is hand beaded Maltese door knockers and skirt is layers of soft tulle. The gown is made-to-measure for her, and you can see this in how it fits. This lower neckline is far more flattering on Christabelle than the polo necks she wears on stage.
---
Moldova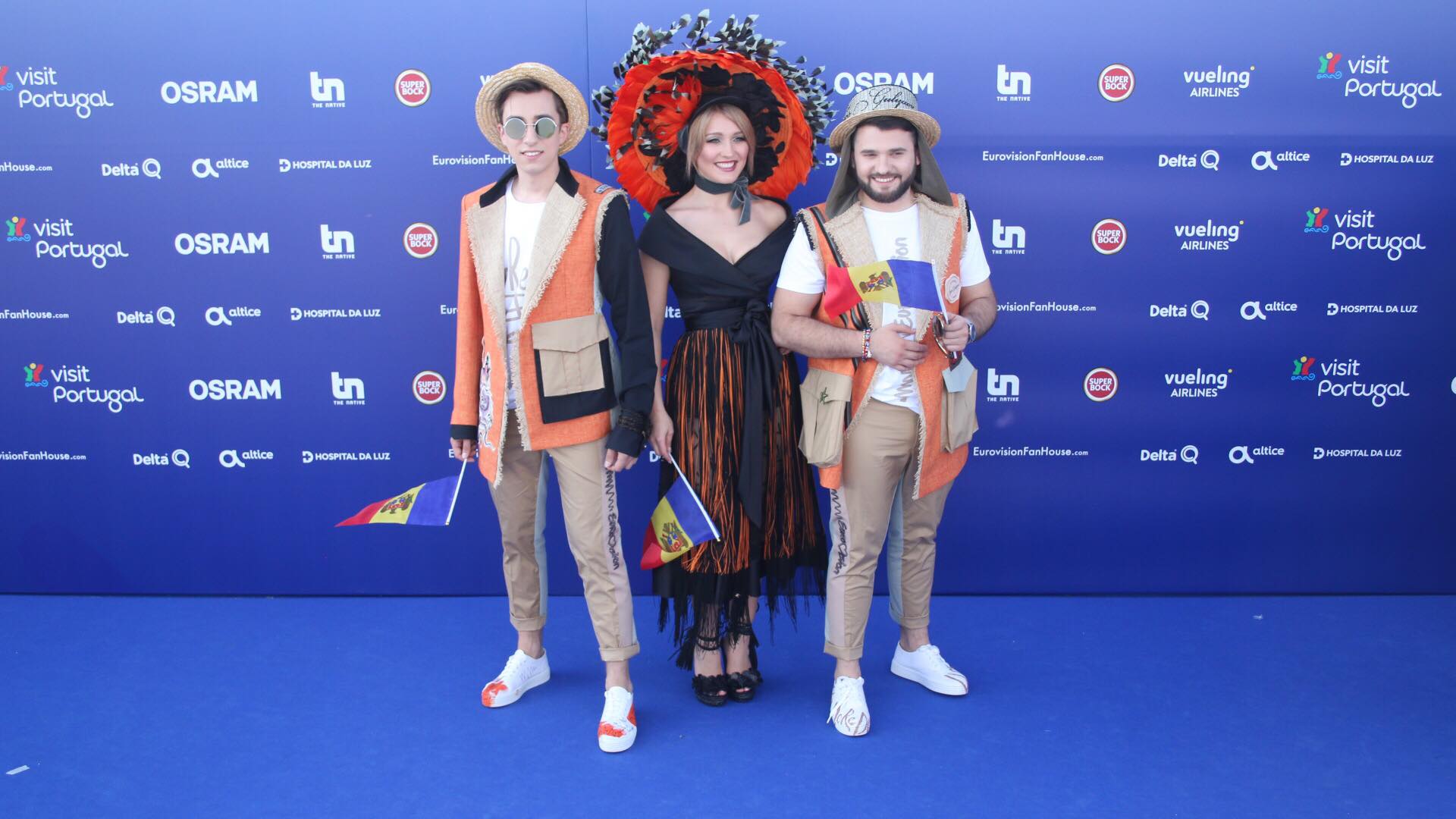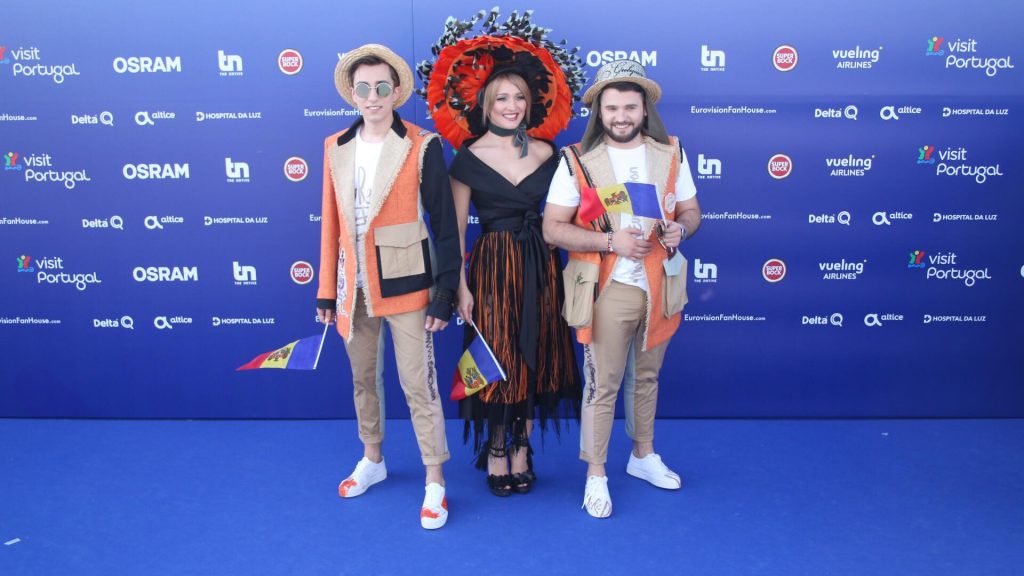 DoReDos from Moldova are bringing fun to the Blue Carpet tonight! Marina is wearing a huge feathery hat, similar to what she wears in the music video, and a black and red midi dress. The boys are wearing sheepskin jackets and boater hats with chinos and sneakers.
They are the most daring we have seen so far, and their outfits are designed by Russian designer Igor Gulyaev, who says his wacky designs were inspired by their funny song.
---
Montenegro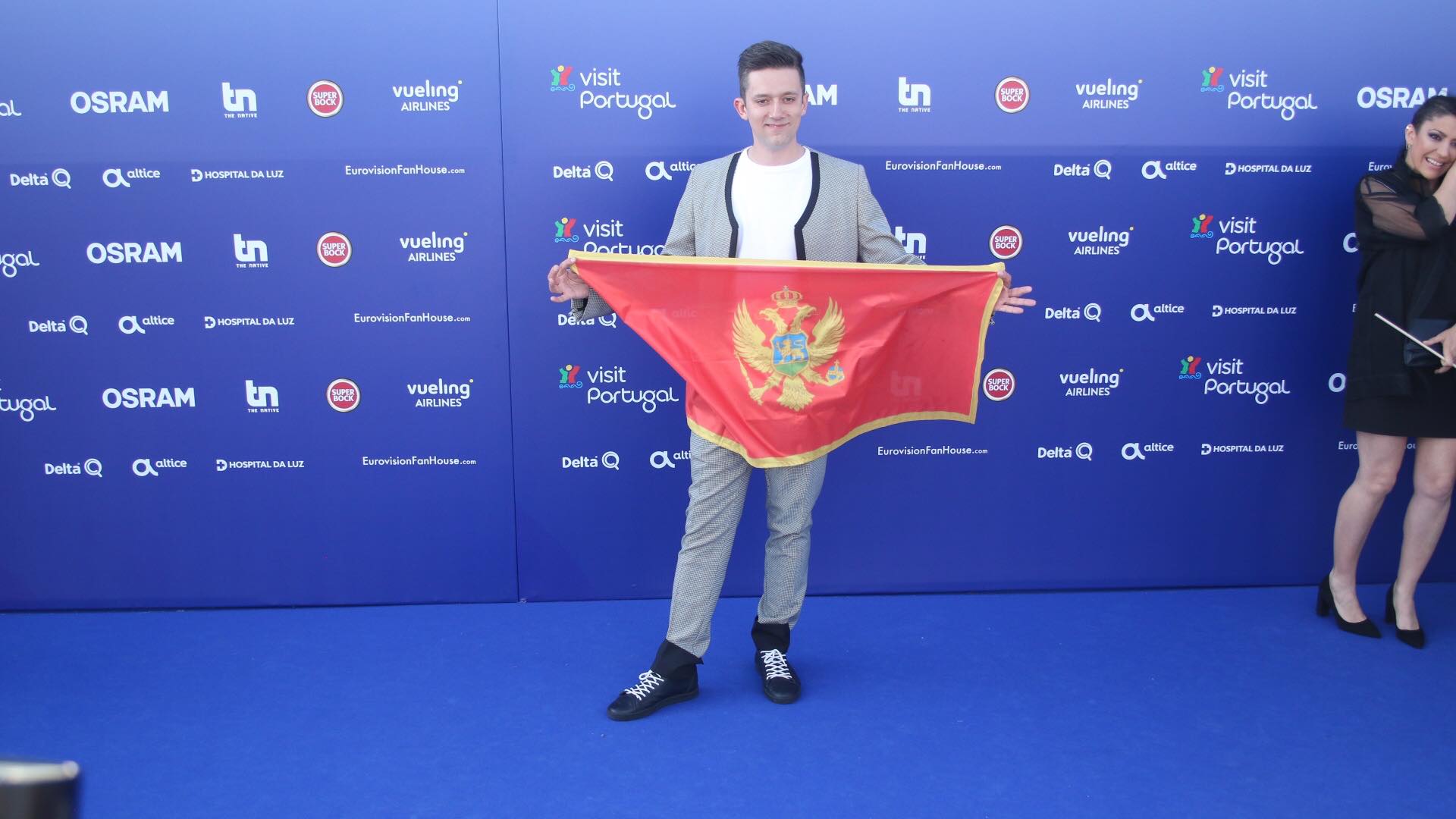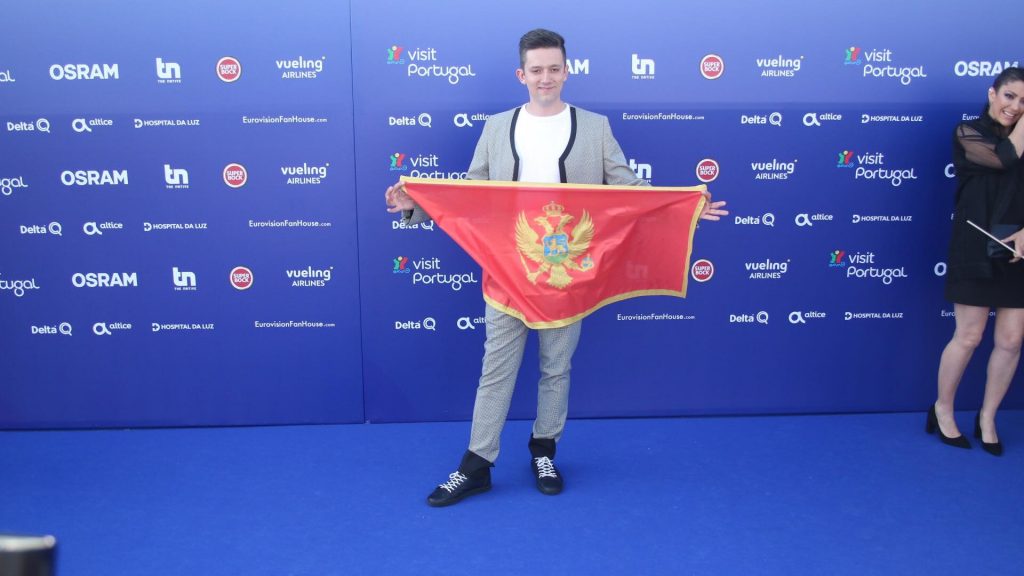 Vanja looks very informal tonight, but in his words "nobody cares what men wear!". He wears a white t-shirt with a relaxed open check jacket and matching trousers. It's in stark contrast to his rather daring blue stage outfit!
---
Norway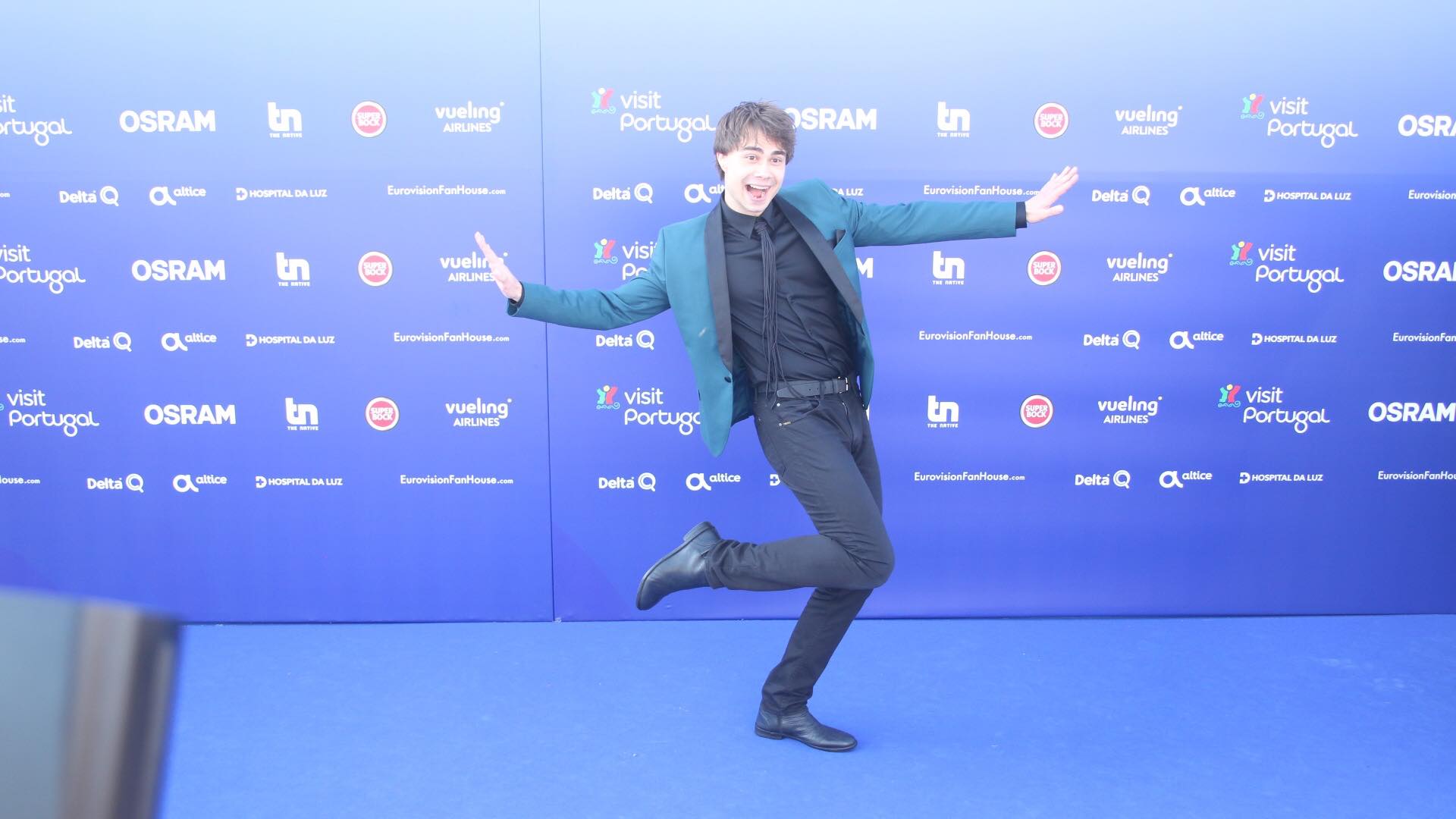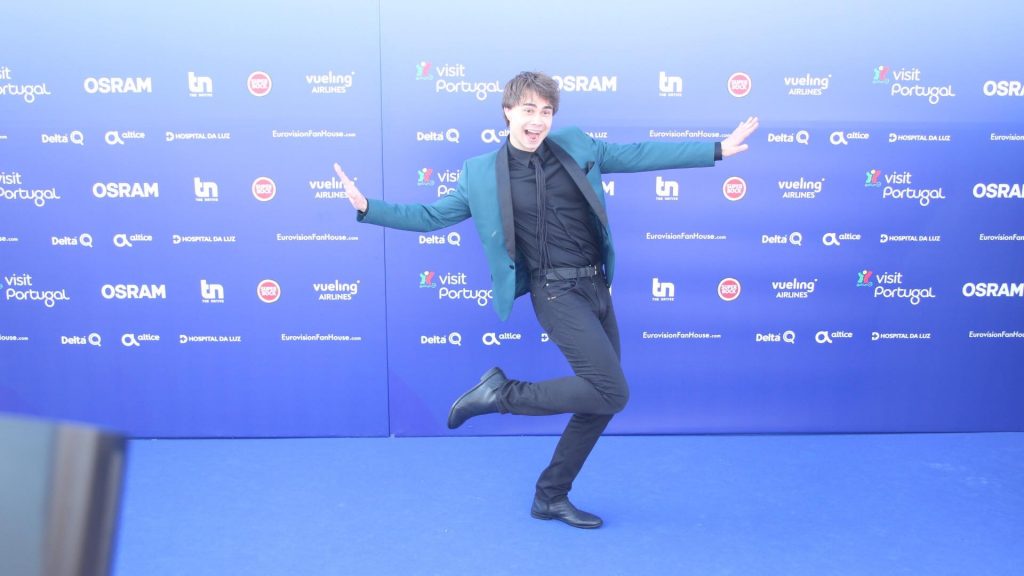 Eurovision royalty graces the blue carpet in the form of Alexander Rybak! Alex is also wearing the male uniform of black trousers and black shirt, but he wears a dark teal jacket to match with his team and give him a more distinctive look. His tie is noteworthy, as it was especially made for the occasion by the Norwegian tie designer Peter Løchstøer.
---
Poland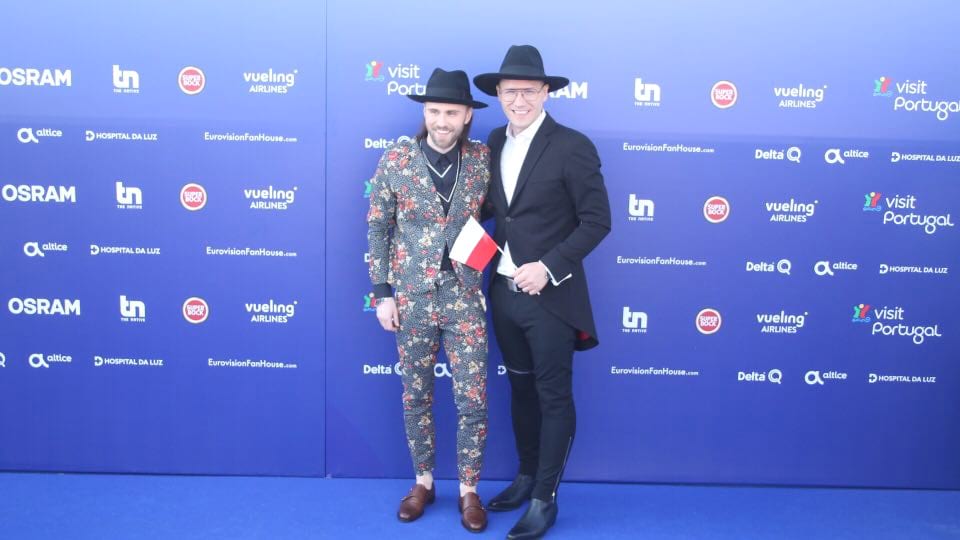 Lukas Meijer and Gromee were always going to wear their trademark hats tonight! Gromee looks classic in his black suit and white shirt, whilst Lukas pushes the boat out a bit more. Lukas is wearing a brown floral suit, with flowers in autumnal shades of orange, yellow and red. His black shirt underneath has modern V embroidery, and he looks very on trend.
---
Romania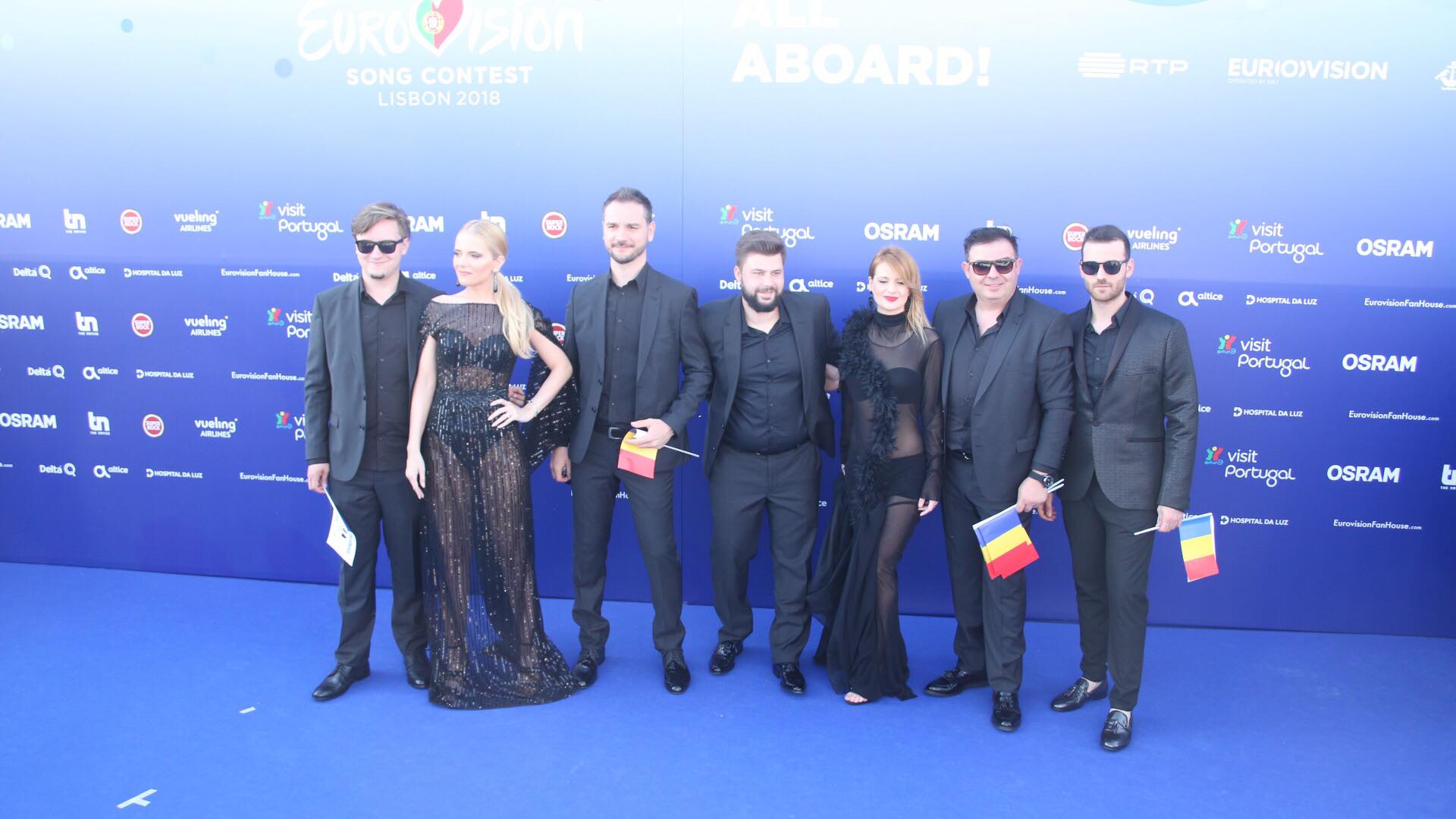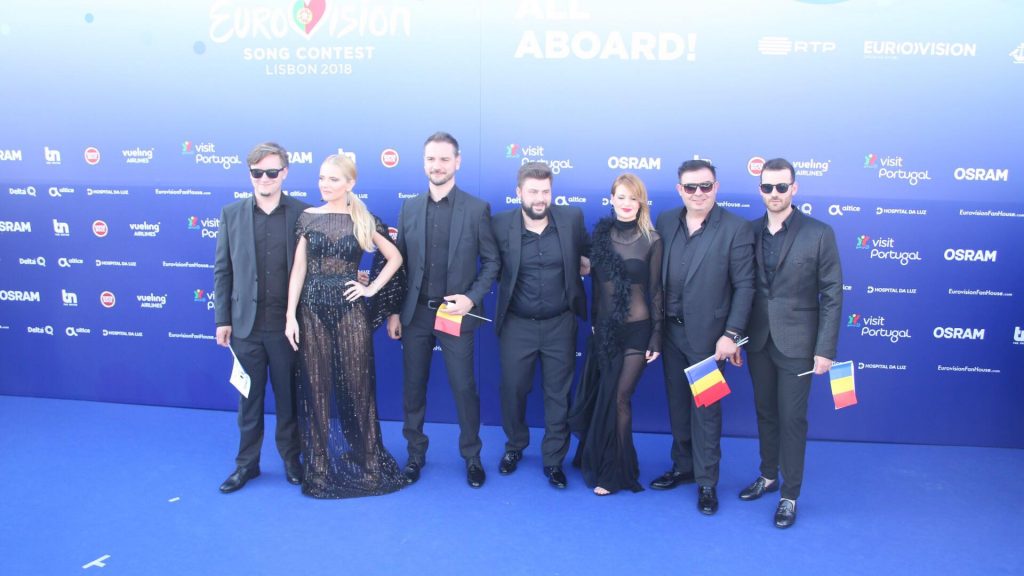 The Humans are wearing black tonight, including the ladies. Corina Matei is wearing a "Anca Farcas" dress, which is sheer but full length, so manages to be modest yet daring in one. Cristina Caramarcu, the main vocalist, is wearing a "Lou Lou" dress, which is sparkling and very daring! Her underwear is completely visible, but the long draping sequins of the dress make it look elegant and classy.
---
Russia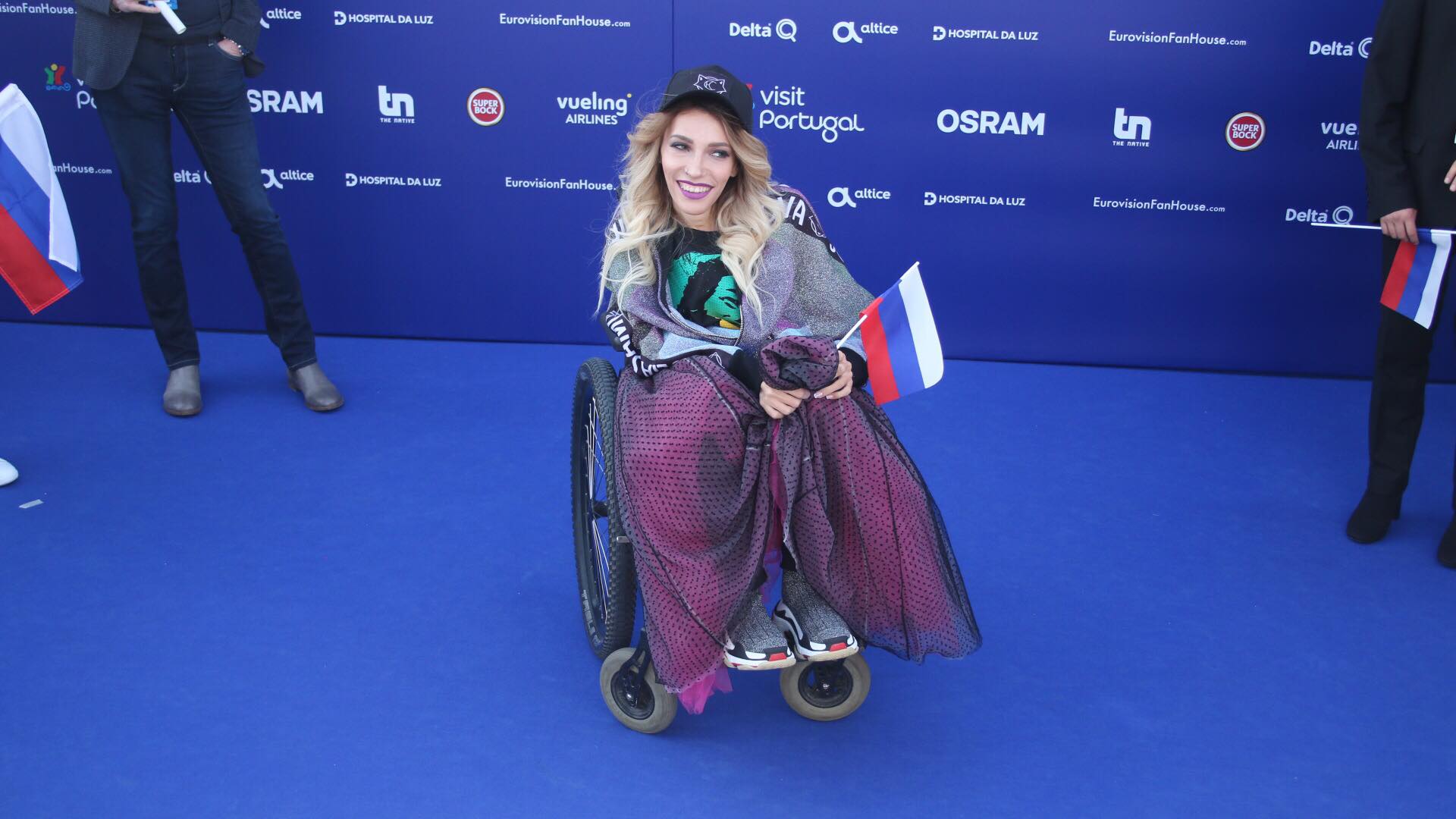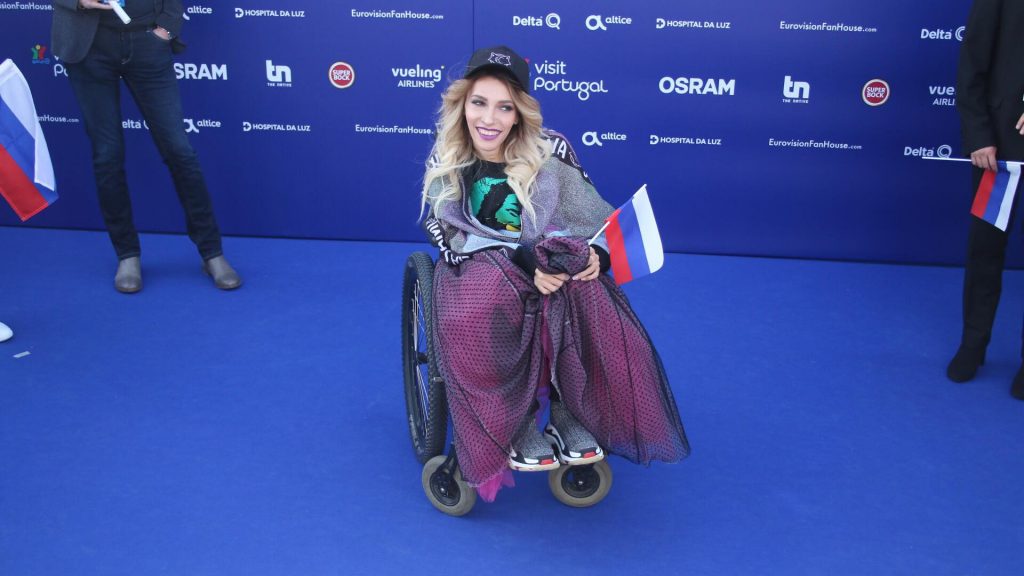 Yuliya is wearing an outfit by the Russian designer Alisher, but is the most informal female act so far. Her grey jacket has her name printed on the sleeves, and she also wears a baseball cap. Her make up is on point, as usual, but again, it seems a stark contrast to the dramatic outfit she wears as part of her staging.
---
San Marino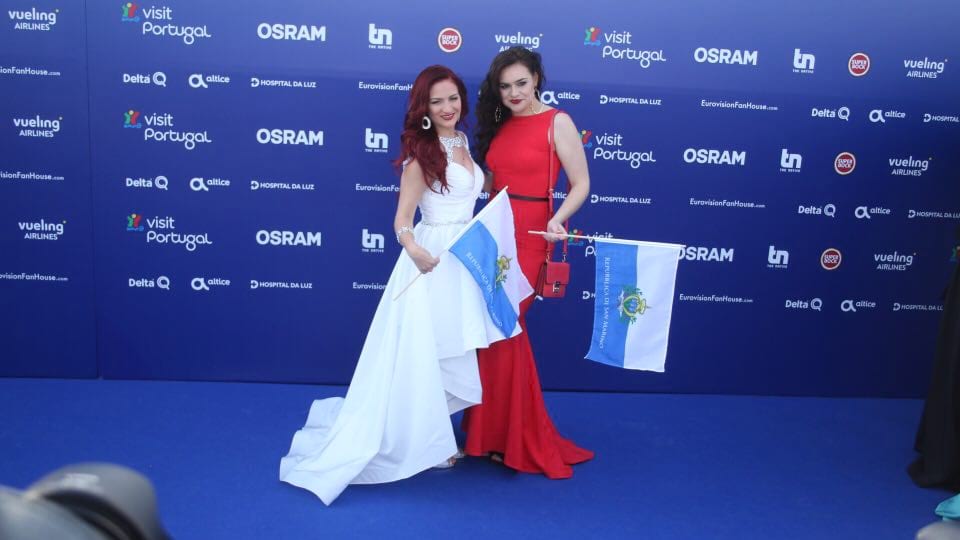 Jessika and Jenifer are both wearing very different outfits tonight. Jessika is wearing a prom-style hi-low dress in white. Her neckline is an embellished harness, which is a unique and modern addition. Jenifer is dressed very similarly to Laura Rizzotto in a long elegant red dress. Jenifer keeps her outfit younger by adding a skinny black belt.
It's nice to see that the two girls are happy to express their styles in their costume choices, even if they don't really match!
---
Serbia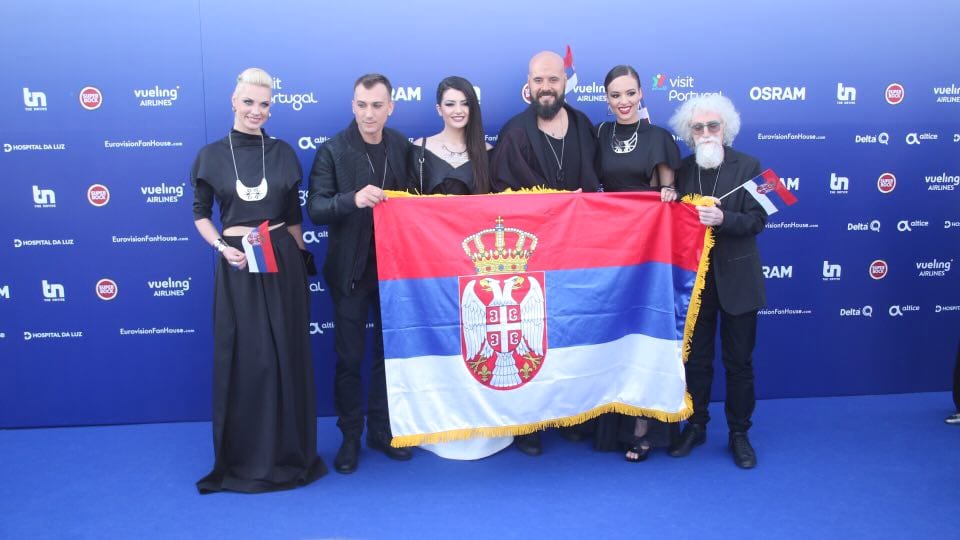 Balkanika are dressed all in black, apart from one vocalist, who stands out by wearing a white gown with a black shawl. The designer of all their costumes is Nevena Ivanovic Neo. The band are wearing their trademark necklaces with their symbol. Like many of the bands tonight, Balkanika look very coordinated and match well.
---
Slovenia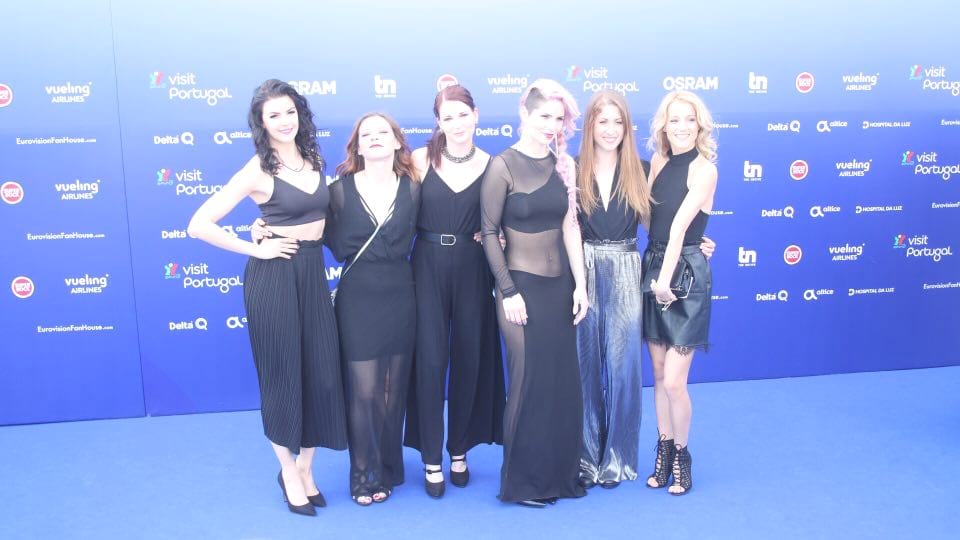 This year, we have only really seen Lea Sirk wear black, and tonight makes no change. She continues the trend of having a sheer dress with visible solid panels to maintain modesty. One sleeve is long, the other is sleevless.
Lea's skirt does give her a more elegant silhouette, which is a nice change for her typical more "bad girl" look. It would be interesting how other colours than black match her pink hair. Solo Mia has designed Lea's outfit tonight.
---
Spain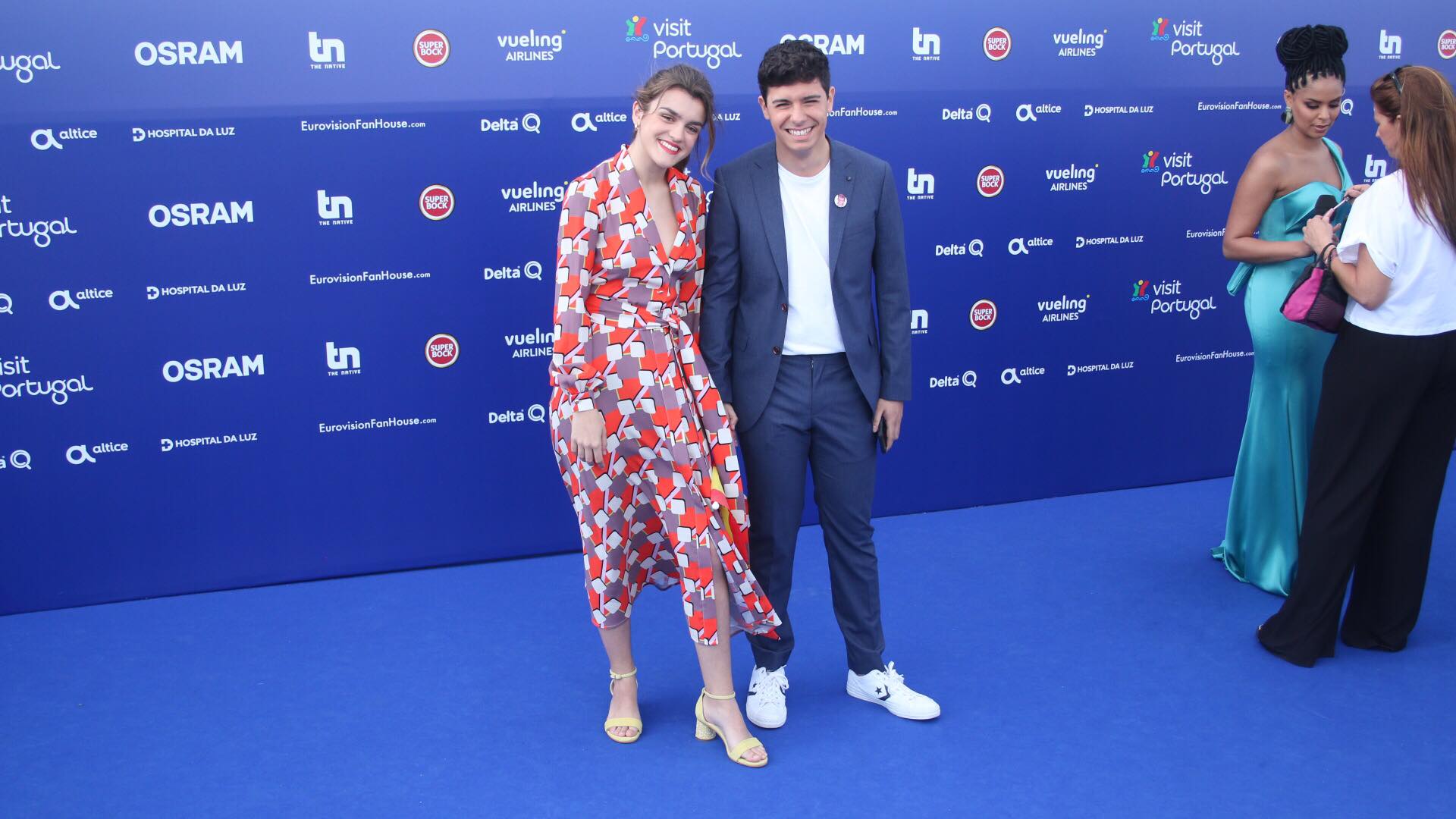 Alfred and Amaia arrive now. Alfred is wearing a navy suit with a t-shirt, which is looks very age-appropriate and suits him very nicely. Amaia's dress is a very bright pop-art pattern, and whilst the colours look nice with her skintone, the style of the dress seems to be suited to an older lady. Their clothes do not match as nicely as they could have, and hopefully they will be more in tune with each other's styles on stage.
---
Sweden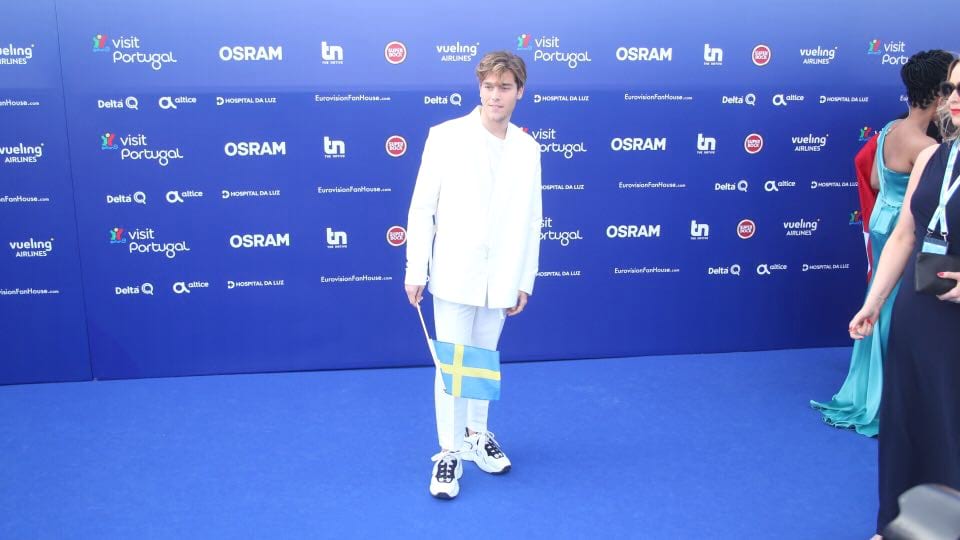 Benjamin Ingrosso is wearing a white H&M suit. The jacket is loose-fitting and almost like a kimono, which is quite a nice formal version of his oversized leather jacket. The look is compromised with big chunky trainers, which don't match the rest of the outfit at all. It might be fashionable now, but it already looks dated.
---
Switzerland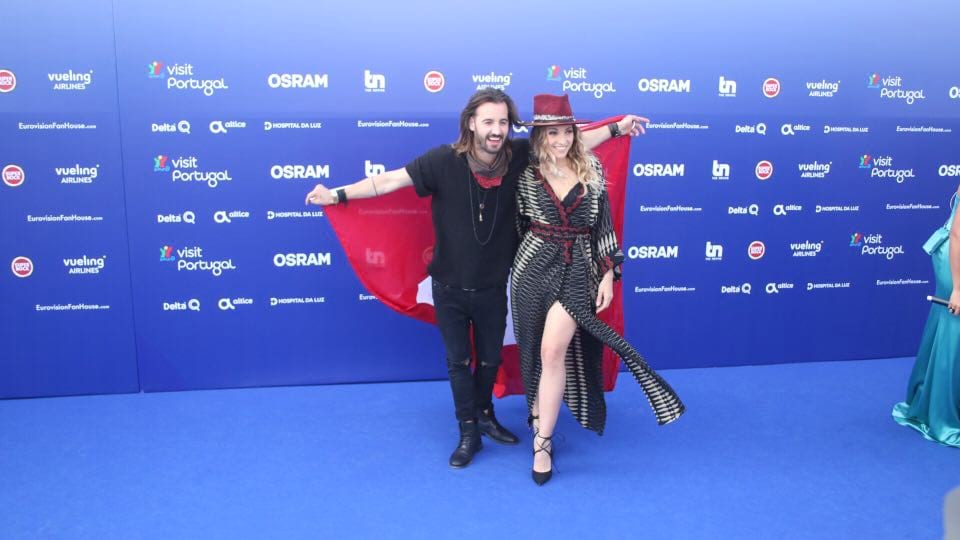 Stefan and Corinne of Zibbz have a very distinctive grungy look, and have brought this to the blue carpet tonight. Stefan wears a loose black t-shirt, and accessorises with a scarf and necklace. Corinne wears her hat again, only now she wears a tribal print dress, which is a nice way to formalise her stage look.
---
Netherlands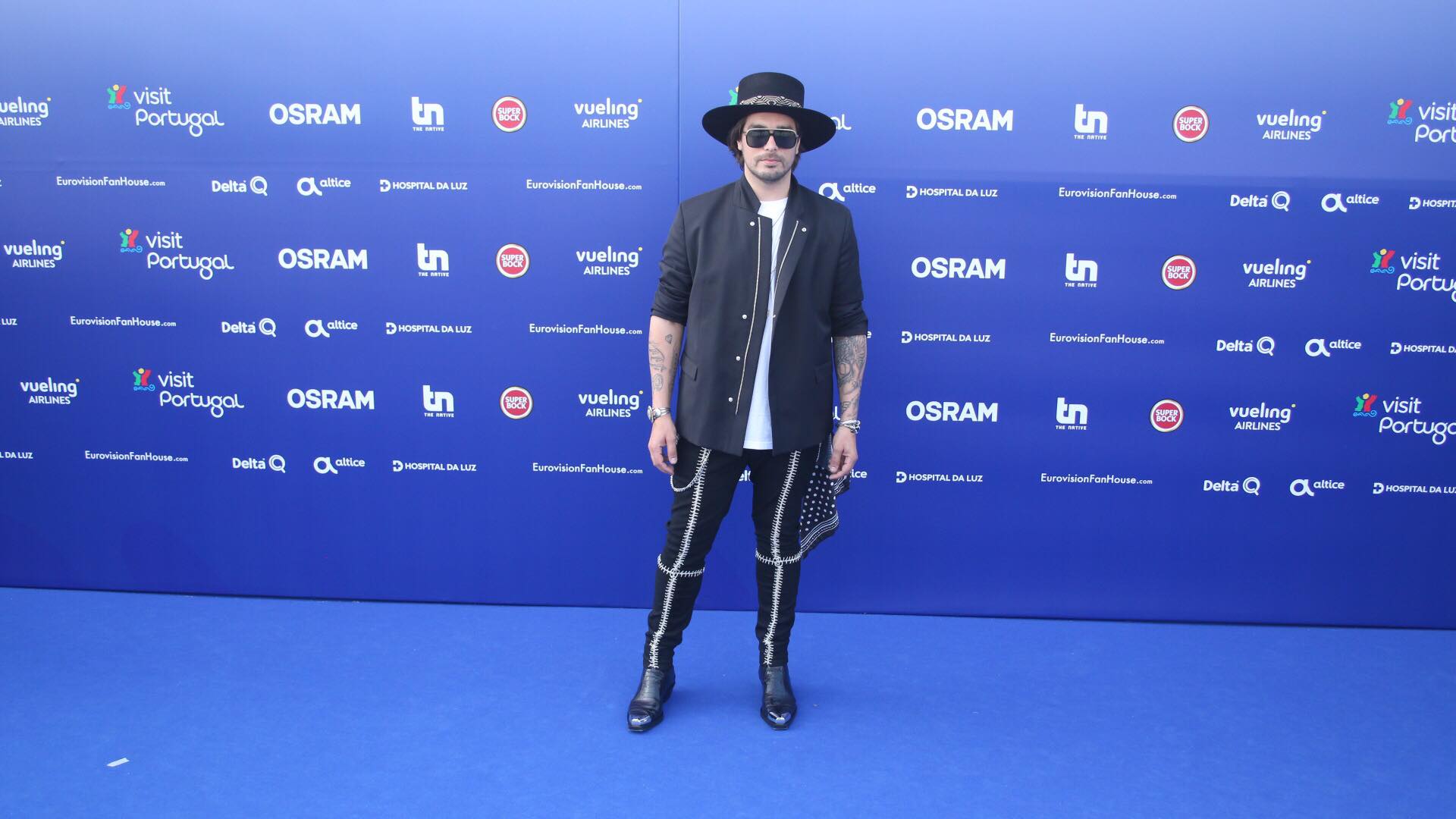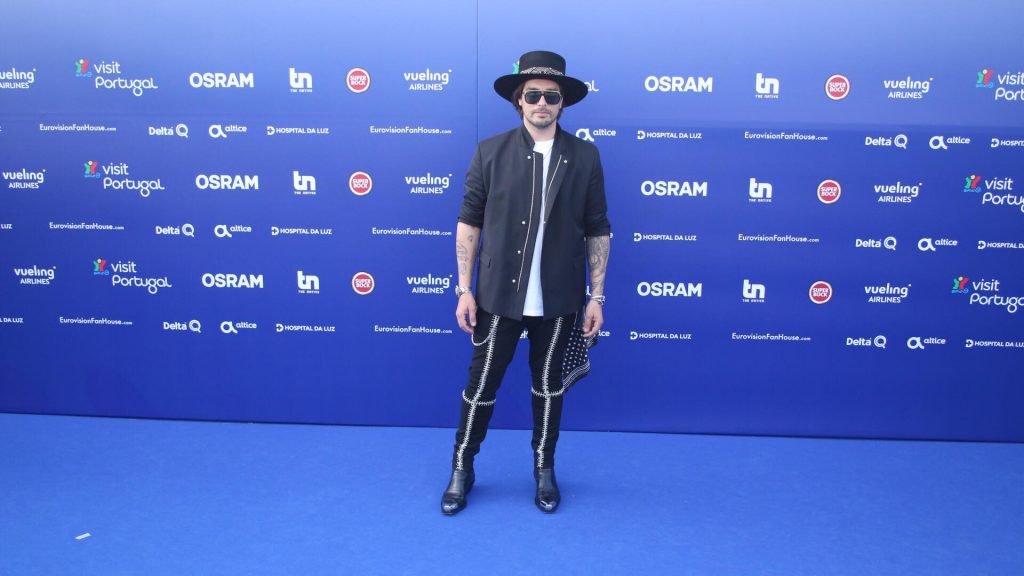 Waylon has ditched his striking leopard jacket for a more ¾ sleeve demure black jacket. His skinny jeans are patterned with geometric designs, and he is wearing his trademark hat and jewellery.
---
Ukraine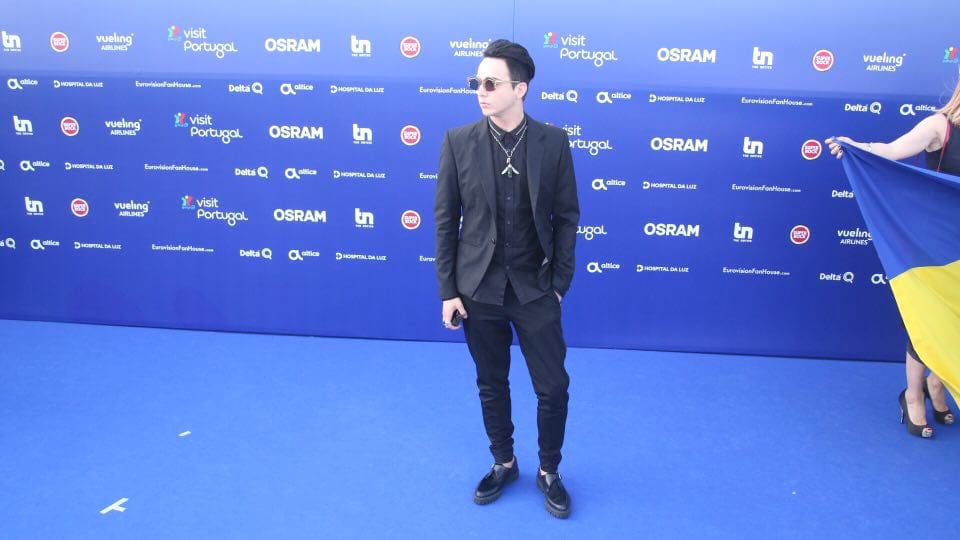 Melovin is continues his vampiric persona by coming in a gothic black suit and dark sunglasses. His sunglasses are incredibly heavy tonight, as they are so embellished and elaborate. His look was crafted by the Ukrainian stylist and designer OLISHEVSKA.
---
United Kingdom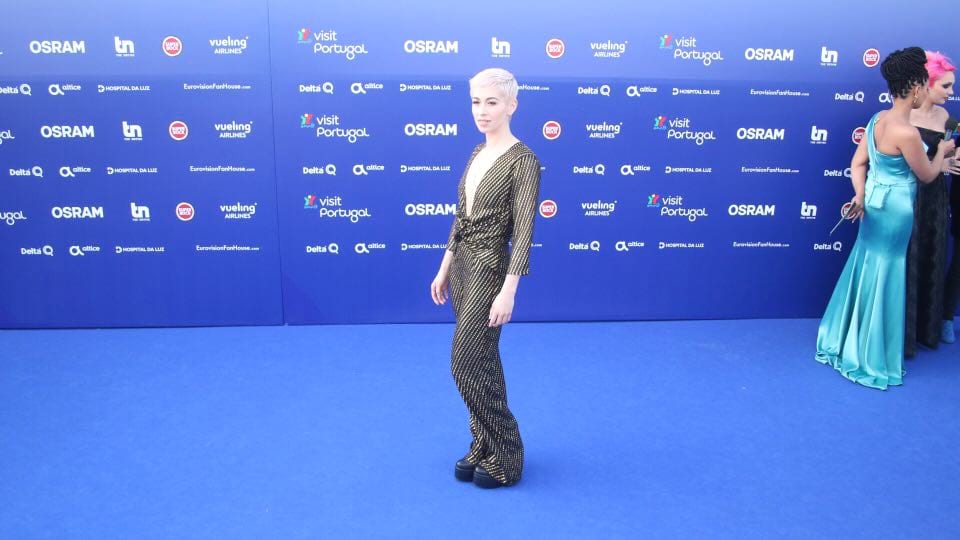 Tonight SuRie from the UK is wearing a black jumpsuit which is covered in gold polka dots. It has a very low v-neck, and SuRie wears a harness underneath across her chest. It's a very modern take on a classic look, and it suits SuRie's pixie-like demeanor.
---
Portugal
Both Portuguese girls have been styled tonight by Miguel Silva Veiga. Claudia is wearing a strapless, leather-look dress, which looks like it has been beautifully crafted. The corset detail on the back gives it a raunchy hint, but Claudia looks very elegant in her Rose Palhares dress and Joana Ribeiro jewellery. Isaura opts for a much more chilled look, wearing a velour tracksuit jacket by twinset and sneakers by freakloset.