RTP, the Portuguese national broadcaster has released the Euovision Village's social programme schedule.
The Eurovision Village will be housed at Lisbon's iconic Praça do Comerçio aka Terreiro do Paço and will operate from 04-12 May. Eurovision fans and visitors will be able to enjoy the Eurovision activities at the Eurovisio Village from 10:00-00:00 every day.

Entrance to the Eurovision Village will be free for everyone! Praça do Comerçio will become into the Eurovision hot spot in Lisbon during the Eurovision period with a grand line up of activities scheduled to take place here.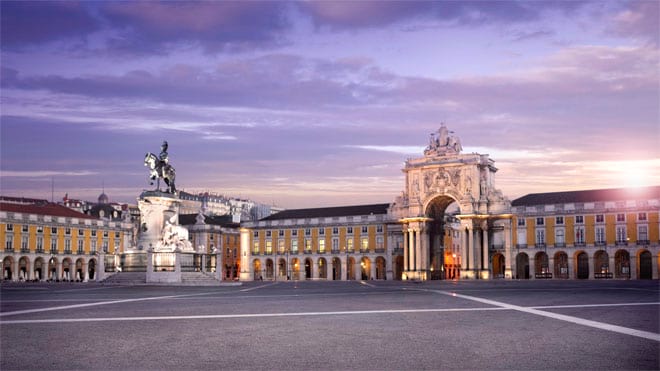 Visitors will be able to enjoy local food in the food stalls and attend the numerous concerts scheduled to take place in the Eurovision Village during the Eurovision period including performances of the 2018 Eurovision participating acts, Portuguese bands and artists. The three Eurovision shows will be screened live in the Eurovision Village on 8, 10 and 12 May.

Live performances, competitions, themed parties will all take place at this Eurovision hotspot. You will be able to see the 2018 Eurovision acts performing on the Eurovision Village stage.
Giant screens will be set up at the Eurovision Village for public viewing, locals and fans will be able to view the 3 Eurovision shows live from here. Visitors, fans and locals will also get to savour local delicacies and food at the various food stalls.
On Sunday 6 May visitors will be able to watch the Blue Carpet Ceremony live from MAAT from 17:00-19:40 local time.
On the same night Eurovision fans will be in for a special treat as JP Coimbra and Nuno Figueiredo will pay a special  tribute to Carlos Paião (Portugal 1981), Moullinex will pay a special a tribute to Doce (Portugal 1982) and Nuno Feist will pay a special tribute to Simone de Oliveira (Portugal 1965, 1969), one of the most celebrated Portuguese Eurovision representatives.
A grand line up of Portuguese and internationally celebrated acts will be gracing the Eurovision Village stage during the Eurovision period : Blaya, Ana Bacalhau, M7, Marta Ren, Discotexas, Beatbombers, Waldemar Bastos, Banda do Mar etc.
The Eurovision Village Agenda
04 /05 – Opening ft. Beatbombers

05/05 –

Lisbon at Night ft. Discotexas

06/05 – Blue Carpet Live Viewing, JP Coimbra, Nuno Figueiredo, Moullinex, Nuno Feist

07/05 – Atlantic Night with Banda do Mar and Waldemar Bastos

08/05 – Semi-Final #1 Live Viewing


09/05 – The Metropolitan Orchestra of Lisbon

10/05 – Semi-Final #2 Live Viewing


11/05 – Orelha Negra, Blaya, Ana Bacalhau, M7 and Marta Ren

12/05 –  Grand Final Live Viewing

The 2018 Eurovision Song Contest is scheduled to be held on 8, 10, 12 May at the Altice Arena in Lisbon.
ESCToday is growing and always looks for new members to join our team! Feel free to drop us a line if you're interested! Use the
Contact Us page
or send us an email at
[email protected]
!