Everyone on the… MADwalk! The annual fashion music project organized by the biggest music TV station in Greece MAD TV, returned for the 8th year with an enjoyable show, which featured a number of appearances from beloved past and current Eurostars.
With more than 200 models on the catwalk, the event took place on 19 March at the Olympic Fencing Center in Athens and aired last night on Alpha TV channel. Hosting the show were the frontman of the boyband MELISSES (2010 Greek NF participants) Chris Mastoras, as well as the journalist Mary Sinatsaki.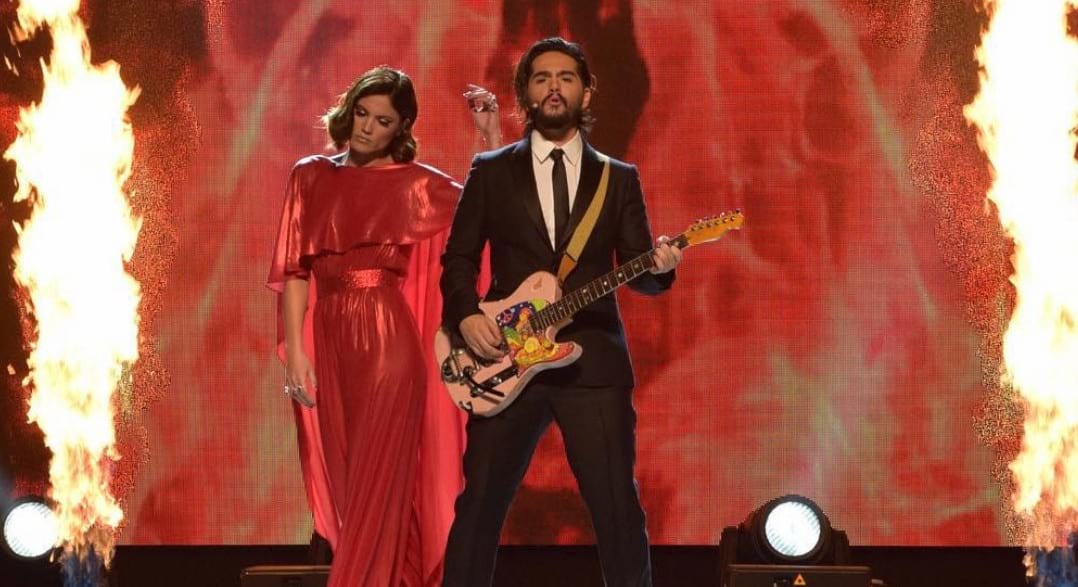 Eurovision 2018 here we come!
Three entrants of this year's Eurovision edition honored the show with their presence. These were Greece's Yianna Terzi, Cyprus' Eleni Foureira and Azerbaijan's Aisel. But let's check out their performances one by one…
Greece
Totally white-dressed and in blue background, Yianna Terzi made a special performance of her Eurovision entry Oniro mou. Could this be an indication of what we're going to witness in Lisbon?
Cyprus
Eleni Foureira, who will be representing Cyprus this year with the song Fuego, couldn't be absent. However, the artist opted for performing her own version of the timeless Dalida's gold hit Gigi in paradisco, which is expected to be officially released in the following weeks.
Τhe creator of her garment was Vrettos Vrettakos, who is also rumored to design the dress with which she will take the stage of Altice Arena.
Azerbaijan
The country's 2018 entry is characterized by Greek elements, as the composer of Aisel's song X my heart is Dimitris Kontopoulos and Fokas Evagelinos will be taking over her Eurovision staging in May.
As part of her promo tour, the Azeri competitor was there in Athens too, and interpreted her track playing a piano which had been specially designed for the show's needs.
Till next time in Lisbon, girls!
What about the past participants?
Apart from the 2018 contenders, MadWalk 2018 project saw some former Eurovision participants, with a remarkable course in the Greek music industry.
Sakis Rouvas
The thrice-involved in Eurovision, pop star Sakis Rouvas appeared on the show, with a special remix of his latest single Ego sta elega. Sakis represented Greece in both 2004 and 2009 occassions and hosted Eurovision 2006 in Athens, joined by Maria Menounos.
Demy
Refreshed and with a new hair look, last year's Greek Eurovision entrant Demy took the stage and performed a comtemporary version of the song Na me thimase, initially sung by the late Greek artist Melina Merkouri and composed by the highly-acclaimed musician Stavros Ksarhakos.
Evridiki
Evridiki, who has represented Cyprus three times in the past performed her latest song Poso ligo me kseris, in a duet with the singer Tzortzia Kefala.
Whose act at MadWalk 2018 is your favourite?
ESCToday is growing and always looks for new members to join our team! Feel free to drop us a line if you're interested! Use the
Contact Us page
or send us an email at
[email protected]
!