Are you dissapointed you didn't grab a ticket for the Grand Final of Festival da Cançao 2018? You need not worry, as we have some great news for you! RTP, the Portuguese national broadcaster has released a further 400 tickets for the show, hurry up and grab them!

Portugal is gearing up to host the 2018 Eurovision Song Contest in Lisbon and has busy days ahead. Preparations for the 2018 Portuguese national final are in full swing, RTP is in full steam preparing for an extraordinary national selection. The country has lined up 26 acts for the competition and one of them will follow Sobral's footsteps and fly to Lisbon!
We already know the first 7 finalists which were determined last Sunday, the remaining 7 will be selected this Sunday.
There has been much anticipation and excitement in Portugal regarding its Eurovision national selection this year, tickets for the Grand Final of Festival da Cançao sold out in a snap of fingers just a few days after they went on sale. Many fans were dissapointed as they were unable to grab a ticket, but all is not lost as RTP has put 400 more tickets on sale!
FdC 2018 tickets on sale
If you want to attend the 2018 Portuguese national final in Guimarães, you can purchase your ticket via blueticket.pt
Ticket prices range from 10€-20€.
The Grand Final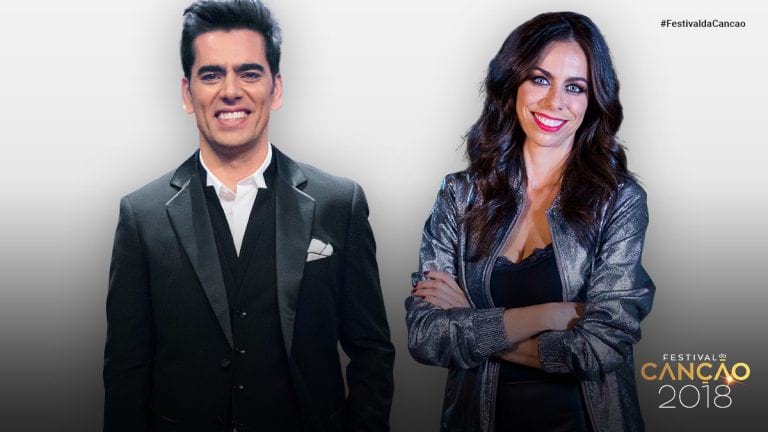 The Grand Final of Festival da Cançao is scheduled to be held on 4 March at the Pavilhão Multiusos de Guimarães in Guimarães. A total of 14 acts will battle for the golden ticket to Lisbon. The gala will be hosted by Filomena Cautela (Eurovision 2018 host) and Pedro Fernandes.
The show will be held at 21:00 CET and will broadcast live on RTP 1, RTP International, RTP Africa, RTP Asia, RTP America and will be streamed live on RTP Play.
Festival da Cançao 2018
The 2018 edition of Festival da Cançao (FdC) will consist of 3 shows which will be aired on 18, 25 February (semi-finals) and 4 March (Grand Final).
The first 2 shows of FdC 2018 will be held at the RTP studios in Lisbon, whilst the grand final will be travelling outside the Portuguese capital, namely to Guimarães.
We will be heading to the north of Portugal in order to select the 2018 Eurovision hopeful who will follow Salvador Sobral's footsteps.
A total of 26 acts will participate in the forthcoming 2018 Portuguese national selection Festival da Cançao 2018. Six hosts will be hosting the national selection (2 hosts per show).
Festival da Cançao 2018 agenda
18/02: Semi-final 1 (13 participants, 7 finalists)
25/02: Semi-final 2 (13 participants, 7 finalists)
04/03: Final (14 finalists, 50/50 regional jury-televoting deliberation)
The 2018 Eurovision Song Contest will be held on 8, 10 and 12 May at the Altice Arena in Lisbon, Portugal.