RTP, the Portuguese national broadcaster has revealed the stage for the 2018 Festival da Cançao semi-finals which will be held at RTP's Studio 1 in Lisbon on 18 and 25 February.
Lisbon is all set for the 2018 Portuguese national selection, scheduled kick off on Sunday 18 February with its First Semifinal.
RTP's Joana Elle Martins takes us on a guided tour of RTP Studio 1, the venue which will host the two semi-finals of this year's Festival da Cançao.

António Polainas, RTP's stage designer ,explains the changes integrated on the stage designed which has been made specially to make the songs shine in the contest. This year the Green Room will not be located on the stage as was the case last year, but will be located in a separate studio. This will enable the camera men and technicians more space to concentrate and carry out their work more precisely.

You can listen to the snippets of  the thirteen entries which will compete during next Sunday's show  here.
Festival da Cançao 2018
The 2018 edition of Festival da Cançao (FdC) will consist of 3 shows which will be aired on 18, 25 February (semi-finals) and 4 March (Grand Final).
The first 2 shows of FdC 2018 will be held at the RTP studios in Lisbon, whilst the grand final will be travelling outside the Portuguese capital, namely to Guimarães.
We will be heading to the north of Portugal in order to select the 2018 Eurovision hopeful who will follow Salvador Sobral's footsteps.
A total of 26 acts will participate in the forthcoming 2018 Portuguese national selection Festival da Cançao 2018. Six hosts will be hosting the national selection (2 hosts per show).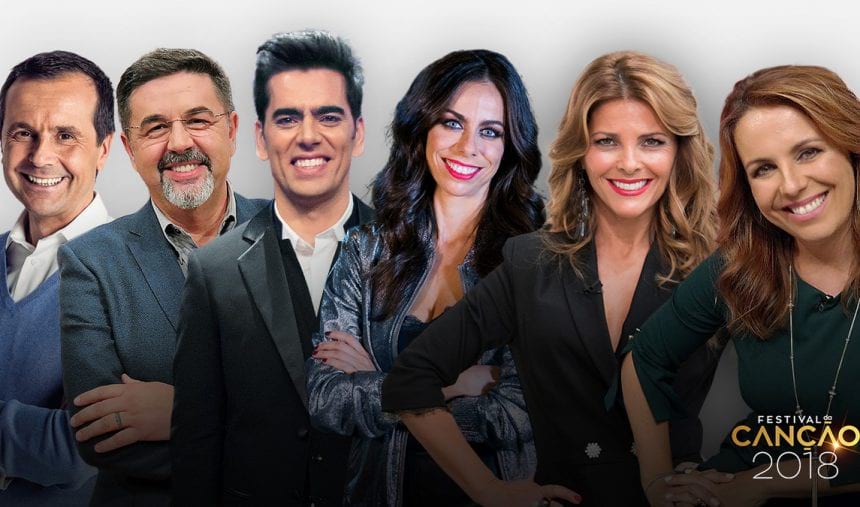 The Grand Final of Festival da Cançao will take place on 4 March at the Pavilhão Multiusos de Guimarães in Guimarães. A total of 14 acts will fight for the right to fly the Portuguese colours at the 2018 Eurovision Song Contest in Lisbon. The gala will be hosted by Filomena Cautela (Eurovision 2018 host) and Pedro Fernandes.
Festival da Cançao 2018 agenda
18/02: Semi-final 1 (13 participants, 7 finalists)
25/02: Semi-final 2 (13 participants, 7 finalists)
04/03: Final (14 finalists, 50/50 regional jury-televoting deliberation)
The 2018 Eurovision Song Contest will be held on 8, 10 and 12 May at the Altice Arena in Lisbon, Portugal