Tonight, we saw another 13 contestants performing in the Lithuanian national selection. Now it's time to find the 6 finalists that are closer to represent Lithuania in the 2018 Eurovision Song Contest!
This evening, 13 acts competed in the country's national selection. With 18 acts having already qualified from the previous 3 shows, we now know a total of 24 acts who have proceeded in the competition, with the Eurovision bid continuing for Lithuania. 
In tonight's show, which was pre-recorded on Tuesday evening, both the jury and the viewing public had the chance to vote for their favourite acts of the evening, the top 6 of which would advance in the contest.
Here are tonight's qualifiers
Without further ado, the 6 qualifiers are:
Monika Marija – The truth
Jurgis Brūzga – For love
Marija – This love
The Roop – Positive thoughts
Kotryna Juodzevičiūtė – That girl
Rūta Loop – Positive thoughts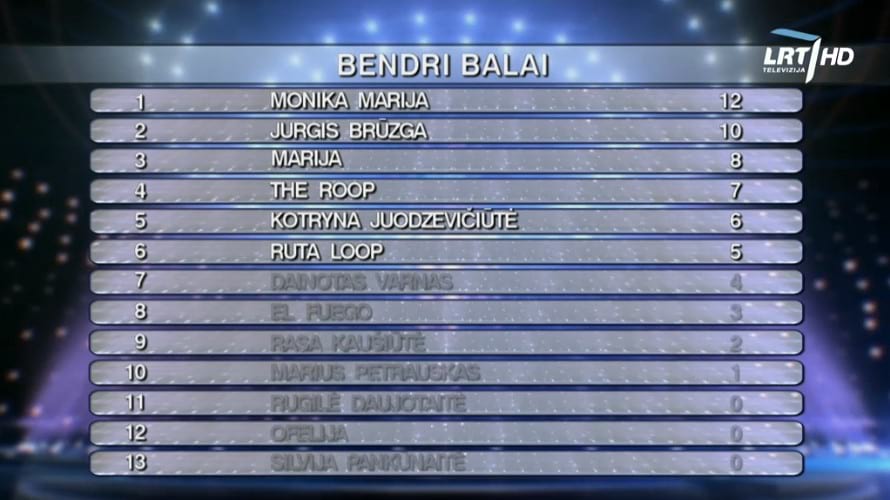 That means we wave goodbye to Dainotas Varnas, El Fuego, Rasa Kaušiūtė, Marious Petrauskas, Rugilė Daujotaitė, Ofelija and Silvija Pankūnaitė who did not manage to reach the top 6 places on the scoreboard.
The national selection in Lithuania still has a few steps before declaring the representative to the Eurovision Song Contest 2018 in Lisbon.
Three more shows are scheduled before the semi-final and the Grand final, which will take place on 11 March.
Eurovizija 2018 schedule
03/02: Show 4
10/02: Show 5
17/02: Show 6
24/02: Show 7
03/03: Semi-final
11/03: Grand final
ESCToday is growing and always looks for new members to join our team! Feel free to drop us a line if you're interested! Use the
Contact Us page
or send us an email at
[email protected]
!