The second night of Selecția Națională 2018 is now over in Romania, with a further 3 artists continuing their bid to represent the nation at the upcoming Eurovision Song Contest.
It was semi-final 2 evening in Romania tonight, with the nation resuming the search for their next Eurovision Song Contest representative for Lisbon.
This evening saw the next 12 artists performing their bidding entries to the public and jury, the latter of which would determine tonight's top 3 of the semi-final, each of whom would advance to the final of the competition on the 25 February.
Tonight's show was opened by Ricardo Caria, performing a cover of Portugal's winning entry of Eurovision 2017, Amar pelos dois, originally performed by Salvador Sobral.
The semi-final 2 participants performed in the following order this evening:
Pragu' de Sus – Te voi chema
Miruna Diaconescu – Run for you
MIHAI – Heaven
Othello – Noi suntem pădur
Alessandro Dănescu – Breaking up
Jessie Baneş – Lightning strikes
Romeo Zaharia – Maybe this time
Rafael & Andy – We are one
Serena – Safari
Endless feat. Maria Grosu – Thinking about you
Meriem – End the battle
Jukebox feat. Bella Santiago – Auzi cum bate
Qualifiers from this evening
Tonight's top acts were determined by the 5-member jury panel, each whom announced their votes following the interval act, featuring Neda Ukraden, Lavinia Răducanu and Cargo.
The jury panel consists of Marian Ionescu, Ilinca Băcilă, Nicu Patoi, Liliana Ştefan and Viorel Gavrilă, who will return over the remaining semi-finals to determine the final set of qualifiers.
The top 3 of the evening, as decided by the jury, were MIHAI, Rafael & Andy and Jukebox feat. Bella Santiago; the 3 qualifiers from the second semi-final will join last week's qualifiers together with the advancing artists over the coming weeks, with 15 acts set to compete in the final of the Romanian national selection next month.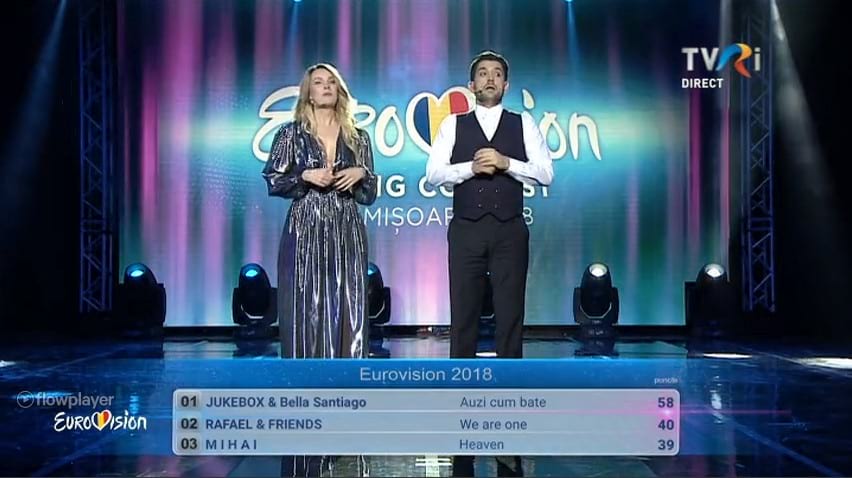 Selecția Națională 2018 will resume next Sunday with semi-final 3, with a further 12 acts set to compete for a place in the final of the competition.
Selecția Națională 2018 schedule
28/01: Semi-final 2
04/02: Semi-final 3 (Twelve participants, 3 qualifiers decided by 100% jury vote)
11/02: Semi-final 4 (Twelve participants, 3 qualifiers decided by 100% jury vote)
18/02: Semi-final 5 (Twelve participants, 3 qualifiers decided by 100% jury vote)
25/02: Grand final (Fifteen finalists, winner determined by 100% televote)