Sad news from Portugal, as iconic singer and Eurovision 1966 representative Madalena Iglésias has passed away, aged 78.
Madalena Iglésias, who represented Portugal at the Eurovision Song Contest 1966 with the song Ele e ela, has passed away in a clinic in Barcelona, Spain. Madalena's family made an announcement to all fans on the singers' official Facebook-page:
Dear everyone,
With immense pain we announce the passing away of our beloved and admired mother. We appreciate the love and respect you have always shown. You were responsible for an important part of her happiness. Madalena was born to sing. And she'll keep on singing.
We will be in room 18 of the Tanatório de Collserola from 18.00 onwards. Tomorrow, the 17th, we will say farewell with a mass at 16.15.
Queridos todos,Con inmenso dolor les anunciamos el fallecimiento de nuestra adorada y admirada mamá. Agradecemos profundamente el cariño y respeto que siempre le habéis demostrado. Vosotros fuisteis responsables de parte importante de su felicidad.Madalena nació para cantar. Y seguirá cantando.Estaremos en la sala 18 del Tanatorio de Collserola a partir de las 18h. Mañana 17 la despediremos con una misa a las 16:15h.

Geplaatst door Madalena Iglésias op dinsdag 16 januari 2018
The Tanatório de Collserola is located in Barcelona, Spain, all times are local Spanish time.
Queen of Radio and Television
Madalena Iglésias (born Madalena Lucília Iglésias do Vale de Oliveira Portugal, district San Catarina, Lisbon, 1939) rose to fame in the end of the 1950's and the start of the 1960's. Admired for her stage presence and vocal talent, she soon earned the honourable title Queen of Radio and Television.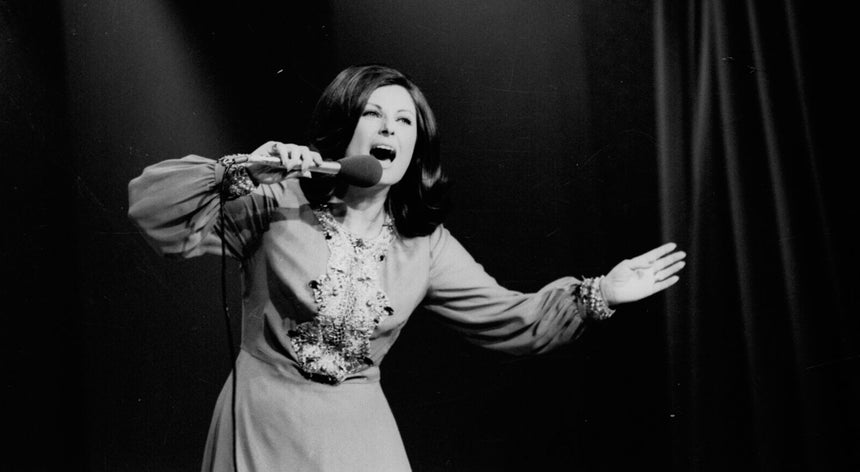 Madalena Iglésias became an icon of the Portuguese entertainment industry. Together with artists such as Simone de Oliveira (Eurovision 1965 and 1969) she was one of the main voices of the "nacional-cançonetismo", or national song-movement, of the 1960's.
In 1972 she moved to Venezuela, and later returned to Europe, taking residence in Spain. In 2008 a photobiography about the artist was published.
At Eurovision
Winning the Portuguese selection Festival RTP da Canção, Madalena Iglésias subsequently represented Portugal at the 1966 Eurovision Song Contest in Luxembourg City, Luxembourg.
With her entry Ele e ela (He and she), a chanson  in the so-called "surf"-style composed and written by Carlos Canelhas, she eventually placed 13th out of 18 contestants, receiving 6 points.
Ele e ela became a beloved song in Portugal and one of the country's Eurovision evergreens. The Spanish version Él y ella was released in Spain, France and the Netherlands.
ESCToday sends sincere condolences to Madalena's family, friends and fan community. She will be remembered as a treasure of the Portuguese music business.
ESCToday is growing and always looks for new members to join our team! Feel free to drop us a line if you're interested! Use the
Contact Us page
or send us an email at
[email protected]
!