After cancelling his concerts that were scheduled to take place last week, the news that the Portuguese 2017 Eurovision winner Salvador Sobral is temporarily leaving completely the concerts and the music scene is falling as a thunderbolt. 
Serious health issues standing as obstacles for Salvador
Βefore he abandons the music stage to deal with his health problem, Salvador Sobral is informing his audience through Facebook and YouTube that he's going to give a last concert this Friday, 8 September at Jardins do Casino Estoril with free entrance for everyone.
Worth noting that the 8th of September was going to be the day when Salvador was scheduled to return and go on with his Excuse me tour, with a concert in Cascais. Hence, the rest of the concerts that were going to take place as part of that tour, are now being cancelled.
Here is his post on Facebook, where he's talking about his new plans (in Portuguese):
COMUNICADO:Salvador Sobral dá o seu último concerto, antes de abandonar temporariamente os palcos, esta 6ª feira – 8 de Setembro – nos Jardins do Casino Estoril. A entrada é livre.Estão todos convidados!!

Опубліковано Salvador Sobral 5 вересня 2017 р.
Being in the hospital, and obviously tired, Salvador stated:
I deliver my body to science. I don't know how long this is going to last. Thank you all for your support.
Heart transplatation is possibly needed
Furthermore and during the last few days, the reports that want his health to be in an extremely crucial phase have reached their peak. According to a report from the Portuguese tabloid website Flash!, a close family friend talked about the medical diagnosis for Salvador last December. He is facing a very difficult health issue, as his heart is suffering a lot and will require immediate transplantation within the next 12 months.
Afterwards and in its latest issue, the Portuguese magazine TV Guia reports that there are only 3 months of life for Salvador, in case that a compatible implantation is not found for him.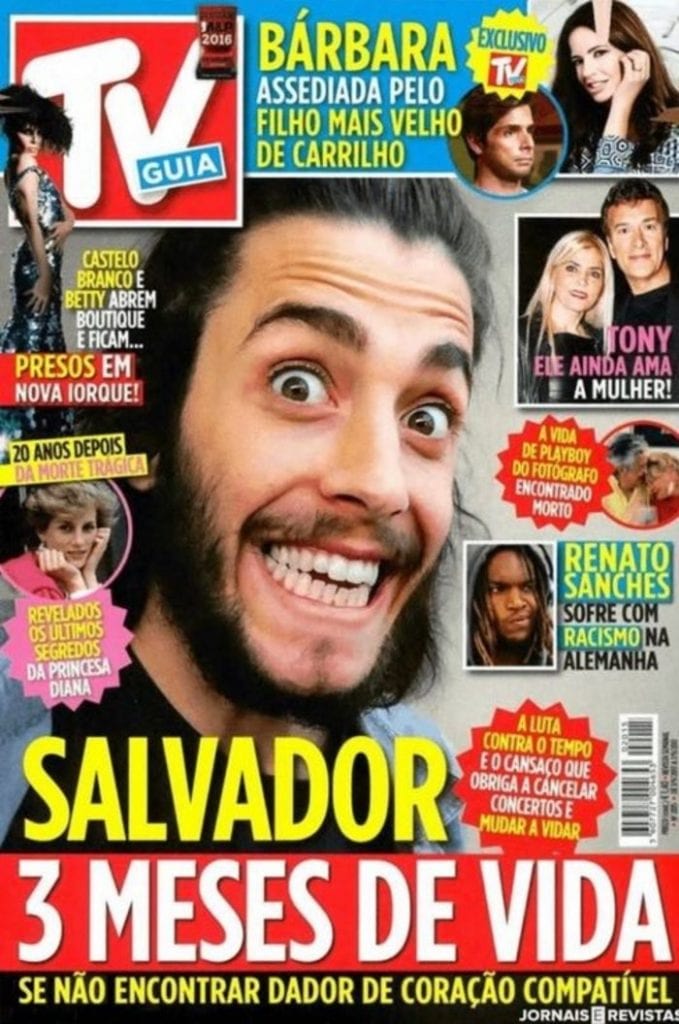 We should never forget that health is the supreme and most important asset in this life. We're wishing Salvador an easy and quick recovery from the health issues he's facing.
ESCToday is growing and always looks for new members to join our team! Feel free to drop us a line if you're interested! Use the
Contact Us page
or send us an email at
[email protected]
!