Day 8 of our #10DaysofConfirmations project sees one more confirmation from the Baltic sea for their participation at the 63rd Eurovision Song Contest. Lithuania is the last of the 3 Baltic countries (the other being Estonia and Latvia) to confirm that they will be taking part in Lisbon next May.
This is going to be the 19th participation of Lithuania at Eurovision since their debut in 1994. The national broadcaster of the country LRT has also confirmed to ESCToday that their selection process will be once more Eurovizija. But how could they leave Lisbon having produced a successful performance?
Lithuania's Eurovision history
As said before, the country made its Eurovision debut in 1994 with Ovidijus Vyšniauskas and his song Lopšinė mylimai. However, this wasn't a successful debut as the country came last with zero points. This was Lithuania's worst result in the competition.
After a Eurovision break from 1995 to 1998, they returned in 1999 and since then they have been absent only twice: in 2000 and in 2003.
Their best result came in Athens in 2006 with the male band LT United singing We are the winners of Eurovision! Eventually they weren't the 2006 winners, but they brought their nation a 6th place which Lithuania had never achieved before.
Undoubtedly, the entry from Lithuania had made a great sense in the Eurovision world. So it wouldn't be an exaggeration to say that remains until today one of the most recognizable Eurovision entries!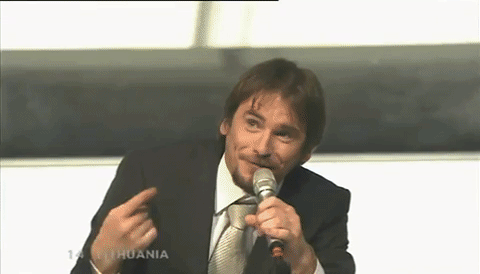 Generally acknowledged, Lithuania's Eurovision results have been relatively poor as they have managed to enter the Top 10 only twice (in 2006 and in 2016).
Furthermore, the nation has failed to qualify to the Grand Final six times since the introduction of the semi-finals in 2004 and their average place in 12 Final appearances is 18.8. So, could this low average score fall in 2018 by receiving a good place?
What's happening with their next entry?
Apart from their first appearance, when LRT had chosen their entrant and song internally, Lithuania holds a national selection with different names and formats every year.
As confirmed in 2018, the process "Eurovizijos" dainų konkurso nacionalinė atranka will be held, as has been the case since 2013. This is a long selection process organized by LRT, with around 6-8 initial heats, one semi-final and the Grand Final. The dates of the process will be announced in due course.
Do you believe their selection process will give them their first Top 5 placing in 2018? Or an internal selection would be a better choice? And who's in your opinion the artist who could bring the contest in Lithuanian ground in 2019? Let us know via our poll below!
[playbuzz-item url="//www.playbuzz.com/esctoday10/who-can-bring-lithuania-their-first-top-5-placing-at-eurovision-2018″ comments="false" recommend="false"]