The 62nd Eurovision Song Contest will crown in a few hours its winner and will pass through history! Thus, the ESCToday organized the last for Eurovision 2017 live #Hashpoll which was about the 26 finalists. For about 4 hours, toy had the ability to vote on Facebook, by putting the hashtag of your favourite entry as a comment below.
Each #hashtag counted as one vote to the country of your preference. The votes have now been counted and your winner from our poll is…
And the winner is Portugal!
Your winner, according to your Facebook votes is one of the hottest favourites of the contest, Portugal! The country conquers the top by a huge amount of votes; 12732 #hashtags! With such a big difference from Portugal, Moldova becomes the runner-up by 6047 votes (below the half of Portugal), and Romania ends up 3rd by 2476 votes! It seems that the Moldovan fans were quite stir up for this #Hashpoll after its share by SunStroke Project on Facebook and brought the band in 2nd place! Romania was also very high at your preference in the Second Semi-Final #Hashpoll on Thursday. The Top 5 is completed by Greece (1367 votes) and Israel (816 votes)!
You may check out the full results here: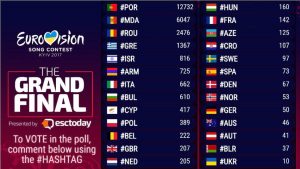 Now let's wait to see how close your own results will be to tonight's semi-final, after the announcement of the real ones! The final outcome of the Eurovision Song Contest will be affected by the tele-voting and the national juries, which casted their votes yesterday in the special jury show, each having a 50% stake.
Do you agree with the results of the #Hashpoll? What could be different? Who's gonna be this year's winner?
The Grand Final of the Eurovision Song Contest 2017 is about to take place tonight at 21:00 CEST at the IEC in Kyiv, Ukraine.
ESCToday is growing and always looks for new members to join our team! Feel free to drop us a line if you're interested! Use the
Contact Us page
or send us an email at
[email protected]
!