The full results of this year's Grand Final Press Poll are now revealed. After a very close voting it was Francesco Gabbani from Italy who took the first place with 100 points, followed by Salvador Sobral from Portugal with 99.
The third place is taken by another favourite, Kristian Kostov from Bulgaria. Suprisingly, Lucie Jones of the United Kingdom grabs the 4th place and Blanche from Belgium goes 6th after failing to score in the Press Poll of the semifinals stage.
A total of 35 members of the press on location in Kyiv have voted for the five countries which left a remarkable impression on them among the long running order of the final, awarding five points to their first place, all the way to one point to their fifth place.
During the semifinals, the press poll had predicted 17 out of the 20 qualifiers based on the first rehearsals. Last year, the poll had predicted the exact top 3 of the final and seven out of the ten countries in the top 10.
The full prediction for this year's final is as follows:
Italy 100
Portugal 99
Bulgaria 90
United Kingdom 38
Sweden 37
Belgium 18
Armenia 17
Azerbaijan 16
France 15
Hungary 15
Romania 13
Norway 12
The Netherlands 11
Belarus 10
Denmark 10
Moldova 10
Israel 4
Austria 4
Cyprus 3
Australia 1
Germany 1
Ukraine 1
Poland 0
Croatia 0
Greece 0
Spain 0
The huge difference between places 1-3 to 4-5 and then to 6-16 should predict that we're gonna have a 2015-like voting where a specific number of countries are getting attention from everyone while the the others make it through with points from here and there.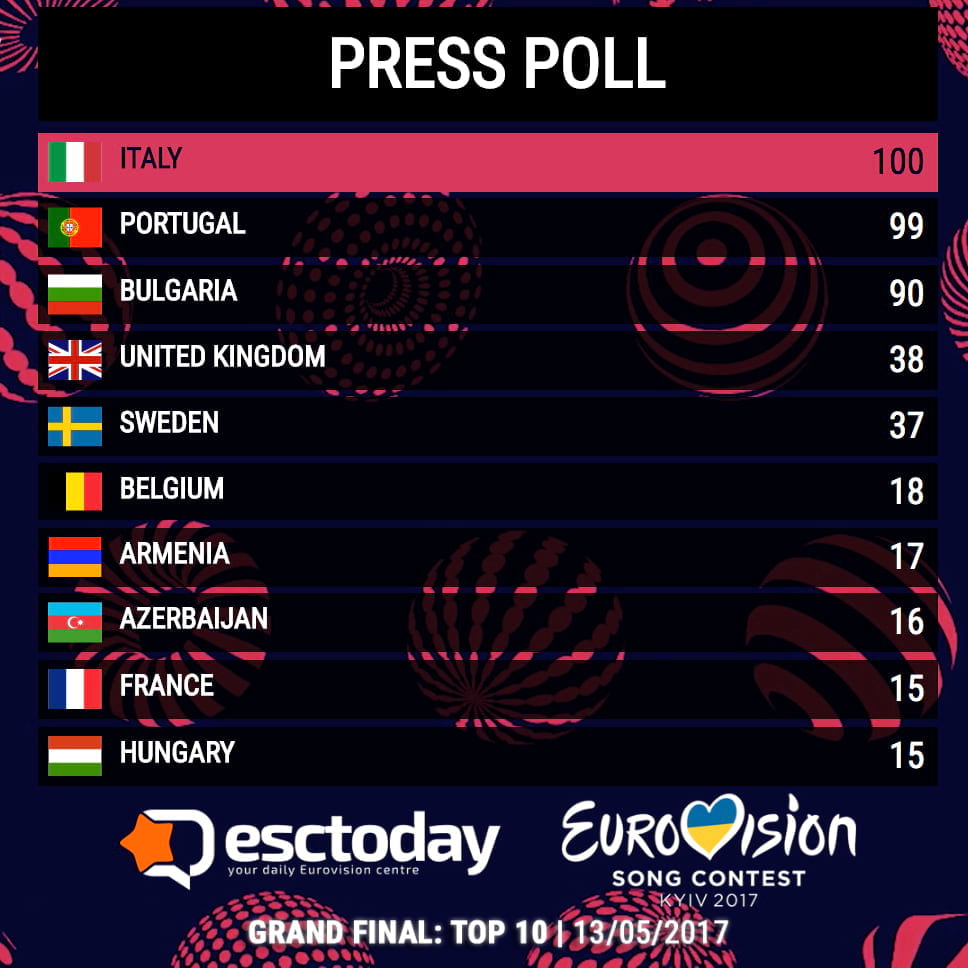 Stay tuned to ESCToday for more news regarding the Eurovision Song Contest 2017!
ESCToday is growing and always looks for new members to join our team! Feel free to drop us a line if you're interested! Use the
Contact Us page
or send us an email at
[email protected]
!