A young Croatian fashion designer and costumer, Juraj Zigman, was selected as the dressmaker you for Nina Kraljić's Eurovision performance.
Nina is no stranger to his designs, having worn a Zigman dress last Saturday for Eurovision in Concert in Amsterdam.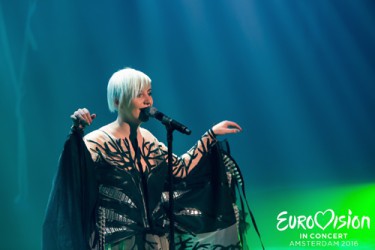 "Zigman is a fantastic designer and has deservedly won many awards, including the award for best designer in the 'Elle Style Awards'. Even after my victory in The Voice, I wanted to meet him and cooperate with him, so I was very pleased with this opportunity. He is one of those creative people in the business that you can absolutely trust and who always exceeds your expectations."
Juraj Zigman has been on the fashion scene for 9 years now. "I love how different everything I do is, from commercial collections to presentations on the catwalk. I love the stage and I love presenting my creations, but I find expressing the individual needs of celebrities and singers quite an enjoyable challenge, especially as there are so many different ways to express yourself through music." said Zigman.
However, he has said it is a special pleasure to work with Nina Kraljić. "Nina and her song Lighthouse really inspired me. It is unusual for music to inspire me to this extent, but this song took me to another world," he revealed. Zigman has previous stage experience, as he was hired as a costume designer for several performances; the operas Stribor's Forest, Aida and Madame Butterfly and the ballet Carmina Burana. "I always find inspiration from my life and the projects that I'm working on, so it sometimes takes over! When I worked on the opera "Madame Butterfly", this happened to such an extent that I released an entire collection based on the opera!" he explained.
Although still a young artist, Juraj Zigman presented a retrospective of his work last year. "Young artists who want to create a market for themselves,  be it fashion, music or any other art, must believe in themselves. You have to prove that you are credible. It is certainly difficult, but sometimes it is better as the long-term results work out better in creative pursuits. Hurried work tends not to stand the test of time. Unfortunately, we are witnessing too many people rushing in order to survive and make quick money at that moment, not thinking about the long term. That's why I like Nina, because she is also a young artist and she is always true to herself. You have to experiment to reach your signature style, which is what Nina does and why I was interested in working with her." He concluded.
Croatia will be represented by Nina Kraljić and her song Lighthouse in the first semi-final. She will be the 5th act to take to the stage on the 10th May.