ESCToday in collaboration with the City of Stockholm will be bringing you a series of articles leading up to the 2016 Eurovision Song Contest in order to showcase and introduce the 2016 Eurovision host city Stockholm to our readers. Today we will have a look on how to get from the airport to the city!

Commuting and travelling in Stockholm is very easy and comfortable, but can be expensive, so you better plan it out beforehand and check out all the available options.
A total of 4 airports serve the city of Stockholm: Arlanda, Bromma, Skavsta and Västerås.
Arlanda is Stockholm's main airport with a massive number of international flights, it is located 40km north of the city.
There are various ways of getting from Arlanda to Stockholm's city centre: Arlanda Express speed train, taxi, SL commuter trains or Flygbussarna Airport Coaches  (bus).
The Arlanda Express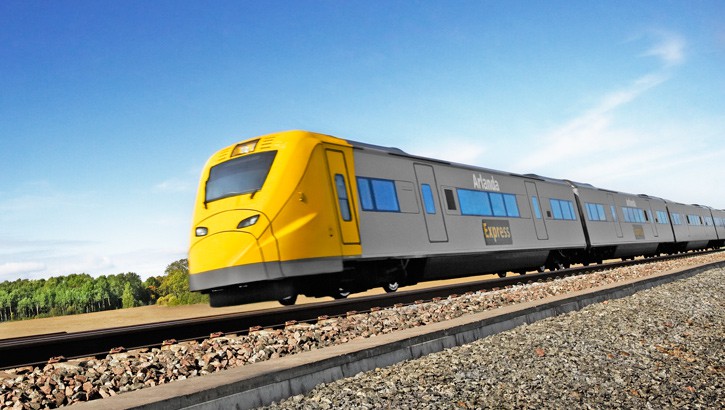 I highly recommend to take the Arlanda Express in order to get from the airport to the city, it is fast, comfortable and convenient. The high speed shuttle train will leave you right in the heart of the city at Central Station, from there you can use the T-Bana metro system which connects practically the whole of Stockholm.
If you wanna get to the city fast and comfy then the best option is the Arlanda Express which leaves from Arlanda Airport's Terminal 2, 3 ,4 (Arlanda South) and Terminal 5 (Arlanda North) and goes direct to Stockholm's Central Station and takes only 20 minutes.  The Arlanda express leaves every 15 minute minutes from Arlanda Airport, you can find the schedule here.
Map of Arlanda Airport and Arlanda Express station
( photo credit: arlandaexpress.com)
You can buy your tickets online on Arlanda Express' official website or on one of the many ticketing vending machines found at Arlanda Airport, Visitors Centre at Arlanda's Terminal 5 . You can check the fares and price list here, if you buy your ticket in advance you will be able to save your pennies!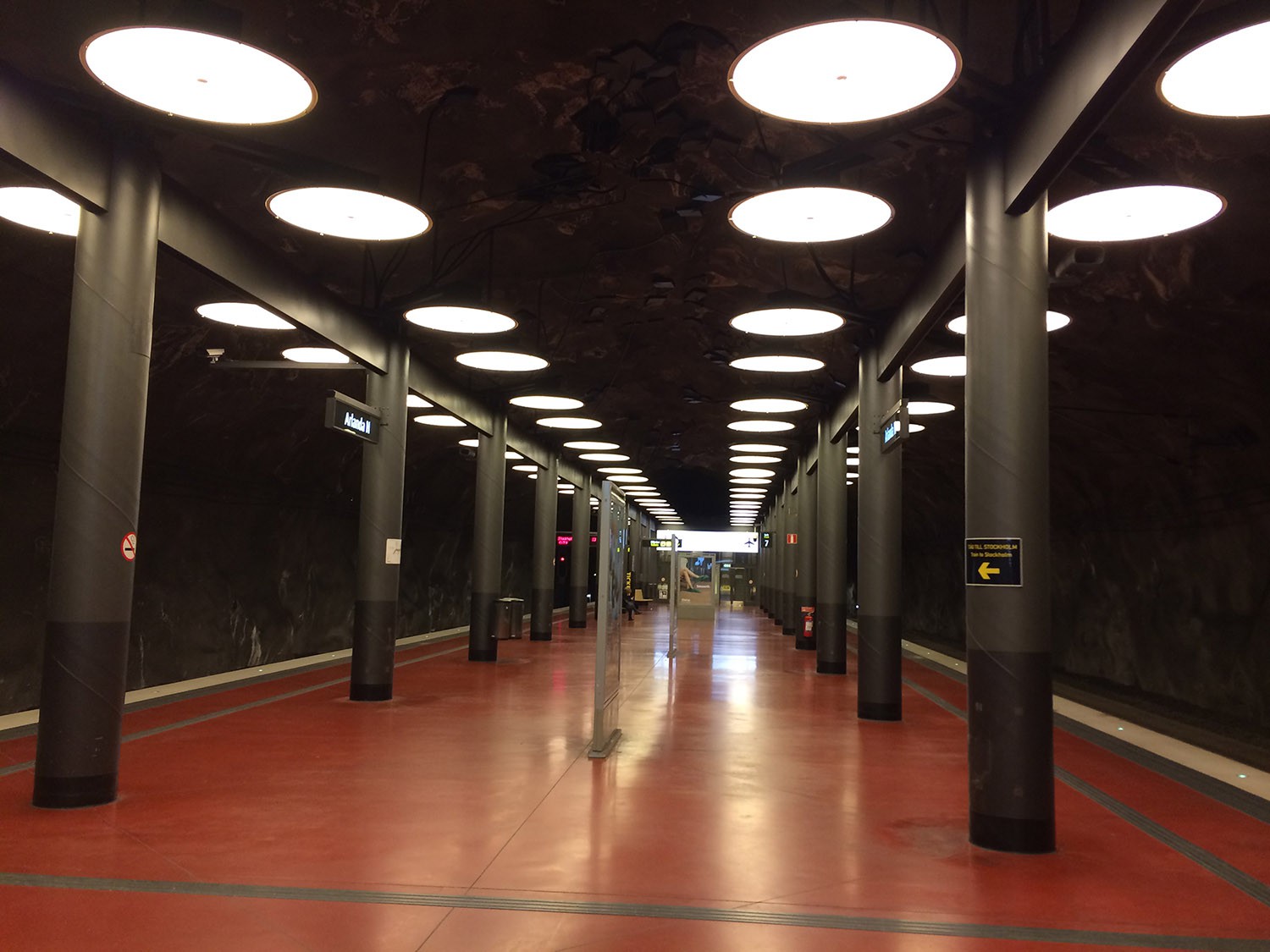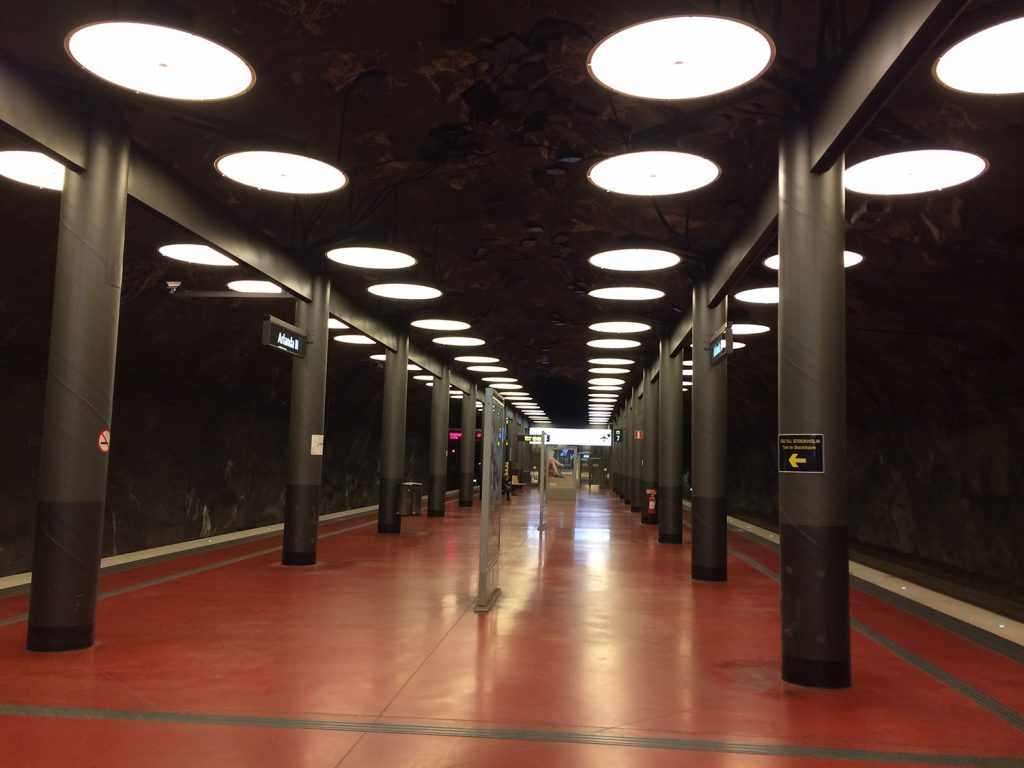 An individual single ticket will cost you 280 SEK (28 Euros), whilst an individual return ticket will cost you 540 SEK (54 Euros), if you are 26 years and above.
An individual single ticket will cost you 150 SEK (15 Euros) , whilst an individual return ticket will cost you 300 SEK (30 Euros), if you are between 8-25 years old.
Free wi-fi is available on Arlanda Express, so you can surf the net whilst you commute!
You can dowload the official app for Arlanda Express for Apple and Google Play here.
SL trains
This is one of the cost efficient ways of travelling to the city from Arlanda. You can take the commuter train SL train from Arlanda Central Station which is located at the Sky City (Arlanda Airport), it will take you between 45- 60 minutes to get to Stockholm's Central Station. Trains depart twice every hour. For more information on fares and tickets you can check here.
Tickets can be purchased at the SL Sales points at Arlanda Central Station. Passengers who get on and off at Arlanda Central Station have to pay an access fee of 85 SEK .
If you are coming to Stockholm for a few days or for a week, I'd advice you to purchase the 7 Day SL Travel Card, which will enable to take the commuter train from the airport to the city and use the T Bana (metro), trams, buses and ferries throughout the city during your stay. You can pre-purchase the card online.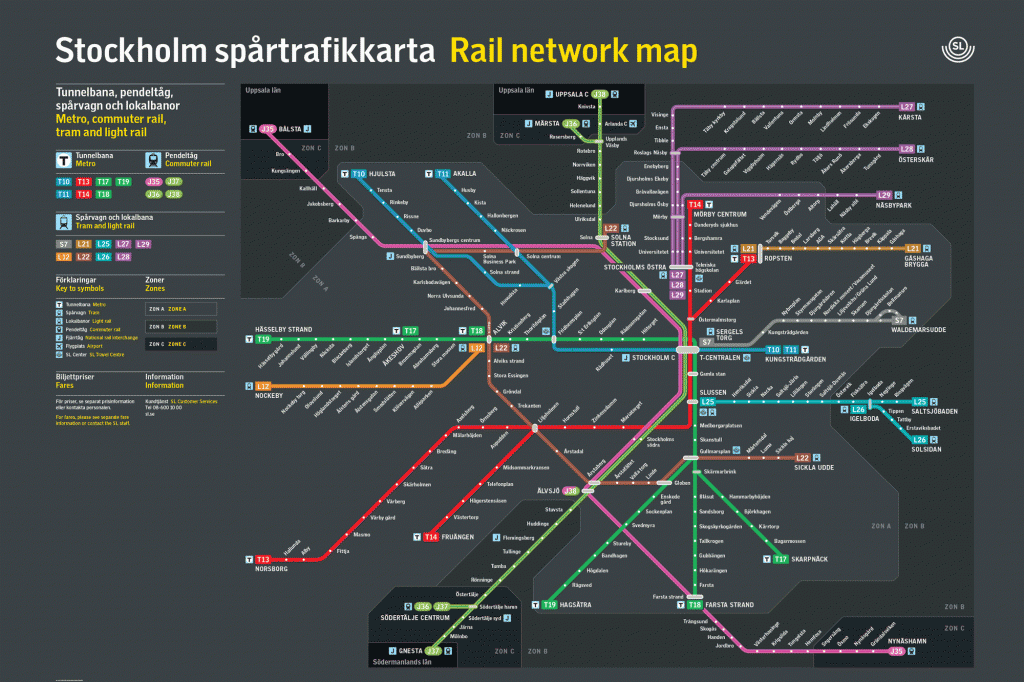 Aiport Coaches Flygbussarna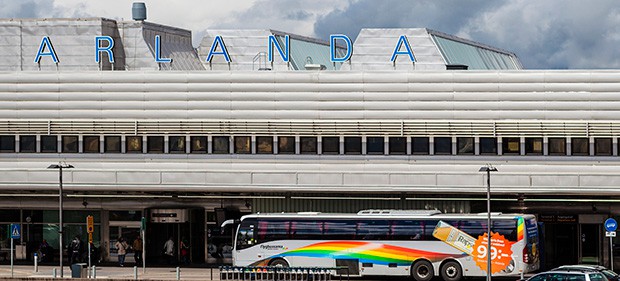 The bus system in Stockholm is very efficient and inexpensive. You can take one of the Flygbussarna airport coaches to downtown Stockholm's City Terminalen which is just a hop from Stockholm's Central Station and the main metro station T-Centralen.  There are bus stops at all 5 terminals at Arlanda Airport (You can access terminal 3 through terminal 2).
Travelling by coach is very easy and convenient, you will not get bored as all the buses are equipped with free wi-fi. It takes around 45 minutes to get from the airport to the city centre. Buses depart every 10 minutes from Arlanda.
It is one of the most cost efficient ways to commute to the city centre from Arlanda airport. If you purchase your ticket online or via the official app it can be even cheaper. Tickets can also be bought at the Flybussarna ticket machines at Arlanda Airport, Airport ticket office, Pressbyran and 7 Eleven stores. Buses depart from all terminals at Arlanda airport. You can check out the fares and timetable here
Bus fares from Arlanda Airport- City Centralen Stockholm (online purchase)

Adult single ticket – 99 SEK
Adult return ticket- 198 SEK
Youth ticket- 89 SEK
Youth return ticket- 178 SEK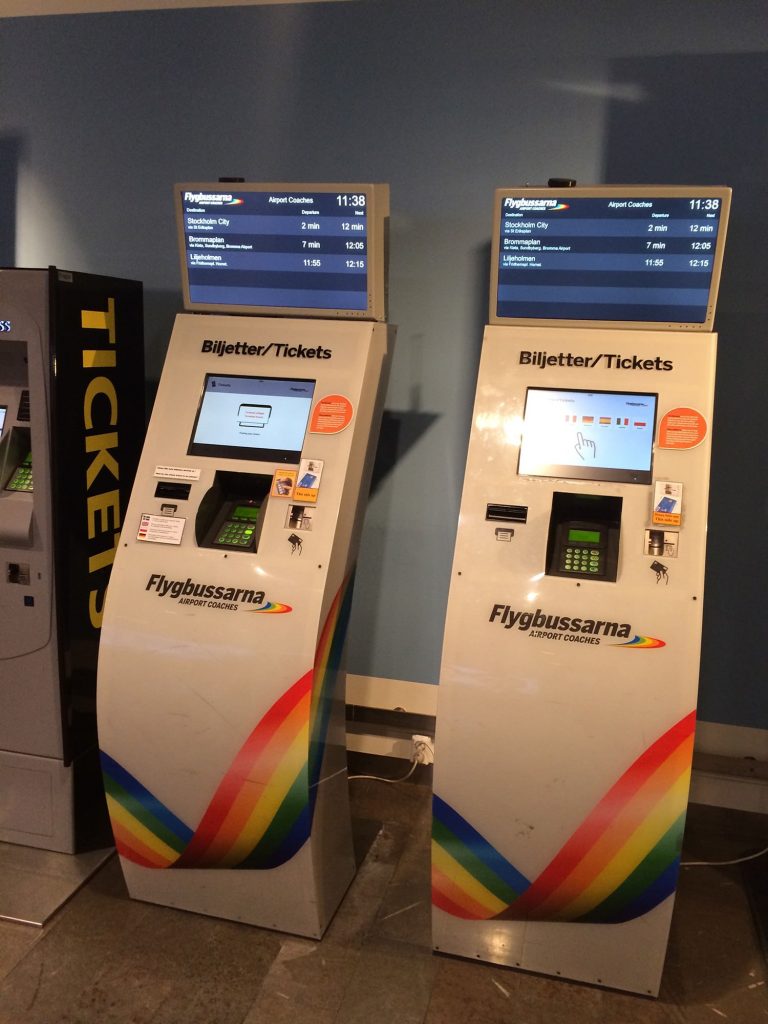 You can purchase a ticket for only 99 SEK (10 Euros- single ticket – app/online price) or 119 SEK (12 Euros-single ticket full price). Whilst a return ticket can cost you 198 SEK (20 Euros- return ticket-app/online price) or 215 SEK (22 Euros- return ticket full price).
Taxi
To cab it up is also an option, but it can be quite expensive. You should calculate that a taxi from Arlanda to the city centre could cost you circa 60 Euros. It takes around 40-50 minutes by taxi to reach Stockholm's city centre depending on the time of the day. You can pay by credit card too.
I recommend you to pre-book your taxi and check the fares ahead with the respective taxi companies.
Take into account that taxi fares in Sweden aren't regulated, meaning  that prices can vary significantly between companies. Bearing this in mind, it is highly recommended to use the services of the following well known taxi companies:  Taxi Stockholm, Taxi 020 and Taxi Kurir.
How to get from Bromma, Skavsta and Västerås Airports to the city?

You can travel to Stockholm by bus from Bromma, Skavsta and Västerås Airports with Flygbussarna Airport Coaches, which run their service from all Stockholm airports to the city.
Travel time and information about fares, tickets and schedules can be found in the links below:
Please take into account that if you pre-purchase or book your transport online/ via an app it will be both cost efficient and easier. Have a safe trip and welcome to Stockholm!
Don't forget to read our series of Discover Stockholm articles leading up to the forthcoming Eurovision Song Contest including The first impression of Stockhom- the host city!
For more information on Stockholm you can visit visitstockholm.com
You can follow our forthcoming series of Discover Stockholm articles with photographs and videos on ESCToday.com and on our official Esctoday Instagram and ESCToday Facebook pages.