A political action of the Icelandic entrants Hatari during the final was pretty enough to stir up the show's producers and make the EBU discuss potential sanctions on the group's members and even on the national broadcaster RÚV… 
Despite a successful 10th place for Iceland after 4 consecutive eliminations in the semi-finals, the group Hatari and their song Hatrið mun sigra (Hate will prevail) has concerned enough both the organizers and public opinion inside and outside the country, due to the messages they desired to convey, as well as their – according to the regulations – not permissible action during the final.
Moments before the winner's declaration and after the announcement of their televoting score, the group's members lifted banners with the Palestinian flag, a move which triggered the immediate reaction of the EBU and was notably disapproved within the arena.
Here is the EBU's initial statement on the issue, right after the Grand Final:
In the live broadcast of the Eurovision Song Contest Grand Final, Hatari, the Icelandic act, briefly displayed small Palestinian banners whilst sat in the Green Room. The Eurovision Song Contest is a non-political event and this directly contradicts the contest's rules. The banners were quickly removed and the consequences of this action will be discussed by the Reference Group (the contest's executive board) after the contest.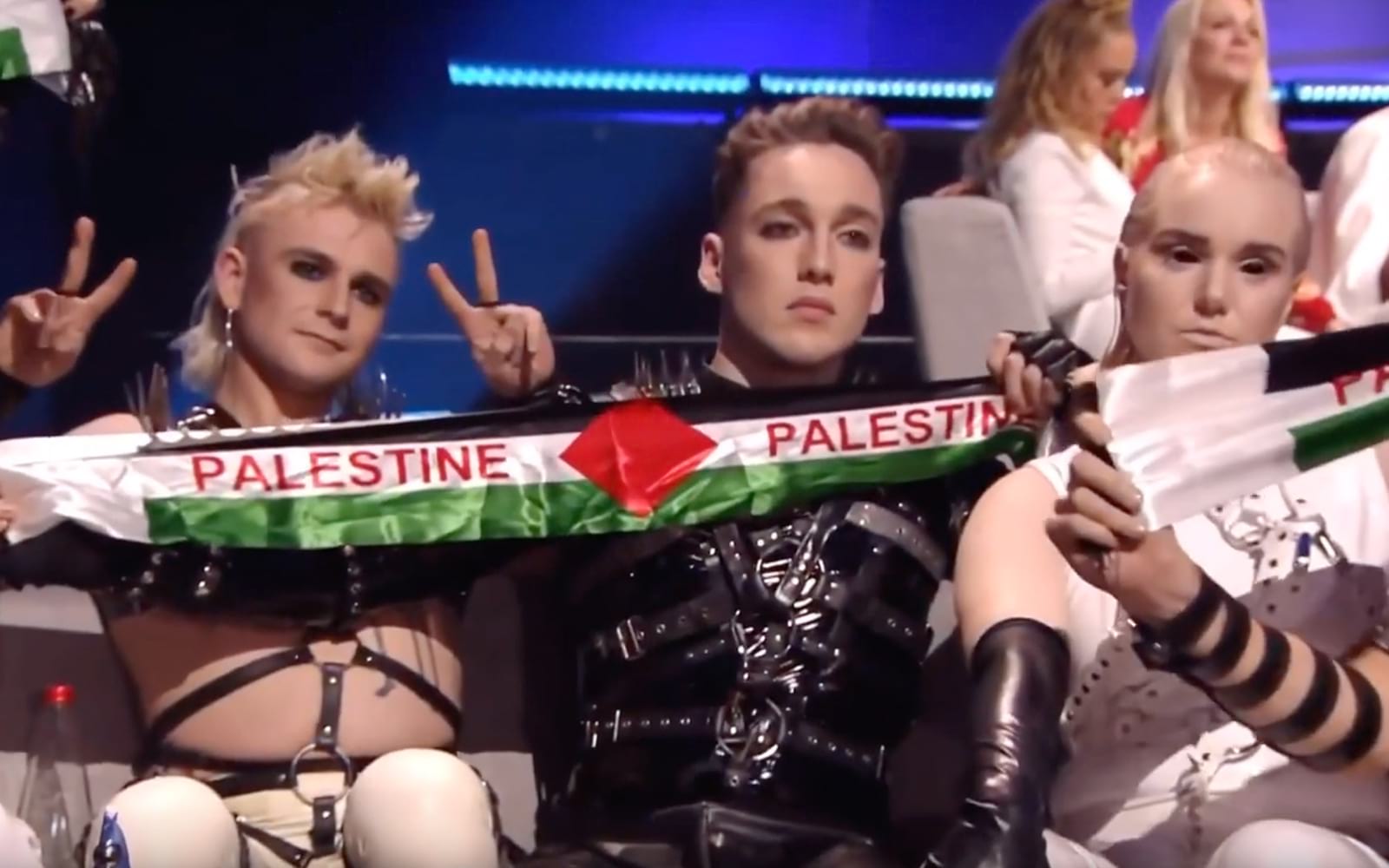 Calls for Iceland's disqualification from Eurovision 2020; optimism at RÚV
As reported by RÚV, the EBU is going to decide upon whether and what kind of sanctions will be imposed on the Icelandic delegation within the next two weeks.
Although several petitions requesting Iceland's disqualification next year are already running across the web, Magnús Geir Þórðarson, the broadcaster's Director General, characterizes such a possibility as "highly unlikely". Let's wait for the final decisions and see…
Iceland at Eurovision 2019
Iceland saw their 32nd Eurovision participation this year in Tel Aviv, Israel. The island of North Atlantic selected their representatives through their annual selection event Söngvakeppnin, the winners of which where the group Hatari, this consisting of Klemens Nikulásson Hannigan, Matthías Tryggvi Haraldsson and Einar Hrafn Stefánsson.
The eccentric Icelandic act was extensively discussed before and during the contest, because of their song's title (Hate will prevail) and lyrics, which aimed at expressing concerns about European people's future.
Having made the probably most unforgettable performance of the year (in BDSM-inspired costumes and full of visual effects), Hatari ended up 10th in the final with a total score of 232 points.
ESCToday is growing and always looks for new members to join our team! Feel free to drop us a line if you're interested! Use the
Contact Us page
or send us an email at
[email protected]
!