The 2019 Italian Eurovision representative visited Israel earlier this week in order to film his postcard. He got the chance to see the sights and sounds of Tel Aviv and speak to the local media whilst visiting the 2019 ESC host city.
Mahmood was in Tel Aviv earlier this week to film his Eurovision postcard, he got the chance to visit the city and enjoy the sun and take a dip in the swimming pool.
This year's Eurovision postcard concept and theme is Dancing Israel. We will see the 41 competing acts dancing with a troupe of dancers in different locations throughout Israel. The postcards will showcase the sights and sounds of the 2019 Eurovision host country.
Many of this year's Eurovision acts have already visited Israel in order to film their respective Eurovision postcards: Miki (Spain), Bilal Hassani (France), Luca Haenni (Switzerland), Roko (Croatia), Elliot (Belgium), Joci Papai (Hungary), Oto Nemsadze (Georgia), Michela Pace (Malta), Serhat (San Marino), Lake Malawi (Czech Republic), Sergey Lazarev (Russia), Conan Osiris (Portugal), Victor Crone (Estonia), Katerine Duska (Greece), Tamta (Cyprus), Duncan Laurence (Netherlands),  etc.
Interview on KAN 11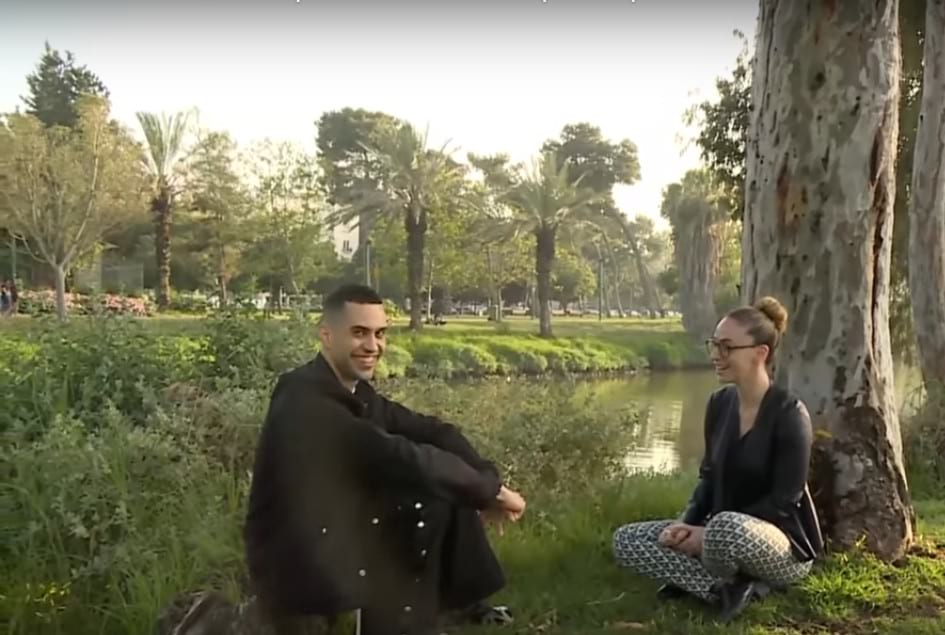 KAN's celebrated journalist Shani Nachshony met up with the Italian hopeful Mahmood for a special tete a tete. The interview was broadcast on KAN's evening news last night.
Mahmood spoke to Shani about his Eurovision entry Soldi, Sanremo 2019 and his upcoming Eurovision journey.
The Italian hopeful says that his Eurovision entry Soldi has been inspired by his childhood and that the title of the song Soldi (Money) does not have a literal meaning, but it is a metaphor. He uses a lot of metaphors in the lyrics of his song.
Mahmood says his mother is Italian and dad Egytian and that he doesn't speak much Arabic as he grew up with his mom. He goes on to say that he has included a phrase in Arabic in his song as it something that his dad used to say to him when he was a child.
The Italian representative goes on to say that he is honoured and proud to represent Italy at the Eurovision Song Contest in Tel Aviv and convey his message and spread his music to the European audience.
Mahmood is quite impressed with Tel Aviv, he says it reminds of New York and Cairo. He would like to visit the city  again and discover its beauty. At the end of the interview he sings his Eurovision entry with a touch of Hebrew! Soldi  in Hebrew is Kesef!
You can watch Mahmood's interview on KAN 11 in Italian/Hebrew courtesy of KAN.
About Mahmood
Mahmood was crowned the winner of the 2019 Sanremo Song Festival last February with his entry 'Soldi'. As the winner of Sanremo he was awarded the golden ticket to Eurovision 2019. He will defend the Italian colours at the forthcoming 2019 Eurovision Song Contest in Tel Aviv.
His Eurovision entry 'Soldi' has gone viral in Italy on all digital platforms and become a massive hit.
Italy in Eurovision
Italy is one of the founder members of the Eurovision Song Contest having debuted in the very first contest in 1956. The country has won the event twice with Gigliola Cinquetti (1964)and Toto Cutugno (1990).
The country has been represented at the Eurovision Song Contest by its most celebrated and internationally acclaimed artists throughout its Eurovision history: Ana Oxa, Domenico Modugno, Albano, Romina Power, Franco Batiatto, Umberto Tozzi, Matia Bazar, Marco Mengoni, Emma Marrone, Il Volo, Francesco Gabbani, Raphael Gualazzi, Massimo Ranieri, Ricardo Fogli, etc.
Italy withdrew from the competition in 1998 and returned to Eurovision in 2011 after a 13 year hiatus. Since their return to the contest the Italians have enjoyed great success in the event placing 6 times in the top 10 of the scoreboard.
Mahmood and Italy are set to compete at the Grand Final of the 2019 Eurovision Song Contest on 18 May in Tel Aviv, Israel.
ESCToday is growing and always looks for new members to join our team! Feel free to drop us a line if you're interested! Use the
Contact Us page
or send us an email at
vacancies@esctoday.com
!