The British act for the 2016 Eurovision song contest, Joe & Jake, appeared on Friday night's Graham Norton show.
Irish comedian Graham Norton, who is the BBC commentator for the Grand Final of the Eurovision Song Contest, also hosts his own weekly talk show on BBC1. This week, Britain's Eurovision representatives, Joe & Jake, were featured as guests. They also performed their song live on British television for the first time since their victory in Eurovision: You Decide.
When interviewed by Graham Norton, Joe Woolford and Jake Shakeshaft said they were very proud to be representing their country, and that they couldn't ask for more at the moment. They had just returned from the Israel Calling Eurovision party in Tel Aviv, where they enjoyed performing and meeting the other contestants.
Graham Norton teased the British hopefuls by telling them that if they didn't score highly enough, it would sway the voting in the upcoming EU referendum! The duo refused to comment on this, but joked along by saying it was a lot of pressure.
The other guests on the programme included Hollywood A-listers Meryl Streep and Hugh Grant. When asked about the Eurovision Song Contest, Meryl said she has seen it, and knows about it through the ABBA connection, which is unusual for an American. Hugh Grant told Graham Norton that he hosts his own annual Eurovision party!
Joe and Jake were also asked about how their song will be staged in Stockholm:
We've been talking a lot about it, the song is about friendship, bringing people together, and we really want the public to be part of our staging this year, so we were hoping to get members of the public to send in their selfies for us to use!
They then took a 'selfie' with Graham Norton and the other guests.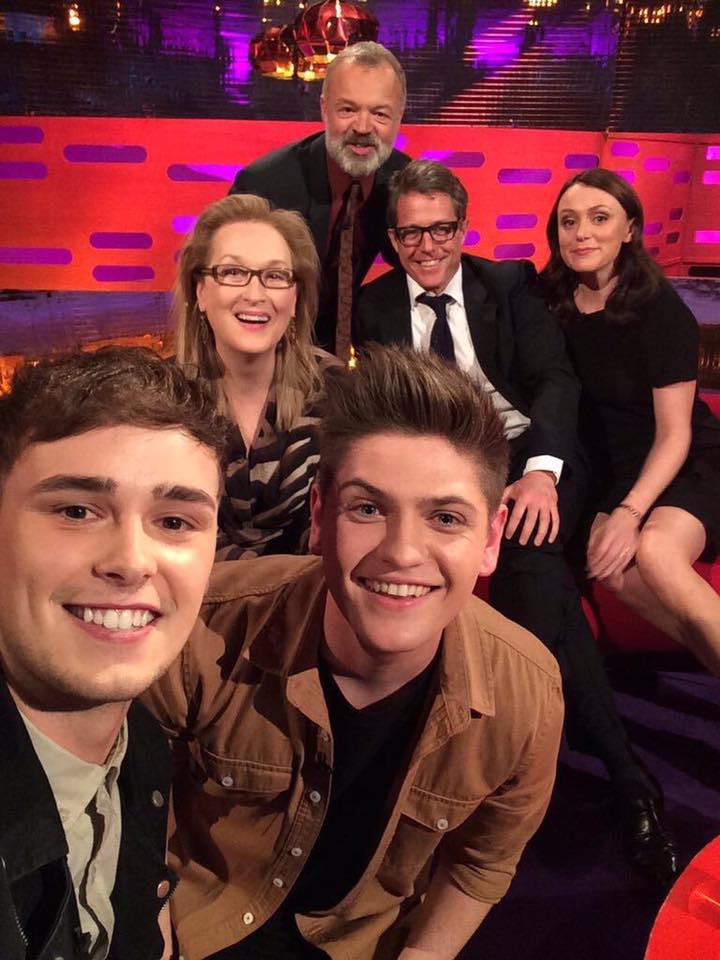 To find out more about how to participate in Joe and Jake's "Selfies for Stockholm", click here.
Below you can see Joe & Jake's live performance of You're not alone on The Graham Norton show.
Joe & Jake will compete in the Grand Final of the Eurovision Song Contest 2016 on Saturday 14th May with their song You're not alone.
ESCToday is growing and always looks for new members to join our team! Feel free to drop us a line if you're interested! Use the
Contact Us page
or send us an email at
[email protected]
!