UA: PBC, the Ukrainian national broadcaster, has unveiled the ten Vidbir 2023 finalists.
The 2022 Eurovision reigning champs are all set to select their Eurovision entry for next year. UA:PBC and Ukraine are both working round the clock in order to select the best entry for Liverpool!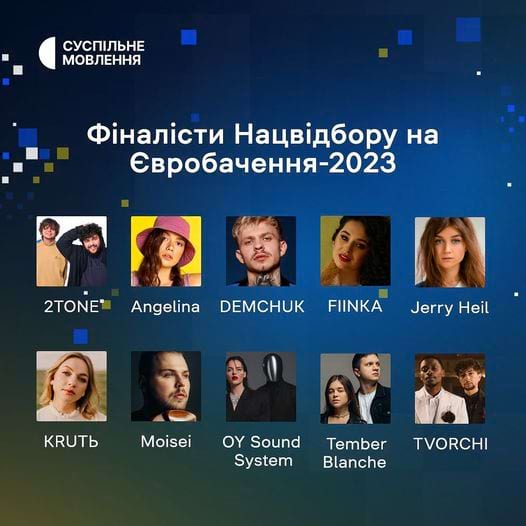 A total of 10 acts will battle for the golden ticket to Eurovision 2023:
2TONE – The Flower
Angelina – Stronger
DEMCHUK – Alive
FIINKA – Dovbush
 Jerry Heil – WHEN GOD SHUT THE DOOR
 KRUT – Koliskova
Mosesi – I'm Not Alone
OY sound system – oh jam
Tember Blanche – I'm Home
TVORCHI – Heart Of Steel
The 2023 Ukrainian national final is scheduled to be held in a bomb shelter in Kyiv on 17 December. UA:PBC will release the competing songs and hold a draw for the running order of the competition in early December.
Dmytro Shurov (Vidbir 2023 Music Producer) says:
I am very grateful to all the musicians that managed to do an important job in really difficult circumstances, both emotionally and physically, often under sirens and shellings, in basements and with no power supply.

The task was complicated as, besides writing a good song that would touch people, recording it in a studio and performing it live at auditions, the participants had to comply with all the rules of the national selection.

As a result of great common work of the team of Suspilne Ukraine and the musicians that submitted their songs to participate in Eurovision 2023, this year we will hear a lot of interesting new Ukrainian music of very different styles, and I am confident that every listener will find their favourite there.

A lot of great musicians stayed beyond these ten finalists. I believe that they will have their say in Ukrainian music soon.

This gives me hope and confidence that next Vidbirs will be no less interesting.
Ukraine in Eurovision
Ukraine debuted at the Eurovision Song Contest in 2003 and has achieved great results in the competition, having won the contest thrice (2004, 2016, 2022). The country has enjoyed extraordinary results in the competition: 3 victories (2004, 2016, 2022), 2 2nd placings ( 2007, 2008),  1 3rd placing (2013),  1 4th placing (2011), 1 5th placing (2021).  Ukraine is the only country which has never missed to qualify to the Grand Final since the introduction of the semi-finals in the competition.
Ukraine's Kalush Orchestra won the 2022 Eurovision Song Contest in Turin with their entry 'Stefania'.
Source: UA:PBC
Photo credit: UA: PBC
ESCToday is growing and always looks for new members to join our team! Feel free to drop us a line if you're interested! Use the
Contact Us page
or send us an email at
[email protected]
!