Bom dia Europe, we're travelling back to the 2018 Eurovision host city, namely Lisbon where the first semi-final of Festival da Canção 2019 is set to take place.
Tonight will see the first set of Festival da Cançao semi-finalists battle for a place in the Grand Final. The 2019 Portuguese national selection consists of three live televised shows.
How to watch?
You can watch the first semi-final of  Festival Da Cançao 2019 via the following channels at 22:00 CET :
RTP 1
RTP International
RTP International Asia
The participants
Ana Claudia- Inercia
Joao Campos-É o que é
Soraia Tavares- O meu sonho
Calema-A dois
Conan Isiris- Telemoveis
Ela Limao-Mais brilhante que mil sóis
Filipe Keil- Hoje
Matay- Perfeito
About the show
During tonight's show eight candidates will battle in their quest to reach the Grand Final of Festival da Cançao 2019. Only four will proceed to the next stage of the selection. The four finalists will be determined via a jury/public televoting deliberation.
The show will be held at RTP's Studios in Lisbon and will be hosted by Sónia Araújo & Tânia Ribas de Oliveira.
Festival da Cançao Jury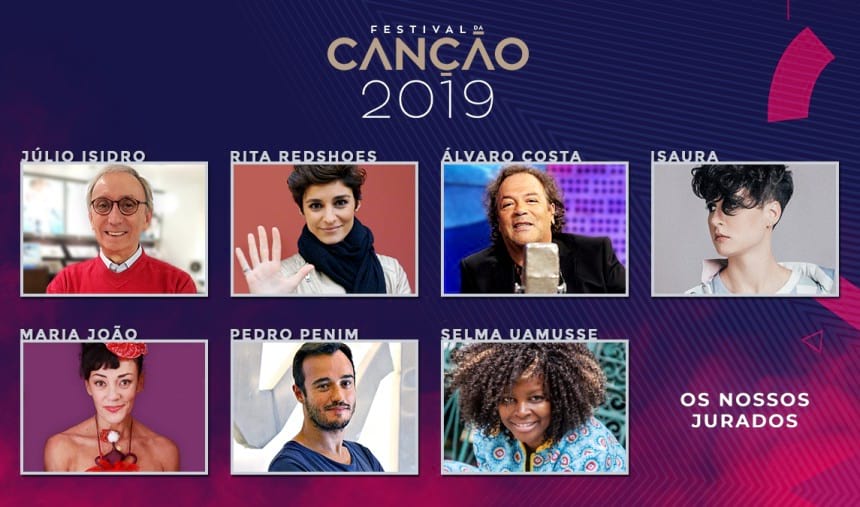 The 2019 FdC jury will consist of 7 members who will responsible to make their deliberation in the semi-finals.  The four finalists from each semi-final will be determined via a 50/50 jury-televoting deliberation.
Julio Isidro (President of Jury)
Pedro Penim
Isaura ( Portugal 2018)
Selma Uamusse
Rita Redshoes
Alvaro Costa
Maria Joao
Festival da Canção 2019
The 2019 FdC will consist of three shows ( two semi-finals and a grand final) scheduled to be held in February and March 2019.
A total of 16 acts will battle for the golden ticket to Tel Aviv, 8 acts will compete in each semi-final, the top 4 entries from each semi-final will proceed to the Grand Final of FdC.  Hence 8 acts will fight for the right to represent Portugal at the 2019 Eurovision Song Contest in the Portuguese national final.
16/02/2019- Festival da Cançao Semi-final 1
23/02/2019-Festival da Cançao Semi-final 2
02/03/2019-Festival da Cançao Grand Final
The semi-finals will be held at the RTP Studios in Lisbon whilst the venue and host city for the grand final will be held in Portimão.
The 2019 Portuguese Eurovision entry and act will be determined via  regional jury ( 7 juries)/televoting deliberation.
Portugal in Eurovision
Portugal debuted at the Eurovision Song Contest in 1964 and has won the competition once, namely in 2017 with Salvador Sobral's Amor pelo dois. The country successfully hosted the 2018 Eurovision Song Contest in Lisbon.
Portugal has competed 50 times in the Eurovision Song Contest and will see its 51st participation in Tel Aviv next year.
In 2018 Claudia  Pascoal & Isaura were crowned the winners of Festival da Cançao and had the honour to defend the Portuguese colours at the Eurovision Song Contest on home soil with their entry O Jardim. Despite a beautiful peformace the 2018 ESC host nation finished last in the Grand Final.
ESCToday is growing and always looks for new members to join our team! Feel free to drop us a line if you're interested! Use the
Contact Us page
or send us an email at
[email protected]
!