Ladies and gentlemen! Keep calm and fasten your seatbelts as our big journey around Sweden is about to begin! One of the most popular and longest-running national selection events, Melodifestivalen, returns for the 59th time and is all set to give the ticket to the next Swedish Eurovision hopeful!
The event's 2019 edition starts off from Sweden's second largest city, Gothenburg, which becomes home to Melodifestivalen almost every year. Tonight sees the first of the four semi-finals, which will be taking place in the weeks to come in different cities across the Scandinavian country.
As announced by the Swedish broadcaster in late October, the event's hosts will be Marika Carlsson, Eric Saade, Sarah Dawn Finer and Kodjo Akolor.
About tonight's show
Seven acts are waiting to get on stage and try their best tonight, in the hope of a place at the final, or, at least, at the Second Chance (Andra Chansen) round. However, only two of them will advance directly to the Grand Final on 9 March, while a further two will be given a second chance on 2 March.
Newcomers and returning artists, all dare to dream and are thrown out in the fight for Sweden's representation in Tel Aviv. Tonight's 7 competing acts are (listen to each song's snippet by clicking on the respective link):
How to watch
Semi-final 1 of Melodifestivalen 2019 takes place tonight at 20:00 CET onwards and you may follow it via:
On SVT Play, you may also have a look at 30" snippets from the contestants' rehearsals on stage!
Voting changes
The officially launched Melodifestivalen App has risen sharply the number of counted votes during the overall competition. For this reason, there are many voices complaining that the outcome may depend on the crisis of the younger age, SVT reports.
In order to avoid this in 2019, SVT decided to revamp the event's official app and divide the voters into groups depending on their age. There will be 7 different age groups, while all telephone calls will be counting as an 8th group. All voting groups will be contribiuting equally to the shows' results, while voting via SMS will be no longer possible. The app is available on Google PlayGoogle Play (Android) and on App Store (iOS).
This is how the groups will look like:
Green

: 3-9 years

Turquoise

: 10-15 years
Blue: 16-29 years
Purple: 30-44 years
Pink: 45-59 years
Red: 60-74 years
Orange: 75+ years
Phone (no color)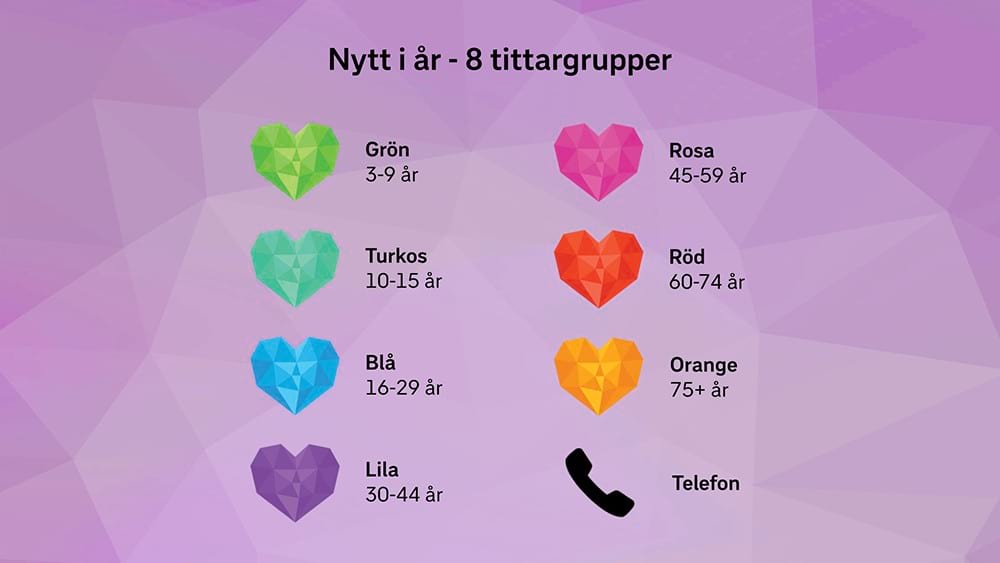 Regarding this innovation, the project manager of Melodifestivalen Annete Helenuis says:
It has become clear that the songs that receive the most votes are loved by viewers of all ages. But of course we want everyone to feel that their votes are counted, and therefore we listened to the viewers and made this change.

We want everyone's voices to be heard. This is Sweden's entire race, no matter how old you are!
Melodifestivalen 2019 schedule
Here is full schedule of the event's 2019 edition:
2 February – Semi-final 1 – Scandinavium, Gothenborg
9 February – Semi-final 2 – Malmö Arena, Malmö
16 February – Semi-final 3 – Tegera Arena, Leksand
23 February – Semi-final 4 – Sparbanken Lidköping Arena, Lidköping
2 March – Second Chance – Nyköpings Arenor, Rosvalla, Nyköping
9 March – Grand Final– Friends Arena, Stockholm
Who should win tonight's semi-final?
Let us know with a comment below!
ESCToday is growing and always looks for new members to join our team! Feel free to drop us a line if you're interested! Use the
Contact Us page
or send us an email at
[email protected]
!