That's it! We have our winner of the 2018 Eurovision Song Contest! Israel has received the highest combined total of points at this year's competition, becoming the winner of the 63rd edition of Europe's much loved song contest.
With 2 semi-finals down, tonight was the night of the much anticipated Grand Final of the 2018 Eurovision Song Contest, in which a total of 26 countries competed with hopes of earning the next Eurovision win in the host city of Lisbon.
Opening tonight's show was Ana Moura and Mariza, both of whom showing the continent the very best of fado music, with the much loved flag ceremony following with music performed by Beatbombers.
It was a varied show this evening: from fire openings to popera, from bag choreography to rock-metal, we've really seen a wide range of entries during tonight's Grand Final which is sure to appeal to people of all music genre fans! We've even seen an unfortunate stage invasion during the United Kingdom's performance which has failed to go unnoticed.
Recap of the final performances at Eurovision 2018
Tonight's winner was determined in 2 parts; whilst 50% of the vote was determined last night by the jury, this evening saw the remaining 50% of the final outcome decided via a public vote, with votes coming in from all of the 43 participating countries.
The Grand Final interval acts consisted of duets with Branko, with collaborating artists including Sara Tavares, Dino D'Santiago and Mayra Andrade. Last year's winner, Salvador Sobral, also made his return to the stage this evening alongside Brazilian artist Caetano Veloso, both of whom performing Portugal's winning Eurovision 2017 entry, Amar pelos dois.
The results are in!
Voting kicked off this evening with the votes of the national juries. All 43 countries voted in tonight's jury section of the vote, each of whom announced their top 10 results one at a time to the hosts.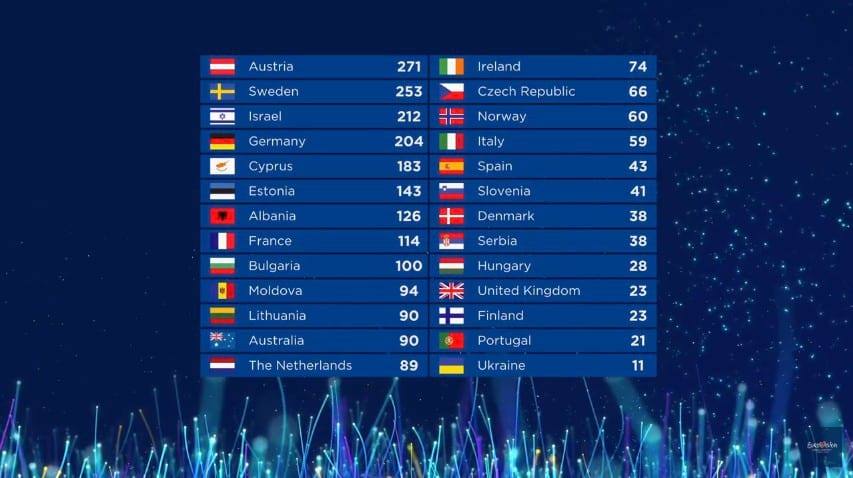 Leading the jury vote was Cesar Sampson from Austria, with Sweden and Israel following and second and third position, but it was time to move on to the public vote to see whether the final outcome would be greatly affected.
The votes were slowly unveiled, with the public top 10 being revealed as Israel, Germany, Cyprus, Estonia, Moldova, Lithuania, the Czech Republic, Italy, Denmark and Ukraine. Which country, if any, ended up topping the scoreboard and becoming the next Eurovision Song Contest winner? Here's a look at the final results!
Israel: 529 points
Cyprus: 436 points
Austria: 342 points
Germany: 340 points
Italy: 308 points
Czech Republic: 281 points
Sweden: 274 points
Estonia: 245 points
Denmark: 226 points
Moldova: 209 points
Albania: 184 points
Lithuania: 181 points
France: 173 points
Bulgaria: 166 points
Norway: 144 points
Ireland: 136 points
Ukraine: 130 points
The Netherlands: 121 points
Serbia: 113 points
Australia: 99 points
Hungary: 93 points
Slovenia: 64 points
Spain: 61 points
United Kingdom: 48 points
Finland: 46 points
Portugal: 39 points
Israel receives the highest number of votes, winning the 2018 Eurovision Song Contest!