Last night saw the official broadcast of the first semi-final of the 2018 Eurovision Song Contest, in which viewers from across Europe and beyond watched the show live from their living rooms. Mango TV, China's national broadcaster, broadcast the show last night with a delay, but that's not without making a few edits and changes.
Last night, 19 artists from 19 countries took to the stage to compete in the first semi-final of the 2018 Eurovision Song Contest, in which 10 countries earned their place in Saturday's grand final.
One country who was unable to vote but still broadcast the show was China, whose online broadcasting service is Mango TV, however some changes were made ahead of its broadcast.
Albania and Ireland removed
Two countries were completely removed from last night's showing in China, namely being Albania and Ireland, for 2 different reasons.
Albania was represented by Eugent Bushpepa last night was his song Mall, who was announced last night as the 8th qualifier of the event. However, Eugent did not feature in last night's Chinese broadcast due to a newly introduced regulation which bans artists and actors with tattoos from appearing on television.
The rule was introduced back in January this year, in which the State Administration of Press, Publication, Radio, Film and Television of the People's Republic of China (SAPPRFT) stated that they "specifically requires that programs should not feature actors with tattoos [or depict] hip hop culture, sub-culture (non-mainstream culture) and dispirited culture (decadent culture)".
Eugent was also removed from the qualification announcement, where the broadcaster only showed part of the Albanian team's reaction before panning back to the hosts before they could show Eugent's reaction.
Albania's performance in the first semi-final of Eurovision 2018
As well as Albania, the whole performance from Ireland was also removed from their broadcast due to the government of China's ban on broadcasting depiction of same-sex relationships on television.
Ryan O'Shaughnessy's performance last night of his song Together featured to male dancers, performing a contemporary dance together show the story of a couple being together.
The censorship was introduced a few years ago in China, whose guidelines revealed that:
No television drama shall show abnormal sexual relationships and behaviours, such as incest, same-sex relationships, sexual perversion, sexual assault, sexual abuse, sexual violence, and so on.
Same-sex relationships in the same category as sexual assault, abuse and violence…?
Ireland's qualification announcement, unlike Albania, was not censored and was completely shown during the broadcast.
Ireland's performance in the first semi-final of Eurovision 2018
LGBT pride flag censored
Throughout the evening, flags from across Europe and beyond were waved by the viewing audience in the crowd, featuring countries of all types. One prominent flag was the rainbow flag, commonly known as the LGBT flag, which features heavily during each Eurovision Song Contest.
However, going back to the reasoning behind Ireland's censorship, Mango TV also censored the flags which appeared in the crowd, creating a blur whenever each image appeared on camera.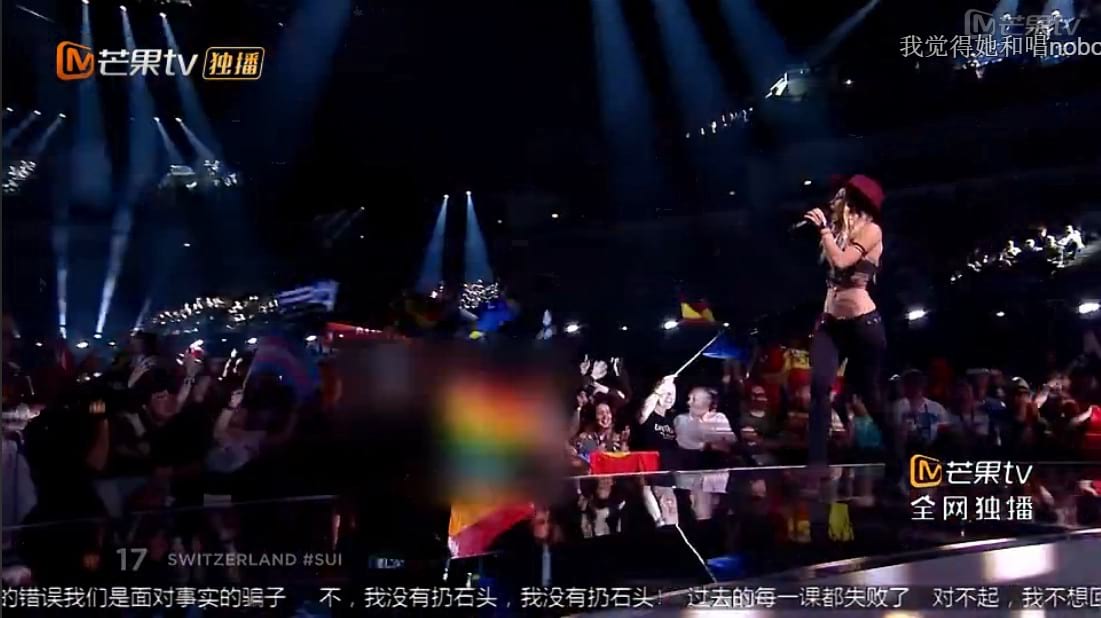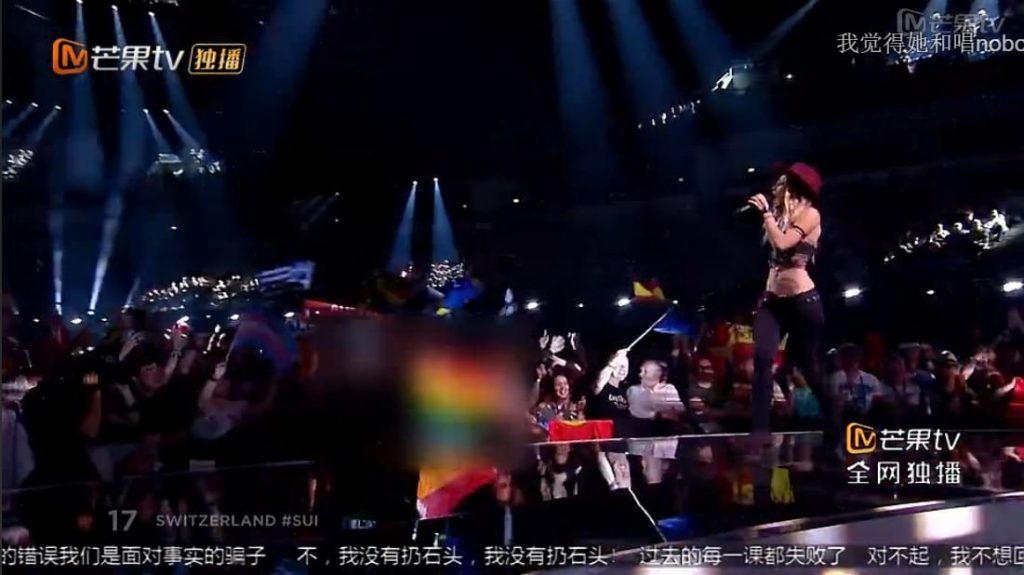 Mango TV will broadcast the second semi-final this coming Thursday as well the Saturday's final. Meanwhile, you can catch up on China's broadcast of the 2018 Eurovision Song Contest first semi-final via Mango TV.