Former Israeli Head of Press Alon Amir visits the darker side of Eurovision in his pop-reality novel Three Minutes of Eternity.
The Eurovision Song Contest is a thriller… in more than one way! Have you ever imagined what might transpire backstage? There's diversity, unity, and a whole lot of dark stuff – at least, that's the world you'll encounter in Three Minutes of Eternity, a thrilling adventure based on real events, by Alon Amir. As former Head of Press for the delegations of Israel (2009, 2012, 2013 and 2016), Belarus (2005) and Slovakia (2011), Alon Amir is one of Israel's foremost Eurovision experts. His Eurovision experiences inspired him to write Three Minutes of Eternity – A Uniquely Staged Adventure, Based on Real Events of the Famous Song Contest-The Eurovision.
Three Minutes of Eternity will give a new meaning to the concept of stage fright…

Danger in Azerbaijan
Three Minutes to Eternity is a pop-reality story, a thrilling novel yet inspired by Alon Amir's own experiences. He states:
Eurovision is only the framing experience. That frame could very well have been the Olympics or the World Cup. Many people who don't necessarily watch the competition have enjoyed reading it with great pleasure. The book is not autobiographical. I don't think that I am that interesting. It is mostly based on experiences that I had during the years that I was part of the contest and, in some places, is written with exaggeration. But always keep in mind that sometimes life is stranger than you can imagine!
Written with Alon Amir's vast knowledge of the contest and in his witty style, Three Minutes of Eternity is summarized as follows:
This is a pop-reality book that unveils the seedy high jinks and backstage shenanigans at the Eurovision Song Contest through the eyes of an active participant. It also glimpses into the political intrigue in Israel surrounding the competition, corruption, romance, and off-camera.

Yanai Tannenbaum, Head of Press for the Israeli delegation to the Eurovision song contest, is asked to work at a competition in Baku, Azerbaijan, a Muslim country having an open border with Iran. He and singer, Yarden Oz, undergo a long and winding journey to represent their country in the competition. Once in Baku, they are, of course, drawn into romance and alcohol binging. They succeed, in their unique and vulgar way, to enchant those around them. What they did not count on – among the glamour, sequins, and gimmicks – is having to be guarded against kidnapping by 15 special agents and knowing that they could die at any moment!
Between fact and fiction
Although the events in the book are sometimes exagerrated, many characters and situations may ring true to Eurovision-lovers. And some familiar real-life personages pop up, including Sweden's Christer Björkman and Hungary's Head of Delegation Szilvia Püspök – all with their consent, of course. It lends the book the perfect edge of realism.
Critical acclaim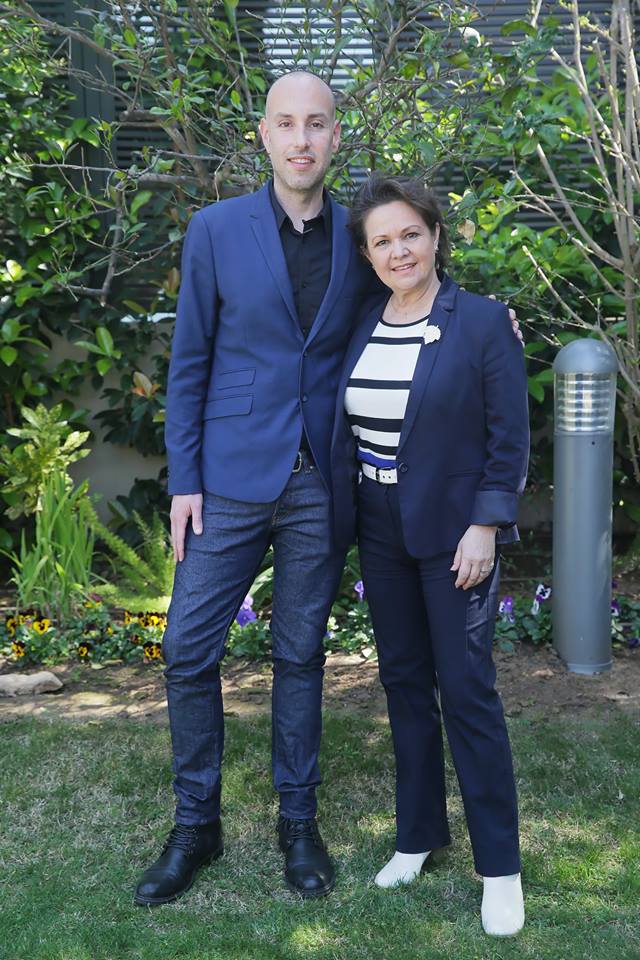 Being released in Hebrew last year, the English version of Three Minutes of Eternity is now available, translated by Sharon Singer. Read some reviews by former Eurovision participants who were engrossed by the story:
Anne-Marie David (Luxemburg 1973, France 1979) says:
Through this book, I am quite sure that you will discover more than a memory; more than stories or experiences… a part of Alon is in this book. I'm proud of him, proud to work with him, and over all delighted to have him nearby when the sun shines but also when doubts and clouds are arise.
Cheryl Baker of Bucks Fizz (United Kingdom 1981) says:
Alon is completely and utterly passionate about the Eurovision Song Contest and Eurovision artists. What he doesn't know about Eurovision isn't worth knowing! He is a great storyteller!"
Mira Awad (Israel 2009) says:
As much as the events depicted in the book may sometimes sound completely far-fetched, ask yourselves: 'But are they?' I can promise you that reality provides us with the wildest, most unimaginable situations.
Shiri Hadar of Izabo (Israel 2012) says:
If the Eurovision is one of the grandest and most colorful experiences in this world, Alon's presence makes the journey even more colorful – much more colorful. I can't imagine our trip to Baku without Alon, his work, his perfectionism and the support of a person so well versed in all things Eurovision and every hidden corner in it. If anyone wants learn, know and read about the Eurovision it should only be from him – the man who has seen it all.
In the author's words
Somewhere between fact and fiction, Three Minutes of Eternity is sure to stir the wildest imaginations of ESC-fans and foes alike. In any case, the book is a labour of love by Alon Amir, an avid Eurovision fanatic himself. The author describes his work:
Out of my great love for the Eurovision Song Contest and in the wake of weird, bizarre events surrounding it, I decided it was a good idea to let the greater public in on the true meaning of this amazing competition – what takes place behind the scenes in the inner sanctum, the stuff with which we sometimes have to contend, and also how many sequins one dress really needs!!!

I read a lot of books, and most of them deal with subjects and characters that are on the 'heavy' side. I wanted to produce a book that would be light, fun, and enjoyable – a book that would be just the right thing for a long flight or a relaxing Thailand vacation, even though some of its subjects are very serious. I wanted to create strong characters that know how to deal with life and with the things that are sometimes thrust upon us that we cannot control. But mainly I wanted the reader to laugh and enjoy.

I was really afraid to write a book and was sure that I wouldn't succeed. In fact, for two years I played with idea and did not dare to sit down and write. One day, during a luncheon with Mira Awad, I shared with her my dream of writing a book. She pronounced four words that changed my life: 'Idiot, sit and write!' That was it. That's what I needed.

That very same evening, I sat down and started to write what became Three Minutes of Eternity. The choice of the book's name was what I thought of first! I wanted to express the feeling that those three minutes on stage – i.e., what is apparent to you, the viewers of the competition – feel just like an eternity for those who work behind the scenes on those three minutes! Indeed, those three minutes take at least three years out of our lives!

Eurovision winner, Anne-Marie David, gave another very lovely meaning to the name of the book, one that I had not considered. She said that those three minutes on the stage gave her eternal life. More than 40 years after her brilliant victory in the competition, she still appears all over Europe with her winning song.
You can order a copy of Three Minutes of Eternity on Amazon the link below:
Follow Alon Amir
You can follow Alon Amir on the following social media platforms:
In line with Three Minutes of Eternity, let's take a trip to the real Azerbaijan 2012, with Izabo performing Time for Israel, at which Alon Amir was Head of Press: