It has been the 2nd show of the Hungarian national selection A Dal 2018, but now it's over! 10 acts performed on stage in the hope of progressing to the semi-final shows which will be held in the coming weeks. However, only 6 have made it!
The results are in!
The hosts of the show were once again Freddie and Krisztina Rátonyi. The first 5 qualifiers were determined by a mixed jury and public voting, whilst one more has progressed to the semi-finals via wildcard, with a further televoting round.
Following the above procedure, qualifying to the semi-finals tonight are:
AWS – Viszlát nyár

Gergely Dánielfy – Azt mondtad

Gábor Heincz Biga – Good Vibez

yesyes – I Let You Run Away

Odett – Aranyhal

SavituS – Lusta lány *(wildcard)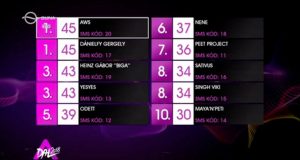 Therefore, the rest 4 acts are bidding farewell to this year's competition and are the following:
Peet Project – Runaround

Nene zenekar – Mese a királyról

Viki Singh – Butterfly House

Maya'n'Peti – Nekem te
You may witness all tonight's performances on the official A Dal YouTube channel.
Next week sees the very last heat round of A Dal, with 6 more artists making it to the next round, bringing the final number of qualifiers to 18 (split into 2 semi-finals).
A Dal 2018 schedule
27/01: Heat 2 
03/02: Heat 3
10/02: Semi-final 1
17/02: Semi-final 2
24/02: Grand Final
Stay tuned for all next Eurovision news on ESCToday!
ESCToday is growing and always looks for new members to join our team! Feel free to drop us a line if you're interested! Use the
Contact Us page
or send us an email at
[email protected]
!