On the 10th and last day of the #10DaysofConfirmations, the confirmation from the Austrian national broadcaster Österreichischer Rundfunk (ORF) about the country's participation at the 63rd Eurovision Song Contest completes our current project!
This confirmation marks the 51st participation of Austria in the contest, after their debut in the 2nd edition in 1957. The central European nation has 2 victories in their assets; in 1966 with Udo Jürgens and the entry Merci, cherie! and recently in 2014 with the drag queen Conchita Wurst singing Rise like a phoenix. This was also the last time that Austria entered the Top 10 in the final results. So, is it time they did it again?
Austria: a timeless Eurovision participant
Being one of the first countries to take part in the contest, Austria has a long Eurovision history to remember. Within 50 participations, Austria has managed two victories, as said before, and 5 more Top 5 placings. However, the statistics of the country's results in the contest can't be characterised as very successful.
The debut of Austria gave them their first last place, as they came 10th out of 10 competing countries. Since the introduction of the semi-finals in 2004, Austria has counted 4 eliminations from the semi-final round and only one Top 10 placing, which was no other than their victorious entrant, Conchita Wurst, in Copenhagen in 2014. After that, Austria hosted the Eurovision Song Contest in their capital Vienna in 2015, 48 years after their 1st hosting in 1967.
In 2014, the eccentric and radical Conchita's performance at Eurovision made great sense. Right after her internal selection by ORF to represent the country, she became a hot favourite for the victory in all polls and odds, something that was confirmed in Copenhagen.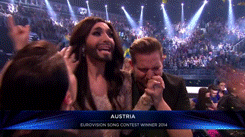 It's more than sure that she will remain in our memories as one of the most unforgettable Eurovision entrants and winners. Her victory is considered to have sent a sonorous message to Europe and all over the world about diversity and the social change that needs to happen.
What about the Austrian 2018 entrant?
Apart from the confirmation for participation, ORF has also revealed details about their plans for their 2018 selection. The Austrian broadcaster will once more select their entrant and song internally, as they did this year by selecting the young singer Nathan Trent. Eurovision winner Conchita Wurst had also been selected internally.
However, ORF has also held national finals many times in the past, with the first time being in 1981. When it comes to their latest participations, the broadcaster has used a national final to pick up their entrant and/or song almost every year.
What do you think about how Austria's decision for 2018? What kind of song could be the appropriate which will help them to reach the Top 10 – or the peak – again? And whom do you want to see on the Eurovision stage representing the nation?
[playbuzz-item url="//www.playbuzz.com/esctoday10/who-should-orf-select-to-represent-austria-at-eurovision-2018″ comments="false" recommend="false"]