SMRTV, the Sammarinese broadcaster, has confirmed that San Marino will participate at the 2018 Eurovision Song Contest in Lisbon.
San Marino will be opting for a revolutionary new format in order to select its Eurovision entry and act for Lisbon. San Marino will be introducing a brand new concept for 2018, ie a digital online national final.
Candidates from all over the world can enter the selection by uploading their respective songs and entries. The submission period will run from 21 October – 30 November. The winner of the national selection will be awarded a record deal and the golden ticket to the 2018 Eurovision Song Contest.
A total of 7 shows will be will be broadcast on television and on the internet in January and February. 10 candidates will battle for the golden ticket to Lisbon in the national selection. 3 out of the 10 candidates can be wildcards selected by the broadcaster.
The 2018 Sammarinese national final is expected be held at the end of February with a total of 3 acts battling for the right to represent San Marino at the 2018 Eurovision Song Contest in Lisbon.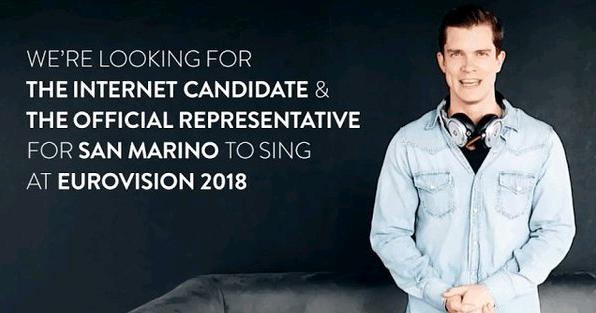 San Marino in Eurovision
San Marino debuted in Eurovision in 2008 and is yet to win the event. The country has only qualified once to the Grand Final, namely in 2014 with Valentina Monetta's Maybe. Valentina Monetta represented the country 3 years in a row (2012, 2013 & 2014).
In 2017, Valentina Monetta returned to the contest for the 4th time and flew the Sammarinese flag in Kyiv with Jimmie Wilson. Despite a fabulous performance the duo failed to qualify to the Grand Final with their disco beat Spirit of the night.
Eurovision 2018
The 2018 Eurovision Song Contest is scheduled to be held on 8, 10 and 12 May in Lisbon, Portugal.
The deadline for broadcasters to officially apply for Eurovision 2018 concluded on 15 September. Hereafter, countries had a grace period until 10 October to confirm their participation or withdraw their application without a penalty.
The final list of the 2018 Eurovision participating countries is expected to be released by the EBU later during the year.
ESCToday is growing and always looks for new members to join our team! Feel free to drop us a line if you're interested! Use the
Contact Us page
or send us an email at
[email protected]
!