Lara Fabian fans will be in for a treat next year as the internationally acclaimed multi talented artist will be travelling around the world on her forthcoming 2018 world tour.

Get ready as Lara Fabian is coming to your city  very soon! The 2018 Camouflage World Tour will be kicking off on 2 February 2018 in  Miami, Florida, USA and will  end on 8 June in Paris. A grand line up of concerts are scheduled to be held throughout the world with a total of 40 dates.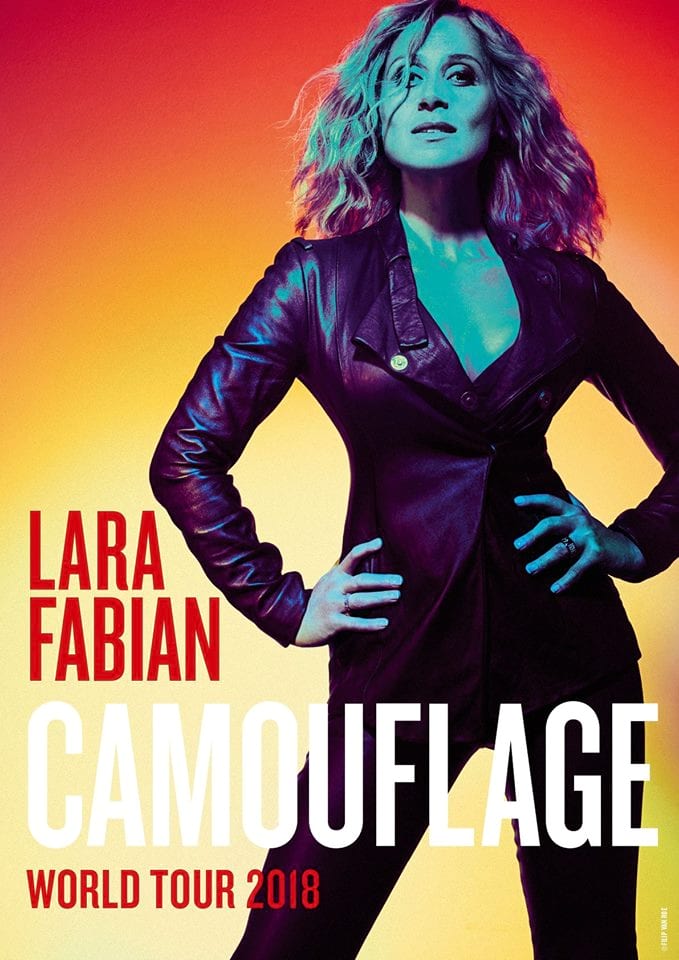 Lara will be releasing her forthcoming new album Camouflage this autumn.
After more than 20 million albums sold worldwide, and her latest platinum-certified French album Ma vie dans la tienne released in November 2015 (Warner Music), Lara is returning to the international scene with a 13th studio album, Camouflage, consisting of 12 songs, all in English, written and composed by Lara together with Moh Denebi (Sweden) and Sharon Vaughn (USA) .
The Swedish connection
The album has been developed and produced in Stockholm, Los Angeles and Brussels. The songs have been produced by award winning music producer Moh Denebi, who is one of the most prominent representatives of the new pop-sound originating from Sweden dominating the US-American and European charts.
Sharon Vaughn (USA) is an award winning American songwriter, who has previously worked with pop and country artists such as Willie Nelson, Dolly Parton, Agnes, or Boyzone. Sharon is this year being inducted to the Nashville Songwriters Foundation's Hall of Fame for her contributions to American Music.
Camouflage is named after an eponymous song from the album. The album unites the signature vocals of Lara, with an electro-pop production, combined with classic orchestration, creating a sound that is both, modern and timeless.
The first single is titled  Growing wings is scheduled to be released on 4 August. This will be followed by several other singles and remix versions Camouflage will be available for pre-ordering on 4 August (iTunes and Amazon) . The album will be released this fall by Lara's label 9 Productions, and distributed worldwide by Sony Music, Warner Music and Membran/The Orchard.
The Tour Date and Schedule ( more to be added)
 02.02 Miami (Ft Lauderdale) – Fillmore Theatre
05.02 Washington D.C. – Warner Theater
07.02 New York City – Beacon Theatre
09.02 Chicago – Copernicus Center
11.02 Los Angeles – Pasadena Civic Auditorium
22.02 Minsk – Palace of Republic
24.02 Moscow – Crocus
27.02 St Petersburg – Oktyabrsky Concert Hall
02.03 Kiev – Ukraina Palace
03.03 Kiev -Ukraina Palace
15.03 Munich – Zenith Kulturhalle
17.03 Dusseldorf – Mitsubishi Electric Halle
19.03 Frankfurt – Jahrhunderthalle
21.03 Berlin – Tempodrom
23.03 Hannover – Hannover Congress Centrum Kuppelsaal
27.03 Sofia – NDK Sofia
29.03 Cluj Napoca – Sala Polivalenta
31.03 Bucharest – Sala Palatului
08.04 Budapest – Papp Laszlo Arena
09.04 Zurich – Samsung Hall (TBC)
11.04 Vienna – Wiener Stadthalle Halle F
13.04 Ljubljana (Slovenia) – Hala Tivoli
15.04 Milano – Club Fabrique
17.04 Napoli – Teatro Papapartenope
16.05 Antwerp – Stadschouwburg
17.05 Amsterdam – Afas Live (Heineken)
21.05 Barcelona – Cupola
09.06 Brussels – Forest National
14.06 Prague – Congress Center
16.06 Paris – Zenith
Exactly 30 years ago Lara Fabian represented Luxembourg at the 1988 Eurovision Song Contest, the very same year Celine Dion walked away with the coveted trophy. Lara achieved an honorable 4th place in Dublin.  Today she is an internationally acclaimed artist with great fame, name and recognition worldwide
ESCToday is growing and always looks for new members to join our team! Feel free to drop us a line if you're interested! Use the
Contact Us page
or send us an email at
[email protected]
!