One more live #Hashpoll running on Facebook for about 4 hours is now over! This time the poll came about your favourites of the Second Semi-Final. After that, we got an impression of which are going to be the 10 qualifiers! Your full results are in and you may check them out!
The 2nd victory goes to Malta!
It seems that the Maltese fans did their best! Where you give the most hashtags is Malta, with Claudia Faniello and Breathlessly (2358 points). The other entries that entered the top 3 concludes with Romania and Israel, both having a large difference of points with the winner (Romania with 536 points and Israel with 247 points). You can see in detail the results of the poll below: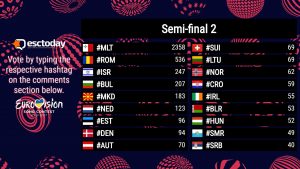 As you can see in the picture, the other 7 qualifiers of your preference are Bulgaria, FYR Macedonia, Netherlands, Estonia, Denmark, Austria and in 10th place we have 2 countries; Switzerland and Lithuania, who both have gained the same amount of points, 69!
Now let's see how close your own results will be to tonight's semi-final, after the announcement of the 10 qualifiers! The next and last live #Hashpoll will take place of course on Saturday, a few hours before the Grand Final and the announcement of the winner!
The Semi-Final 2 of the 62nd Eurovision Song Contest is starting tonight at 21:00 CET at the IEC in Kyiv. Europe, let the show begin!
ESCToday is growing and always looks for new members to join our team! Feel free to drop us a line if you're interested! Use the
Contact Us page
or send us an email at
[email protected]
!