The first rehearsals for the Big 5 as well as the host country Ukraine are now over. We are ready to bring you the results from the press regarding the six countries that took to the stage for the first time today.
Keep in mind that the press could vote only for today's six countries and so it is difficult to combine the results with the other 36 semifinalists. However some interesting information can be seen from the result: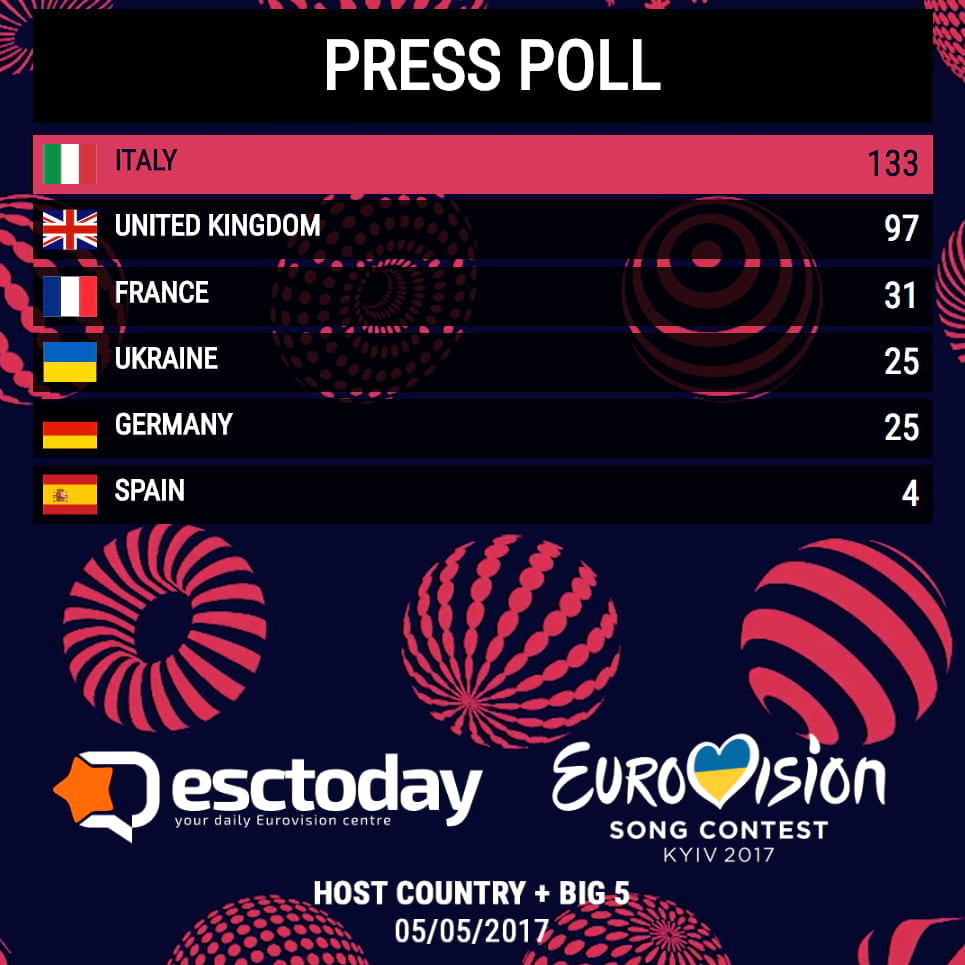 No surprises, Italy takes the first place with a new high score for a press poll: 133 points. However, some of the voters did not like or weren't impressed with the performance. How the public and jury will react to the performance will be seen in due course.
The biggest surprise of the day was the performance of the United Kingdom. Once again, it's difficult to get a "true" result of today's rehearsals without being able to compare the performances with the semi-finalists, however the UK's strong vocal performance and solid staging can see them potentially do better than originally expected.
Germany and France are noted a slight disappointments for today, not having a major impact in the voting with comparisons being made to performances from the pre-parties. Second rehearsals are still to come which can see changes in the results, however a big part of the final results will all depend on the official running order which is set to be determined after the second semi-final.
Catch up on our fifth Daily Press Poll:
Daily Press Poll: The Final
With all first rehearsals down, it's now time to wait for the final jury rehearsal to take place next Friday in which our final Press Poll will take place. The first 26-11 placed entries will be revealed on the Friday evening, whilst the eventual top 10 of ESCToday's Daily Press Poll will be unveiled in the afternoon on Saturday 13 May.
In the meantime, stay tuned as in the coming days, we will be presenting a number of public polls in the lead up to next week's competition. Which rehearsals are you impressed with? Who do you think can do well in the final of Eurovision 2017? Stay tuned and have your say!
ESCToday is growing and always looks for new members to join our team! Feel free to drop us a line if you're interested! Use the
Contact Us page
or send us an email at
[email protected]
!