Her dream came true when she won Dansk Melodi Grand Prix 2017 and was chosen to represent Denmark at the Eurovision Song Contest 2017. Now, the 21 years old Anja reveals the team that will accompany her on stage during the performance of Where I am.
Five backing singers will help Anja to go through the three minutes on the second semifinal on 11 May, hoping to give Denmark what it wants the most: getting back to the final for the first time since hosting the contest in 2014.
Listening to Where I am for the first time before the Danish selection, the song gave empowering and positive vibes, which were missing during the actual performance as Anja stood alone on stage. In my opinion, it would be wise for the Danish team to put the backing singers together with Anja on stage and give them an active role to go through the show together with her. Putting them in the back and letting Anja handle the big stage alone have worked in the national selection – but a copy-paste to the Eurovision stage does not always ensure a good result as we all have seen in the past.
The five backing singers of Anja are:
Julie Lindell – Toured the UK with the British superstar Will Young. Helped Paula & Ovi as a backing singer for Miracle in Eurovision 2014.
Trille Palsgaard – A third of the trio Me, She & Her who are known by their 1995 hit I count the minutes. She is still active as a singer and coaches various artists as Lukas Graham, Christopher & Scarlet Pleasure.
Linda Andrews -Won the second season of X Factor Denmark in 2009. Recently released Save your love for me as a preparation for releasing an album. Joined Slovenia's Hannah in 2013 as a backing singer for Straight into love.
Jasmin Gabay – Leads a gospel choir in Israel and also teaches soloists in Tel Aviv. Performs jazz music and known in Denmark as she has previously appeared on Wallmans in Copenhagen.
Andy Roda – Debuted in 1998 with the song The power. Previously participated in DMGP 2015 with Love is love, a year after being a backing singer for Basim's Cliché love song on homeground for Denmark in Eurovision 2014.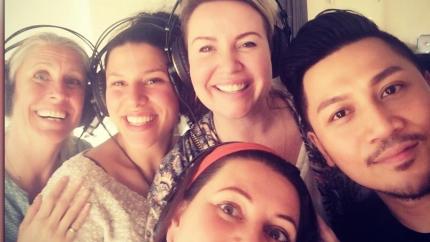 Will they be on stage or behind it? From left to right: Trille Palsgaard, Jasmin Gabay, Julie Lindell, Linda Andrews & Andy Roda
Watch Anja winning the Danish ticket to Eurovision 2017 with Where I am:
Stay tuned to ESCToday for more news regarding Denmark in the Eurovision Song Contest 2017!