Today it was announced by France 2 that the model Élodie Gossuin will be their spokesperson for Eurovision 2017, just like last year in Stockholm. On the evening of 13 May, she will distribute the results of the French jury from Paris.
About Élodie Gossuin
Élodie Gossuin is a French model and former Miss France and Miss Europe, as she won both titles in 2001. Since then, she has embarked on television career, as she has hosted seasons of the show Miss Swan and the program Un coach pour changer ma vie in 2012 and was a contributor in the television shows Un Max de services and Touche pas à mon poste !, Ça va mieux,  Faut pas rater ça ! in several channels of her country.
The French spokesperson has been involved in politics,  in 200 Gossuin was elected in Oise on the list of UDF-UMP party and became a Regional Councillor in her native Picardy region on 28 March 2004. Her work and attendance at the Regional Council earned her the recognition of her political opponents.
Élodie has also been a radio presenter. In March 2011, she joined the morning team of the radio program Manu à la radio ! co-hosted by Virginie de Clausade. Gossuin  has also co-hosted from August 2011 to June 2012 the program Manu dans le 6/9! on the same radio station.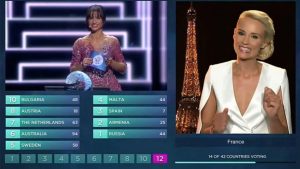 Élodie presenting the French results in 2016
France 2 has also announced that the commentators of the broadcaster are set to be Marianne James and Stéphane Bern along with last year's representative of France Amir.
Now we're waiting to see where the French douze-points go this year! Élodie will tell us!
France will compete at the Grand Final of 13 May, as it is one of the BIG 5 countries. The 62nd Eurovision Song Contest is going to take place on 9, 11 and 13 May at the IEC in Kyiv, Ukraine.