All eyes are set on Finland tonight as the land of the thousand lakes will pick its representative for the Eurovision Song Contest 2017 among ten candidates.
Uuden Musiikin Kilpailu (New Music Contest) was launched in 2012, replacing Finland's old Eurovision Laulukilpailu: Suomen Karsinta, trying to give the national selection a more fresh and younger attitude. The results were mixed, reaching 11th in 2014, which is Finland's best result since winning in 2006, and failing to reach the Final since then. The pre-rounds and semifinals disappeared this year in favour of only one show.
HOW TO WATCH?
Tonight's show will begin at 20:00 CET (21:00 local time) and will end after the winner's reprise at 22:15 CET, on the following channels:
Yle Radio X3M with Swedish commentary by Eva Franz and Johan Lindroos
Prior to the live show, a Pre-Party broadcast will be aired at 19:30 CET featuring special guests and Finland's last year's representative Sandhja. Right after the show, the winner of UMK 2017 will give its first interview live in a 15 minutes long after-show. These will be hosted by UMK's commentator in Finnish, Mikko Silvennoinen.
[NOTE: Yle TV2's webstream will be made available also outside of Finland for all three programs]
TONIGHT'S PARTICIPANTS
A submission period in the beginning of September led to the participating entries to be revealed in the end of November with videoclips for each song added just a month ago. The running order, which was announced on Thursday, is as follows:
Emma – Circle of light
Alva – Arrows
Günther & D'Sanz – Love yourself
Anni Saikku – Reach out for the sun
Knucklebone Oscar & The Shangri-La Rubies – Caveman
Norma John – Blackbird
Lauri Yrjölä – Helppo elämä
Club La Persé – My little world
Zühlke – Perfect villain
My First Band – Paradise
THE SHOW
Tonight's show will run from the Espoo Metro Areena in Espoo, and will be hosted by Finland's Eurovision queen – Krista Siegfrids. The winner will be decided by the votes of ten international juries, from Spain, Iceland, United Kingdom, Israel, Latvia, Norway, France, Sweden, Ukraine and Estonia, who will provide 50% of the votes. The other 50% will come from televotes and online voting. Since 2016, the Finnish broadcaster Yle holds a pre-voting, where people had the option to vote for their favourites during a time slot of almost one month. This phase was open until Thursday, and during a special Pre-Party program it was revealed that Emma is currently leading with no less than 30.4% of the votes.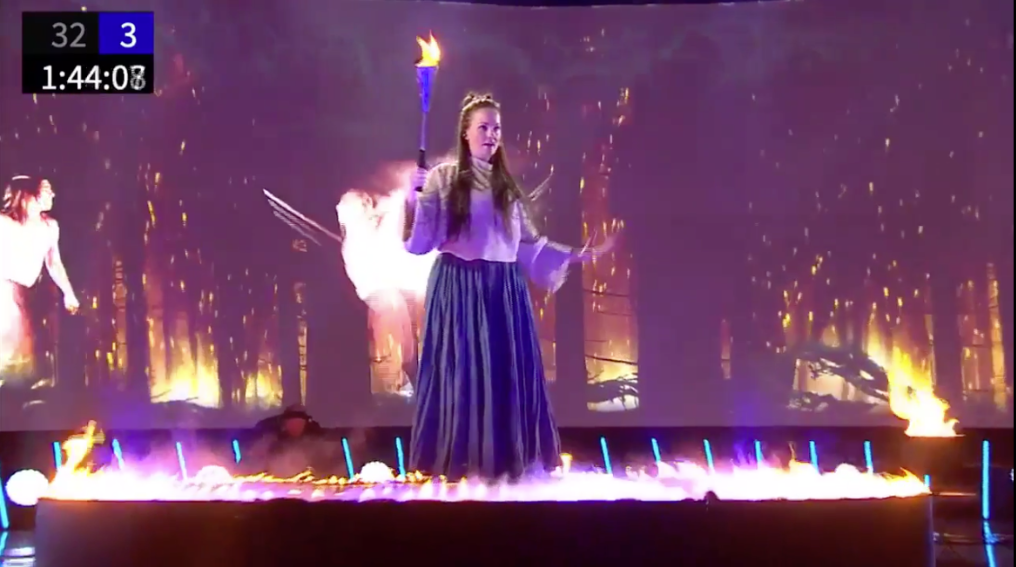 Emma rehearsing for her UMK 2017 performance in the Espoo Metro Areena
In case Emma keeps her high televoting rate, she can win tonight even without help from the juries – but as in Eurovision (and especially in Finland) – anything might happen!
Stay tuned to ESCToday.com as Finland picks its representative for the Eurovision Song Contest 2017!
ESCToday is growing and always looks for new members to join our team! Feel free to drop us a line if you're interested! Use the
Contact Us page
or send us an email at
[email protected]
!